We will show you the best picks of AI photo enlarger programs today. See how these magnificent tools help you resize your photos on any occasion. To help you more, we also give you our verdict as well as the advantages and disadvantages you may encounter with each of them. So, without any adieu, let's start gaining new pieces of knowledge about the tools for the subject matter.
View all programs
Part 1. 10 Best Picks of AI Photo Enlargers
1. AVAide Image Upascaler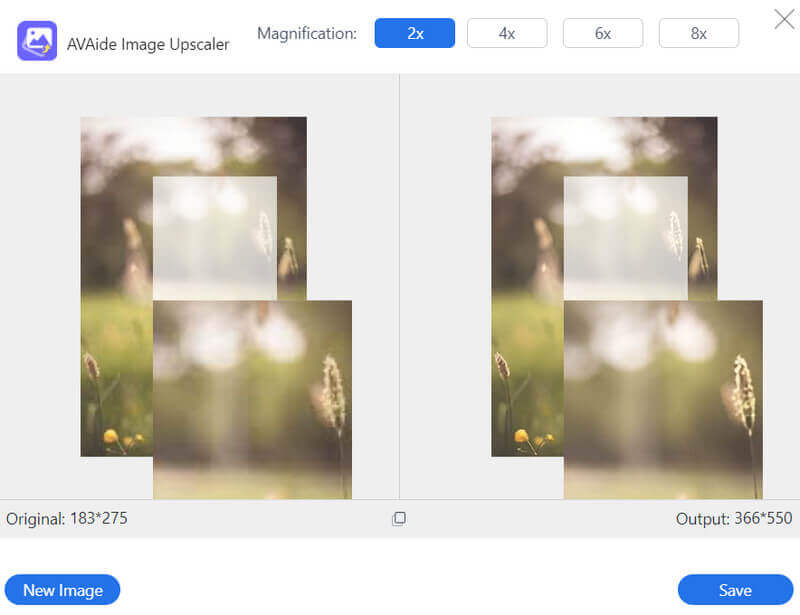 AVAide Image Upscaler is an AI photo enlarger that stands out among all the resizer tools in this review. Furthermore, its interface doesn't speak that much, for it only has the most important factors such as the enlarger, preview, new image, and save. However, its excellency will show once it starts working on the specific photo you will upload. This online program will let you have the most exquisite photo output after the enlargement process of up to 8x without losing quality. In fact, it can even improve photo quality by removing the photo's noise and blur in just a single click.
Pros
It enlarges and enhances the photos for free.
It increases the resolution of photos online.
Work on various photos simultaneously.
No ads bugging while enlarging photos.
No software needs to download.
No registration is needed.
Support different selection of enlargement.
Cons
Lack of presets on the interface.
2. ImgLarger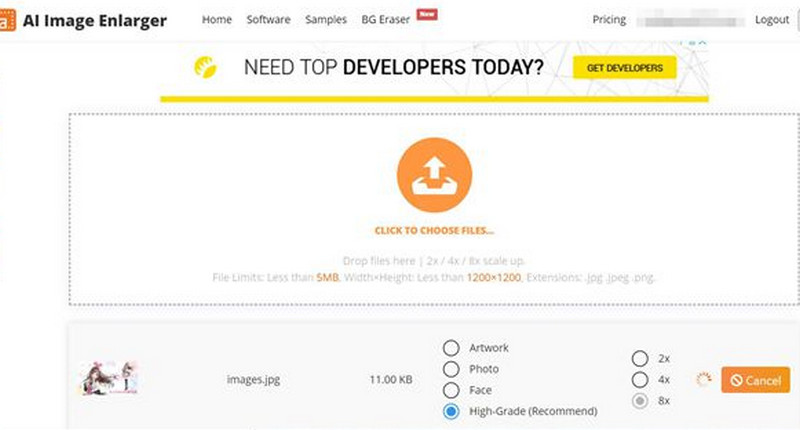 ImgLarger is the next that hits on our list. This, too, is a magnificent photo enlarger online that enables you to not only enlarge but to crop, annotate, add filters, and frame your photos. Furthermore, it enables you to enlarge your photos up to 4x their size for free. However, its free trial will only limit your photo files to a maximum of 5MB or 1200x1200.
Pros
Easy to navigate.
Produce good quality outputs.
With multiple photo editing tools.
No watermark.
Cons
The free trial is limited.
The enlargement process takes time.
It requires registration and verification.
3. Image Upscaler
Image Upscaler is another simple yet powerful photo resizer solution online. And yes, this too is powered by AI that makes the photo enlargement without making the photo blurry. In addition, this photo magnifier will let you create a new copy of the photo up to 4x larger. And have a preview of the before and after of an image that has undergone enlargement.
Pros
Good quality of outputs.
No watermark.
Easy to navigate.
Cons
The interface is not that pleasing.
The free trial version has a limit.
It requires you to sign up before using it.
4. Smart Upscaler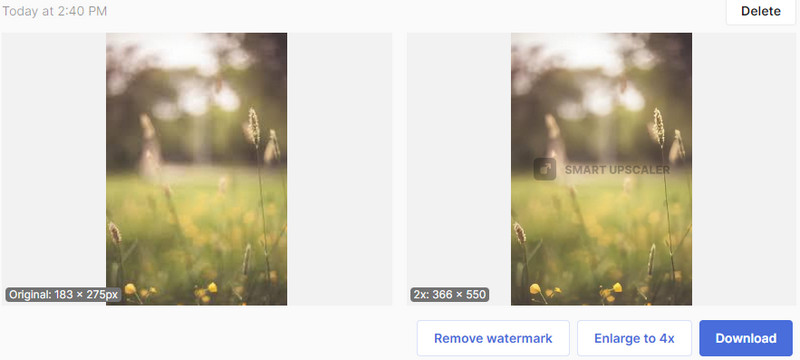 The next best pick that you must try is this Smart Upscaler of Icons8.com. It is an exciting image expander that freely works to enlarge photos with a maximum size of 5Mb. As a user, you can upscale your photo up to 7680x7680px or up to 4x.
Pros
It makes the output stunning.
Enlarge photos in a few clicks.
Cons
The free trial only allows three free images to edit.
It stored the images for 60 days.
The fre trijal has watermark.
Lack of editing tools and presets.
5. Topaz Gigapixel AI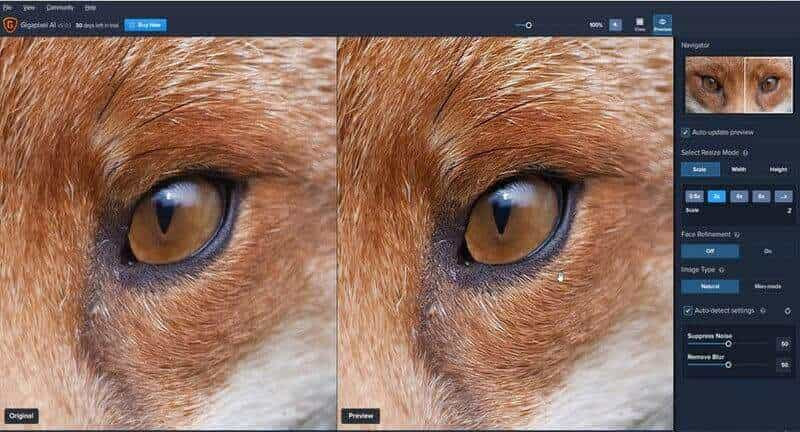 If you are looking for software for either your Mac or Windows, then you should try the Topaz Gigapixel AI. This software will enable you to magnify your photos by up to 6x while maintaining their quality. Despite that, it still amazingly works to sharpen and add details to your photos by the time you process the photo enlargement sizes.
Pros
It scales the photos highly.
It works on photos with both portrait and landscape orientation.
Lossless enlargement procedure.
Cons
The free trial contains a watermark on the output.
The premium package is pricey.
High system requirement.
6. AI Enlarge PhotoLabs
AI Enlarge PhotoLabs is a product of PixBim which focuses on enlarging images. Furthermore, this software works best on both beginners and professionals, for it has an intuitive interface. Moreover, to complete its purpose, it lets users upscale their photos for up to 4X without damaging the quality.
Pros
It offers users a free trial version.
Outputs with good quality.
Cons
The interface is too simple.
With limited tools for software.
7. Photolemur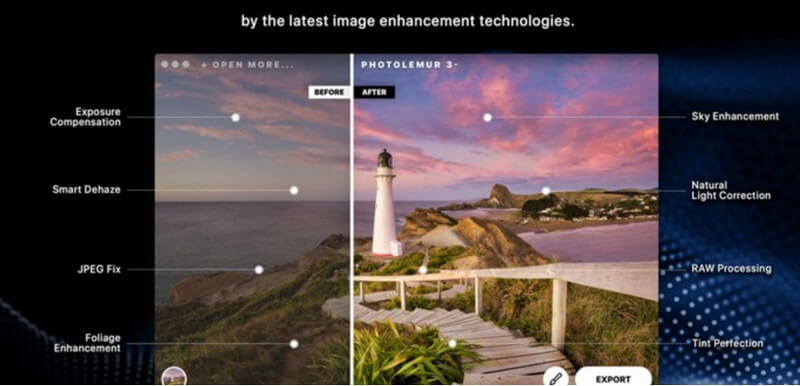 Don't worry if you have no photo editing experience because this Photolermur can back you up. Furthermore, since it's software that uses artificial intelligence technology, it works faster while getting the quality that you desire for your photos. Despite that, this AI image enlarger is also excellent in restoring the lost details, fixing exposure, and boosting the colors and lights of your images instantly.
Pros
It can process batch files.
Support a wide range of image formats, including RAW.
Offer numerous features and tools.
Cons
No scale option for enlarging images.
Watermarked outputs for the free trial.
8. Fotophire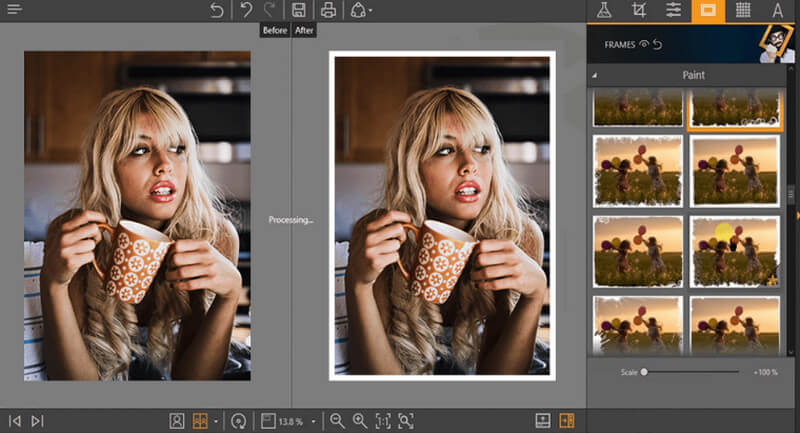 Fotophire is one of Wondershare's products that work on photo editing. Furthermore, it can enlarge your photo by up to 10x without losing quality. Regarding editing, Fotophire allows users to work in several ways, such as in background removal, applying filters, and adding special effects. However, this fantastic photo enlarger is only limited to Windows-based computers, which means one who uses a Mac will not be able to work with it.
Pros
It gives a free trial version.
Come with tons of features and editing tools.
Offer options for presets and resolution.
Cons
Limited for Windows only.
The powerful features are in the premium plan.
9. Let's Enhance
Let's Enhance is one of the finest photo editors online. This tool can enlarge your photos up to 6x through its smart resizer. Aside from that, it also works on your various digital arts without losing their quality. However, this free photo enlarger online can only give you five tries for image editing and will not free you from the watermark posted on your outputs.
Pros
It has a user-friendly interface.
Good quality outputs.
Cons
The free trial version has limited credits.
Watermarked outputs.
10. Deep Image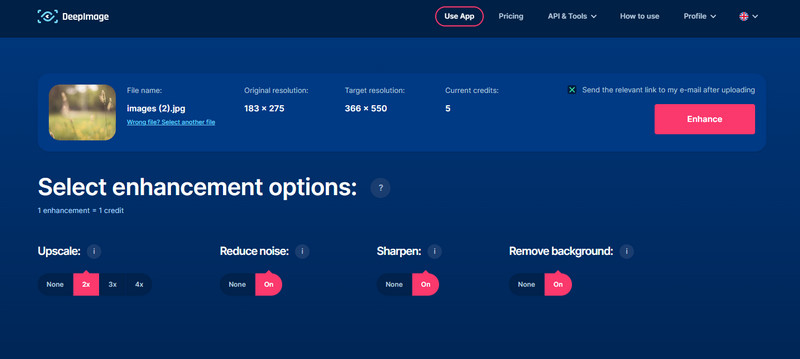 The last on the list, but not the least pick, is Deep Image, another online program that works with artificial intelligence technology. Deep Image has essential options such as noise reduction, scales, sharpen, and background remover, which you can adjust in a single click. Moreover, it allows users to upscale the photos with the 2x, 3x, and 4x selections. However, just like others, its free trial version of this ai image enlarger will only allow you to have five credits, which can lead you to the subscription to continue the usage.
Pros
Intuitive interface.
It enlarges the photos with scale selections.
Good quality outputs.
Cons
The free one only gives five credits.
It requires registration.
Part 2. Bonus: How to Enlarge a Photo
As a bonus, we will let you see how to enlarge your photo swiftly and efficiently by using the AVAide Image Upscaler.
Step 1Upon visiting the AVAide Image Upscaler's main page, see the navigation at the center. Then, on the Magnification selection, toggle the scale that you need for your photo.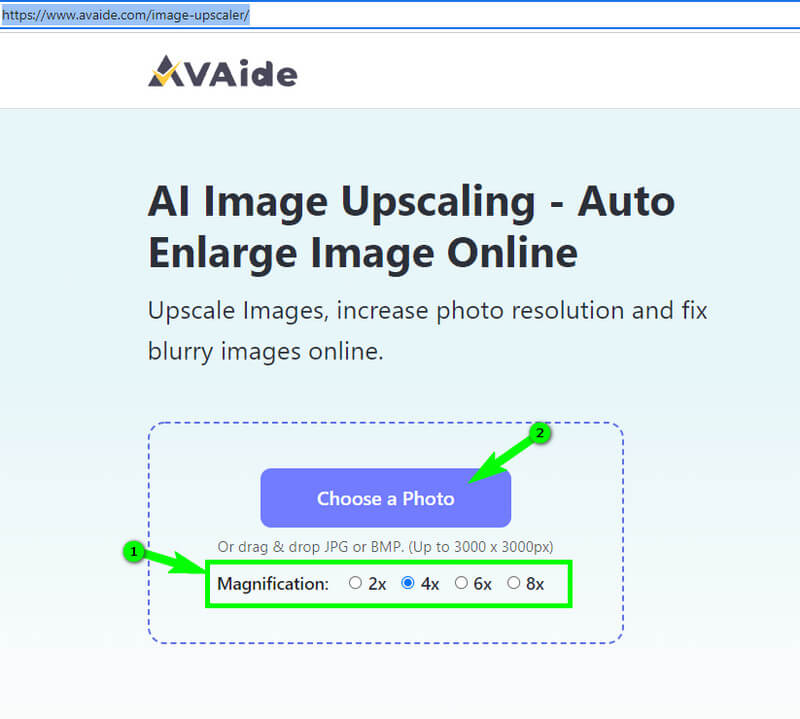 Step 2After that, hit the Choose a Photo tab to upload your photo.
Step 3You will notice that once the photo has been uploaded, the preview is also seen. Now, click either Save to take the changes or the New Image to upload another photo.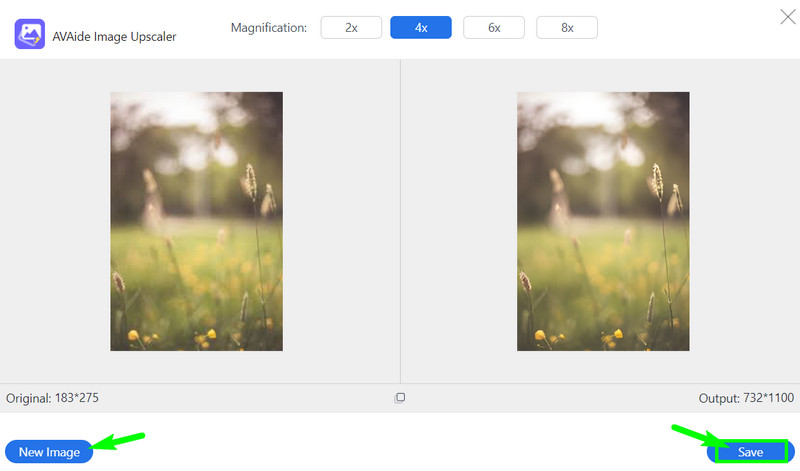 Please note that this ultimate ai enlarger supports photos with 3000x3000px.

AVAide Video Converter
The most comprehensive media converter to convert video & audio & DVD without quality loss.
Part 3. FAQs about Photo Enlargement
What makes a photo enlarger outstanding?
The tool will be outstanding if it excels in the functions related to enlarging, such as intuitive operation, swift process, good quality outputs, and wide support on image formats.
Is it possible to enlarge old photos?
Yes. You can enlarge your old photos. However, it will be challenging to transform it with the best outcome since the photos are old.
How big can I enlarge my photos on my iPhone?
That depends on your iPhone unit. You can enlarge pictures taken on iPhone 6 to 20"x30" for printing purposes.
Conclusion
The ten listed are the best choices for the users. In all fairness, we have met our standards during the tryouts. With this being said, we are confident that you can have any of them. Thus, if you are still thinking about which one to use, then try the AVAide Image Upscaler.
Use the Best Image to 4K Upscaler Online
Our AI technology will automatically enhance the quality of your images, remove noise and fix blurry images online.
TRY NOW