Mozilla Firefox, Opera, and Google Chrome are just a few online browsers compatible with WEBM. Additionally, with third-party assistance, it is supported in both Internet Explorer and Safari, among other browsers. The most popular video streaming medium, YouTube employs the WEBM file format for its HTML5 Player, available on its website.
But have you ever wondered if this kind of video format is not compatible with your video or media player? What are your chances of resolving this? Suppose you ever try to convert it to other formats as one of your solutions to the problem given. Do you have any video converter in hand that supports different video formats like WEBM? Consider yourself lucky because this article tackles most concerns about converting video and other details you need to know. Continue reading and be enlightened with the information and steps introduced that you need to learn.
Part 1. Can You Convert WEBM to AAC?
VP8 video and Vorbis audio make up the WEBM video format. Most major online browsers support WebM as part of HTML5 video delivery, which provides open video compression for HTML5 videos. For both commercial and non-commercial use, WEBM is a substitute to the patented h.264 and MPEG4 standards. Despite its popularity, it lacks compatibility and portability with other media players. That is why there is a need to convert it to AAC file format. AAC is an audio file format that compresses data more efficiently. It drastically decreases the size of the audio file without sacrificing quality. It employs the MPEG-4 standard to minimize file size to eliminate low-frequency sounds that are not audible to the human ear.
Part 2. 2 Effective Ways to Convert WebM to AAC Offline Without Quality Loss
The Leading Tool: AVAide Video Converter
There are plenty of applications available to assist you in effectively converting WEBM to AAC. AVAide Video Converter was created specifically for your needs if you're looking for a more practical option. Using this software, you can convert music at high speed without sacrificing quality. Thanks to the high-level acceleration technology, you can convert multiple files simultaneously that can convert 30x faster than any standard converters. It has a built-in media editor for enhancing and editing videos and audio. You can merge multiple songs into a single file or add visual effects or subtitles to a video as needed. The following are the steps you can take to convert WEBM to AAC using this tool.
Step 1Visit the official page of WEBM to AAC converter
First and foremost, download the software from its official website. Install and launch it afterward.
Step 2Add your WEBM files
Drop your files into the interface simultaneously. You can do so by clicking the Add Files icon in the interface's left upper corner. To speed upload, you may upload the entire folder containing your files for conversion. Click Add Files and then Add Folder.
Step 3Select AAC as the new format
To set your WebM to AAC, hit the Convert All to button, then choose AAC format from the audio list. An individual set of formats are also available by hitting the Arrow button on each file.
Step 4Start the conversion
To initiate the conversion, click the Convert All button in the interface's right bottom corner. Stand by for the process to finish, then check for completed files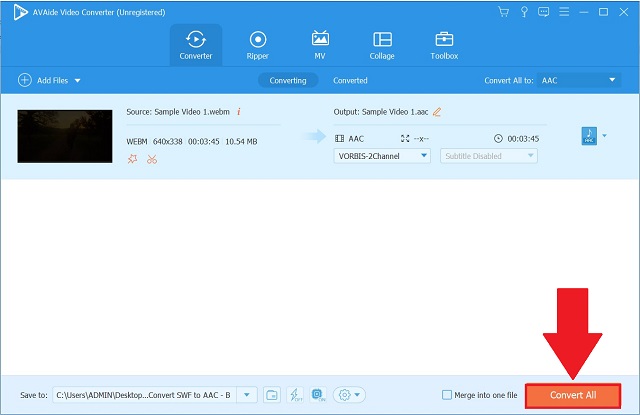 Step 5Preview the converted files
Check the completed files by going to the Converted tab. To directly locate the file's destination on your PC, click on the Folder beside the converted files.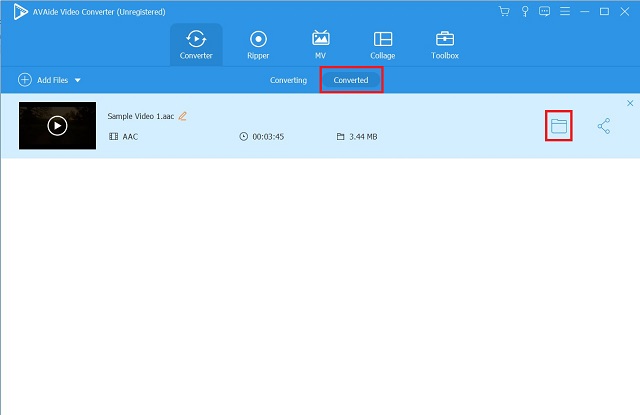 The Advanced Tool: FFmpeg
FFmpeg is a code tool for converting audio and video formats. It can also collect and encrypt real-time data from various hardware and software devices, such as a TV capture device. Yet, it has a high learning curve and a command-line interface. As a result, most beginners may be scared off from utilizing this tool. Nevertheless, most professionals utilize this since it is an all-in-one tool with incredible capabilities. Here are the steps below to convert WEBM to AAC using FFmpeg.
Step 1Run the tool
Launch FFmpeg on your device, then use the Terminal to locate files on your desktop by selecting the in cd desktop command.
Step 2Enter the code
After that, enter the code needed for FFmpeg to start up.
Step 3Convert now
Save the audio by selecting the appropriate format for your file, which will depend on whether it is an audio or video file.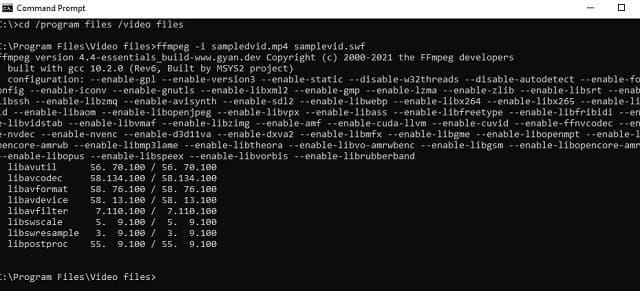 Part 3. Best WebM to AAC Converter Online on Mac and Windows
The Best Online Tool: AVAide Free Video Converter
AVAide Free Video Converter is one of the best WEBM to AAC converter free tools that provides excellent convenience without requiring any installation or membership. Furthermore, with an unlimited number of conversions, it undoubtedly hits a tender spot among online users. This tool is extremely simple to use. It means you don't need any technical knowledge to use this app. As soon as you access the web app, you will be able to use it without the need for assistance from others. In case you're wondering, this tool can also convert video to audio. You are ready to go as long as you have access to the internet and a browser.
Step 1Get the launcher
To begin, open the AVAide Free Video Converter on your computer. Then, click the ADD YOUR FILES button. Click Download, then Open from the resulting window.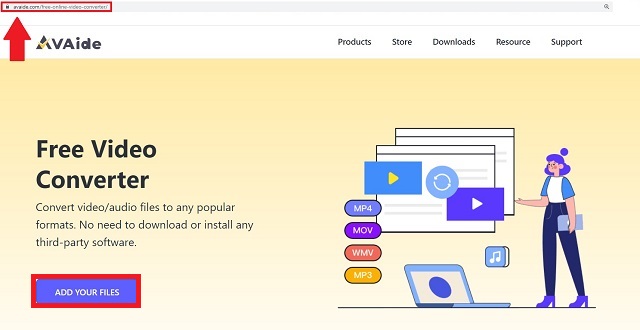 Step 2Upload your WebM files
After that, click the ADD YOUR FILES button again. Upload all your WEBM files on the tool.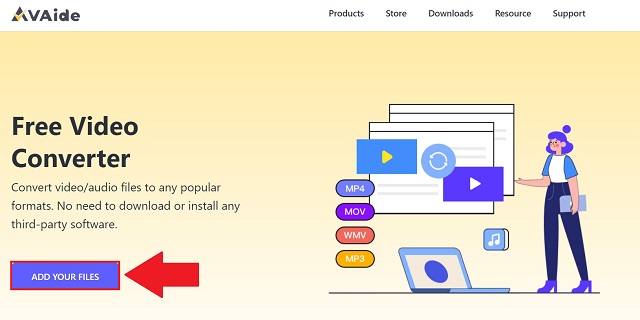 Step 3Choose the desired output
To generate all of the audio formats, click the Audio icon. Find the AAC button and select it as your output format.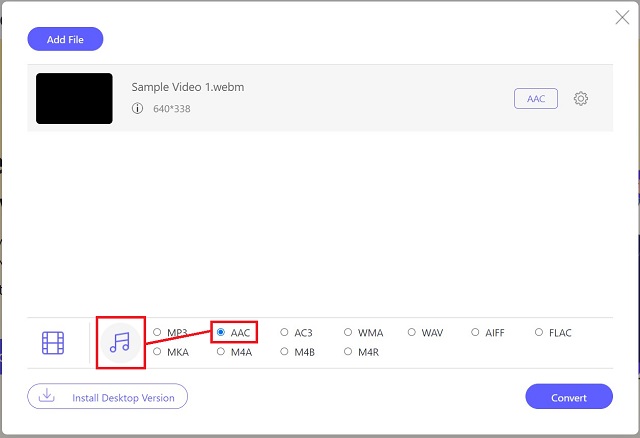 Step 4Begin the process of conversion
Then, to begin the conversion, click the Convert button. You can also pause and resume the procedure for any reason.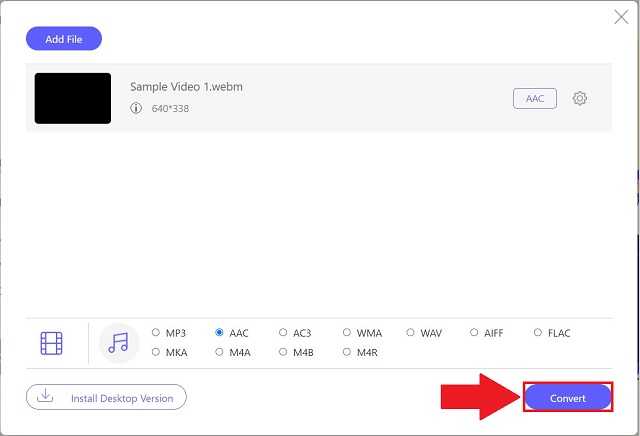 Step 5View the new files
Your files' local holder will appear and be accessible once you click it.
Part 4. FAQs about WebM to AAC File Format
Can I watch WebM videos on my Mac?
WebM files support many popular web browsers, including Opera, Firefox, Edge, and Google Chrome. Yet, to use the Safari web browser on a Mac, you must install other media players. Looking for a WEBM to AAC converter online is preferable, such as AVAide Free Video Converter.
Is audio included in WebM files?
Yes, it is an audio-visual media file format that provides a royalty-free alternative for HTML5 video and HTML audio components.
Does Safari support WEBM?
Safari now supports WebM files in macOS Big Sur 11.3.
Your complete video toolbox that supports 350+ formats for conversion in lossless quality.