Whenever a music video is available, you can enjoy both listening to the song and seeing the accompanying video in the music. How about those people who prefer listening to music with their headphones while relaxing? Worry no more, you may listen to music without needing to download a video first. It allows you to listen to your favorite artists' music even if your connection is weak or your video doesn't play back correctly. Did you know that you can convert your MP4 files to AAC to enrich your music experience? This article will guide you on how to convert MP4 to AAC easily, along with the famous converter tools.
Part 1. Brief Introduction of MP4 and AAC
| | | |
| --- | --- | --- |
| Details | MP4 | AAC |
| File extension | .mp4 | .aac |
| Description | 1. It is a type of multimedia file. 2. It supports the storage of video, audio, and subtitle information. | It is half the size of MP3 but has higher quality. |
| Associated programs | 1. iTunes 2. Microsoft Windows Media Player 3. VLC Media Player | 1. KMPlayer 2. RealPlayer 3. VLC Media Player 4. Windows Media Player 5. iTunes |
| Developed by | Moving Picture Experts Group | 1. Fraunhofer IIS 2. AT&T Bell Laboratories 3. Dolby 4. Sony Corporation |
Part 2. 2 Credible Ways to Convert MP4 to AAC Offline
AVAide Video Converter
AVAide Video Converter comes in top place among the most highly rated audio converters for Windows. With this all-in-one app, users can easily convert their video and audio files between different formats. Aside from that, it provides other video editing features including cropping, trimming, and flipping. The tool's user-friendly interface makes it simple for anyone to use. As a result, users enjoy downloading and installing it on their Windows PCs because it makes converting their favorite files a snap. For your convenience, we've included guidelines below to help you better understand how to convert MP4 to AAC files instantly.
AVAide Video Converter
It is efficient in converting several files at the same time.
It quickens the converting process 30x faster with acceleration technology.
Video clips can be manipulated, rotated, cropped, cut, flipped, merged, improved, and compressed.
Step 1Install the app desktop version
First, go to AVAide Video Converter's official page. Download and install the app on your device.
Step 2Drop the MP4 files
Next, select the Add Files option to upload all of your original files from your local storage. Otherwise, you can drag your files on the Plus (+) button.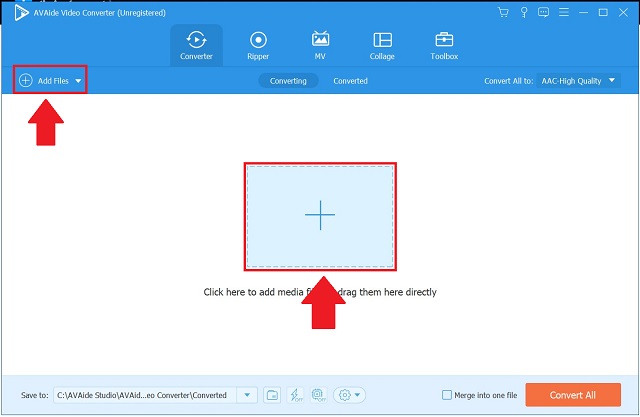 Step 3Choose the audio format
Then, in the menu bar, locate and select the Audio button. You should now see a long list of audio formats. On the Convert All to button, select AAC. If you want to make some adjustments, keep in mind that the format choices can be changed.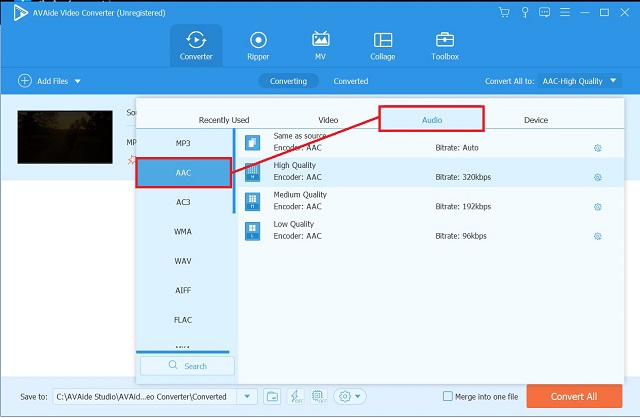 Step 4Start the quick process
Then, click the Convert All button to begin the format conversion process.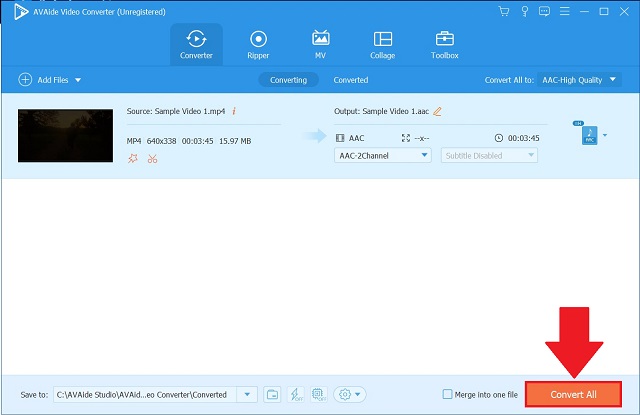 Step 5Check the new AAC files
When the process is complete, double-check your AAC files by hitting the Converted tab.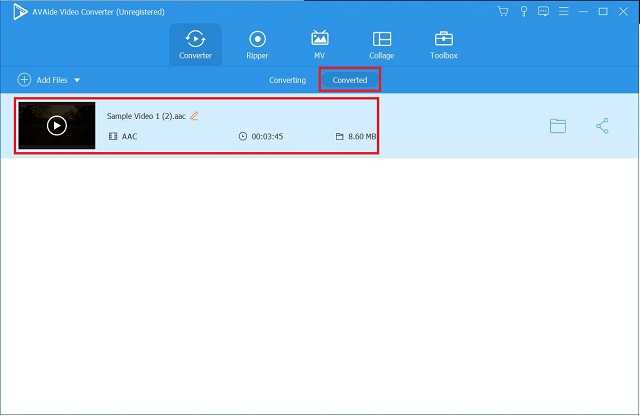 iTunes
iTunes may also be used to convert audio tracks on your computer. You won't have to worry about your audio files not playing on your device if you use this tool. We'll walk you through the process of converting your favorite music in the simple tutorial below.
Step 1Open iTunes
To begin, go to the tool's menu bar and select File from the menu options. To convert a file, click the Convert option.
Step 2Set the Desired Format
To create an AAC version, select Create in AAC version from the format drop-down menu.
Step 3View the Converted File
Finally, locate your converted file in its destination folder on your local storage.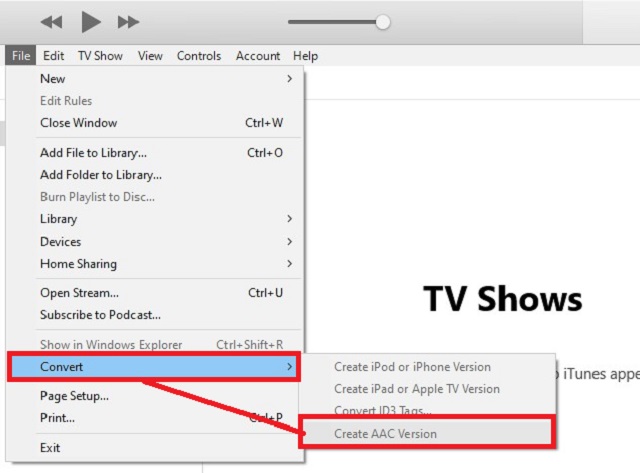 Part 3. Swiftly Convert MP4 to AAC Online
AVAide Free Video Converter
AVAide Free Video Converter comes out on top when it comes to online video converters. Due to its user- and beginner-friendly interface, this web-based tool is popular among users. You won't have to read a bunch of different how-to guides because it's so simple to use. You have full control over the format of audio and video files thanks to the user-friendly interface. In addition, this online converter is available on both Mac and Windows operating system platforms. The following is a step-by-step guide on how to convert MP4 to AAC files in a flash.
Step 1Acquire the Launcher
To begin, install the AVAide Free Video Converter on your computer. Then, click the ADD YOUR FILES button. Click Download then Open from the popped-up window.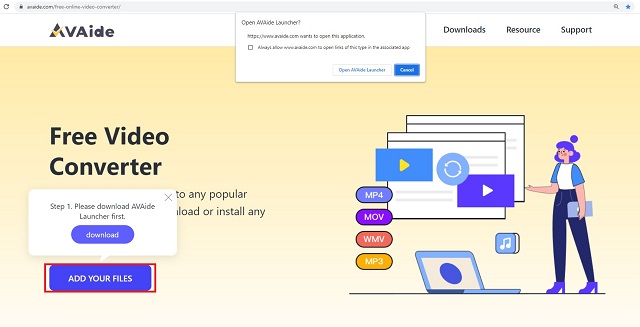 Step 2Upload Your Files
Then, click the ADD YOUR FILES button one more and upload your MP4 file.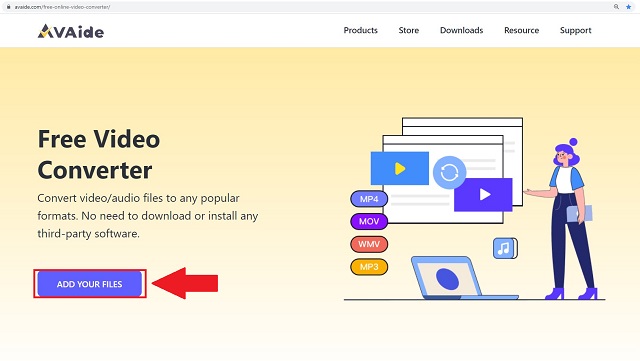 Step 3Preset the Output
To see all of the audio formats, click the Audio icon. Find the AAC button and select it as your output format.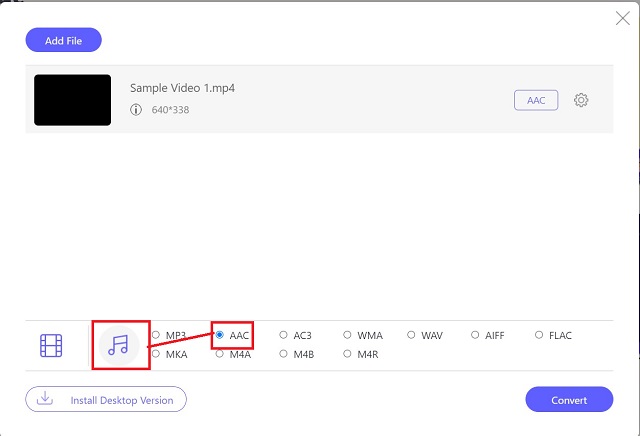 Step 4Begin the Conversion Process
Then, to begin the conversion, click the Convert button.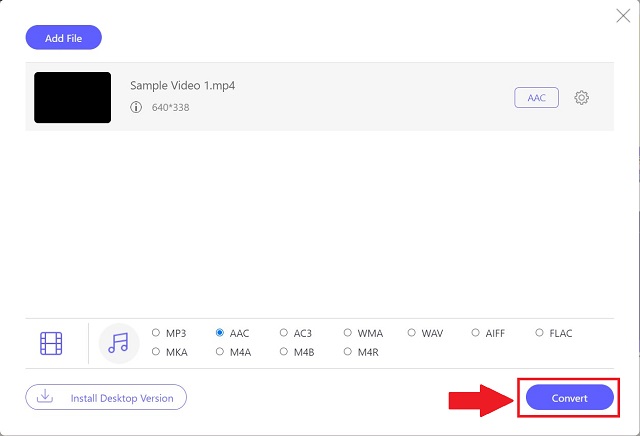 Step 5Check the new files
Hit the folder icons beside each file to see if it has been converted to the new format. Your files local holder will appear and be accessible once you click it.
Part 4. FAQs about MP4 and AAC Formats
AVAide Video Converter available for Mac?
That's for sure! Because it was created for both Windows and Mac, AVAide can be downloaded on either platform.
Which MP4 to AAC converter has a fast conversion process?
In our video converter testing, AVAide Video Converter came out on top. Because it is equipped with acceleration technology, it converts 30x faster than normal converters.
What is the process for encoding and decoding MP4 files?
H.264 is used to compress video data in the MP4 container format. Compression methods such as H.264 or MPEG-4 are used.
Conclusion
That concludes the list of programs that can be used to convert MP4 to AAC. Some are available as a free download on your computer, while others are software that must be downloaded and installed.
Your complete video toolbox that supports 350+ formats for conversion in lossless quality.