Do you enjoy making videos with various sound effects? You are on the right page! The background music of your favorite movie, cars beep, baby's laugh, birds chirp, the sound of the rain, and more. Online videos are full of ambient sound effects that you can extract by converting the video to audio. Most video streaming platforms use WMV file to stream videos. In order to extract the sound from a WMV file, you must first convert it to AAC audio format. This post will provide you with the best and most reputable converters available on and off the web for converting WMV to AAC.
Part 1. What are WMV and AAC Formats: The Reason to Convert
Windows Media Video file or WMV is a video compression format created by Microsoft. It may not be evident to many users, WMV file is prevalent because it can store a large amount of video and audio data in a small amount of space. As a result, it's a suitable format for streaming video over the internet. Yet, the format can store video files on Windows-based devices. It means WMV is compatibly-limited with media players and devices for Windows. True enough, it isn't easy to edit or play a WMV file on a non-Windows device. Multiple converters can switch WMV to other video or audio formats.
On the other hand, AAC or Advanced Audio Coding. It is a lossy audio format that provides a good sound quality with a small file size. Imagine that? You can enjoy your favorite high-quality soundtracks without worrying about your device storage. Not just that, more and more devices can play an AAC file today. Which only means, AAC is widely available to play on any operating system since it has broad device compatibility. Switching WMV files to a universal format, specifically AAC, will be a proper quick fix if you want to play them not only on Windows but on all media players and devices.
Part 2. The Expert Way to Convert WMV to AAC Offline with High-Quality Output
AVAide Video Converter
If you are looking for a versatile offline tool that will help you convert WMV files without any hassle, AVAide Video Converter is the best solution for you. It supports almost 300+ video formats such as WMV, MOV, FLV, MP4, and more. It also offers a video to audio conversion with famous formats like AAC, WAV, FLAC, MP3, etc. More shocking is that almost 8 million users are pleased since this tool has acceleration technology that converts your files 30x faster and without interruption. It has a simple and user-friendly interface. Even a first-time user can utilize the software with ease. Without further ado, here is the complete step on converting WMV to AAC without sacrificing the file quality.
Step 1Download the WMV to AAC offline converter on your desktop
To download the application, click the download buttons below. Or, you can visit the official website of AVAide Video Converter, download and run the software.
Step 2Drag and drop your WMV files
Locate the Plus (+) button on the interface and drag your files. Another way is you can click Add Files and import your files from your local storage.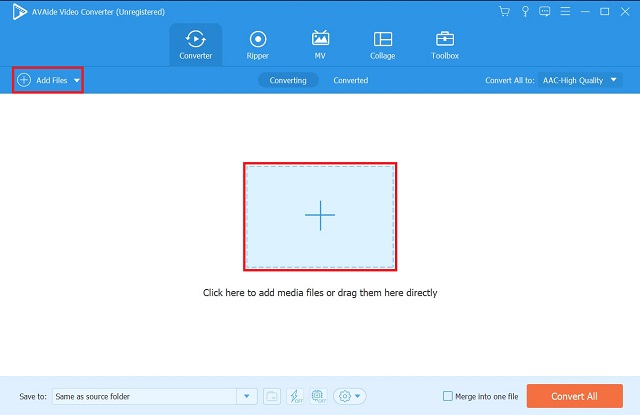 Step 3Select AAC as the new format
After uploading your files, the next thing to do is set your file WMV to AAC. To do that, on the upper right corner of the interface, click Convert All to button. You will see the list of video and audio formats. Click AAC as the audio format.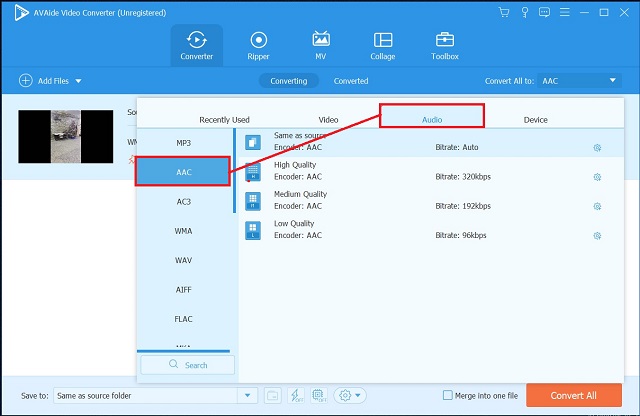 Step 4Switch WMV to AAC by converting
Initiate the conversion by clicking the Convert All button in the interface's bottom right corner.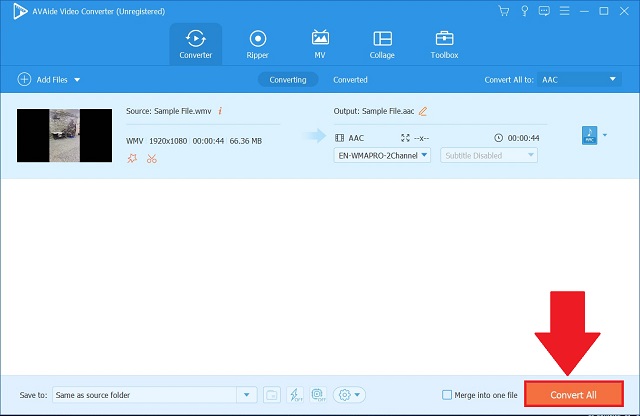 Step 5Preview the newly converted AAC files
After the conversion process, locate the Converted tab to preview the recently converted files. Tap on the Folder beside the converted files to readily access the destination folder for the converted files on your PC.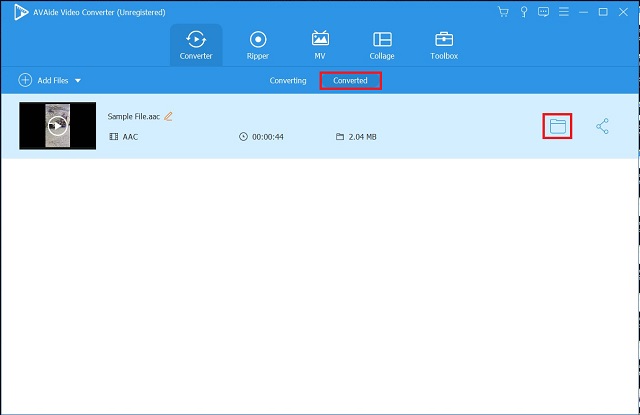 Part 3. The Easiest Way to Convert WMV to AAC Online for Free
AVAide Free Video Converter
If you want an easy-to-use tool with no subscriptions or sign-ups, AVAide Free Video Converter is your closest buddy. It is a free converter with fast file conversion. With just one single click, you can convert your WMV to AAC right away. More so, it supports many input and output formats. You have multiple choices of formats to choose from. Plus, you can convert your files without a file size limit in just a snap. What are you waiting for? Follow the guidelines below to convert WMV to AAC instantly.
Step 1Download and install the free online converter
To begin, run the launcher of AVAide Free Video Converter on your computer by hitting ADD YOUR FILES. A resulting window will appear. Click Open AVAide Launcher, then tap Download.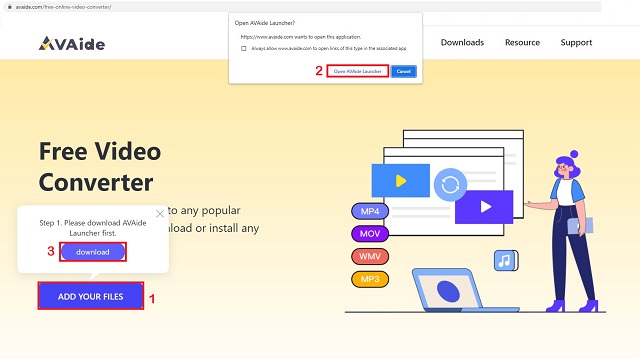 Step 2Upload your files right away
From the interface, click ADD YOUR FILES again to import your files. You can upload files simultaneously for bulk conversion.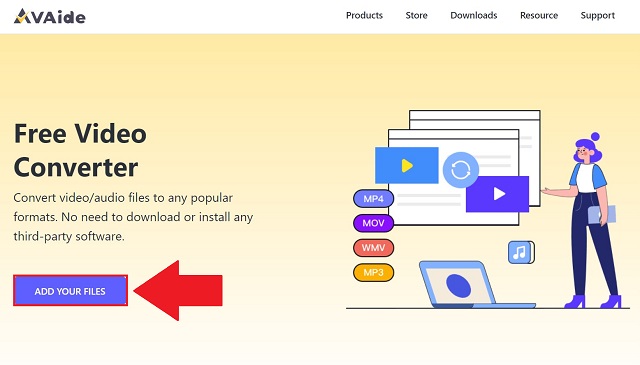 Step 3Choose the AAC audio format from the list
To select a format, click the Audio icon in the bottom right corner of the interface. After selecting, it will generate different audio formats. Navigate and select the AAC as your desired audio format.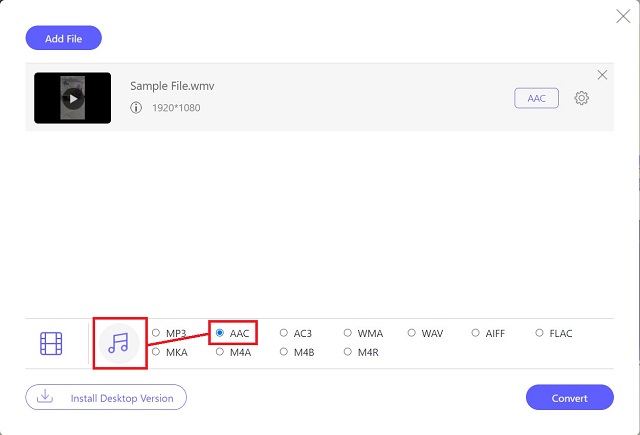 Step 4Convert WMV to AAC now
On the bottom right corner of the interface, hit the Convert button to start the conversion.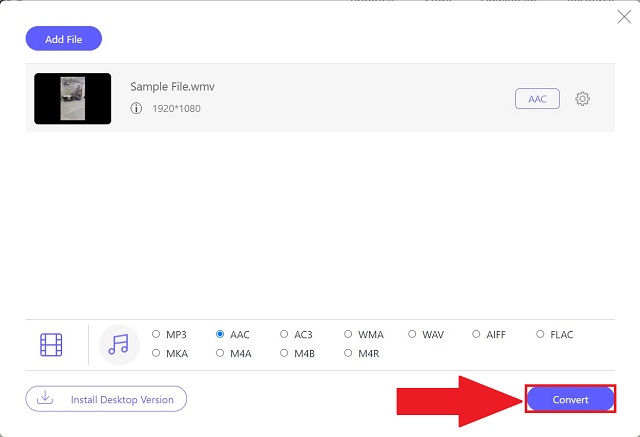 Step 5See the AAC converted files
Finally, when the conversion is complete, locate the new AAC files on your local file storage.
Part 4. FAQs on WMV to AAC File Format
Is it okay to save WMV to an iPhone?
Although the iPhone does not natively support opening WMV files, you can circumvent this limitation by installing a third-party app. Otherwise, you can install AVAide Video Converter on your desktop.
Can I import many soundtracks with AAC format on my iPod without worrying about the storage?
Actually, yes. AAC files are typically much smaller than any audio format and can still produce a high-quality sound. It means you can put more songs on your device and still enjoy a better music experience.
Is it possible to play AAC files on Windows 10?
Yes, because WMV is much compatible with various devices such as Windows 10, Mac, Linux, and more.
Your complete video toolbox that supports 350+ formats for conversion in lossless quality.