WMV, which stands for Windows Media Video format, is a compressed video container created by Microsoft Corporation for storing different video contents and web streaming programs on computers. What is amazing with this file format is, it takes only a little disc storage to maintain the quality of the original one. It's also a good choice for uploading files on the web. This is a good format for videos. But, if you only need to extract the audio of a particular file, you need to convert your WMV to M4A. Especially if you're a Mac user. This suits your musical playlist, audiobooks, and podcast.
Part 1. A Faster Way to Convert WMV to M4A on Windows and Mac Platforms
AVAide Video Converter
One way of doing the conversion is to install a popular software on your desktop. We highly recommend using the AVAide Video Converter. Quality outputs don't need any expertise and prior skills, especially for first and common users. This tool will exactly change your WMV to M4A. Maximize the compatibility of your devices! You can only experience its capacities when you follow these simple steps.
Step 1Install the app desktop version
First off, visit the official website of AVAide Video Converter. Upon visitation, simply download and install the app on your device.
Step 2Drop the WMV files
Secondly, upload all your original files from your local storage by clicking the Add Files button. Choose individually or in group.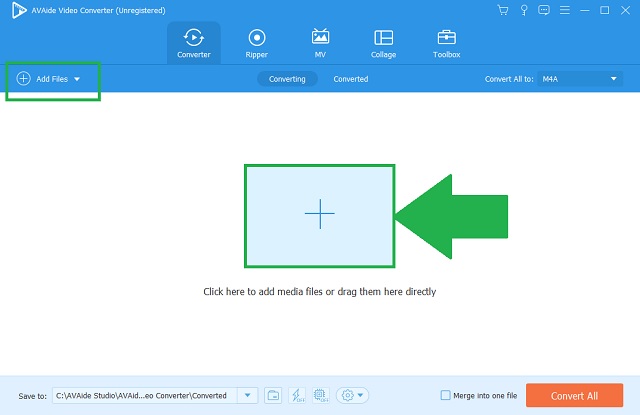 Step 3Choose the audio format
Then, on the menu bar, you'll see the Audio button and click it. Now, you'll have a view of the long list of audio formats. Choose the WMV on the Convert All button. Remember that the format preferences are adjustable if you want to make some changes.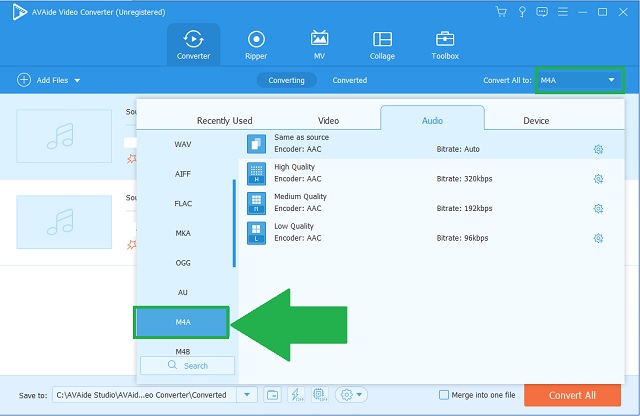 Step 4Start the quick process
Then, click the Convert All button to start the process of changing the format.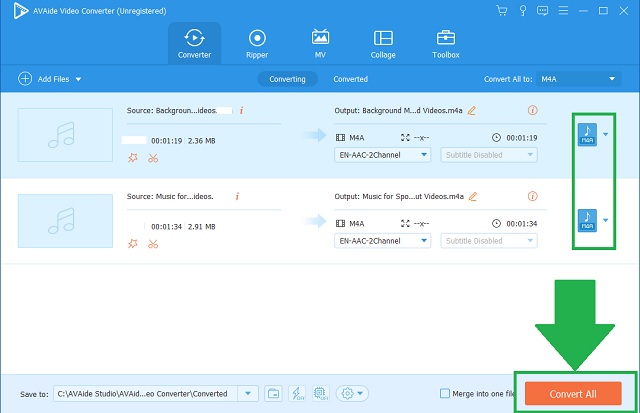 Step 5Check the new M4A files
When the process is finished, check your files on their file designation. They are now ready to be played.
PROS:
Multiple audio and visual formats.
Fast-speed process without quality loss.
Group conversion.
High sound quality.
Comprehensive interface.
Safe and protected file history.
CONS:
Limited trial version for the program.
Part 2. A Rapid Default Way to Convert WMV to M4A
Make Use of iTunes
Another way to convert your files from WMV to M4A is through iTunes. This is a default tool to consider. Let's find out what it can offer by following these guidelines on how to use it.
Step 1Open iTunes on your device
First off, find the File setting on the menu bar located on the leftmost part of the tool. Click the Convert button.
Step 2Change into audio format
On the shortlist of format, click the Create in AAC version button. This is the encoder type of M4A audio format.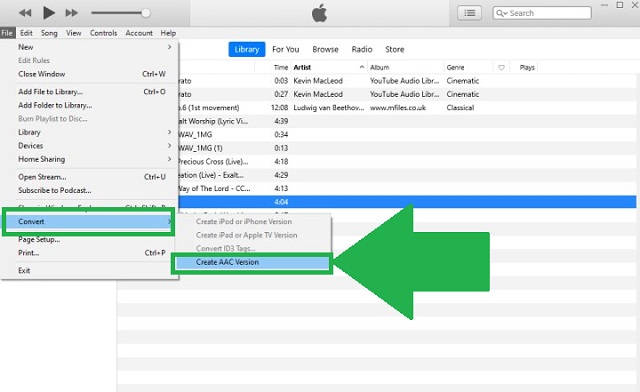 PROS:
Default player for Mac devices.
Well-known media player.
CONS:
Not interface is not intuitive.
Contains very few formats.
Part 3. An Online Way to Convert WMV to M4A Format with Easy Steps
Try the Online Method of AVAide Free Video Converter
But if you're looking for a solution that can be found on the web is the AVAide Free Video Converter. This gained its credibility by offering tons of powerful features to convert WMV to M4A. What's special about this is the rapid way of changing your files into their new format. The speed is faster than other similar tools that convert. When you see the official website, it will greet you with its aesthetics. Plus, the interface was intuitively made for common users and first-timers. Formats are supported by most devices including mobile phones, computers, and laptops. You can never go wrong with the instructions given below.
Step 1Visit the official website
First and foremost, to access the tool, visit the official webpage of AVAide Free Video Converter. Click the Download button. Upon completion, install it on your device.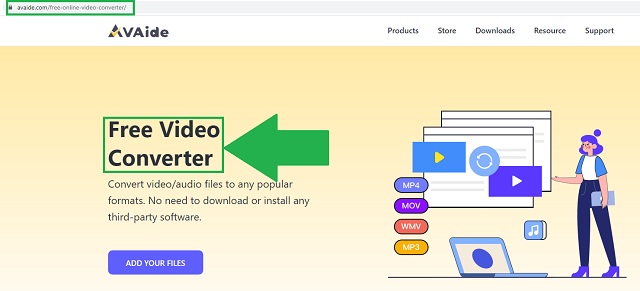 Step 2Upload the old files
Secondly, click the ADD YOUR FILES button. Import all your WMV files on the tool. Adding in a group will lessen your time consumption.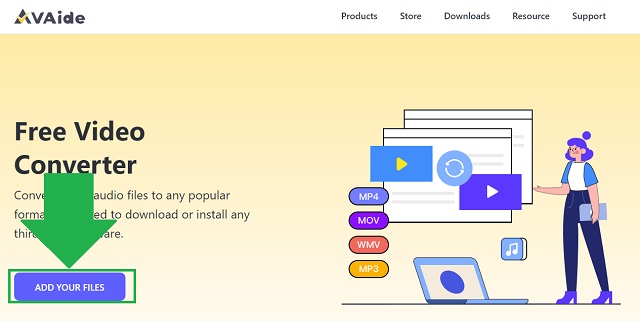 Step 3Select the new format
Click the audio icon to generate all the hidden audio formats. Look for the M4A button and click it as your output format.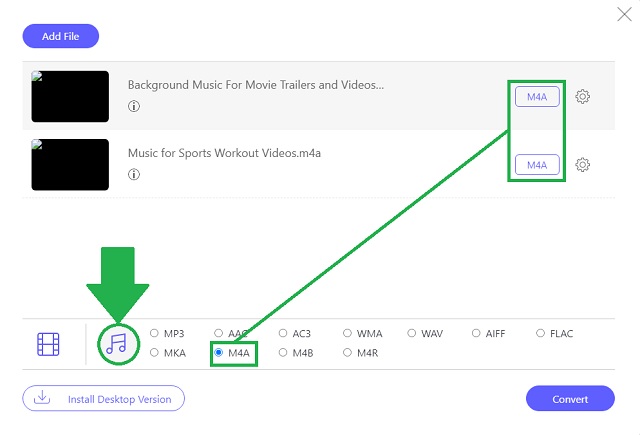 Step 4Commence the conversion
Afterwards, you need to click the Convert button to start the process. For some reasons, you can also pause and stop the procedure.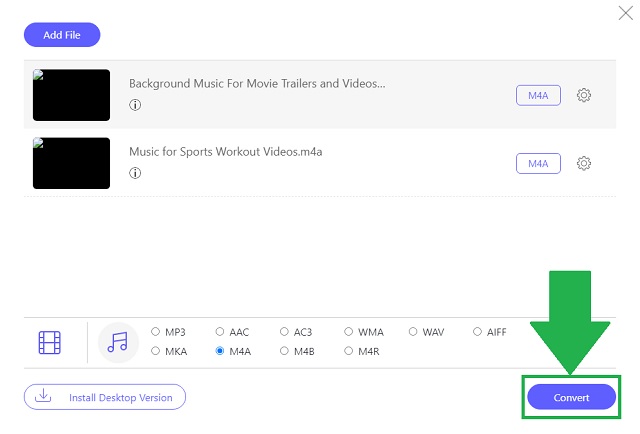 Step 5Look over the new files
To check your files with the new format, click the folder icons beside each file. Once clicked, your files' local holder will automatically appear and be accessible.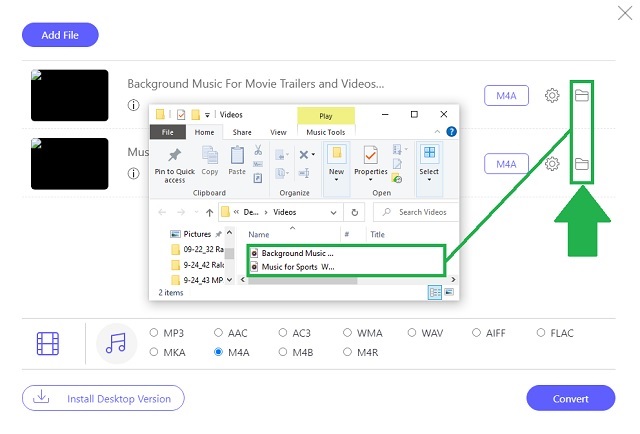 PROS:
Web-based services.
Long list of formats.
High-speed technology.
Intuitive interface.
No watermark and ads.
Part 4. Which is the Best Solution Among Them
This comparison table was made to easily illustrate all the similarities and differences among the aforementioned audio converters.
TOOLS

AVAide Video Converter

AVAide Free Video Converter

VLC Media Player
| | | | | |
| --- | --- | --- | --- | --- |
| Online and Desktop | Windows and Mac | Group Conversion | Media Editor | Advanced Acceleration Speed |
| | | | | |
| | | | | |
| | | | | |
Therefore, as we evidently see, AVAide Video Converter is the best WMV to M4A converter available in our digital community. This is a reliable tool used by many, even the professional users!
Part 5. FAQs WMV and M4A Format
What works well with WMV?
Windows Media Video is a video format ideal for internet video streaming. Plus, it was made as a compressed container built for the Windows Media framework.
Which is better between MP3 and M4A?
The two formats are ideal in different ways. In terms of compatibility, go for MP3. On the other hand, for sound quality attributes, M4A has a greater sound quality.
Does iTunes play WMV format?
Unfortunately, iTunes doesn't support the Windows Media Video or WMV audio format. Consider changing your file format that suits any Apple device or operating systems.
Conclusion
To conclude this write-up, there are wide lists of video and audio converters on the web. These available tools can surely help us solve our concerns regarding our media management. The AVAide Video Converter, iTunes, and AVAide Free Video Converter, are definitely ideal choices on how to easily convert WMV to M4A. Given this, one exceeds the others. AVAide Video Converter is an all-around solution and tested by its reliability.
Your complete video toolbox that supports 350+ formats for conversion in lossless quality.