SWF is short for 'Shockwave Flash' or 'Small Web Format'. This format was created for publishing animations on the Internet. The major shortcomings of SWF are compatibility to devices and operating systems and its large-size content. WMV takes small memory but preserves the quality of the original video. It's our ideal choice of file format for web videos. Moreover, it won't increase the process of loading despite the high-quality attribute. Therefore, as recommended by many, convert SWF to WMV using online tools and offline.
Part 1. 2 Top Free and Easy SWF to WMV Converters
1. The Video Converter of VLC
First on our list is the VLC Media Player. This built-in tool for Windows is known mainly for its media player capability. Unknowingly, this freeware can also change your convert SWF to WMV for free. If you're a Windows user, better learn the procedures on how the feature can be used.
Step 1Open the media player
On your Windows device, click to access the VLC Media Player. From above the Media tab, click the Convert button to unlock the feature.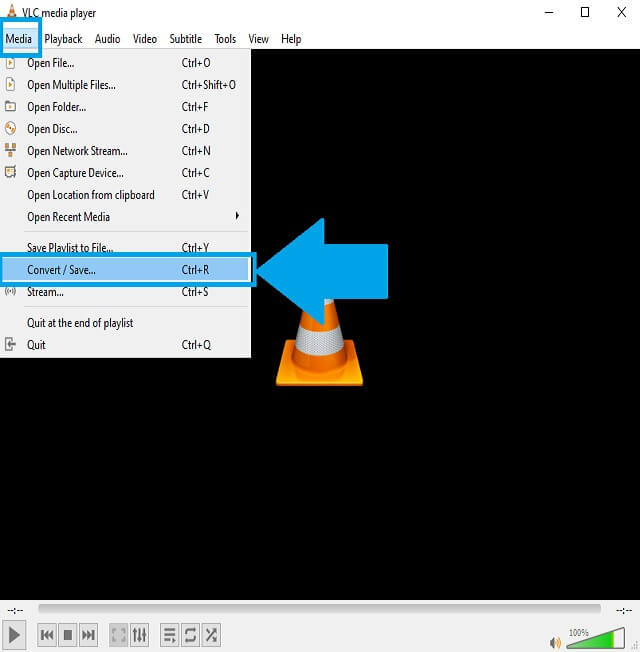 Step 2Upload the local files
Upload your old videos clicking the Add button. This tool also supports conversion in batch.
Step 3Choose the new format
From the available list of video formats, look for the WMV file format and click it immediately. After that, start the process on how to convert SWF to WMV on VLC.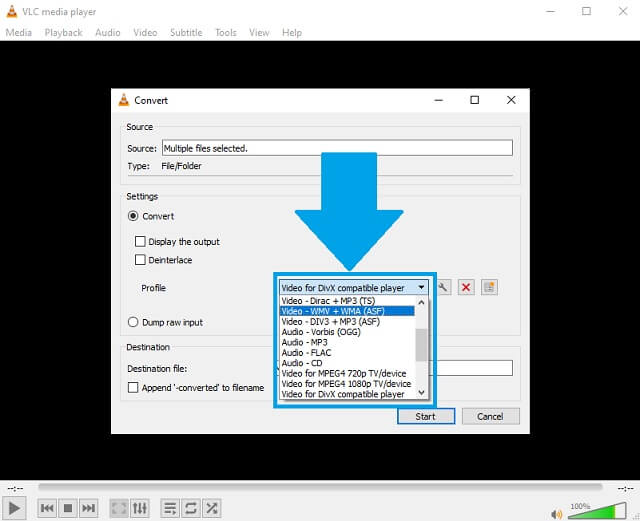 PROS:
Windows users don't need to download it. It's a built-in media player to them.
Major audio and video containers are provided.
CONS:
The tool's interface looks outdated.
It offers only limited formats, only a few.
Mac users need to download it.
2. AVAide Free Converter is the Best Online Tool
But if you're having a hard time finding the best web-based video converter, AVAide Free Converter notched the top place. This tool was developed to guide us on how to convert a SWF file to WMV using a web browser. It helps us compress, reformat, enhance, and edit our SWF videos. Plus, it's a tool that gained the trust of many in general. The features almost cover everything you want from a converter. Undertake the instructions to get started.
Step 1The page visitation
To visit the AVAide Free Video Converter, go and access in from your chosen web browser. Given that it's a web-based tool, you need a stable internet connection for an easy flowing process.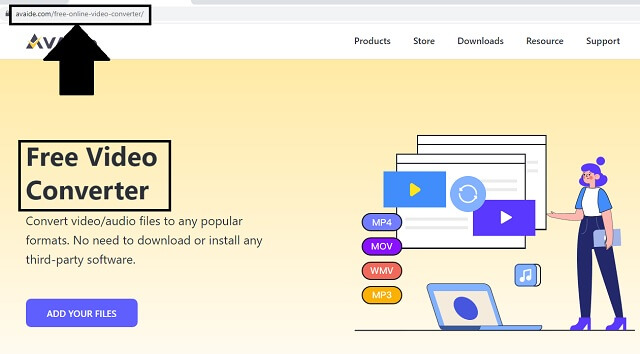 Step 2The local videos importation
Secondly, to import your local videos, click the ADD YOUR FILES button. Your local file holder will automatically appear and you can freely select the SWF videos you have that are ready for the process.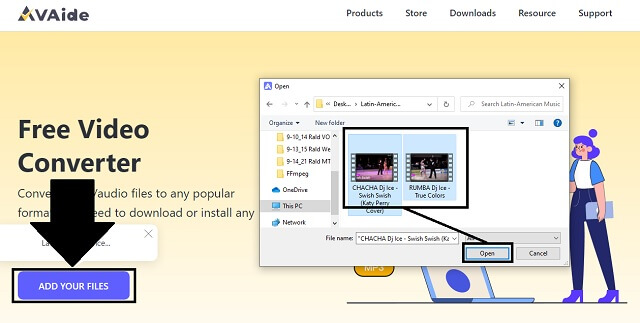 Step 3The new format selection
From the vivid list of the video format preferences, find the SWF button and simply click it. Change the output format of every file you added.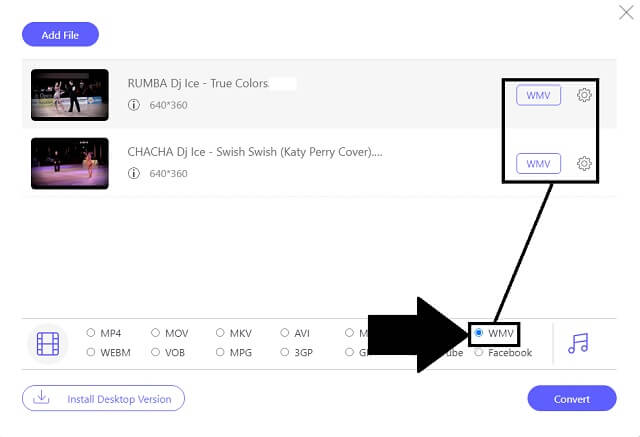 Step 4The process of conversion
Afterwards, before the process begins, you need to select the file destination when files are completely saved. Do this by clicking the Convert button. Once storage was chosen, the conversion automatically starts without clicking the button once again.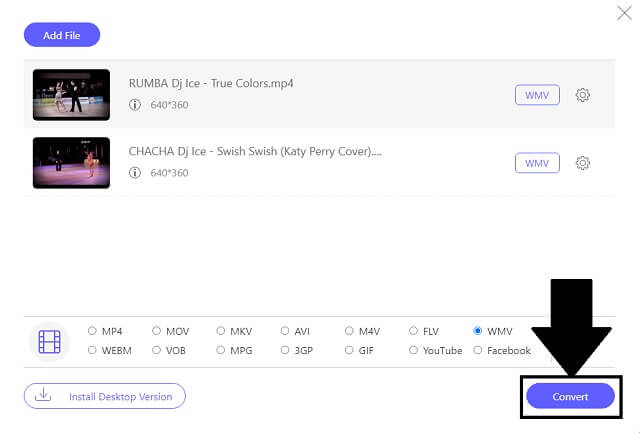 Step 5The completion
As you can see the folder icon on each side of the file, it means that your videos are readily available for playing and transferring.
PROS:
It is absolutely compatible and portable for most used devices such as Android and iOS.
It gives us a multiple-format list of file containers.
It has an advanced speed that works well even when converting in groups.
Its resolution setting can be as high as 4K.
It is a safe SWF to WMV converter online.
CONS:
You need to change the output format for each file. It may consume time depending on the quantity.
Part 2. How to Convert SWF to WMV in Batches Quickly
If you're searching for an offline tool that can easily aid you in your video needs, the ultimate solution to solve that is with the intervention of AVAide Video Converter. What makes this tool distinctly remarkable from other similar working tools? This software can manage your concerns when it comes to converting works! With the assistance of this tool, you can easily work first-hand on your files. The interface suits both professional and common users. You don't need to be anxious about the time consumption when your files load under the process. Additionally, it can convert in bulk without affecting the products' quality. It can quickly convert SWF to WMV through its advanced speed. Better to use this by following these convenient guidelines.
Step 1Software installation
To install the offline tool on your device, simply access the AVAide Video Converter's main website. Once accessed, you can see on the interface the Download button and install it from your laptop or computer.
Step 2Old videos attachment
Once the software is installed, open it. Locate the Add Files button on the uppermost left part of the interface. Another way is to drop your SWF files on the center area of the interface.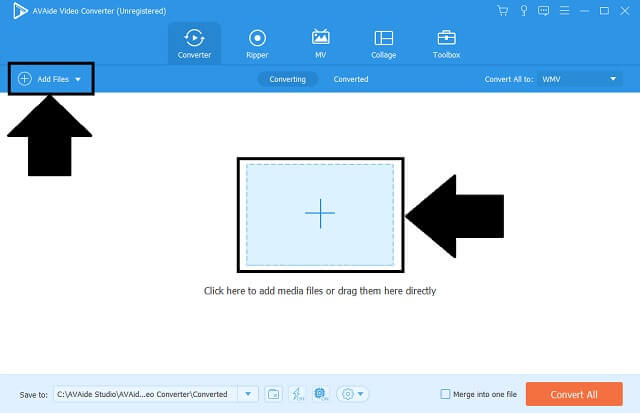 Step 3New container application
On the file format panel, look for the WVM button and click it. You also adjust the settings of the file or files for output enhancement.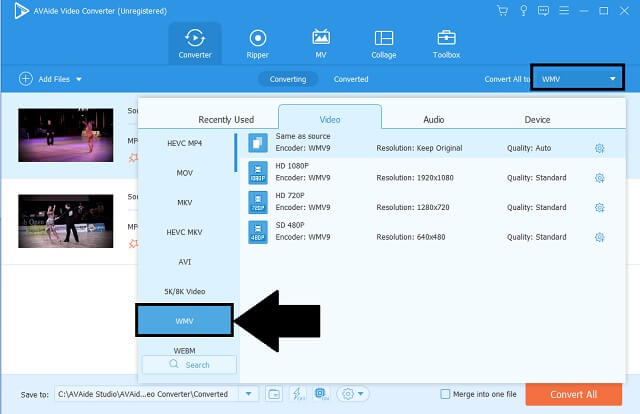 Step 4Start the converting operation
The next step is to click the Convert All button placed on the bottom right area of the tool to seamlessly start the operation.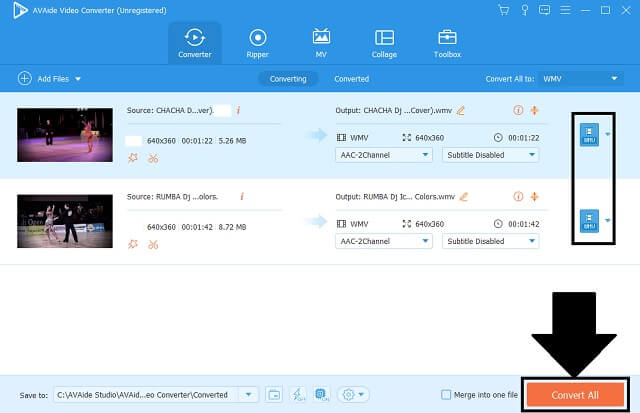 Step 5Check on the file designation
Upon finishing all the procedures needed, examine your new WMV files by playing, uploading, and transferring them. Check the file extension for reassurance.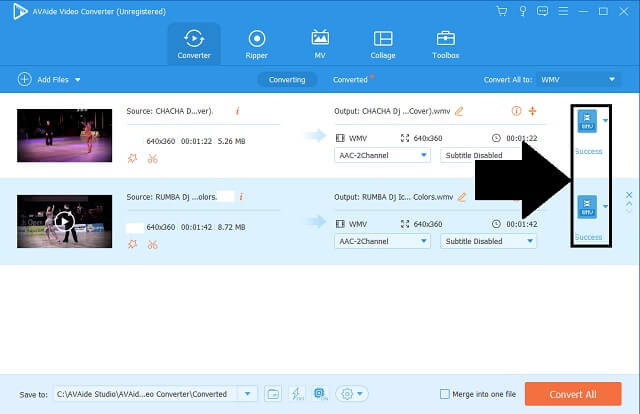 PROS:
Distinctive 30X conversion speed.
High quality output for audio and video files.
Supports the Windows, Linux, and Mac operating systems.
Multiple formats for our media files.
Group conversion feature.
Extra media toolbox for editing and enhancing needs.
CONS:
Only offers a limited trial version.
Other formats are not available on the trial version.
Part 3. FAQs of Converting SWF to WMV
Can Android play SWF?
Sadly, Android devices will not play SWF files directly. It will only happen once there's third-party software installed on the device. That will definitely consume much of your storage. Better look for SWF to WMV converter with free download like the competent AVAide Video Converter.
Are there risks of using SWF videos?
Since SWF is an uncompressed file for media data, files are created in memory. With this, it can disturb the memory searches.
Does Mac support WMV?
Microsoft created WMV that can natively work for both default Windows Media Player and Apple's QuickTime.
Conclusion
To conclude this article, VLC and AVAide Free Converter are two good SWF to WMV converters for free. However, if you use AVAide Video Converter, you can experience undeniable and limitless features for lifetime usage. Plus, outputs can be enhanced and edited before conversion.
Your complete video toolbox that supports 350+ formats for conversion in lossless quality.