MTS or short for MPEG Transport Stream. Additionally, it's a video file saved in Advanced Video Coding High Definition (AVCHD) format and it is the standard video container for most Sony and Panasonic HD camcorders. Undeniably, AVCHD has a good resolution up to Full HD 1920*1080. However, despite all these good backgrounds, it is not a well-content format for most of us. This type can't be accepted by most portable gadgets. For instance, those who use Mac devices cannot enjoy this type of video container. Also, it can't be transferred to web streaming sites like the well-known YouTube. That's why we encourage you to convert MTS to WMV using online solutions. WVM is a compressed video file and best suits our internet streaming applications on our devices.
Part 1. How to Convert MTS/M2TS to WMV Using an Online Tool
AVAide Free Converter is the Most Used Online Converting Tool
The most known online way to convert M2TS to WMV for free is with the help of AVAide Free Video Converter. This excellent video converter reached over millions of users worldwide. With its unlimited and unique features, users already found it as an amazing partner for their media adapting needs. From the speed, list of possible formats, resolution, group conversion, and more. Your small time can never be wasted when you try utilizing this solution. If you're curious enough, follow these comprehensive procedures.
Step 1Go to the page of the converter
Go straightly to the official webpage of AVAide Free Converter by visiting the web browser from your device. Once visited, you will see the comprehensive interface of the tool.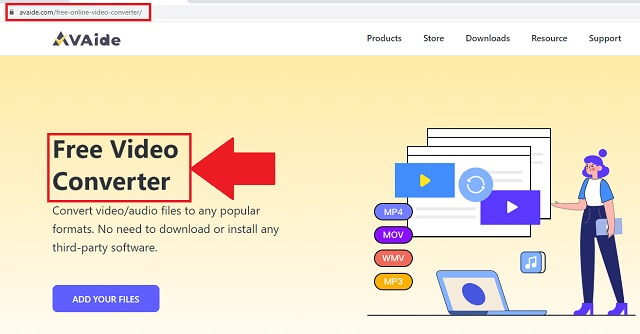 Step 2Add your local MTS files
Next is to attach your local MTS files by simply clicking the ADD YOUR FILES button. When clicked, your local storage will be opened and you need to add your desired files ready for conversion. Add in bulk is also considered.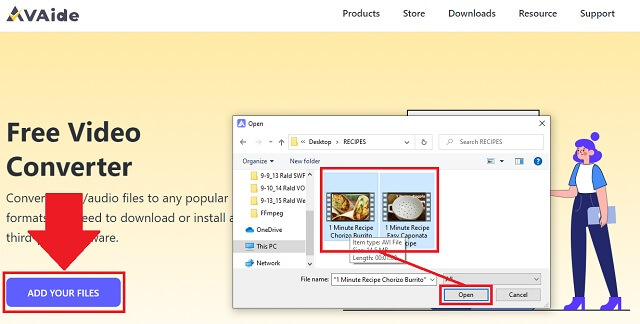 Step 3Select your output format to WMV
Then, from the long list of audio and video formats, find WVM and click its button. Adjust the format for each added file. From MTS to WMV format.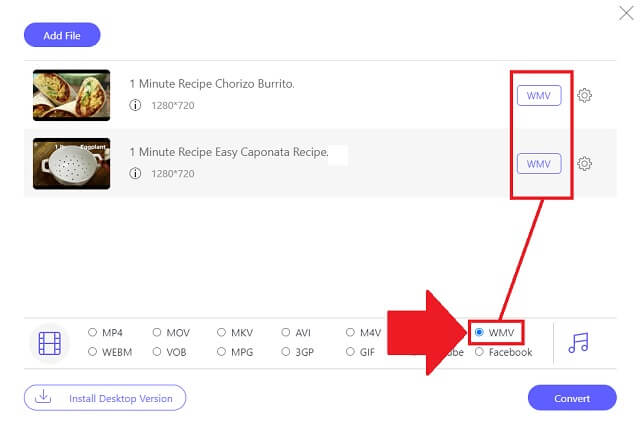 Step 4Start your work to convert all
To start the process of converting your files into their new containers, click the Convert button. Furthermore, you need to choose the file designation from your local storage to begin the operation immediately.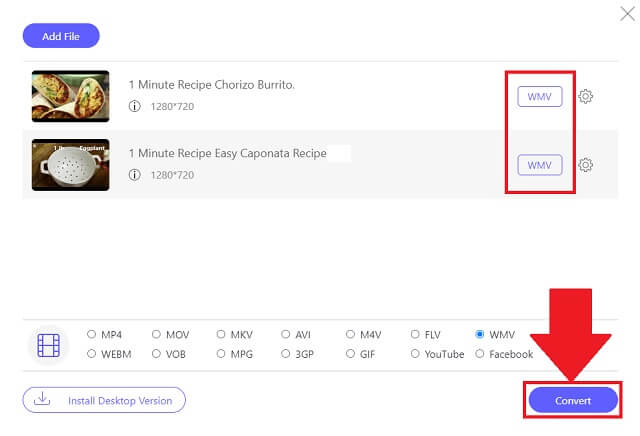 Step 5Complete your task by checking the videos
Finally, click the folder icon to easily locate your new converted WMV video files. Check the file extension to see the process done.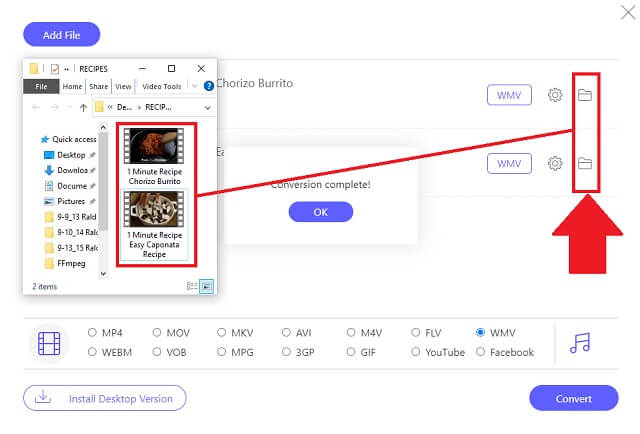 PROS:
Tool that can convert M2TS files to WMV for free.
Multi-format for audio-video files.
Fast-speed conversion in batch attachment.
Absolutely supports Linux, macOS, and Windows platforms.
Adjustable preferences.
Safe conversion history.
CONS:
No button intended to convert all files in one clicking.
Part 2. Downloadable MTS/M2TS to WMV Converter on Mac and PC
AVAide Video Converter
Discover the unlimited enhancing and editing capabilities of AVAide Video Converter. This top-performing MTS to WMV converter gained its popularity due to its timely and flexible attributes. What can we experience from its services? This video converter can seamlessly change your local file to your desired file format. Moreover, the process will not consume so much of your effort and time. It has an advanced speed that works well even if you're converting in batches. The toolbox contains different tools to enhance your media preferences. Better try this one with these easy guidelines.
Step 1Install the tool from your device
The first thing you need to do is to go to the AVAide Video Converter. From your device, download the software and install it afterwards. Once installed, simply open the software to use.
Step 2Drag the local MTS videos
Then, what's next is to click the Add Files button to add all your existing MTS videos. To do it in the quickest method, just drag them on the interface where the add symbol is located.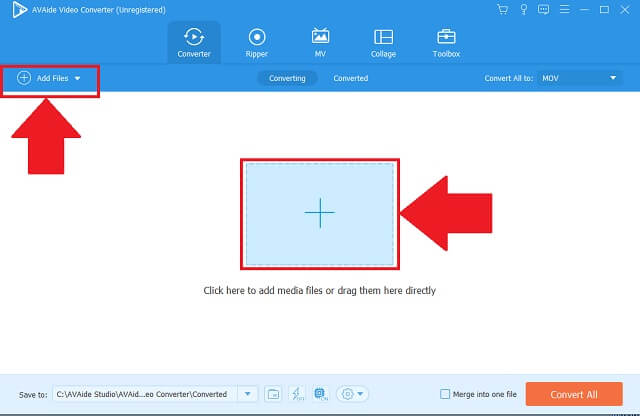 Step 3Set up the new video format
After choosing your local files in group, adjust the overall settings of all the inserted files. Look for the WVM button and click it. You can also change several preferences you want to see and experience on your outputs.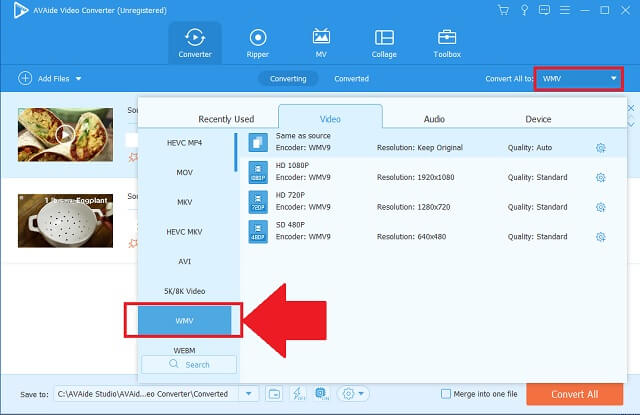 Step 4Start the conversion process
To start the format transformation, click the Convert All button. Now, your files are working in progress with advanced speed.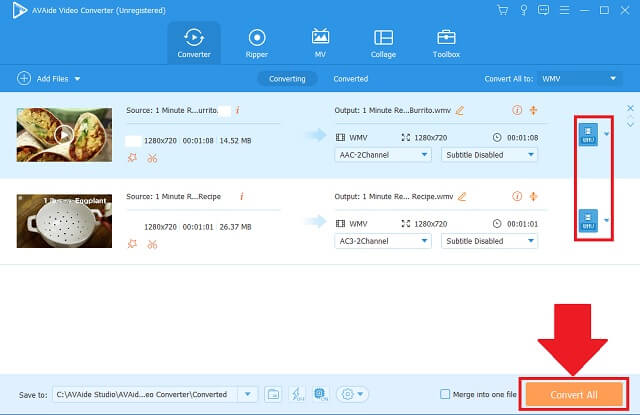 Step 5Done and complete
Upon completion, check your new converted videos on your local file folder.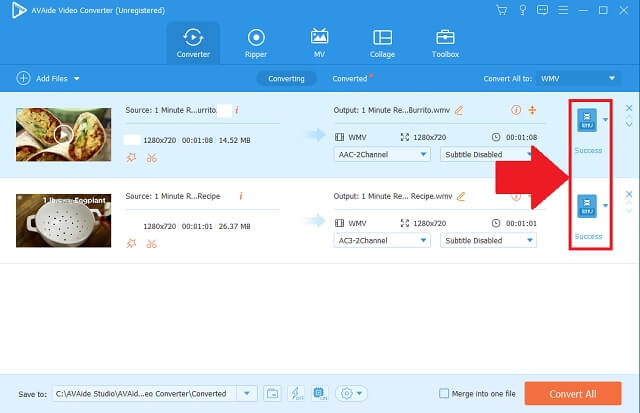 PROS:
More than 300+ audio and video formats provided.
Speed is advanced and exceptional.
Bulk conversion happening at once is supported.
Downloadable MTS to WMV converter on Mac and Windows Platforms.
Outputs' quality is not compromised.
Media toolbox for editing and enhancing is included.
CONS:
Free trial version is limited with a given period of time.
Part 3. A Clear Understanding of MTS/M2TS and WMV
| | | |
| --- | --- | --- |
| File Name | MTS | WVM |
| Description | MTS or MPEG Transport Stream is a file in the Advanced Video Coding High Definition (AVCHD) container. | WVM or Windows Media Video. It's a compressed file and holds a video encoded with Microsoft. |
| Developer | Sony and Panasonic Corporation. | Windows |
| Pros | 1. Good format for digital recording. 2. It has HD video playback design. | 1. Best used for Internet streaming sites. 2. Support all Microsoft's Windows and Mac platforms. 3. Compressed and small in size. |
| Shortcomings | 1. Some smartphones and TVs are having few difficulties playing the videos. 2. iOS devices don't support this format. 3. Large in size. | 1. Uneasy to find Linux-based media player for this format. |
| Additional Information | MTS specializes in Blu-ray Disc recording. | All devices and players with Windows and any DVD players. |
Part 4. FAQs of Converting MTS/M2TS to WMV
Can MTS files be played on iPhone?
No, the iPhone can't play or simply open an MTS video. The ideal action you need to undertake is to change your MTS or M2TS to WMV file format through AVAide Video Converter.
What is the purpose of MTS?
MTS file container was developed mainly for Sony and Panasonic HD camcorders.
What is the usage of WMV?
WMV file format was natively created by Microsoft as a series of video codecs. WMV is known as Windows Media Video, a compressed container built for the Windows Media framework. WMV video files are most reliable for selling video contents online or through HD DVD and Bluray Discs.
Conclusion
Therefore, as a summary, both AVAide Free Converter and AVAide Video Converter are proven to be both excellent on how they can convert MTS to WMV files. Whether offline and online, these tools are our go-to partner to our conversion needs.
Your complete video toolbox that supports 350+ formats for conversion in lossless quality.