A video recorded with standard camcorders produces an MTS file, which is an AVCHD (Advanced Video Coding High Definition) video file. These days, MTS is a widely used video file format among professionals and regular users. These files contain video and audio that are synced. In comparison, AAC files contain only audio and no visual component. As a result, AAC consumes significantly less space on storage devices such as our phones, cloud storage services, and hard drives. Converting an MTS file to AAC allows you to listen to the audio without the video taking up unnecessary space on your computer. This article will help you convert MTS to AAC right away.
Part 1. Brief Introduction of MTS and AAC
MTS is an abbreviation for MPEG Transport Stream. This is a standard video format used by several AVCHD compatible camcorders, including Sony and Panasonic HD camcorders. MTS enables you to record high-definition (HD) videos for later transformation or sharing on your PC with large file size. It can also be readily duplicated to any type of video file without any difficulties. Yet, due to its lack of compatibility with any operating system, some tablets, smartphones, and televisions may have trouble opening MTS files or playing them back with lags between the video and the sound.
AAC, on the other hand, stands for Advanced Audio Coding. Companies such as Fraunhofer IIS, AT&T Bell Laboratories, Dolby, Sony Corporation, and Nokia collaborated and contributed to its development. This format, which has been improved in various ways, produces greater sound quality with a small file size at the same bitrate as older audio formats. Despite the fact that it employs lossy compression, AAC provides higher quality than any audio format. By converting MTS to AAC, you may enjoy the audio without having to worry about the video consuming up your valuable hard drive space. Below are the listed converted tools to professionally convert MTS to AAC.
Part 2. Commendable Way on How to Convert MTS to AAC Offline
AVAide Video Converter
The commendable method to turn your MTS files to AAC is by utilizing AVAide Video Converter. This solution sprang to popularity as the best video converter. It unquestionably produces high-quality outputs through the use of a simple, easy-to-learn interface. The software is well-known for its advanced acceleration technology, which can instantly change files in a matter of minutes. The task is undoubtedly smooth, regardless of whether it is performed for single or simultaneous attachment. In addition, you can convert multiple files at the same time without issue and still have the files converted in no time. There are also some related features that you will undoubtedly find useful. It enables users to enhance and edit videos by making full use of the toolbox.
If you're wondering how to convert MTS to AAC, here are the steps you should follow.
Step 1Install the software
To begin, open your browser and navigate to the AVAide Video Converter official website. Download and install it as soon as possible on your device. Then, open it right away.
Step 2Upload the video files
Click the Add Files button to begin uploading your MTS files. The choice of local files is entirely optional. You can add your media files individually or in groups to save time.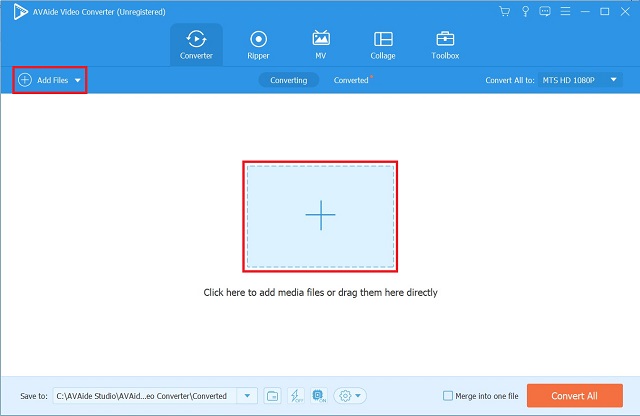 Step 3Choose an audio format
From the menu bar, select the Audio option. Choose AAC audio format. Click the Convert All button on the audio format screen to change the format settings with a single click
Step 4Begin the conversion
Then, click the Convert All button to begin the high-speed conversion procedure.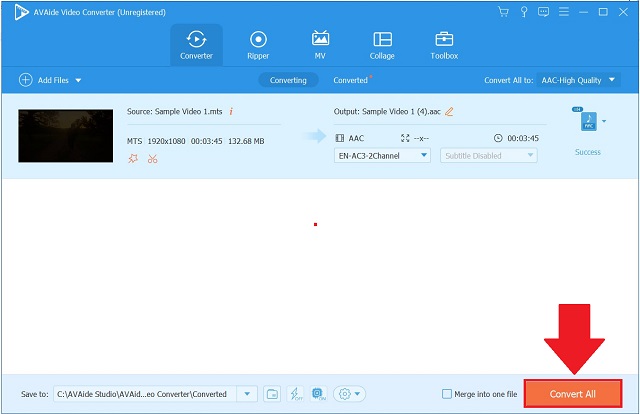 Step 5View the saved files
Go directly to your local storage on their file destination to see if your files have been saved or not.
Part 3. Remarkable Method on How to Convert MTS to AAC Online
For those who want to convert their favorite tracks on their device without having to download and buy an app, the internet has a number of free online tools available. One is the AVAide Free Video Converter.
AVAide Free Video Converter
AVAide Free Video Converter is the most recommended online tool. Because of its user and beginner-friendly interface, this web-based application is popular among many users. You will not have to read various instructions on the internet because it is simple to use. It is efficient in converting several files at the same time. You can control the format of audio and video files thanks to its simple navigation. Aside from that, this online tool is compatible with both Mac and Windows devices. To satiate your curiosity about how to utilize this useful tool, here is a step-by-step guide on how to successfully convert MTS to AAC in the blink of an eye.
Step 1Use a web browser
Navigate to the main website of the online tool in your web browser. Launch the AVAide Free Video Converter.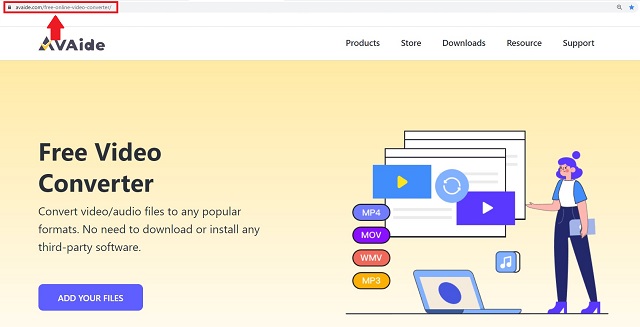 Step 2Select a local file
Next, click the ADD YOUR FILES option to choose all of your local files. By uploading them all at once, you can utilize the bulk conversion.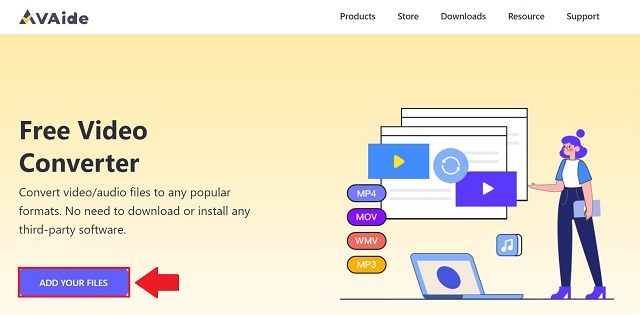 Step 3Select an audio format
Then, on the Format tab, click the audio icon to generate all accessible formats. Choose AAC as your output format from the list of containers.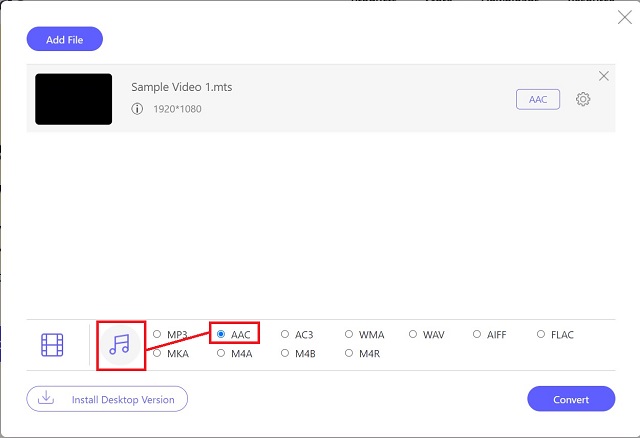 Step 4Begin the file converting process
Then, to start the conversion, click the Convert button.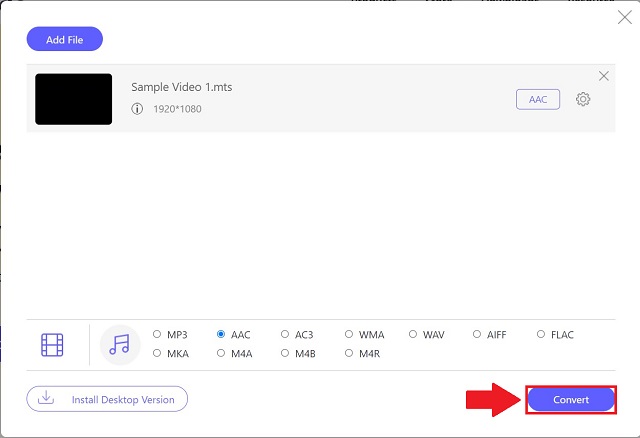 Step 5Complete the process
To finish, look over your freshly converted files on the local storage location where you've saved them. To view them right away, click the Folder icon.
Part 4. FAQs about MTS and AAC
Can I convert MTS to MOV instead?
Yes, You certainly can. AVAide Video Converter is extremely adaptable to any output format you wish to convert.
Is it possible to convert MTS files to AAC using FFMPEG?
Yes. But non-technical users should avoid converting with FFMPEG since this tool has a complex interface suitable for professional video editors. Instead, utilize AVAide Video Converter to reduce the load.
Can I convert an audio or video file simultaneously with AVAide Video Converter?
Yes. You can convert multiple files at any size without a conversion limit.
Your complete video toolbox that supports 350+ formats for conversion in lossless quality.