Due to the growing popularity of audio tracks in the music industry, a plethora of audio file formats is being developed. However, several files are incompatible. That is why, on occasion, we must convert a file to a different format. For example, an OGG file is an older format that is not widely utilized; also, there is a transfer issue when moving it to another device.
That is why, in this article, we will demonstrate how to convert OGG to AAC so that you may continue to enjoy your favorite files.
Part 1. OGG vs AAC
1. What is OGG?
An OGG file is a type of audio file, similar to an MP3, that is commonly used to store music. It saves audio data in the OGG container format, compressed using the open-source Vorbis audio compression technology. Additionally, carry song metadata, such as artist and track information.
2. What is AAC?
Advanced Audio Coding, or AAC, is a common audio container format for compressed digital audio and music data. Compared to prior audio formats, this format has a superior sound quality at the same bitrate.
Part 2. Top 5 OGG to AAC Converters Offline and Online
1. Making Use of Convertio
Convertio is yet another online converter tool that you may use to convert OGG to AAC. Importantly, this application is cross-platform compatible and is available for free, with the exception of a 100MB file size restriction. Plus, it facilitates conversion through the use of an intuitive navigation tool as it supports a variety of video and audio formats. To help you better grasp how this tool works, follow the brief overview of its navigation.
Step 1Upload OGG file
Visit the official website, then click the Choose Files button to import an OGG file.
Step 2Select AAC as the audio output
Then, select AAC as the output from the dropdown menu next to the To option.
Step 3Begin the conversion process
Click the Convert button to begin the conversion process. Wait for the process to complete before downloading the file.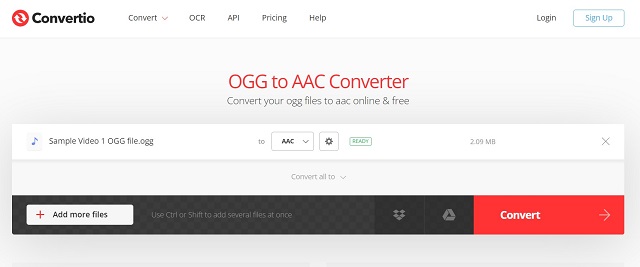 2. Bring into Play FFmpeg
This is a freeware tool that works on Mac, Windows, and Linux. You may also record and edit audio, video, and streaming. One downside of this tool is that it is not a user-friendly program. If you are a novice, you may find it difficult to navigate. If you want to know how FFmpeg convert OGG to AAC, follow the steps below.
Step 1Launch the tool
Run FFmpeg on your device, then use the Terminal to locate files on your desktop by selecting the in cd desktop command.
Step 2Type the code
Next, insert the code required for FFmpeg to begin operating.
Step 3Begin the conversion
Save the audio by determining the correct format for your file, depending on whether it is an audio or video file.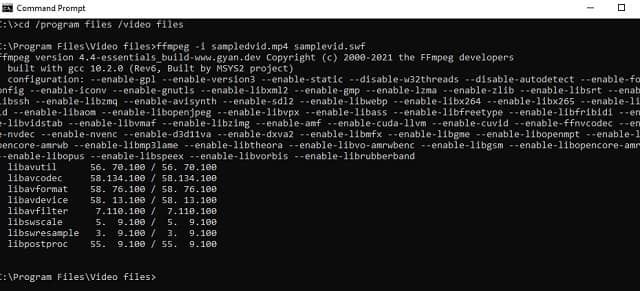 3. Utilizing Totally Free Converter
After that, we've got the Totally Free Converter. This freeware performs the conversion in real-time, much like you would if you were saving a new file in a different format. The program's user interface is incredibly easy and efficient. Do you want to know how to convert OGG to AAC using this tool? Here are the steps you need to follow.
Step 1Run the OGG Converter
Visit the website. Download and install the online tool.
Step 2Choose the OGG File
When the software is launched, click the Video & Audio icon. In your folder, select the OGG file you wish to convert.
Step 3Save the File to AAC
In the Save as Type drop-down menu, choose AAC. Next, type the name of the file under File Name and click Save. Allow for the conversion procedure to be complete before checking the file storage.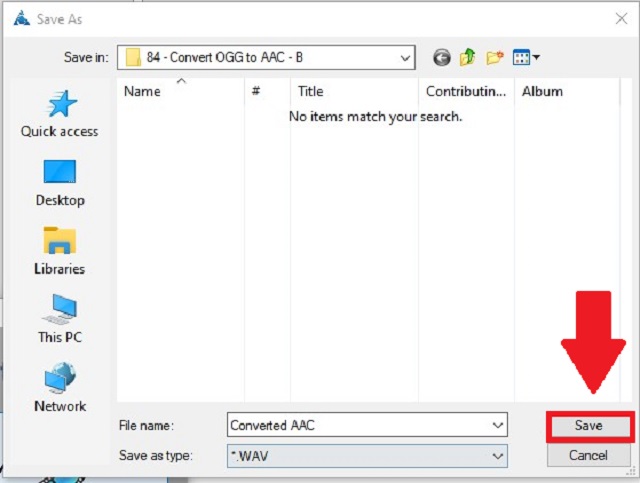 4. Best Online Tool using AVAide Free Video Converter
As for the best web-based video converter, AVAide Free Video Converter took the top spot in our rankings. Using this online tool, we can easily convert OGG to AAC in the browser. More so, it allows us to compress, resize, modify and enhance our OGG videos before converting them. It gains the trust of millions of users because of its portability and compatibility. Additionally, it has a high conversion rate and performs well even when converting in bulk. Everything you need in a converter can be found here. Begin by following the instructions.
Step 1Visit the official website
Go to the AVAide Free Converter website using your web browser. Because it is a web-based tool, a stable internet connection is required for an efficient run.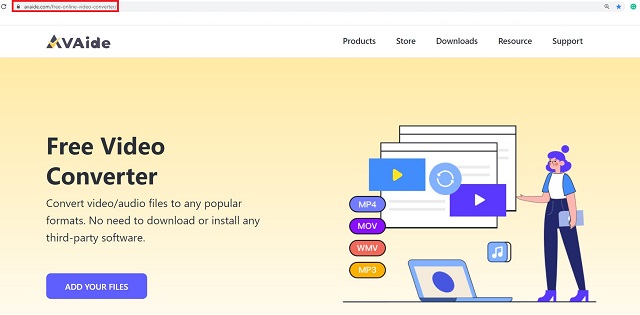 Step 2Locate your OGG files in your local storage
Then, select the ADD YOUR FILES option to import your videos. Your local file holder will display automatically, and you can freely choose the OGG videos that are ready for conversion.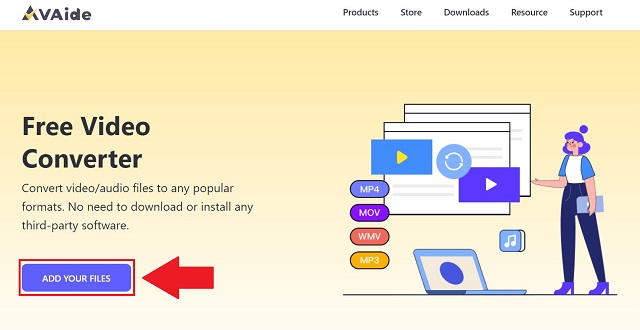 Step 3Select the new format
Locate the Audio icon and select the AAC audio format from the vibrant list of audio format preferences.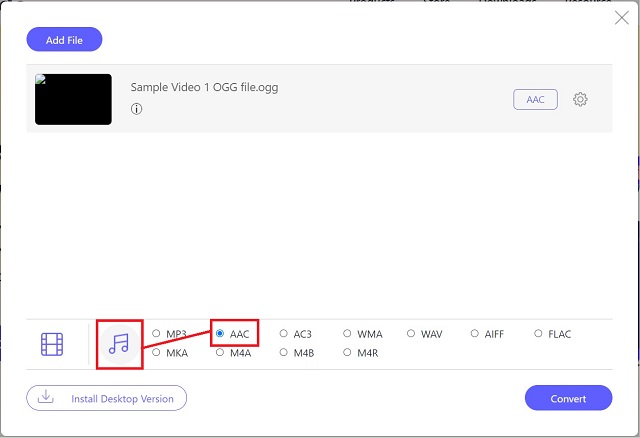 Step 4Let the conversion begin
Before the procedure begins, you must provide the file location when the files are completely converted. Click the Convert button to do so. Once storage has been selected, the conversion will begin immediately without the need to click the button again.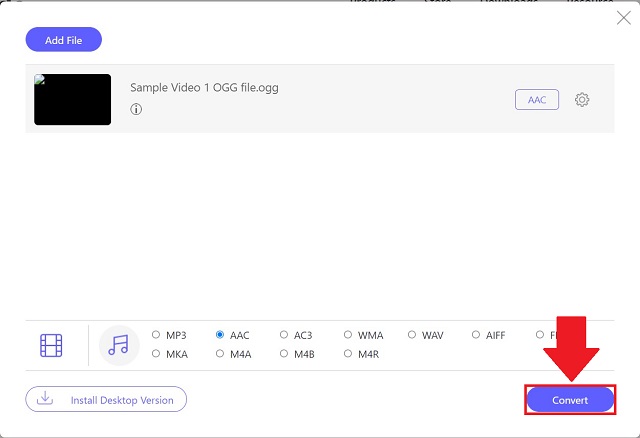 5. Professional Converter Using AVAide Video Converter
With the growth of audio converters on the market, we often struggle to choose the best one. However, if you're seeking a tool that works on both Mac and Windows, AVAide Video Converter is the best choice!
This software includes user-friendly editing features that make it simple to navigate even for beginners. As a result, there will be no issues if you are a newbie looking to convert a file to a different format. You won't need to read manuals or tutorials to comprehend the tools included with this software. And if you want to change the bitrate, sampling rate, or channel, you can do so in a flash!
That sounds great, doesn't it? If you're eager to convert your OGG to AAC, here's a simple process you can follow.
Step 1Install the OGG Converter
To begin, you must install the software from your computer. You can do this by visiting the AVAide Video Converter website. Click the Download button below and install it right away.
Step 2Import your OGG files
Next, on the tool's interface, hit the Add Files button to transfer all of your local OGG videos. Yet, there is a simpler option, which is to drop or drag them to the Plus (+) button in the center of the interface.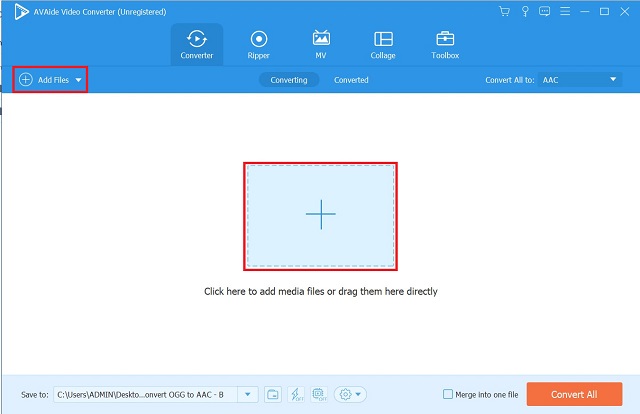 Step 3Select AAC Format
Then, to change the format, locate the Audio tab and click AAC format from the audio format preferences. More so, each format has its own set of options for the output you want.
Step 4Convert your OGG File
Select the Convert All option to begin the process. Wait for the conversion process to finish.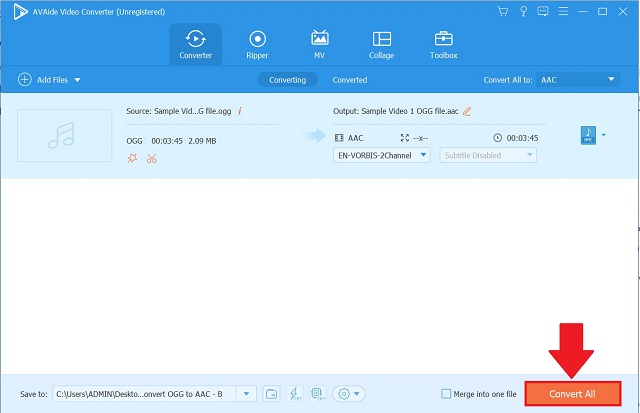 Part 3. Comparison between the Different Converter Tools
Features

Platform

Use

Format Support

Internet Dependence

Conversion Speed

Price
| | | | | |
| --- | --- | --- | --- | --- |
| Convertio | FFmpeg | otally Free Converter | AVAide Free Video Converter | AVAide Video Converter |
| Windows/Mac | Windows/Mac | Windows | Windows/Mac | Windows/Mac/Linux/Others |
| Use Best for specialists | Best for advanced users | Best for novice | Best for beginners and professionals | Best for all different types of users |
| Limited formats | Common formats | Popular formats | Commonly used ones | 300+ |
| | | | | |
| Decent | Decent | Decent | Fast | Super-fast |
| Free | Free | Free | Free | Paid but with a free trial |
Part 4. FAQs about OGG and AAC
Is Convertio a safe website to use?
This site is secure and completely free. You are not required to share your personal information in order to utilize it.
Is OGG superior to MP3?
The OGG format has greater sound quality than the common MP3 format. In OGG, you can also change the bit rate compression, however, in MP3, the compression is always the same.
Which OGG to AAC converter offers the quickest conversion time?
AVAide Video Converter provides the quickest conversion time when compared to other programs.
Conclusion
Convertio, FFmpeg, Totally Free Converter, and AVAide Free Converter are excellent OGG to AAC converters. The AVAide Video Converter, meantime, offers a wide range of capabilities that you can use for as long as you like. In addition, outputs can be improved and altered before conversion is complete.
Your complete video toolbox that supports 350+ formats for conversion in lossless quality.