There are numerous speeches, podcast episodes, and excellent interviews accessible on several video platforms; however, these videos cannot be played if they are formatted as SWF. SWF files are an abbreviation for "Shockwave Flash" or "Small Web Format". Macromedia designed this video format, which is now owned by Adobe. It is used to publish a variety of web apps and animations over the internet. Because it is a web-based container, it can also host ActionScripts, which are useful on the web. This video container's compatibility makes it unsuitable for audio playback. This key component may be found on both iOS and Android devices.
Yet, due to the danger of malicious code harming their devices, they no longer accept SWF. You may now convert SWF to AAC online or by downloading desktop software. This post will help you convert SWF to AAC files with the use of the helpful tools people use today.
Part 1. Brief Introduction of SWF and AAC
Adobe Systems invented the SWF format. On this point, it is an Adobe Flash file format for ActionScript and Vector graphics that are currently utilized for web-based animation. While SWF is famed for its great quality, it is also somewhat demanding when it comes to playback; without a flash player, your device would be unable to play it.
On the other hand, AAC is known as Advanced Audio Coding, it was created in collaboration with and with the assistance of a number of firms, including Fraunhofer IIS, AT&T Bell Laboratories, Dolby, Sony Corporation, and Nokia. It is one of the popular audio formats as it offers a better quality output and is compatible with a range of operating systems.
Part 2. The Leading Tool that Converts SWF to AAC Offline
AVAide Video Converter
AVAide Video Converter is a versatile program that works well on both Mac and Windows PCs. It can help you convert a wide range of formats, with excellent support for practically all output/input audio and video file formats. Because of its acceleration technology, it ensures 30x faster conversion in a few seconds while retaining the quality of the original source.
Moreso, it includes useful features such as a video/audio editor that allows you to apply visual effects, change the bitrate, resolution, channel, and much more. Aside from that, the designed GIF creator allows you to quickly create GIFs from a movie or a few images. Indeed, AVAide Video Converter is a leading tool that performs a variety of features in addition to converting media formats. Take a look at the short guide below to learn how to use this fantastic SWF to AAC converter software.
Step 1Launching of software
Visit the official website of AVAide Video Converter to download the full-featured desktop tool or download from the buttons below.
Step 2Uploading of SWF file
Next, add your files straight to the interface by dragging them in the Plus (+) button. Another method is to click the Add Files button on the left topmost and then upload as many files as desired. Actually, you can submit an entire file folder to convert into a batch.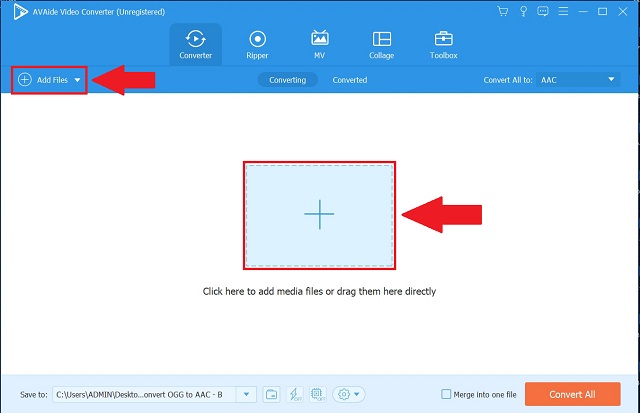 Step 3Choosing the AAC format
Convert the files to AAC format by pressing the Convert All to button on the interface's right-hand side. Additionally, you can configure each file individually by selecting the Arrow picture for that file.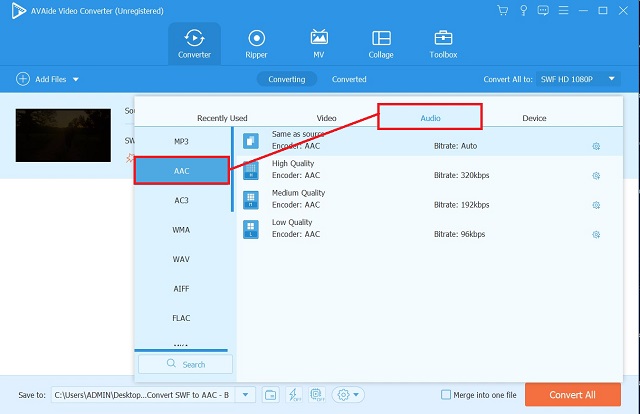 Step 4Beginning of conversion process
Following customization of format, click the Convert All button in the bottom right corner of the interface.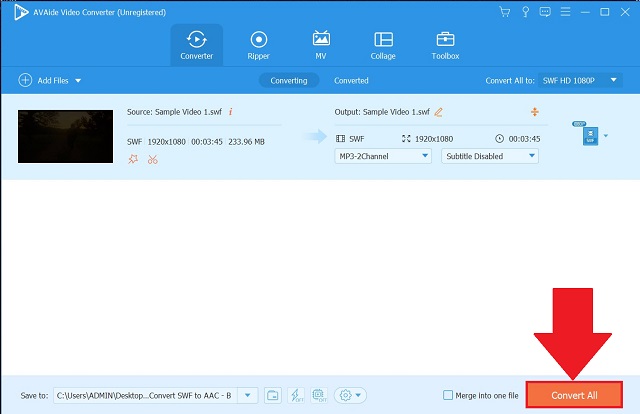 Step 5Checking of converted files
Finally, you may view the completed files by going to the Converted tab. Then, on your PC, click the Folder image to locate your converted files.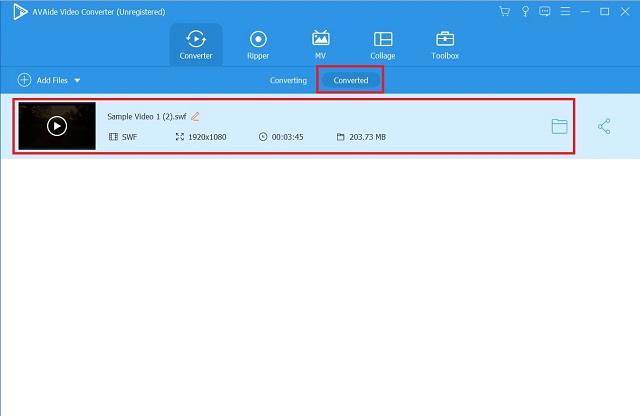 Part 3. The Finest Way on How to Convert SWF to AAC Online
AVAide Free Video Converter
Similarly, you can use an internet application to convert SWF to AAC without running a program or incorporating a plugin. AVAide Free Video Converter is one of the greatest online SWF to AAC converters you should consider trying. It is compatible with practically all browsers on both Mac and Windows PC. You can also take advantage of a versatile fast conversion. That implies you'll be able to convert between a wide range of audio and video formats. Not to add that the tool has no restrictions on the number of conversions or even the size. And, for your ease, it performs a batch conversion without regard for speed. You can use a free SWF to AAC converter tool to make use of all of these features. If you want to use this great tool, follow the steps below to learn how it functions.
Step 1Run the launcher
First, click the ADD YOUR FILES button, in the pop-up window, hit Open AVAide Launcher, and download.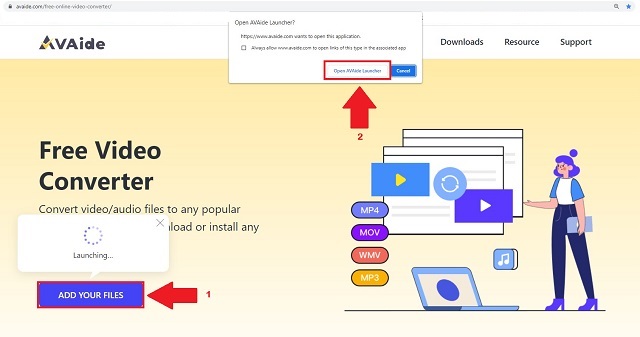 Step 2Import the SWF file
Yet again, select the ADD YOUR FILES option to import your SWF file. To add additional files, click the Add File button in the interface's top left corner.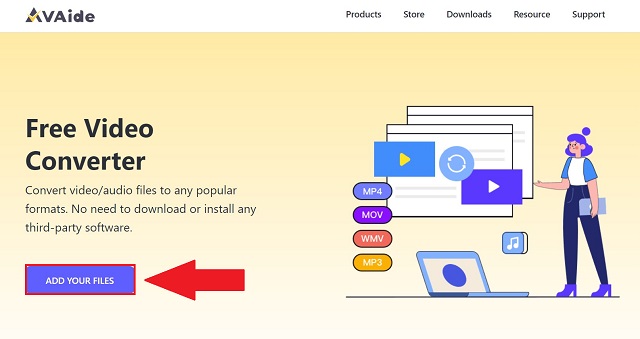 Step 3Set the file to AAC format
To convert SWF to AAC, hit the Audio icon and choose the AAC format from the drop-down menu at the bottom of the interface.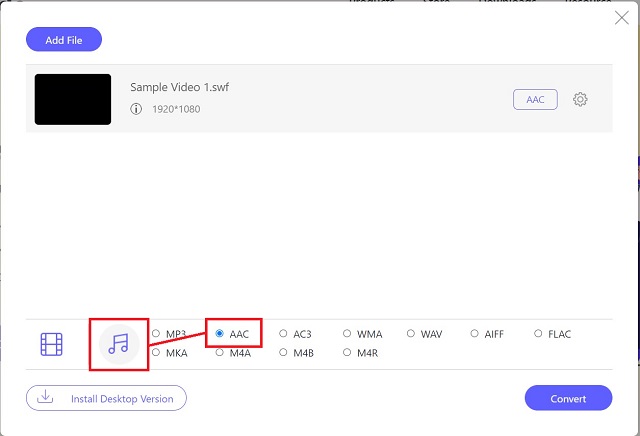 Step 4Begin the conversion
After that, click the Convert button at the bottom and wait for the conversion to complete.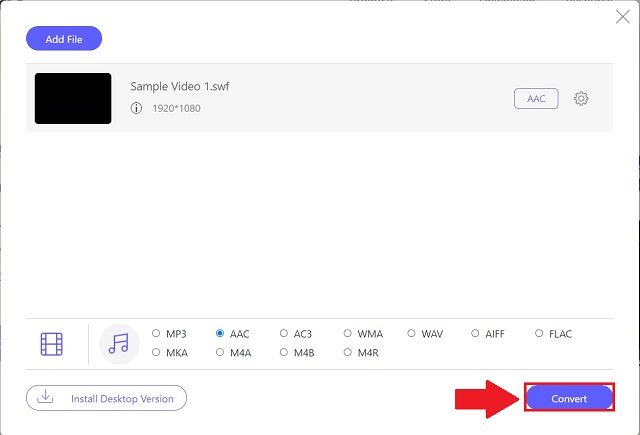 Step 5Select the file destination
Finally, after pressing the Convert button, you will be directed to your computer's file storage, where you must select a file destination. If you forget where you put the file, you may find it again by selecting the Folder Image next to the converted file.
Part 4. FAQs about SWF and AAC
Is it okay for my PC to download an SWF file?
Due to the vulnerability of previous versions of flash, downloaded SWF files can be examined prior to being contained.
Is AAC superior to SWF?
AAC and SWF both have their own advantages and disadvantages. While both contain exceptional quality, they each have a distinguishing feature that sets them apart. Yet, AAC is more accessible than SWF when it comes to portability and compatibility.
Is SWF supported by Android devices?
Android devices have ceased to support SWF files. Accordingly, there is no practical method to playback this format on any device. It is preferable to use an SWF to AAC converter such as AVAide Video Converter. It supports almost 300 formats with 30x faster conversion speed.
Your complete video toolbox that supports 350+ formats for conversion in lossless quality.