In today's technologically advanced society, it appears that there are an infinite number of possibilities for almost any problem. Various file types can be used to store photos, documents, movies, music, and software programs on both hard drives and software servers. To us, it's common knowledge that files can only be saved in the format they were sent to us in. This is not true. Online tools and software that you can download for free can assist you in changing the format of a file to better suit your storage space and the purpose for which you intend to use it.
Part 1. VOB vs. AAC
To fully comprehend the distinctions of the two formats. A comparison illustration is provided below.
| | | |
| --- | --- | --- |
| File Extension | VOB | AAC |
| Type | DVD Video Object File | Advanced Audio Coding. |
| Description | 1. It is a DVD-Video media container format. 2. It includes video, audio, subtitles, a menu, and navigation. | 1. It is half the size of MP3 but has higher quality. 2. One-tenth the size of digital data on a CD. |
| Developer | Microsoft | 1. Fraunhofer IIS 2. AT&T Bell Laboratories 3. Dolby 4. Sony Corporation |
| Advantages | Great video quality output. | Works with a large variety of devices. |
| Drawbacks | Uncompressed | Encoding AAC files may be incredibly expensive. |
Part 2. Convenient Way to Convert VOB to AAC Using an Offline Tool
AVAide Video Converter
The best solution if the web-based solution is insufficient or does not meet your requirements is to use desktop programs. In addition to being a highly useful tool, AVAide Video Converter supports a wide range of file formats, including the following: AC3, MP3, OGG, WMA, M4A, AIFF, and FLAC. In a similar way, you can change the output settings of an audio file in order to obtain the desired result. It provides you with the ability to adjust the bitrate, sample rate, and channels, among other things. Not only that, but it can also be useful for audio and video editing. Add video subtitles and trim videos, segment audio, and even combine multiple songs into a single file using the effects and video editing features. If you want to learn more about the app and its features, you can refer to the step-by-step procedure presented below, which will allow you to convert VOB to AAC instantly.
Step 1Install and launch the software
Open your web browser on your device and visit the official website of AVAide Video Converter. To begin installing the software, click the Download button to download the converter software. Otherwise, click the download buttons below to run the application.
Step 2Drag and drop the VOB video files
Drag and drop your VOB files onto the Plus (+) button. Another option is to continuously click the Add Files button. Each file can be added individually or as a group.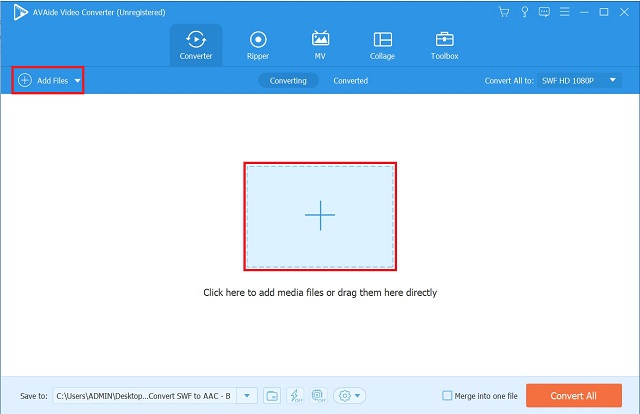 Step 3Preset of the new AAC format
After that, select the AAC audio file as the format. Change the format and its settings one at a time or all at once.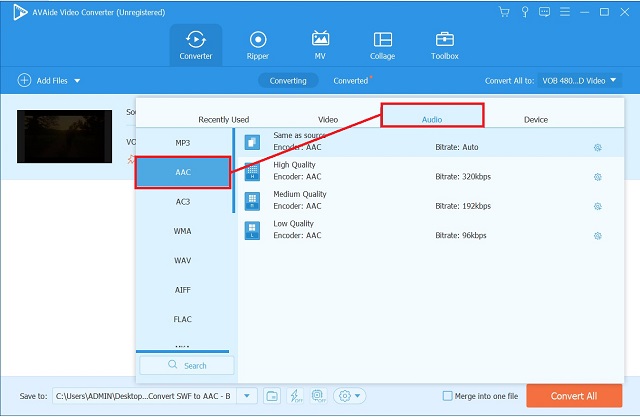 Step 4Proceed to the conversion process
Click the Convert All button once at the rightmost bottom of the interface. Next, you'll notice that your files are loading gradually and quickly. If you want to halt the process, you can do so by stopping the conversion process.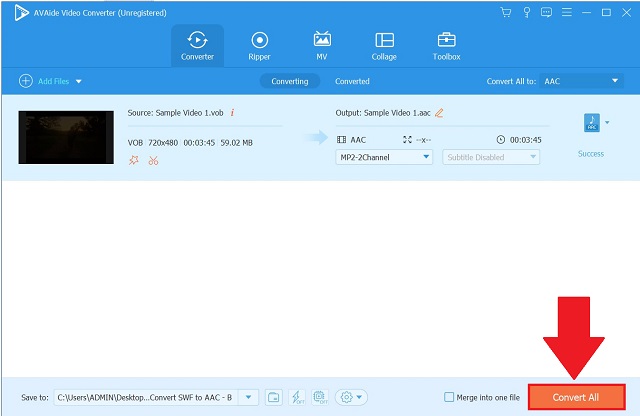 Step 5See the newly converted AAC files
Make sure to check your new-format videos on local storage.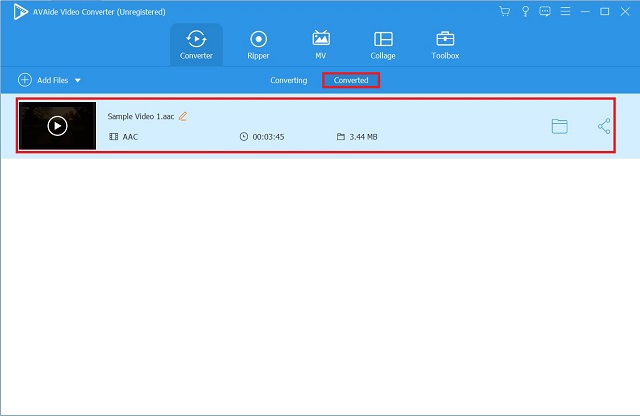 Part 3. Best Tool on How to Convert VOB to AAC Online
AVAide Free Video Converter
AVAide Free Video Converter is an extremely useful program for users who require assistance with video conversion. Convert audio files between various file formats, including AC3, MP3, AAC, WAV, and other popular audio formats. Additional options include the ability to export your videos in a variety of formats such as MP4, MOV, FLV, WEBM, and others. The output settings can also be customized, allowing you to change the bitrate, sample rate, and channel to suit your preferences. Because it is a web-based application, all that is required to operate and access all of its features is an internet connection. Following that, here's how to make use of this online VOB to AAC conversion tool.
Step 1Visit the official website
Open the web browser on your available device and navigate to AVAide Free Video Converter. Once accessed, the tool's interface will load completely.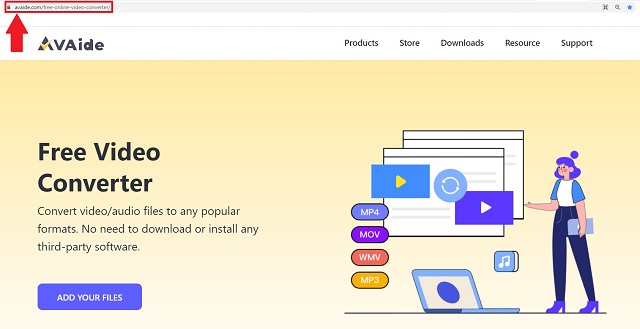 Step 2Add the files
To import your files, hit the ADD YOUR FILES button. Absolutely guaranteed that this converter excels at batch conversion without sacrificing output speed or quality.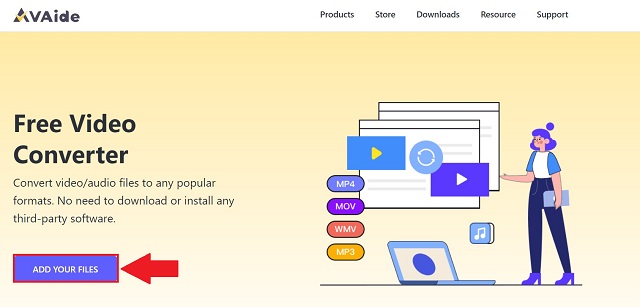 Step 3Choose AAC format
Following that, click the Audio button and click AAC to change the file format.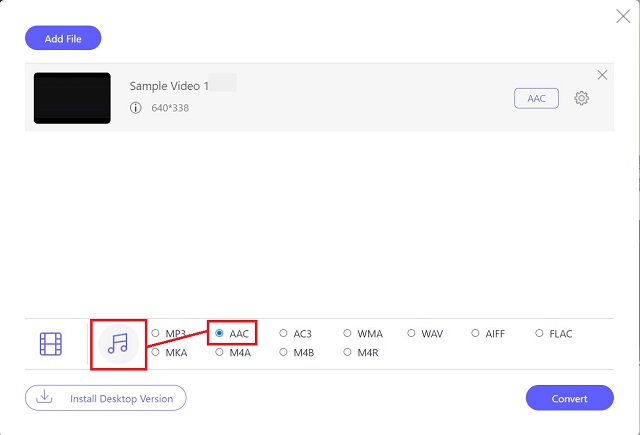 Step 4Convert VOB to AAC
Next, click the Convert button in the interface's rightmost bottom section. Wait for the completion of the process.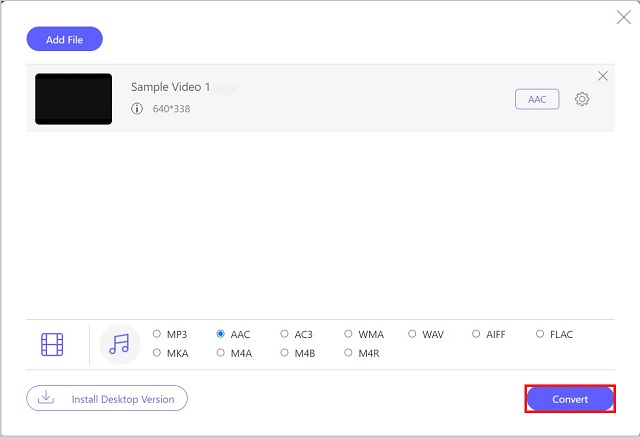 Step 5Review your AAC files
At last, once the tool has finished its work, simply click the folder icon provided on each file to get a quick look at your new files.
Part 4. FAQs about VOB and AAC
Can VOB videos be played by my Windows 10 Media Player?
Directly playing a VOB file in Windows 10 Media Player is not possible. They can only be viewed if you have a VOB player installed on your device. Even so, the simplest method is to use the AVAide Video Converter to convert VOB files to AAC.
Are VOB files compatible with iOS devices?
iOS devices lack a built-in player for VOB video files.
Why do I need to convert my VOB files to a different format?
The reason you have to convert your VOB files is that they are not well supported by the popular media players that most people use today. As a result, conversion is unavoidable. On Windows, you can convert VOB to AAC using freeware tools.
Conclusion
To sum it all up, here are the tools you'll need to convert your files into the format you want. Choose the option that best meets your specifications. It all comes down to finding the most suitable and versatile conversion tools. You deserve the best tools to convert VOB to AAC. Don't let all those video files go to waste. Try out AVAide Free Video Converter, as well as the top-rated converter, AVAide Video Converter, to convert your videos to your favorite format.
Your complete video toolbox that supports 350+ formats for conversion in lossless quality.