Listening to music over watching a music video is a personal choice for many people. Most people simply enjoy listening to music. When playing videos, the phone may unintentionally lock and the song may stop, causing a lot of inconveniences. Additionally, people can listen to plain audio for an extended period of time.
There are moments when you want to listen to your favorite song but the video files are in MOV format, which is large and takes a lot of time to access in the player. You only want to listen to the music, but you have to wait for the video to load and play. Fret no more because the purpose of this article is how to convert MOV to AAC files quickly using the converter tools online and offline. Keep reading and follow the steps below. Turn your MOV to AAC audio file quickly yet hassle-free with these solutions!
Part 1. What are MOV and AAC
Video file format is a data encoding format for storing information in bits on a digital storage device. It demonstrates the file's data structure and data types. As is the case with MOV and AAC, each format has its own set of file properties. Now, let's have a look at the MOV and AAC file formats!
| | | |
| --- | --- | --- |
| Details | MOV (QuickTime video format) | AAC (Advanced Audio Coding) |
| File extension | .mov | .aac |
| Format | video | audio |
| Description | This is widely used for music and video editing. | It compresses data that the human ear cannot detect. Easier-to-manage digital files that download faster. |
| Developer | Apple | A combination of: 1. Fraunhofer IIS 2. AT&T Bell Laboratories 3. Dolby 4. Sony Corporation |
| File Size | 1. It has a bigger file size. 2. It takes up more space. | 1. It has a small file size. It produces better quality. |
Part 2. Best Offline Method on How to Convert MOV to AAC
AVAide Video Converter
AVAide Video Converter is the best way to convert your MOV files to AAC offline. Its conversion is empowered with acceleration technology that is 30x faster than the standard converter. You will quickly acquire the converted file in an instant, regardless of how long or large the audio is. Furthermore, you may convert numerous files at the same time without hassle and still have the files converted in a relatively short amount of time. There are also some related features that you will undoubtedly find useful. If you wish to edit videos, you can do so by using the application's built-in video editor. If you're wondering how to convert MOV to AAC, follow the steps below.
AVAide Video Converter - The Most Powerful MOV to AAC Software
Supports over 300+ formats.
Provides 1080p/4K/5K/5K/8K video output without compromising video quality.
Video clips can be edited, rotated, cropped, trimmed, divided, merged, enhanced, and compressed.
Provide a set of tools for creating GIFs, editing ID3 information, and creating 3D videos.
It has 18,299,232+ downloads worldwide.
It has 8,000,000+ happy customers.
Step 1Launch the Software
Download the software and install it on your computer. You can do so by selecting the download buttons above.
Step 2Drag Your MOV Files in
Next, you can drag MOV files directly to the interface after running the program. Alternatively, click the Add Files button and then upload individual files or a whole folder.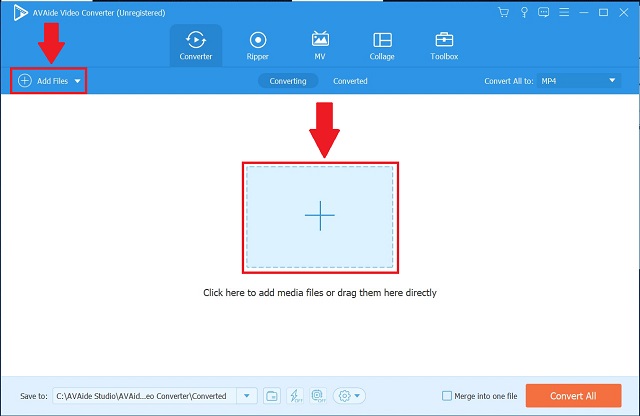 Step 3Preset the Output
Set the quality of the uploaded files to AAC. Hit the Convert All button, then locate AAC audio format from the Audio menu.
Step 4Start the Conversion
When all of the files are ready, click the Convert All button to begin the conversion.
Step 5Check the AAC File
Finally, the converted files can then be seen by selecting the Converted tab.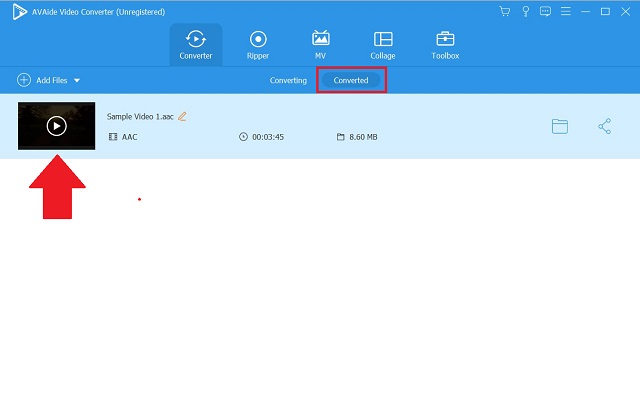 Part 3. Easiest Way on How to Convert MOV to AAC Online
AVAide Free Video Converter
AVAide Free Video Converter is one of the top MOV to AAC converters available online. This web tool allows you to convert audio/video to any format you want. This program is remarkable as it allows you to convert two or more audio files at the same time. You also do not need to sign up or install anything before you can use it. You are ready to go as long as you have a good internet connection and a browser. Additionally, even novices will be able to convert MOV to AAC online with ease because of the user-friendly interface. To make use of this fantastic online tool, learn more on how to convert MOV to AAC file by following the steps.
Step 1Get the Launcher
To access the interface, download the launcher to your PC. Hit the ADD YOUR FILES button then the Download, then the Open tab.
Step 2Upload the MOV Files
To begin uploading your files, click the ADD YOUR FILES button once more. Click the Add File button in the upper left corner to add other files to the interface.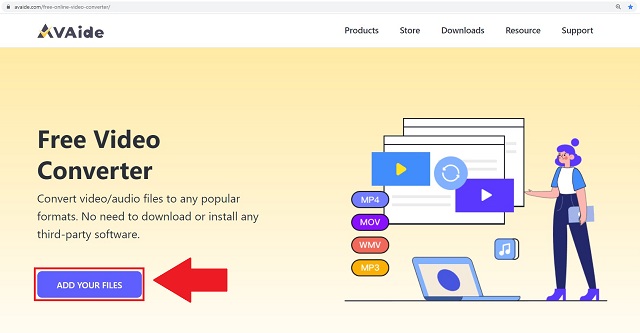 Step 3Preset the AAC Output
Select the AAC file format from the audio formats at the bottom of the interface.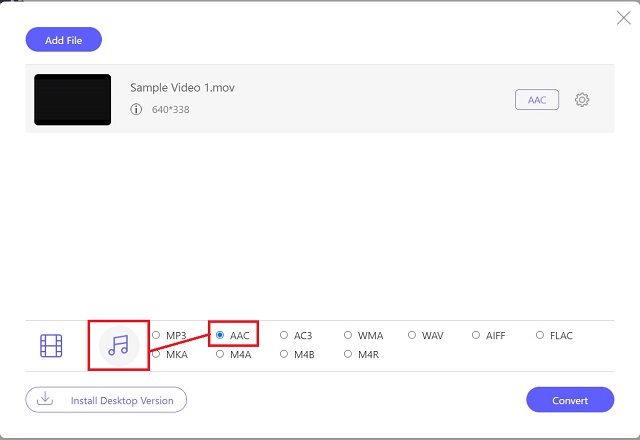 Step 4Begin the Conversion Process
Select your preferred file destination from the popped-up box after clicking the Convert tab. Following your selection, the conversion process will begin instantly.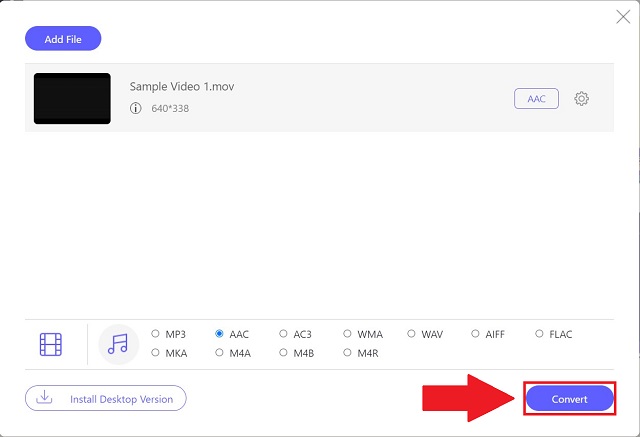 Step 5View the Converted Files
You can view the converted files on your preferred local file storage location. Otherwise, navigate to the files by clicking the Folder icon on the interface.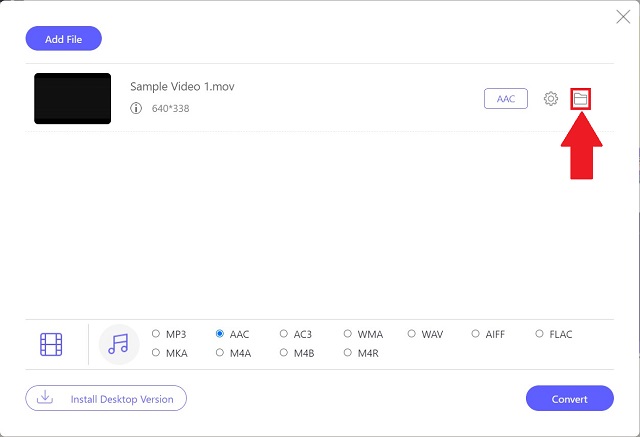 Part 4. FAQs about MOV and AAC
Is there loss in quality while converting AAC to MP3?
Yes, that is a lossy transcode. You will lose quality when switching from a lossy format to a lossless format. The difference will be undetectable unless you have extremely high-quality equipment.
What is the bitrate of AAC?
AAC files are frequently compressed at bitrates of 128 kbps, 192 kbps, or 256 kbps.
Is AAC suitable with stereo surround sound?
AAC provides 5.1 surround sound and is the audio standard for DVDs and digital television in the United States (ATSC 2.0).
Conclusion
To summarize, this article made it simple for you to select the best solution on how to convert MOV to AAC problem. Now you may listen to your AAC files in the highest possible quality while requiring only a tiny amount of storage space. We hope you are fascinated to use and enjoy the greatness of the featured converters, particularly the AVAide Video Converter.
Your complete video toolbox that supports 350+ formats for conversion in lossless quality.