MOV was developed mainly for Appl's QuickTime for different multimedia contents. Because it was invented by Apple, it is suited only with iOS products and players. This type of format was specifically created for video purposes. You might be enjoying different music videos and even podcasts with MOV format. Given this lifestyle, you can also enjoy your videos without consuming much of your battery life. Turn off the screen display while listening to your favorite audios. Converting your MOV to M4A audio format is the exact solution to that.
Part 1. Why Should We Convert MOV to M4A Audio File?
What is MOV format?
MOV is a video container associated mainly with QuickTime. Despite it being natively for Apple, it can also be played on Windows OS. This format can also hold audio, subtitles as part of the text data. Videos with this format contain large-sized files. And if you're playing them using your gadget, your battery life will rapidly decrease. Also, you might experience glitches whenever played with non-iOS devices.
What is the M4A format?
On the other hand, M4A or short for MPEG-4 Audio is a format that can hold various types of audio content, including podcasts, songs, and audiobooks. It is natively saved in MPEG-4 container and encoded with either the Apple Lossless Audio Codec (ALAC) or the Advanced Audio Coding (AAC) which happened. This audio file is a multiplatform format that is accessible with Apple iTunes, Apple Music for macOS and iOS, and Microsoft Windows Media Player. It is similar to MP4 format but what makes them different is that M4A doesn't contain any video. It simply means, it's lossless, not DRM protected, can be edited, and transferred more flexibly.
It's no need to explain further that the M4A is better than the MOV. It can help you lessen your storage consumption and battery life. Convert MOV to M4A on mac or Windows.
Part 2. 3 Quickest Ways on How to Convert MOV Videos to M4A
Make Use of the AVAide Video Converter
To convert your file from MOV to M4A, you need the right software to assist you flawlessly. AVAide Video Converter is the exact solution to that concern. This tool outdoes the expectations of common and professional users. From the speed, resolution, formats, group conversion, and even on its toolbox. It's an all-around deal for your media management and enhancement. Below are simple steps to undertake.
Step 1Install the software
You can download the software on your device by visiting the official website of AVAide Video Converter. Once fully downloaded, it is readily available to be installed.
Step 2Drag your MOV files
From the list of formats, click the Audio button and choose among the containers the needed one which is the M4A format. Click it and proceed.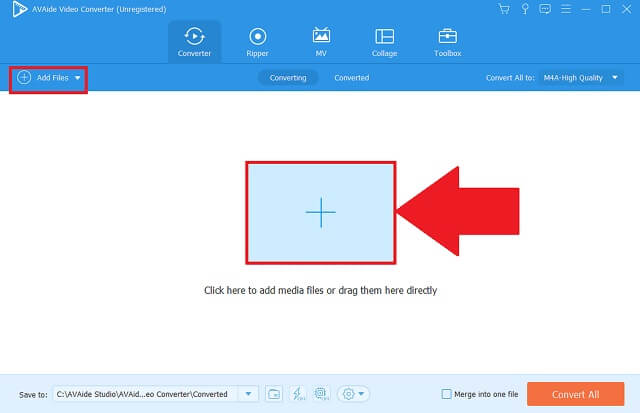 Step 3Select your output format
Change the format of your output by clicking the MKV button. Change all your files in a click by clicking the intended Convert All button.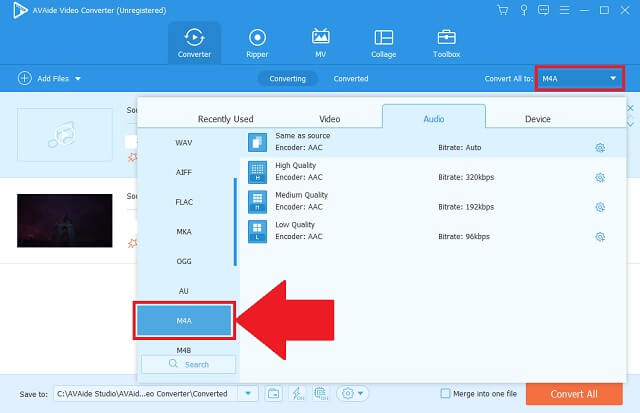 Step 4Start your conversion
Proceed to starting the process by clicking the Convert All button. You can also stop the process by pausing it and resume if you want to continue as well.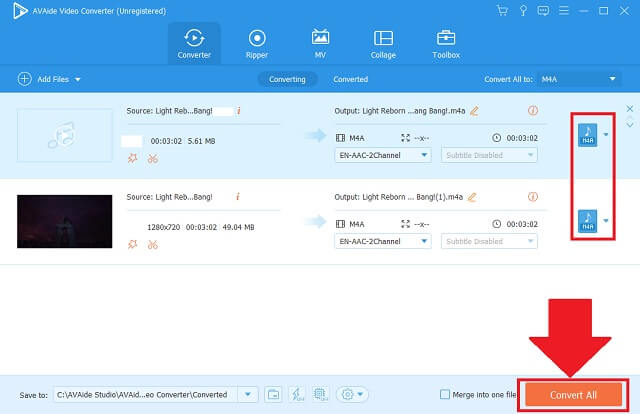 Step 5Examine your audio files
Finally, examine your newly converted files by citing them on their designated local file holders.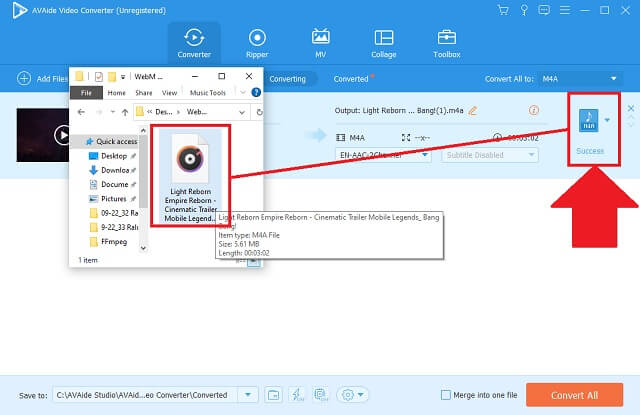 PROS:
It consists of key features that you demand for an excellent converter.
It allows us to change audio and video formats with more than 300 choices.
It can adjust and make revisions to the preferences of the file format.
It totally works even with simultaneous conversion.
It gives us simple instructions to run the procedures.
CONS:
It has no DVD or Blu-ray services yet.
The period for the trial version is limited.
Explore the Online Method of AVAide Free MOV Converter
Aside from the software version, we can also use the AVAide Free MOV Converter since this is the web-based program that is reachable with your internet connection. It can completely convert MOV to M4A seamlessly without the need of prior experiences or any expertise as well. Better to try this one by following these quick steps.
Step 1Get access to the official website
On your web browser, go straight to the web site of AVAide Free MOV Converter. Once landed, the tool will welcome you with its timely and modern interface.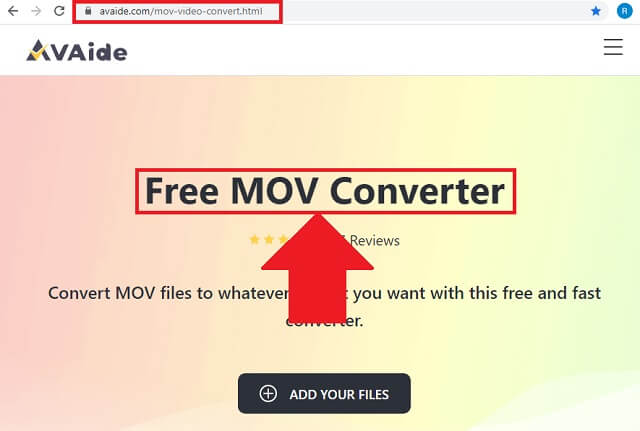 Step 2Import the local videos
Second to that, import your MOV files by locating them in your local folder. Do this by clicking the ADD YOUR FILES button. Add files whether individually or in group.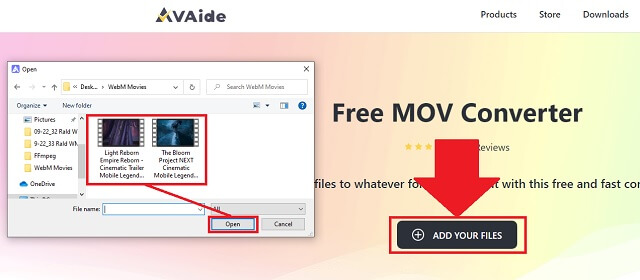 Step 3Select the M4A format
Afterwards, click the music icon and choose from the list of the audio formats. Look for the M4A and click it.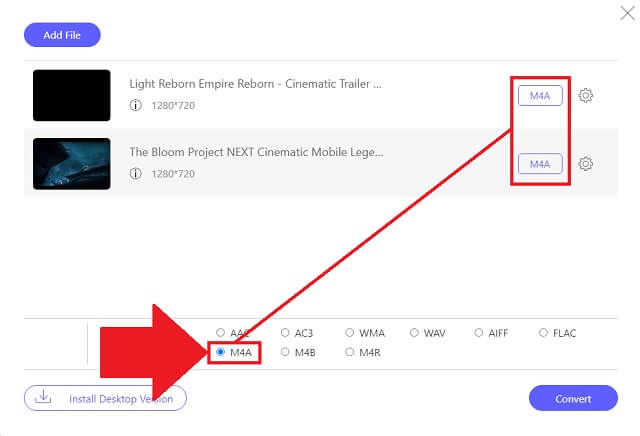 Step 4Begin the transformation
Begin the converting process by clicking the Convert button on the bottom panel.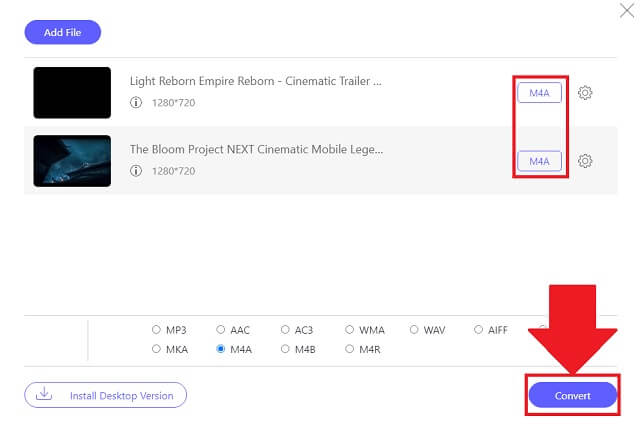 Step 5Complete the task
Finally, you can be able to locate your newly converted files easily by clicking the folder icon.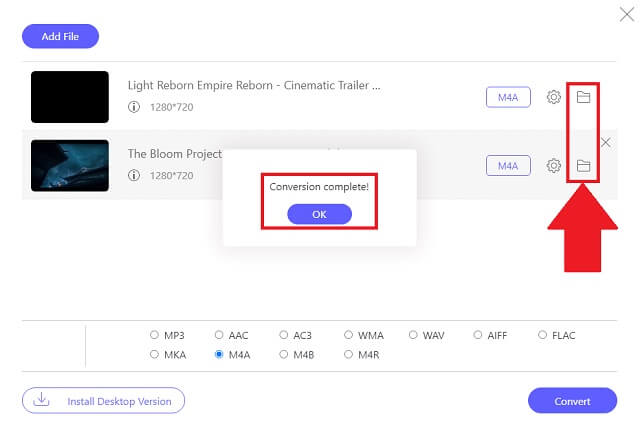 PROS:
MOV to M4A converter for free.
Multiple lists of audio formats.
Accessible batch converter.
High quality resolution.
Adjustable audio preferences.
CONS:
Not accessible offline.
Toolbox is not provided.
Ways to Utilize the CloudConvert
One of the ideal converters available online is the CloudConvert. It's a sure mov to m4a converter for free. It allows its users to experience different preset properties that we can edit and enhance. Plus, it is not bombarded by fancy banners and ads. Know the simple procedures on how to use this with the given steps below.
Step 1Add your MOV files
Click the Select File button to add all the files that are in need for conversion.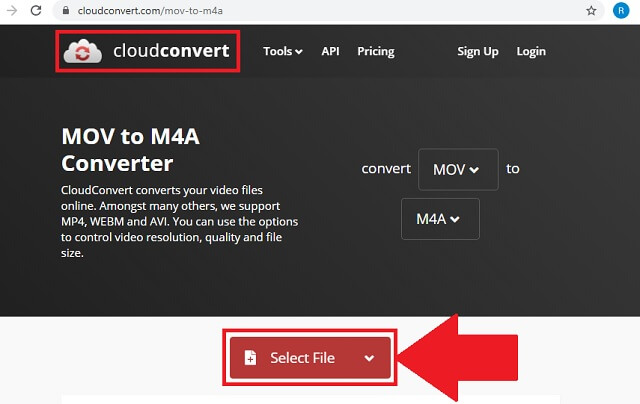 Step 2Change the audio format
Look for the arrow down button and click it. Click the M4A from the audio format button.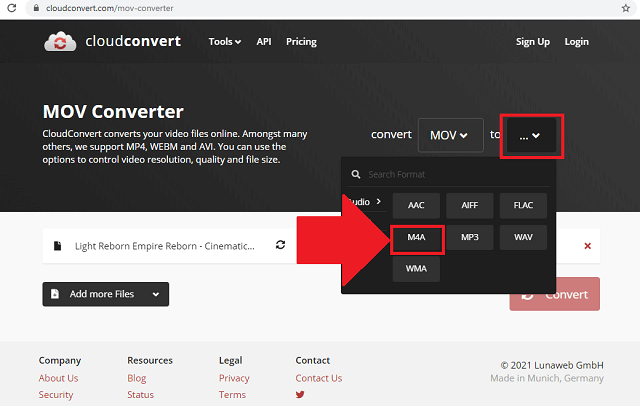 PROS:
Intuitive interface for the users.
Almost 140 formats are available.
CONS:
It has a limited conversion frequency each day.
The page needs to be restarted to convert another batch.
Part 3. Comparison Chart Among the Converters
This comparison chart is an informative illustration to see the similarities and differences among the aforementioned converters. Plus, we can clearly identify which one is the best among them.
KEY FEATURES

Web-based and software

Windows and macOS

Fast-Speed

Simultaneous Conversion

Additional Editing and Enhancing Toolbox
| | | |
| --- | --- | --- |
| Avaide Video Converter | Avaide Free MOV Converter | CloudConvert |
| | | |
| | | |
| | | |
| | | |
| | | |
Part 4. FAQs of MOV and M4A
Is MOV a good format for videos?
MOV was made by Apple. And it's the default format for QuickTime. It's a good quality when it comes to visuals. However, files with this format store a large-sized content that consumes your storage. If you just love to hear the audio without seeing the visual, convert your MOV to M4A with AVAide Video Converter.
What media players support M4A?
There are tons of programs that can play M4A files. Few of these are iTunes, Winamp, Media Player Classic, VLC, and QuickTime.
Is M4A a lossless audio format?
M4A or MPEG-4 Audio is popular for AAC and ALAC codecs which are lossless.
Conclusion
To conclude this write-up, AVAide Video Converter, AVAide Free MOV Converter, and CloudConvert are our ideal options to convert our files from MOV to M4A. Among these, AVAide Video Converter is the top-ranked audio converter because of its advanced settings and seamless process.
A powerful MKV video converter to convert MKV files to video & audio formats in one go.