Through WMA, you can achieve high sound enhancements while minimizing storage needs. It's because WMA files effectively work at low bit rates while maintaining a high level of audio quality. However, many were dissatisfied with this format's incompatibilities, as not all music players provide built-in functionality for WMA files. In this instance, you may turn WMA to AAC and playback them on your device or with various media players. Here are the converter tools on how to convert WMA to AAC in iTunes.
Part 1. Brief Introduction of WMA and AAC
WMA and AAC are two well-known audio file formats. However, for those who are unaware, WMA was primarily designed to compete with AAC. To help clarify, we'll explore some of the significant distinctions between the two well-known audio files. Pick the ideal audio file for your needs. AAC works effectively at lower bit rates. It can, for example, play high-quality audio at a bit rate of 128k. That is, you receive a satisfying listening experience while benefiting from low storage demand. As a result, most of the sites and media players utilize this audio format.
Yet, as you may know, WMA, which stands for Windows Media Audio, simply selects the media player it plays. On the other side, when the bit rate exceeds 128k, you will obtain superior sound quality. At 192k bitrate, there is a noticeable distinction between the two, with AAC having ideal sound effects. Furthermore, AAC can play your music library on nearly any multimedia player. Assume you want to explore your Apple devices, such as a Mac, iPhone, or iPad. Then, using the free software stated above, convert WMA to AAC on Mac.
Part 2. 2 Remarkable Tools to Convert WMA to AAC without Quality Loss
AVAide Video Converter
AVAide Video Converter is among the best tools on how to convert WMA to AAC. Unlike the previously listed methods below, this software does not require internet access to function. Aside from that, it has a user-friendly and current design interface for the best possible user experience. Furthermore, each user can define various audio quality preferences, allowing them to alter the bitrate and sampling rate as they see fit. There is also no finite number of files you wish to convert. You can convert your music from WMA to AAC as many times as you want to. More so, the conversion is quick while maintaining the original file's quality. You can find the complete guide in the thorough instructions below.
Step 1Launch the desktop application
Visit the official website of AVAide Video Converter. Install and launch it afterward. You can also click the download buttons below to install the application quickly.
Step 2Import your WMA file(s)
Drag your files to the Plus (+) button for fast uploading. Otherwise, you can tap the Add Files place at the upper left part of the interface to import your WMA files.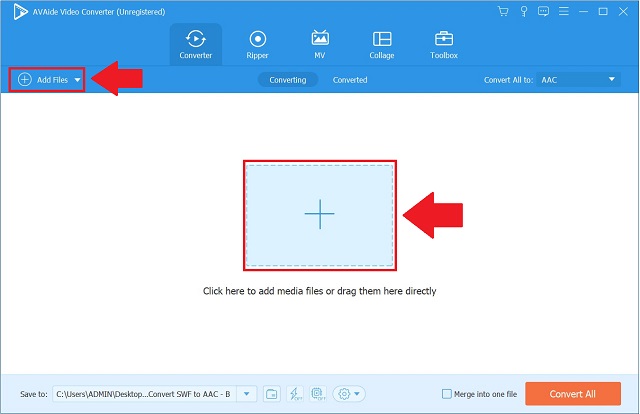 Step 3Determine the new format
Set your WMA to AAC by clicking the Convert All to button. You will be directed with the list of audio formats. Then, from the list, choose the AAC format.
Step 4Initiate the conversion process now
To begin the conversion, tap the Convert All button in the interface's right bottom corner. Wait for the conversion to finish before checking for completed files.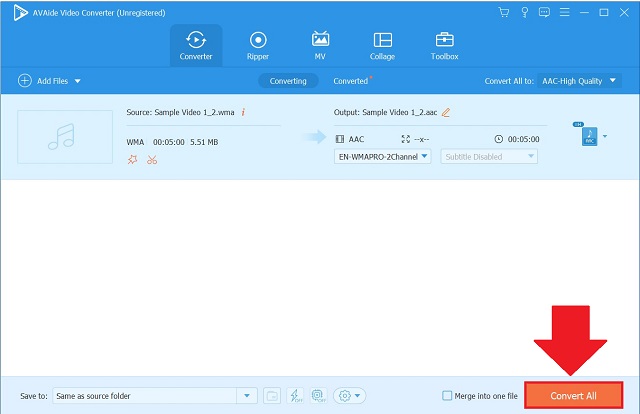 Step 5Spot the newly converted AAC files
Navigate to the Converted tab to view the completed files. To directly access the destination folder for the converted files on your PC, click on the Folder beside the converted files.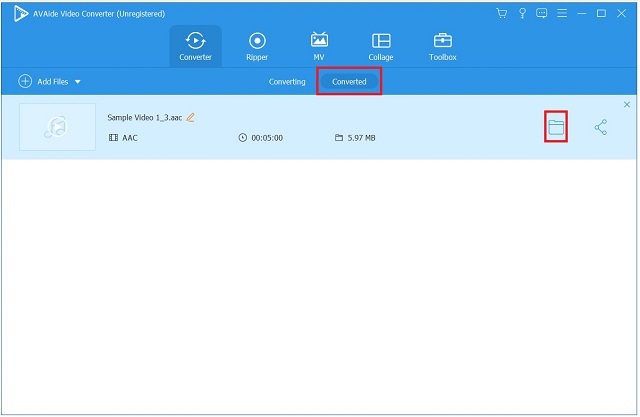 iTunes
iTunes is a freeware application developed by Apple in 2001. It is a jukebox player that you can organize and add your most-loved tracks on Apple Music using a paid subscription. It can convert music tracks stored on your computer. If you utilize this tool, you do not have to worry about your music recordings not streaming on your device. In the short instruction below, we'll take on the task of converting WMA to AAC for free in iTunes.
Step 1Launch iTunes on your desktop
First, go to the tool's menu bar and choose File from the drop-down menu. Click the Convert option to proceed with the conversion.
Step 2Preset your AAC format
To transcode your WMA to AAC, select Create in AAC version from the format drop-down menu.
Step 3Scan the AAC file
Lastly, after waiting for the conversion process, check your AAC file in your local storage.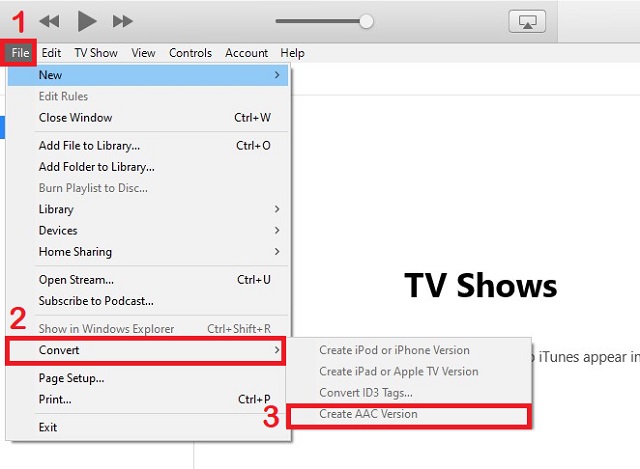 Part 3. Free Online WMA to AAC Converter with High-Quality Output
AVAide Free Video Converter
AVAide Free Video Converter is an internet application that allows you to convert your media files to any format. With this application, you may quickly convert your WMA to AAC online. It supports a variety of popular audio formats, including WMA, MP3, M4A, and WAV. Additionally, you can alter numerous output options, including sampling and bit rates, to suit your preferences. Plus, it is capable of processing three or more files simultaneously. Indeed, it is the most effective free WMA to AAC converter available. To transform WMA to AAC for free, follow the steps below.
Step 1Visit the official page of AVAide's Free Video Converter
To get started, download and install AVAide Free Video Converter on your computer. Then select ADD YOUR FILES from the drop-down menu. From the resulting window, click Open AVAide Launcher.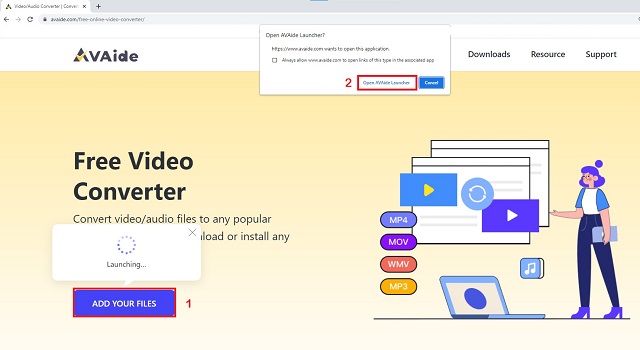 Step 2Import your WMA audio files
Then, click the ADD YOUR FILES button one more. Upload all of your WMA files.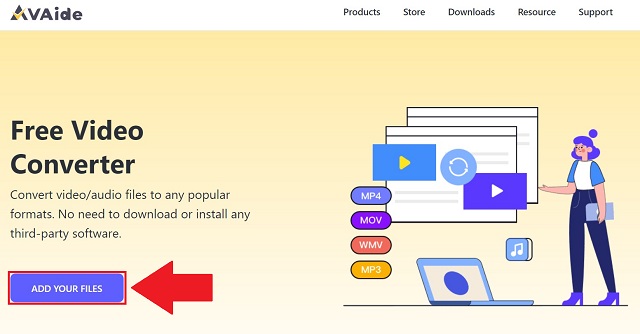 Step 3Select AAC as your output format
In the bottom part of the interface, click the Audio icon to generate all audio formats. Locate the AAC option and choose it as your output format.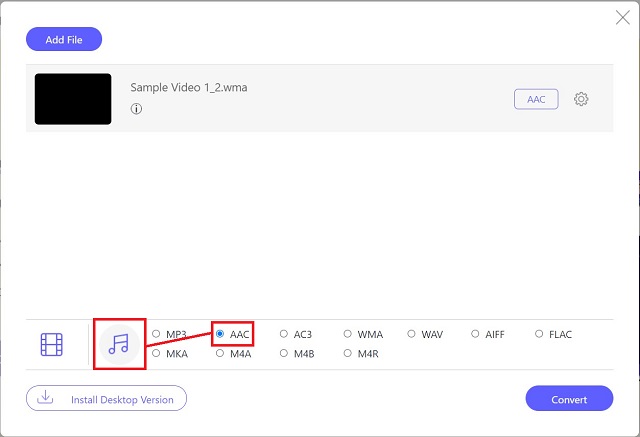 Step 4Turn in your WMA to AAC for conversion
After that, tap the Convert button to initiate the process.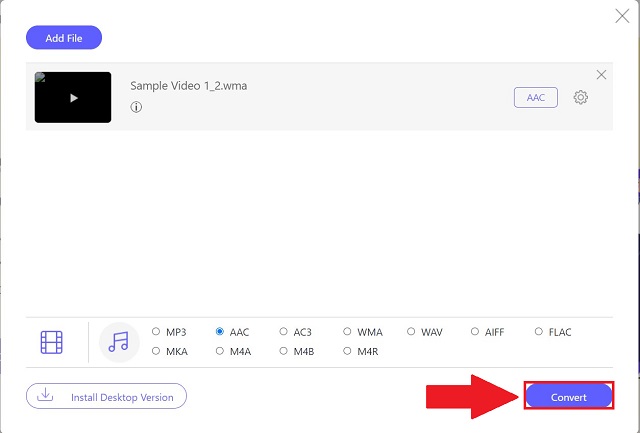 Step 5Review the AAC files
After the conversion process, you can now view your files in your local file storage.
Part 4. FAQs about WMA and AAC Audio Files
Is it possible to play WMA files on a smartphone?
No, the smartphone does not support WMA files. Thus you must first convert the WMA to AAC and then transfer the AAC file to the smartphone using iTunes. You can convert using AVAide Video Converter.
Which format is superior, WMA or AAC?
Unless you want high quality with small file size, WMA is unrivaled. However, in terms of accessibility and usability, AAC is incomparable.
Is WAV superior to WMA when it comes to compatibility?
Yes, WAV supports a broader range of devices. WMA only works with newer devices.
Your complete video toolbox that supports 350+ formats for conversion in lossless quality.