MPEG is a popular video file format for sharing web-based content. The majority of the movies we watch today are in MPEG format. Finding a song or piece of music from a specific scene in a movie can be exceedingly difficult. It's possible to hear the soundtrack without seeing the movie again. To put it another way, you can get the audio from the movie you have just watched. Furthermore, if you convert the movie clip to audio, you'll be able to listen to them whenever you want. Hence, this post will show you how to utilize some of the best tools available online and offline to convert MPEG to AAC.
Part 1. MPEG vs. AAC
| | | |
| --- | --- | --- |
| Parameters of Comparison | MPEG | AAC |
| Description | 1. It is known as MPG. 2. It is a popular video file format for web sharing. | 1. It is a lossy audio format. 2. It removes unneeded data during compression. It is simpler to stream or download. |
| File Extension | .mpeg | .aac |
| Developer | Moving Picture Experts Group | 1. Fraunhofer IIS 2. AT&T Bell Laboratories 3. Dolby 4Sony Corporation |
| MIME type | video | audio |
Part 2. 2 Reputable Tools on How to Convert MPEG to AAC Offline
AVAide Video Converter
Online solutions, as we all know, are totally reliant on the internet to function. Uploading files to web-based apps can take a long time. Yet, you can avoid these issues by using an offline video converter like AVAide Video Converter. This software is dependable in converting MPEG to AAC effectively. Plus, this tool runs on both Mac OS X and Windows PC, so you can use it on either platform. Using this application's batch operating function, you can convert multiple audio/video files at once much more quickly and easily. On the other hand, if you're in a hurry, you can anticipate obtaining your converted files instantly due to the program's high and accelerated conversion speed. The steps to convert MPEG to AAC using AVAide are listed below.
AVAide Video Converter
Editing, rotating, cropping, trimming, dividing, merging, enhancing, and compressing video clips are all options.
Supports over 300+ formats and outputs 1080p/4K/5K/5K/8K video without sacrificing video quality.
Provide a set of tools for making GIFs, editing ID3 data, and creating 3D videos.
It has received over 18,299,232 downloads worldwide and has over 8,000,000 satisfied customers.
Step 1Download the MPEG to AAC Converter
Begin by visiting the AVAide Video Converter website. Download and install the software on your computer.
Tips:
To download, simply click the download buttons provided above.
Step 2Import MPEG file(s)
By clicking the Plus icon, you can upload a MPEG file. Then select the MPEG file you wish to convert. You can also upload a group of MPEG files by clicking the Add Files button in the upper left corner.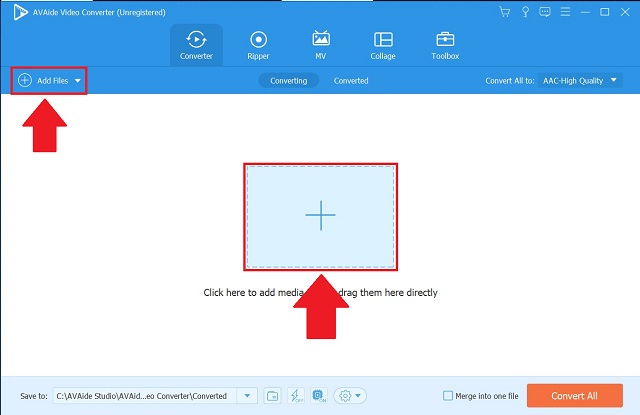 Step 3Preset to AAC Format
After importing the MPEG files, go to the Profile menu and select the Audio tab. Choose AAC format from the options on the left side of this tab.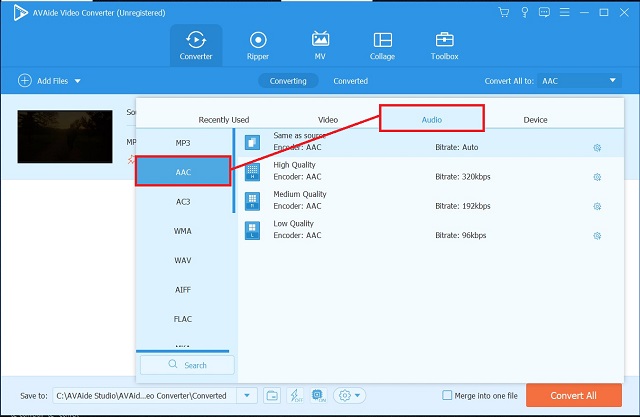 Step 4Begin the conversion
Lastly, click the Convert All button in the upper-right corner of the interface to complete the conversion process. Once the conversion is complete, you'll be able to see a preview of the file.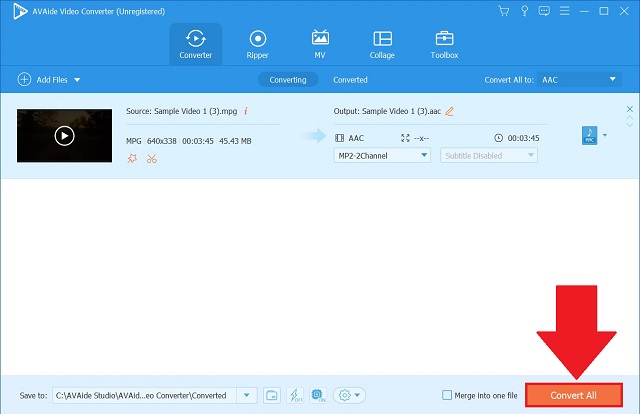 iTunes
iTunes is a downloadable software that is available for both Windows and Mac, allowing you to listen to your favorite tunes on either system. In the same way, Mac owners benefit from unlimited movie and TV show streaming, Windows users can do the same with this app. AAC audio files can be converted as well, which is a huge plus! The output quality, in particular the bitrate, can be customized when converting MPEG to AAC using this tool. Here are the steps to follow on how to convert MPEG to AAC in iTunes.
Step 1Launch iTunes
To start, navigate to the tool's menu bar and select File from the list of available options. Click the Convert button to convert a file.
Step 2Set the Desired Format
To make an AAC version, choose Create in AAC version from the format drop-down menu.
Step 3View the Converted File
Lastly, navigate to the converted file on your local storage.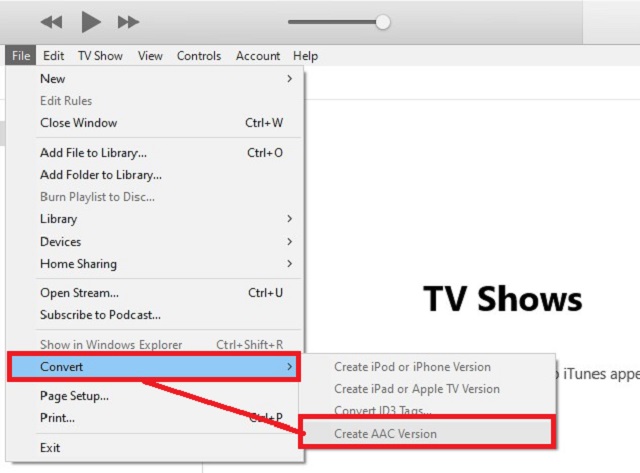 Part 3. Reliable Method on How to Convert MPEG to AAC Online
AVAide Free Video Converter
AVAide Free Video Converter is one of the most highly recommended online file conversion programs. Directly from the web browser, you can convert MPEG to AAC instantly. There are no restrictions on how many files you can convert as well as the total size of the file. In addition, you are not required to create an account. This online application is free to use as is, with no restrictions. Follow these steps on how to convert MPEG to AAC on your Mac or Windows PC for a comprehensive guide.
Step 1Go to the official website
To begin, navigate to the official AVAide Free Video Converter website. Launch the tool on your device.
Step 2Import the files
After that, hit the ADD YOUR FILES button and upload your MPEG file.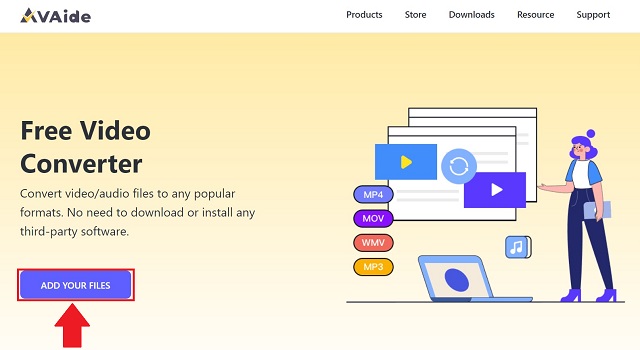 Step 3Select the AAC format
To see all the audio formats, click the Audio icon. Find the AAC button and select it as your output format.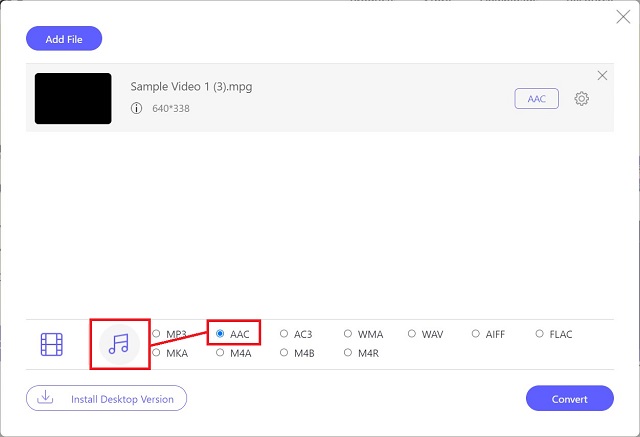 Step 4Convert MPEG to AAC
Lastly, hit the Convert button. Wait for the conversion process to finish.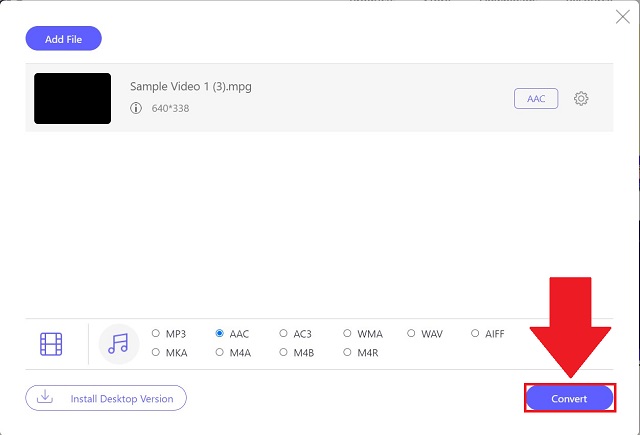 Part 4. FAQs about MPEG and AAC
How long does it take to convert a MPEG file to an AAC file?
It takes a long time to convert a video. It will most likely take you a few minutes to convert MPEG to AAC.
Is it possible to convert MPEG to AAC on Linux or Mac OS X?
Yes, AVAide Video Converter is compatible with any operating system in both Mac, Linux, and Windows.
Is AAC superior to MP3?
When comparing AAC to MP3, the sound quality of AAC is unquestionably better and the file size is smaller.
Conclusion
To summarize, the three tools mentioned above can help you to convert MPEG to AAC easily. What's more, they're easily accessible and simple to use. With that said, you may test with each tool to determine which is the best fit for your preferences.
Your complete video toolbox that supports 350+ formats for conversion in lossless quality.