With the advancement of technology and how we accompany the media in our daily lives. We need to ensure that we are managing our storage. I am sure that most of the time, videos from different websites that we download consume a lot from our file storage. With this concern, you might wonder how you can expertly compress your content. One solution is to change MPEG to M4A. You don't need visuals if you're just listening to your favorite playlist of songs, podcasts, and audiobooks.
Part 1. An Informative Comparison of MPEG and M4A
Attributes and Limitations of MPEG
M4A which stands for MPEG-4 Audio is a lossless type of audio format developed specifically for Apple platforms. Also, it isn't a DRM protected format. When transferring to different devices and platforms, it's compatible. This can store different types of audio content. This includes various songs, audiobooks, and podcasts. Videos with this type of audio format are saved in MPEG-4 container and encoded with either the Apple Lossless Audio Codec (ALAC) or the Advanced Audio Coding (AAC). Additionally, it is supported by Apple Music for macOS and iOS, Apple iTunes, and Microsoft Windows Media Player.
Attributes and Limitations of M4A
MPEG or Moving Picture Experts Group is a file format that fuses MPEG-1 or MPEG-2 video formats with audio content. This file format produces high quality copies from their raw files but is not competent in managing storage. It is not a good choice for importing videos in some online streaming websites. Additionally, the format is proprietary. It simply means that it's not an ideal format for editing data.
These two audio formats shared common similarities. Both of them are good at storing different media files. However, one may differ in some aspects to the other.MPEG is quite compatible with different operating systems or programs. Also, it is supported by various media players we use today. M4A has slight limitations because it is not supported by all devices for audio playing. In terms of as compared to other audio formats, M4A preserved its high quality whether in uploading, sharing, and downloading. It has an advanced sound quality for all media purposes.
Thus it would be better to convert MPEG to M4A using iTunes, AVAide Video Converter, and AVAide Free Converter.
Part 2. 3 Simple Methods on How to Convert MPEG to M4A
1. Use a Full-featured Desktop Converter AVAide Video Converter
With the aid of AVAide Video Converter, you can quickly change your MPEG to M4A. This full-featured desktop version has an amazing way of converting your videos to audios. The speed is an extra mile ahead from other tools. It can process your files, whether individual or group, 50X faster than the common tools we know. What is more, it never reduces the quality of the original one. It has a distinct toolbox that can edit and enhance your personal preferences. Simple procedures are given below to follow.
Step 1Download and install the program
First and foremost, visit the official webpage of the program. Then, download the software on your device and install it immediately.
Step 2Drag the MPEG videos
To transfer your files on the tool, click the Add Files button. Select your MPEG videos individually or in group to convert them simultaneously.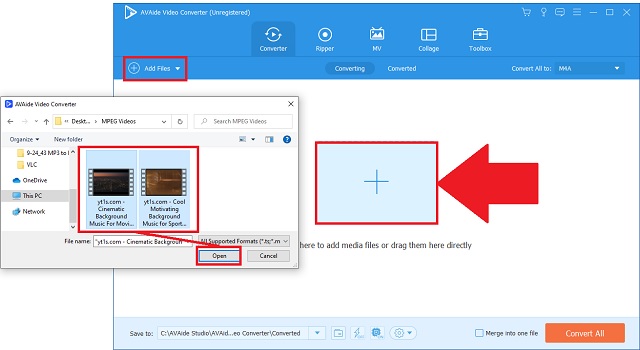 Step 3Set up to M4A audio output
Click the audio icon to generate all the available audio formats. Choose the M4A and click its button. To a simpler way, just click the Convert All button.
Step 4Start the simple process
After that, start the converting process by clicking the Convert All button.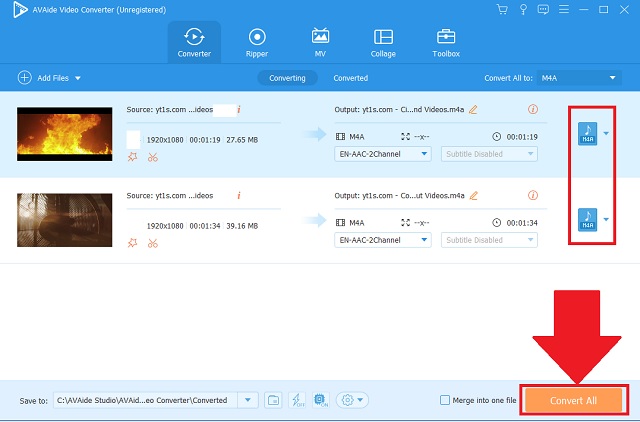 Step 5Check the newly saved files
Finally, your new M4A files are now saved. Check the file designation you have set and quickly locate them.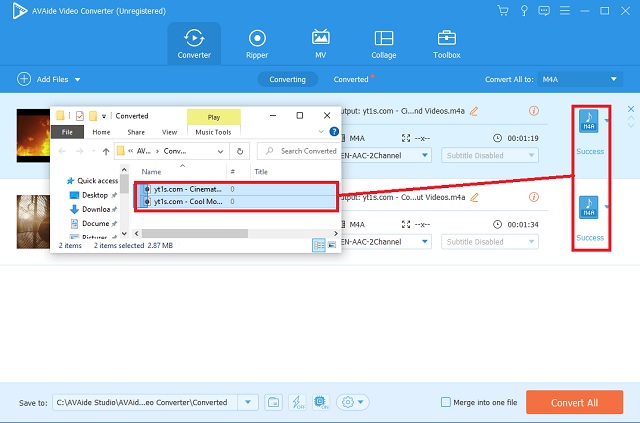 PROS:
Different audio formats are available.
Speed is advanced and updated to process quickly.
Batch conversion made it easy to finish faster.
Toolbox is given to edit and enhance.
Compatibility wise is evident with different devices and operating systems.
CONS:
Trial version is limited for a certain period of time.
2. Use a Simple Online Tool AVAide Free MPEG Converter
But if you are searching for a web-based MPEG to M4A converter, then, choose the AVAide Free MPEG Converter. This gained its popularity by its comprehensive ways of guiding the common and professional users on how to use the tool. The speed is 50X faster than other similar working tools. It can convert different audio and video files in a batch without losing anything from the original file's quality. Moreover, since it's a web-based program, you don't need to pay for its services. Plus, it is supported by different operating platforms like macOS, Linux, and Windows. Try these different excellent features by simply undertaking these MPEG to M4A steps.
Step 1Go to the official website
Connect to your available internet service. On your device, go to the AVAide Free MPEG Converter's official website.
Step 2Upload your old videos
Once landed, click the ADD YOUR FILES button. Then, a local storage will open so that you can freely choose and add all your MPEG videos.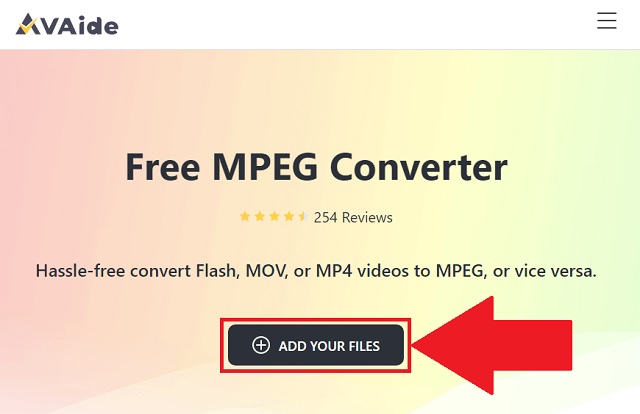 Step 3Select your output format
Thirdly, choose the M4A as your audio output format by looking for its button on the audio icon.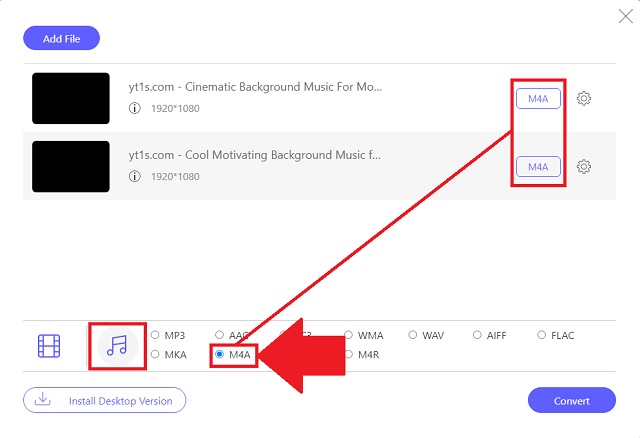 Step 4Begin the conversion
Afterwards, click the Convert button to start the procedure.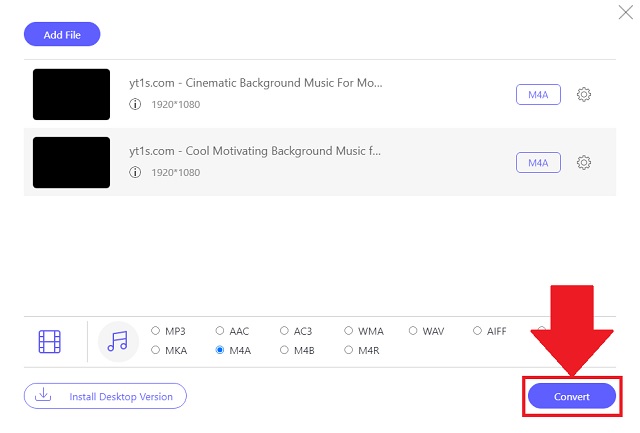 Step 5Visit the file destination
To ensure your files are already saved, consider clicking the folder icon to automatically look for the local folder of your new files.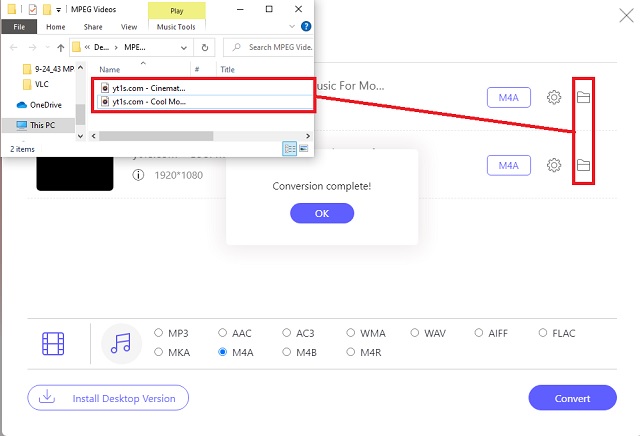 PROS:
Charge less.
Fast-conversion speed.
Batch in group.
High-Quality sound output.
Adjustable audio preferences.
3. Make Use of a Default Way iTunes
If you're an Apple user, you can convert MPEG to M4A using iTunes. This native Apple music tool can also turn your videos into audio files. This feature can completely assist you in managing your media contents. Given below are quick instructions to consider.
Step 1Install the music player
Look for the file button on the menu bar. Click the Convert button to access the converting feature. Then import your videos.
Step 2Adjust into audio format
From the list of audio formats, click the Create in AAC version button since M4A has this type of encoder.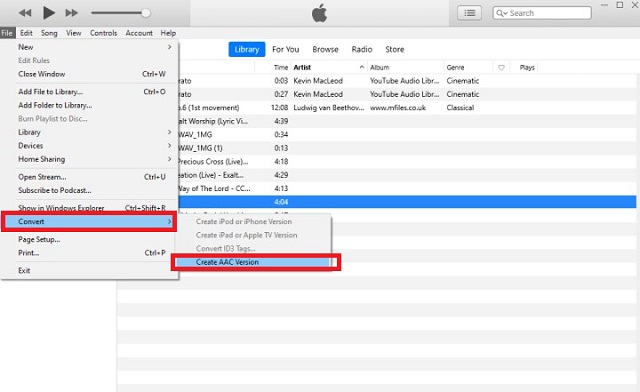 PROS:
It's a default music player for Apple.
Compatible codecs for audio preferences.
CONS:
There are only a few audio formats.
The procedure is complicated.
Part 3. Which is the Most Reliable Audio Converter
Here is a simple illustration to compare the featured standards of each audio-video converter.
KEY FEATURES

Web-based and software

Windows and macOS

Fast-Speed

Simultaneous Conversion

Additional Editing and Enhancing Toolbox
| | | |
| --- | --- | --- |
| Avaide Video Converter | Avaide Free MOV Converter | CloudConvert |
| | | |
| | | |
| | | |
| | | |
| | | |
Part 4. FAQs of MPEG and M4A
What are the limitations of MPEG videos?
MPEG stores very high quality. It means that the file size is big. It will consume a big space in your storage and you may experience slow-speed loading. As suggested by many media experts, convert your MPEG to M4A when using different soundtracks with the help of AVAide Video Converter.
What is the purpose of MPEG?
This type of video format works for media coding, such as the compression coding of video, audio, and graphics.
Is M4A stores high-quality content?
M4A holds a high-quality audio format. It has a great sound quality but is small in size.
Conclusion
As a summary, you can choose an audio format that can aid your favorite soundtracks without viewing their official video contents. Change your MPEG to M4A format using the trusted audio and video converters such as the AVAide Video Converter, AVAide Free MPEG Converter, and iTUnes. Using these popular tools will cater all your needs! Among these, better try the AVAide Video Converter for high-quality production.
Your complete video toolbox that supports 350+ formats for conversion in lossless quality.