If you are an avid collector of various audio tracks, you will undoubtedly require audio converter software to keep your most treasured files in good condition. That is why, in this post, we will share our tried-and-true WAV to AAC converter software, which is available online and downloadable on your computer.
Part 1. 2 Excellent Methods on How to Convert WAV to AAC for Better Audio Quality Offline
There seem to be various audio file converters available for download from the store; even so, which tools will you use? You are probably having trouble finding one that fits your expertise, one that won't make it difficult for you to convert your best-loved files. As such, in this part of the article, we'll go over the tools that can easily convert WAV to AAC in Mac. Hence, here are the top two WAV to AAC converters you can rely upon.
Using the Top-Rated Software: AVAide Video Converter
AVAide Video Converter is a reliable program that works well on both Mac and Windows computers. It can help you convert a wide range of formats, with excellent support over almost all output/input audio and video file formats. The acceleration technology ensures a quick conversion in a few seconds while retaining the quality of the authentic source.
It also contains useful tools such as a video/audio editor that allows you to change the resolution, bitrate, channel, add visual effects, and much more. Aside from that, the built-in GIF maker will enable you to create GIFs from a video or a few images quickly. AVAide Video Converter is a multi-purpose program that performs a variety of useful functions in addition to converting media files. Have a glance at the simple steps below to learn how to use this fantastic WAV to AAC in Mac converter software.
Step 1Run the software
To start, open your browser and go to the official website of AVAide Video Converter. Download and install the application. To quickly download, you can hit the download buttons below.
Step 2Import your WAV file(s)
Tap the Add Files button to upload your WAV files. If you want to upload in batch, you can drag and drop your files on the Plus (+) button.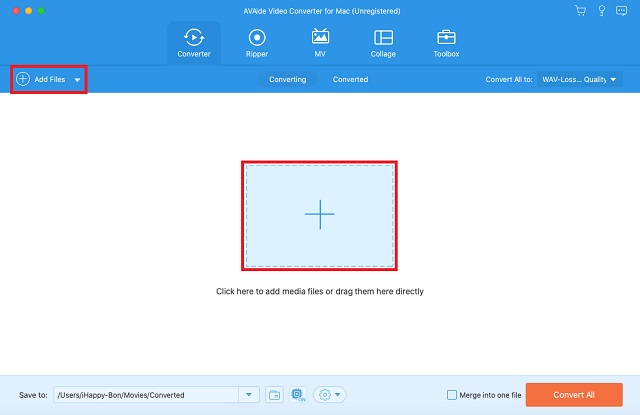 Step 3Select AAC on the list of audio formats
On the interface, locate the Audio button; it will direct to the audio formats list. Choose AAC as your audio format.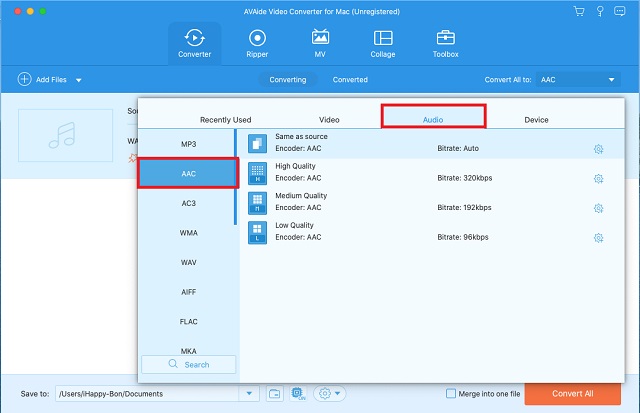 Step 4Let the conversion process begin
After that, tick the Convert All button to begin the quick conversion. Wait for the conversion to finish.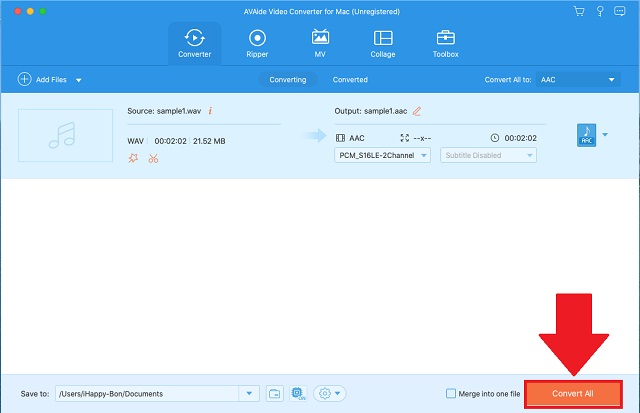 Step 5Preview the new files
Finally, check your newly converted files on the Converted tab.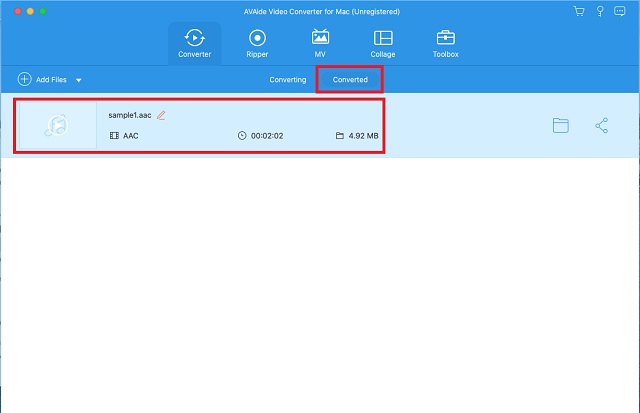 Making Use of the Jukebox Software: iTunes
Also, you may be trying to find a smaller but still high-quality file format for your audio file. Fortunately, iTunes can take care of the task for you. It can convert any audio file to your preferred format, including WAV to AAC. You do not need to worry whether or not it will work on your computer because this tool can also convert your audio files in a matter of seconds! We'll walk you through the steps in the guide below on how to convert WAV to AAC in iTunes.
Step 1Input your file
Click the Preferences button in iTunes to convert your audio file. There will be options that appear after the Preference panel appears, then click the General window.
Step 2Select AAC format
After selecting the General tab, hit the Import Settings button and choose AAC as the audio format from the list of options.
Step 3Convert now
Next, go to the File section and choose the Convert panel. It will provide you with the option of creating a version of your desired file.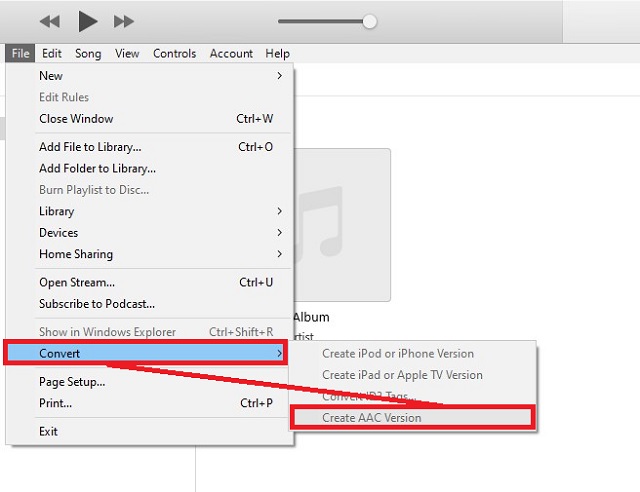 Part 2. The Ultimate Way to Convert WAV to AAC Online
The High-Performing Online Tool: AVAide Free Video Converter
Likewise, you can use an online program to convert AAC to WAV without installing a program or connecting a plugin. AVAide Free Video Converter is one of the leading websites WAV to AAC converters you should consider using. You can also use it to maximize the utilization of a multi-functional conversion feature. It means you will be able to convert between a wide range of audio and video formats, not to mention that the tool has no cap on the types of conversions you need to convert. And, for your convenience, it could accomplish a batch conversion without regard for speed. You can use a free AAC to WAV converter program to take advantage of all of these features. If you want to use this amazing tool, follow the steps below to learn how it works.
Step 1Go to the official website
In your web browser, browse to the main site of the online tool. Launch the AVAide Free Video Converter.
Step 2Upload your old files
After that, select your files by clicking the ADD YOUR FILES button. You can use the bulk conversion by uploading them all at once.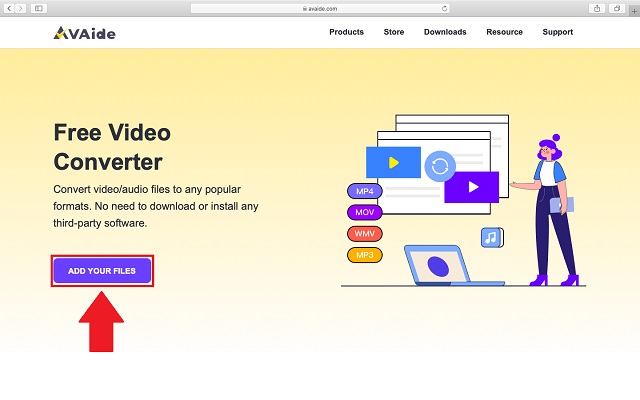 Step 3Choose an audio format
Then, on the Format tab, select the Audio icon to generate all formats that are available. Select AAC from the list of containers as your output format.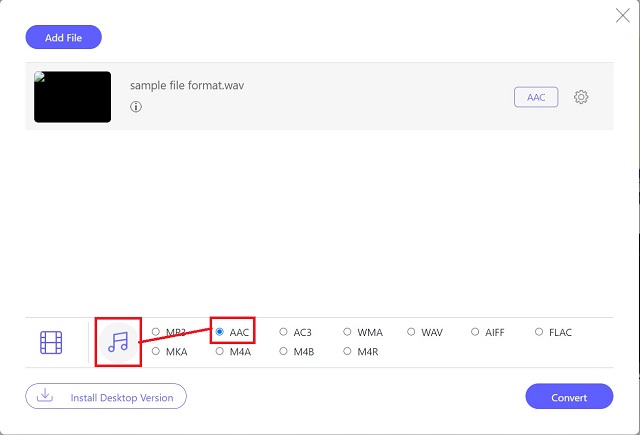 Step 4Start the process
Next, to start the conversion, click the Convert button.
Step 5Wait for the conversion
Finally, review your newly converted files on the local storage location. Click the Folder icon to see them right away.
Part 3. WAV VS. AAC: The Need to Convert WAV to AAC
In a broad sense, the WAV format has the highest audio quality of any format because it keeps all of the data from the original track. Since this type can save all of the audio data, it essentially has a larger file size. That is why so many users, particularly those without a high-end computer, opt for an alternative file format to play that high-resolution audio without sacrificing its quality.
AAC is one of the alternative formats that users use to convert a WAV into another format; it may be smaller in size, but it has excellent sound quality and is playable in almost all operating systems. That is why most users prefer AAC files since they are compatible with a wide range of devices while preserving high quality.
Part 4. FAQs about WAV to AAC Audio Formats
How secure is it to convert online?
There's nothing to worry about if the online tool does not request any confidential information.
Is the conversion in AVAide time-consuming?
Even if your file is large, conversion in AVAide only takes a few moments. Since it has acceleration technology, you can convert your file 30x faster than usual.
Which format is superior, AAC or WAV?
WAV has significantly more excellent audio quality, but it is challenging to find a device that will support this format, making AAC the better format.
Your complete video toolbox that supports 350+ formats for conversion in lossless quality.