Needless to say, there are sure differences on the approach when we use Apple devices to those of Windows platforms. It would be an ideal choice to know the comparison of the two platforms and all the media the natively supported. For instance, M4A was developed to cater Apple music. On the other hand, WMA was made mainly for Windows system users. If you're a Windows user and have M4A files on your local storage, you might opt to convert M4A to WMA using freeware, software, or an online tool. M4A can cause some playback issues and glitches on your operating system. Compatibility is our concern.
Part 1. How to Easily Convert M4A to WMA by Utilizing a Decent Desktop Software
AVAide Video Converter
The most decent software to use is the AVAide Video Converter. This is probably the most installed M4A to WMA audio converter, especially those who are currently using Windows operating system. Since M4A is well-recognized by different Apple devices and players, playing files with this format might cause some issues. The poor compatibility with other devices is inconvenient. We highly suggest considering changing it to WMA, which is more accepted by Windows. This tool can surely solve that concern. By just installing it you can explore and discover first-hand all its key features. The speed is advanced. The process is seamless even in group conversion. Audio formats are also supported by different operating systems including Mac, Linux, and Windows. Change M4A to WMA by following these quick steps.
Step 1Installing the software
First off, visit the official website of AVAide Video Converter. Upon visitation, simply download and install the app on your device.
Step 2Uploading the videos
Secondly, upload all your original files from your local storage by clicking the Add Files button.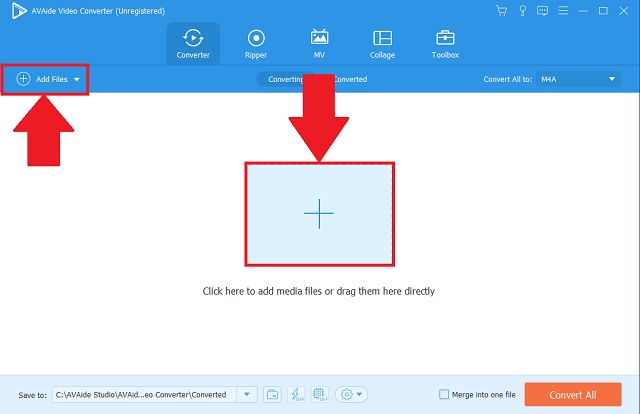 Step 3Selecting the format
Then, on the menu bar, you'll see the Audio button and click it. Now, you'll have a view of the long list of audio formats. Choose the WMA on the Convert All button. Remember that the format preferences are adjustable if you want to make some changes.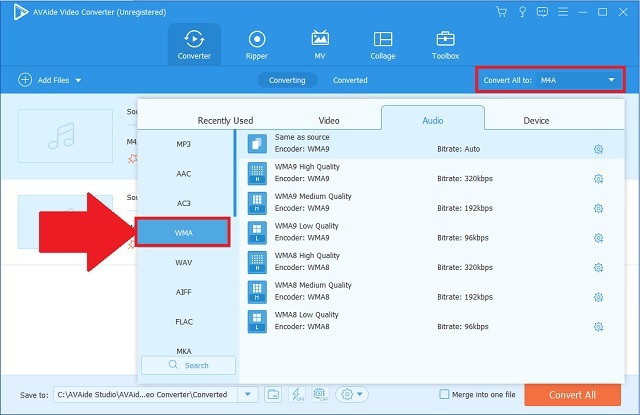 Step 4Converting the files
Then, click the Convert All button to start the process of changing the format.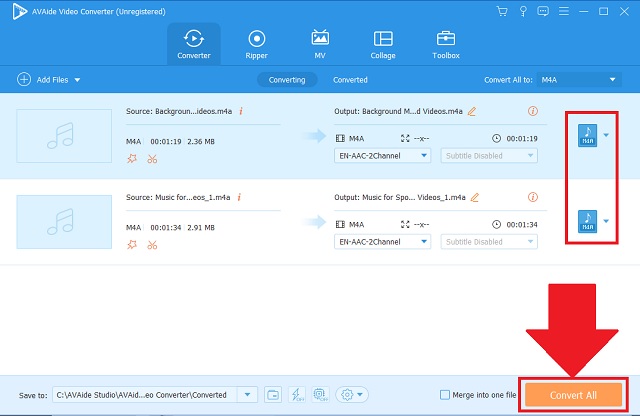 Step 5Completing the process
When the process is finished, check your files on their file designation.
PROS:
Downloadable software for Mac, Linux, and Windows
Advanced acceleration technology that fastens the speed process.
Consists of different supported audio and video formats.
Converting in batch will not affect your outputs' sound quality.
Toolbox is given for editing and enhancing features.
CONS:
The trial version is limited for a certain period of time.
There is no DVD or Blu-ray disc burner.
Part 2. How to Change M4A to WMA Using a Top-Rated Online Tool
AVAide Free Video Converter
Along with the full-featured desktop tool is the web-based tool called AVAide Free Video Converter. This online tool can absolutely teach you on how to convert M4A to WMA for free. All you need is a stable internet connection on your device. Despite its online services, this tool also possesses power capacities. Key features like the speed that's 50X faster than others. Multiple formats are given for different media files. Conversion in bulk also works well here. Plus, undergoing your files on the process will not affect your outputs. It's also safe since the app deleted all the history it has simply by refreshing the page. Seize the opportunity and follow these convenient instructions.
Step 1Get access to your web
Open the official webpage of AVAide Free Video Converter on the device of your choice. Simply connect to your browser and you're good enough to convert M4A to WMA online for free.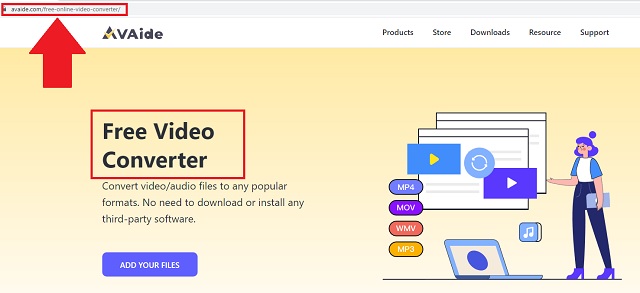 Step 2Import your M4A files
Afterwards, you need to import your WMA files on the tool's interface. Look for the ADD YOUR FILES button and click it right away.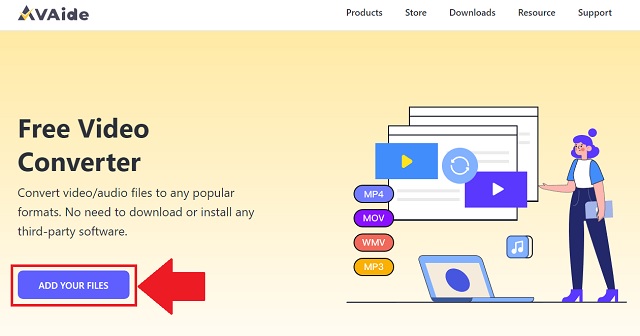 Step 3Choose your audio format
To change the format of your output, see the audio icon on the format panel and click it. Once all the audio formats appear, click the WMA button.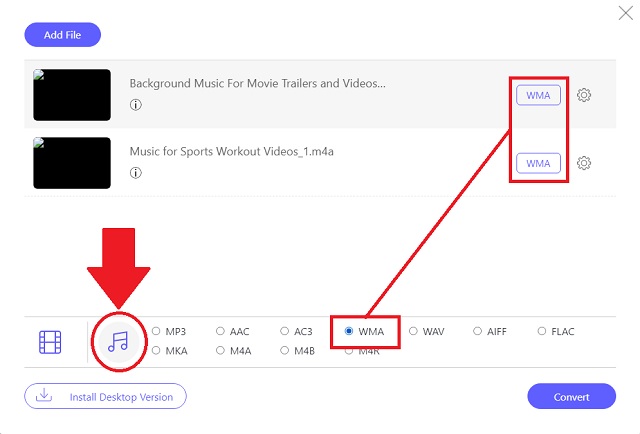 Step 4Start your task to convert
Click the Convert button to seamlessly start the quick procedure. This will only take you for a few minutes to finish the operation.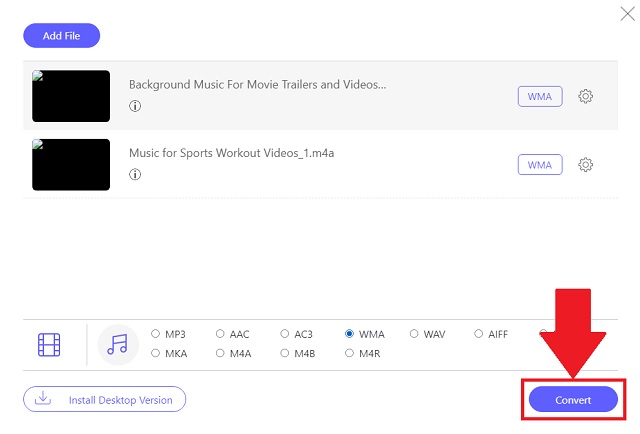 Step 5Go and check on the storage
Lastly, once the process is done, folder icons will appear for each file, click them and the outputs' file holder will automatically appear instantly.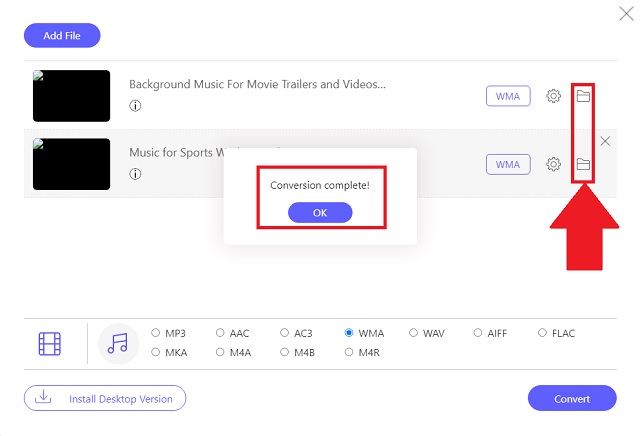 PROS:
It's a free online solution.
This tool has a wide list of both video and audio formats.
It has an incredible speed far advanced than other tools.
Batch conversion works well to lessen the time consumption.
It's safe and protected once you upload your files.
CONS:
There's no button intended to adjust all the settings of the files at once.
The toolbox is not given unlike the software version.
Part 3. Default Ways on How to Change M4A to WMA
VLC Media Player
VLC Media Player is a free and open-sourced multimedia tool. It is downloadable on Mac. But for Windows, it's already built and present. This can be used as a default way to convert M4A to WMA on Windows 10 or other old versions. Below are steps to undertake to discover the converting feature of VLC.
Step 1Visit the default tool
Access the VLC Media Player on your Windows. Once opened, click the Media tab button and choose the Convert button.
Step 2Add the M4A videos
Click the Add button to import all your M4A audio files.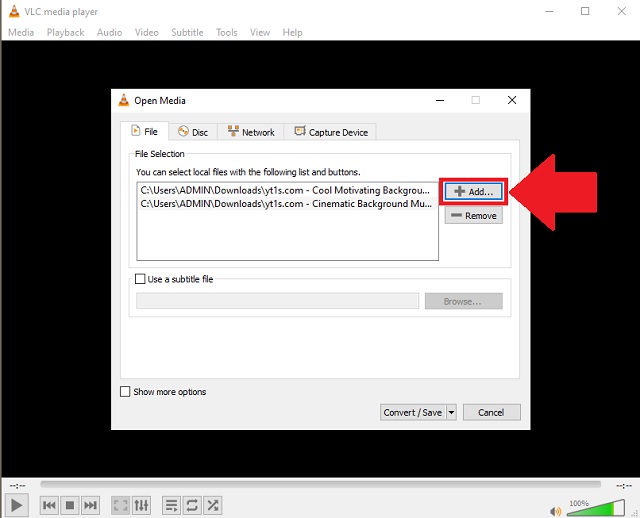 Step 3Select the M4A format
From the list of formats, click the WMA button to start the transformation.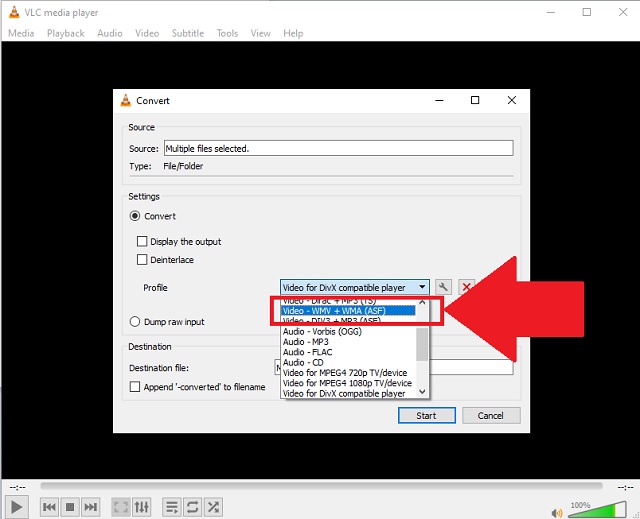 PROS:
A screencast feature to capture and record your desktop screen.
It's a Windows' default software.
You can preview your files while converting.
CONS:
No definite toolbox to enhance and edit the added files.
Incomprehensive interface and not direct format identification.
Part 4. FAQs of M4A and WMA
What is WMA used for?
Basically, WMA audio container is short for Windows Media Audio. This format also serves as an audio codec too. It's native and gained popularity in Windows operating systems.
Is WMA good quality?
WMA is a new audio format that holds advanced codec. It can totally support multichannel and high-resolution audio content.
Can I convert M4A to WMA in iTunes?
Yes, absolutely. However, since iTunes was specifically made for playing audio and video content, the features are quite off and incomprehensive. Additionally, it caters to a few formats only. Use AVAide Video Converter to explore unlimited options.
Conclusion
Therefore, as users of Windows, it would be better if we think about changing our old files for their compatible devices. The AVAide Video Converter, AVAide Free Video Converter, and VLC Media Player are your partner tools. However, one possesses all the best qualifications. AVAide Video Converter has it all. You can convert M4A to WMA on Mac, Linux, and Windows seamlessly with great outputs.
Your complete video toolbox that supports 350+ formats for conversion in lossless quality.