WebM is an open media format designed specifically for the web. It consists of online web streams compressed with either VP8 or VP9 codecs. Videos consume your battery life faster if you're using devices like laptops or smartphones. Plus, they carry big sizes of content. Now, if you just want to listen to your preferred videos, better to convert your WebM to M4A. This audio format can cater your needs without having troubles on the visuals and battery consumption.
Part 1. Introducing the WebM and M4A Format
WebM Audio Format
WebM is an audiovisual file container. It's free and open-source for all. This format is used most especially on YouTube and Wikimedia. It is designed for HTML5. The main goal of the developer is to make web streaming possible on almost all the devices we use for work and recreation. For instance, it is supported by smartphones, tablets, and even on your desktop. However, this format is not compatible for most mobile devices.
M4A Audio Format
M4A is the short term for MPEG-4 Audio. Which happened to be the MP4 version in audio format. This is encoded with the lossy Advanced Audio Coding (AAC) codec. And this leads its content to achieve a tighter compression and results in smaller sizes.
With this being said, to enjoy all your favorite soundtracks and musical videos without playing any visuals. Plus, decreasing the factor of consuming your battery life, think about changing your videos into an audio format. Like your WebM to M4V audio format.
Part 2. How to Quickly Convert WebM to M4A Using a Desktop Converter
One way of removing the video content from your files is to install the software AVAide Video Converter. It is necessary for us users that any tool must consider our skills or capacity to do the task. Whether we are first timers or already experts in the media files. This particular solution will totally help you convert WebM to M4A. It can convert any video, audio and can even rip DVD or Blu-ray discs. Not just that, the process would only take you for a few minutes. Despite the quantity, it can still manage to retain the sound quality of your original files. Try this excellent converter with these convenient steps to consider.
Pros
Full-featured desktop application.
Made with advanced speed technology.
Supported by Mac, Linux, and Windows operating systems.
Group conversion works well in the tool.
Extra media toolbox.
Cons
Trial version has an expiration date.
Step 1Install the app on your device
Firstly, you need to download the program on your device. Go to the site of AVAide Video Converter. Once landed, download and simply install it.
Step 2Drop your WebM videos
Then after that, click the Add Files button. Your local folder will be opened and select your WebM videos.
Step 3Choose your output format
From the menu bar, click the Audio button. From the list of audio formats, click the M4A on the Convert All button. The settings of each format are freely adjustable.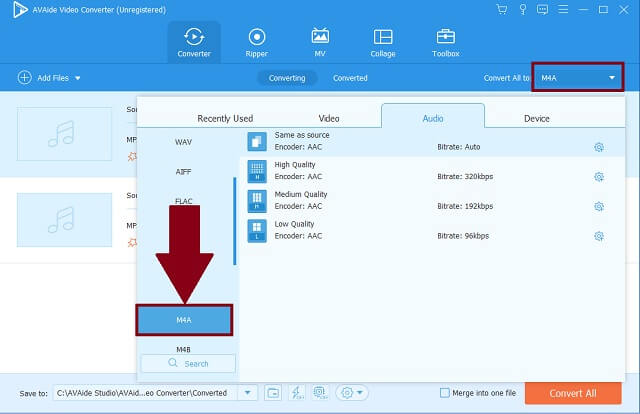 Step 4Start your conversion
Afterwards, start to convert by simply clicking the Convert All button.
Step 5Check your M4A files
Upon completion, visit the local storage where they were saved.
Part 3. Credible Online Methods on How to Convert WebM to M4A
1. AVAide Free Video Converter
Along with the desktop version is the AVAide Free Video Converter. This online solution exemplifies all over the web. Because it caters all our needs in terms of searching for free online tools. Surely, this is a chargeless WebM to M4A converter in nature. Be satisfied with its incredible 30X speed and multiple formats for video and audio. Plus, you can add all the files for batch conversion. Any process undertaken will not reduce any of the quality of your files. After you use the tool, you don't need to worry about your uploaded files. For safety and security, the history will be deleted once you refresh the web page. Discover the limitless capacities of this online app.
Pros
Web-based program.
Long list of formats.
High sound quality.
Batch conversion.
Enhancing and editing toolbox.
Cons
Need internet access.
Step 1Visit your browser
On your web, access the AVAide Free Video Converter's official website.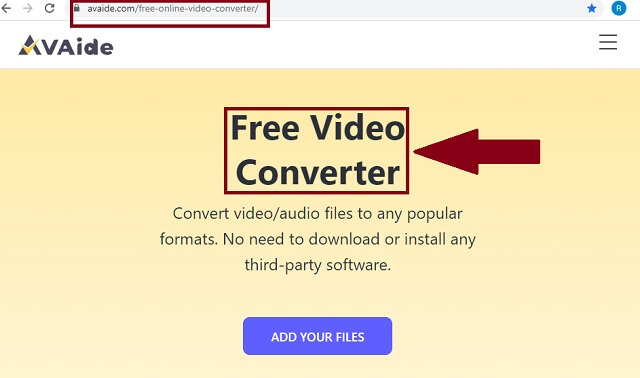 Step 2Upload your files
Secondly, click the ADD YOUR FILES button. Once opened, upload your WebM videos.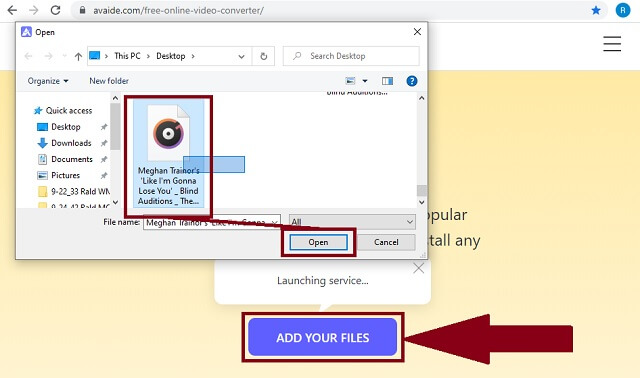 Step 3Select your audio format
Click the audio icon and from there choose the M4A as your output audio format.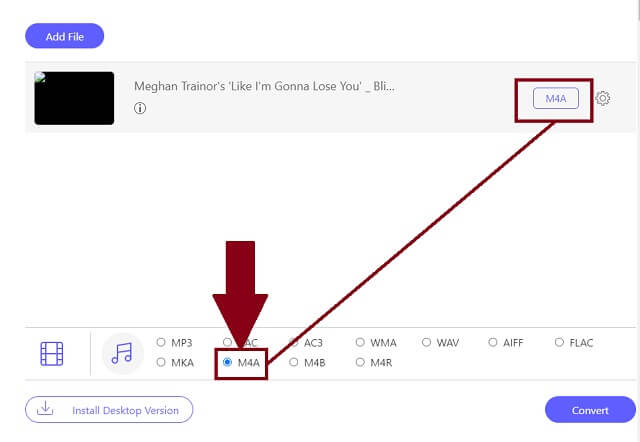 Step 4Begin your conversion
To start the transformation, simply click the Convert button. You can either pause or stop the process if wanted.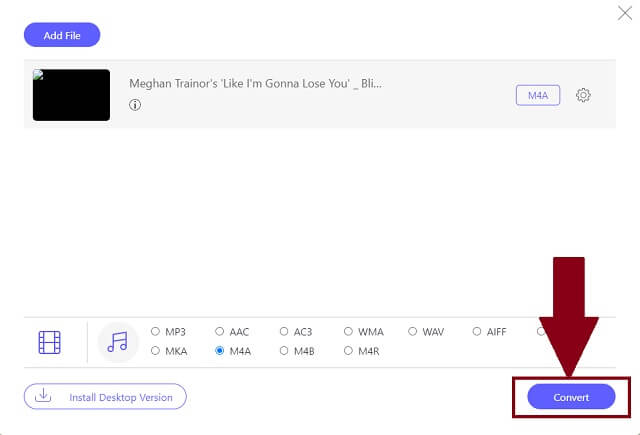 Step 5Check your new files
Finally, check and open your files by clicking the folder icon.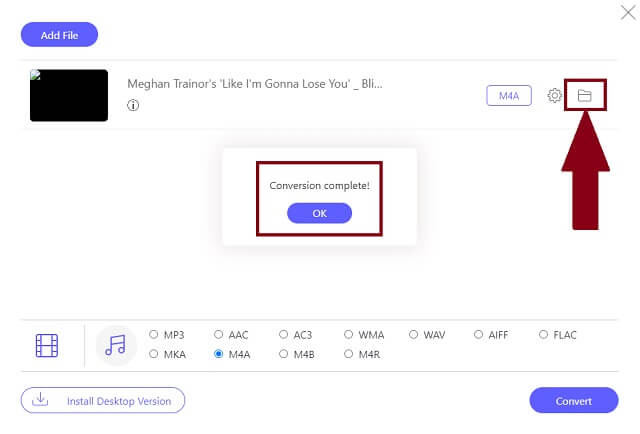 2. Zamzar
Another online tool to convert WebM and M4A is the Zamzar. This tool has a wide list of video and audio formats including M4A. This solution supports many devices and operating platforms as well including Mac and Windows. You can never go wrong with this tool with its comprehensive procedures that are listed below.
Pros
Supports video link to convert.
Provides different audio and video formats.
Cons
To extra tools for enhancing original files.
Only the files with 50MB will be accommodated.
Step 1Browse and add your videos
First is you need to click the Add Files button to import your files.
Step 2Adjust format and start converting
Then, the Convert To button has a view of the list of available audio formats. Lastly, click the Convert Now.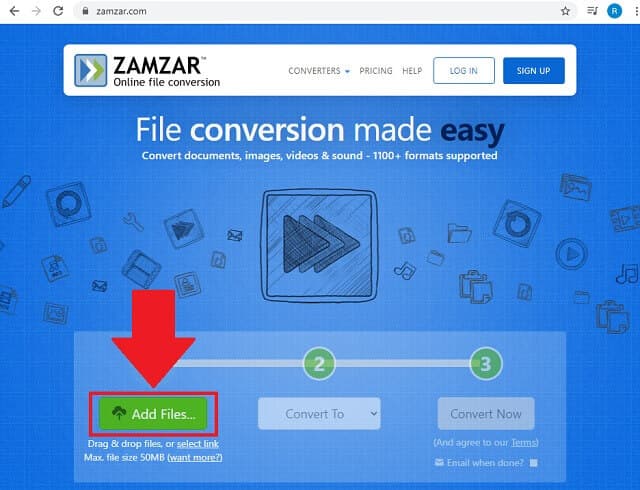 3. FreeConvert
As the name expresses, FreeCovert has free of charge services. No need to download and install it on your device. What is more, it can easily compress videos by size, quality, and bitrate. Undertake the procedure on how to change WebM to M4A file formats.
Pros
It possesses flexible format options.
It provides intuitive methods to do.
Cons
Has issues when compressing clips.
Playback difficulties for videos.
Step 1Select an audio format
Find the MUSIC Converters button. Search for the M4A button and click it.
Step 2Add your original files
Proceed to clicking the Choose Files button.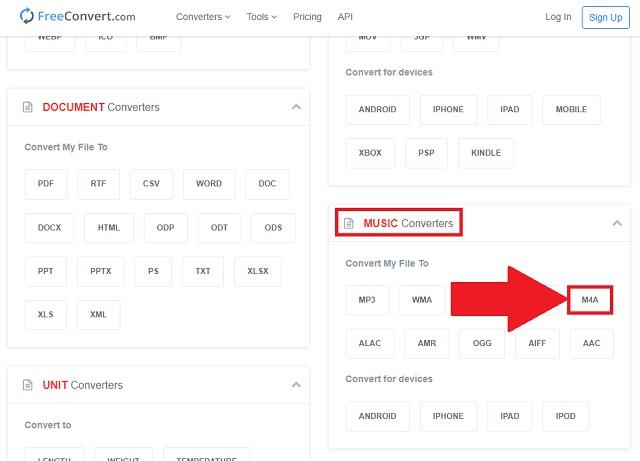 AVAide Video Converter
The most comprehensive media converter to convert video & audio & DVD without quality loss.
Part 4. FAQs of WebM and M4A
What media players support WebM?
There are many modern web browsers that can open WebM videos. Few on the list is Google Chrome, Opera, Firefox, and Edge.
Does YouTube support WebM videos?
Yes. There are many video formats that are supported by YouTube. Just like WebM. But if you're not a fan, open your web just to access any music. Use AVAide Video Converter to convert your WebM to M4A for compatibility purposes.
Which is better between MP3 and M4A?
For compatibility, it's MP3. But in terms of the sound quality, M4A has a higher sound quality.
Conclusion
To wrap this article, it's inevitable to get confused whether we choose the right solutions to use. All these aforementioned converters, the AVAide Video ConverterAVAide Video Converter.
Your complete video toolbox that supports 350+ formats for conversion in lossless quality.