PS4 is probably the most popular gaming console all over the world. Furthermore, this device developed by Sony Computer Entertainment comes with advanced features such as the virtual reality system with a headset and displays a 1080p feature panel. For this reason, some are curious about the other capabilities of the PS4. Many are urging to know if PS4 can play Blu-ray videos or movies. They are still fond of using CDs, although this too got innovated into a more modern method without using a disc, but an ISO file instead. Let us find out by reading further information below if you can rely on your PS4 to playback your favorite videos.
Part 1. Does PS4 Really Play Blu-ray Movies
Once and foremost, to answer your question if the PS4 can play Blu-ray, the answer is yes. As we introduced previously, Sony developed the PS4 with great features that include its built-in Blu-ray drive that mainly functions with PS4 game discs. Yes, you got it right. The game discs that the PS4 uses are Blu-rays. With this being said, playing Blu-ray movies is also as simple as playing games on PS4.
On the contrary, as simple as it may seem, there are still occurrences that this gaming console can not control, which is the incompatibility issue on a disc. There will be times that PS4 couldn't open a disc or Blu-ray movie because of compatibility issues on format or a restriction on region code. Nevertheless, there will be great solutions to those issues in playing Blu-ray on PS4 and those you will see through further reading. Meanwhile, let's learn the process of the task below.
Part 2. How to Play Blu-ray on PS4
Follow the given steps below on how you can easily play Blu-ray movies on your PS4. However, please keep in mind the following disc formats that this console supports, the BDAV, and BDMV, so that you would know before inserting the disc.
Step 1Get your PS4 ready, and turn it on. Once on, open your account if it requires you to do so.
Step 2Now, get your Blu-ray movie disc, and place it on the disc tray of your gaming console. Then, make sure that this device is connected to the internet.
Step 3Now, you can play Blu-ray on PS4 on the popped-up window, select and hit the Start option to start playing the Blu-ray disc.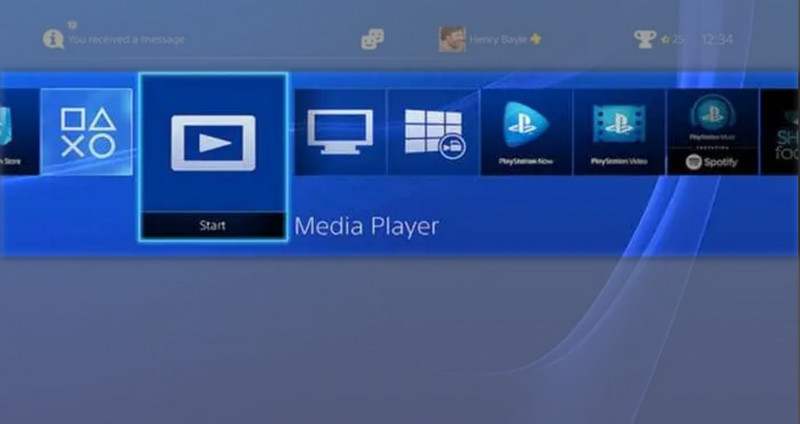 Part 3. How to Play 3D Blu-ray Movies on PS4
Are you aware that you can also play 3D movies using your PS4? In 2014, Sony launched an updated system software for the PS4 that makes it available for playing 3D Blu-ray discs. Later, they produced the best match to enjoy these 3Ds by using the virtual reality headset or the PSVR, which is completely functioning with PS4. Therefore, if you want to experience playing 3D Blu-rays on your gaming console, follow the simple steps on how to play 3D Blu-ray on PS4 below.
Step 1Open your PS4, and check your Blu-ray app to see if it's up to date. You also have to make sure that since you will watch a 3D movie, your TV can also handle it. Also, check the HDMI connector you are using if it's 3D compatible.
Step 2Then, insert your 3D Blu-ray disc on your Playstation 4. After that, turn on your VR headset which is connected to your gaming console, of course.
Step 3Finally, click the movie you inserted on the popped-up management window. Please put on the VR headset and enjoy watching the 3D movie.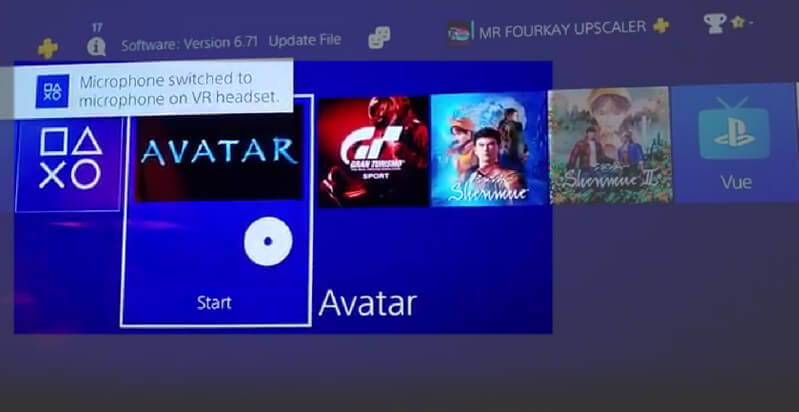 Part 4. Tips: How to Fix Blu-ray Movies on PS4
What if your PS4 won't play Blu-ray? You must keep in mind that you can experience this kind of issue anytime. For this reason, we are giving you some tips to follow when this circumstance gets in your way while watching.
1. When you get a disc error posted on your screen, reset your PS4 or unplug the USB cable.
2. Ejecting the disc will also help you fix the problem.
3. Check the disc format if it suits your PS4. Again, the formats that PS4 only supports are BD-R/RE and BD-ROM (BDMV, BDAV).
4. If you experience delay or what we call ghosting, check your internet. Make sure that no other apps are running to save internet bandwidth.
5. Contact the technical support of the PS4 if these tips don't work.
Part 5. The Best Way to Play Blu-ray Movies on Computer
If you keep having the same problem and your Blu-ray won't play on PS4, then switch to the best method we know on your computer. Use the AVAide Blu-ray Player, for it supports all kinds of Blu-ray along with DVD, ISO, and all media formats. Yes, that is how flexible this software is, and to add up, it extends its flexibility and potency on Windows and Mac devices. Furthermore, we assure you that you won't experience errors and issues when you watch Blu-ray videos, even the 3D ones because it has the smoothest and most incredible playback solutions. What's more? You can even add effects to your videos and take screenshots of your favorite scenes, contrary to PS4 playing Blu-ray! We can't hide how great it is, so we were hoping you could try using it by following the simple steps below.
Step 1Download the Blu-ray Player
Acquire the software to your computer device by going to the download buttons above.
Step 2Launch the Tool
Open the software and initially inspect its interface. This time, choose between the two selections at the center where your movie is found. If the film is on the disc, click the Open Disc tab.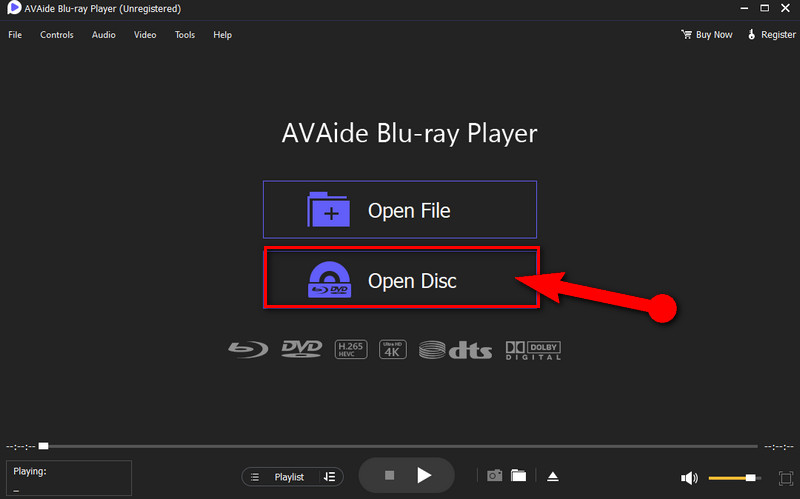 Step 3Open the Disc
Load the disc on your computer, and click the Open Disc selection. Click the Blu-ray disc and hit OK to play on the popped-up window.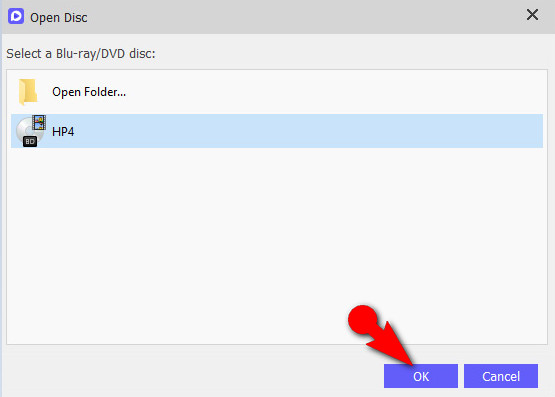 Step 4Play the Movie
The tool will bring you to the playback interface that is far different from how PS4 plays Blu-ray. Anyway, navigate on the control panel located at the lower center part of the screen when you need to Pause or Stop the movie. Also, to adjust the movie's brightness, hue, contrast, etc., go to Tools and click Effect.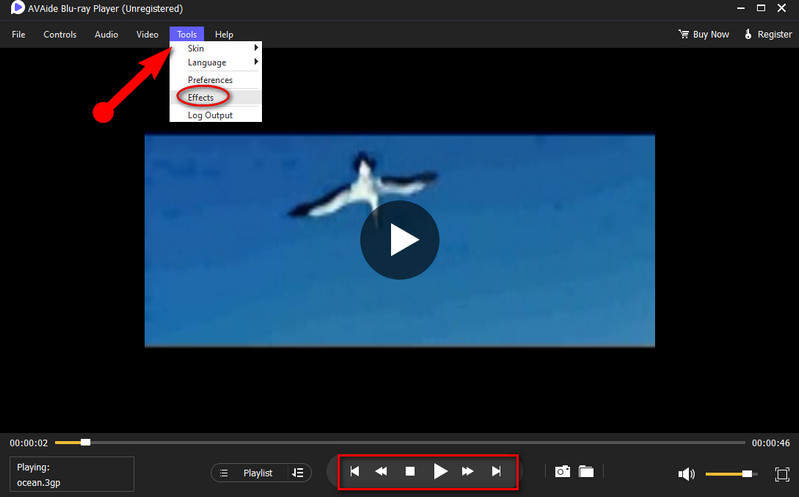 Part 6. FAQs About Playing Blu-ray Movies on PS4
Can I play Blu-ray on PS4 Pro?
Yes. You can play Blu-ray videos on both PS4 and PS4 Pro.
Will the PS4 VR suit the PS5 when playing Blu-ray movies?
Yes. Although the VR headset fully functions on PS4, it is also compatible with PS5.
Do I need to install a Blu-ray player on PS4?
No. PS4 already has a built-in Blu-way player. However, you need to update it regularly.
Conclusion
This post promptly answered if you can play Blu-ray on PS4. Not just that, we also generously shared other great methods in doing it. In addition, follow the tips when you experience issues with your PS4. Otherwise, use your computer device and the AVAide Blu-ray Player to avoid aggravating circumstances.
Full-featured multimedia player to play Blu-rays, DVDs, 4K UHDs, and other video/audio files.