Are you in a situation where you got numerous Blu-ray discs on hand and there's nothing you have but a DVD player at home? So, whether you bought those discs or a friend gave them, you should know the methods of playing them. Otherwise, all of them will be put to waste if not used, right? As you reach this article to find out if a DVD Player can Play Blu-ray, we will also give you explicit ways on how to enjoy the content within those discs and make it more practical for your utilization! Exciting, right? Therefore, let's not waste time and begin the new learning and tactics as you continue to read the information below.
Part 1. Can You Use a DVD Player to Play Blu-ray
So, to answer your question, if you can play Blu-ray on a DVD player, we regret to inform you that you can't. DVD players couldn't support playing Blu-ray discs. For some reason, Blu-ray and DVD discs differ in the size of video and audio information, whereas Blu-rays have higher. For this reason, DVD players have a hard time reading much smaller pieces of information than the standard discs they are intended for. Since a Blu-ray disc contains smaller pits, it takes a blue laser to read the data, while DVD players use red lasers to read the disc's information.
Part 2. The Digital Way to Play Blu-rays on DVD Player
Now that you know the answer to the question of can DVD players play Blu-ray, it's time to be more resourceful to get the job successfully done. Actually, you can still use your DVD player to enjoy the movies on Blu-ray. How? By using the digital way, we'll use the DVD ripping method. Yes, let's rip the movies into DVD-supported formats and transfer them to your flash drive. Why is that? Because DVD players have USB ports, it will be convenient for you to fleetly playback Blu-ray movies in a portable manner.
Now, having this idea of ripping we also give you the best technique to rip your DVD, and turn them into a Blu-ray-like resolution!
Unsolicited Tip: How to Rip DVDs Into Better Quality
It would be best to always go for the most powerful tool like the AVAide DVD Ripper when ripping a DVD disc. Yes, that's right. This fantastic tool is full of powerful features, such as its GPU acceleration, enabling you to rip DVDs in batches within a short time. In addition to its great features, it supports a wide variety of various formats, which qualities every video format a DVD has. Another critical point to note is that it offers flexible parameters to provide a much better quality aside from giving you 4K, 1080P, and 720P HD output resolutions. Oh, not to mention its ability to compress, merge, crop, and trim your videos.
So, what are you waiting for? Get this AVAide DVD Ripper to your computer device by clicking the download buttons below. After that, let's get the ripping session done quickly by following the steps below.
Step 1Launch the magnificent DVD ripper, and at the same time, load the Blu-ray disc on your computer. Then, click the Load DVD button on the left-upper part of the interface or the Plus icon at the center to upload the movie/s from the disc. Otherwise, you can drag and drop the files on the interface to make this step quickly.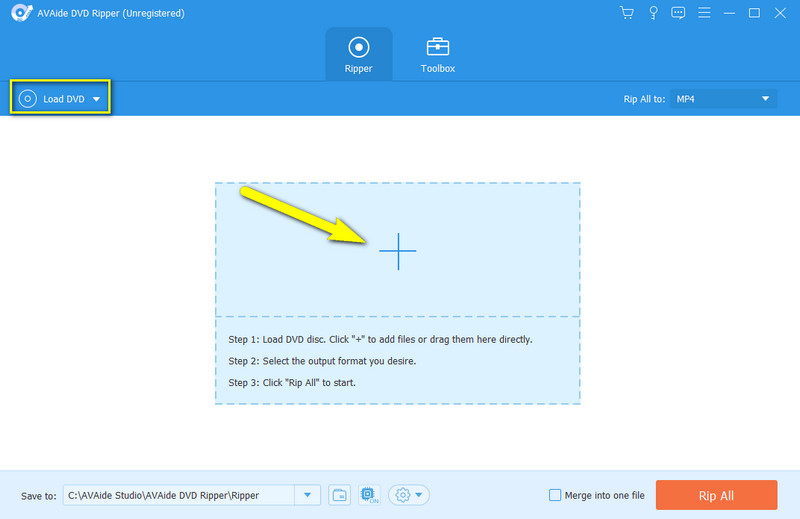 Step 2Once the movies are uploaded, go to the Rip All To selection on the right-upper part of the interface. Then, on the new window, choose the output format such as the DivX, WMV, and others. After that, click one of the resolutions you prefer.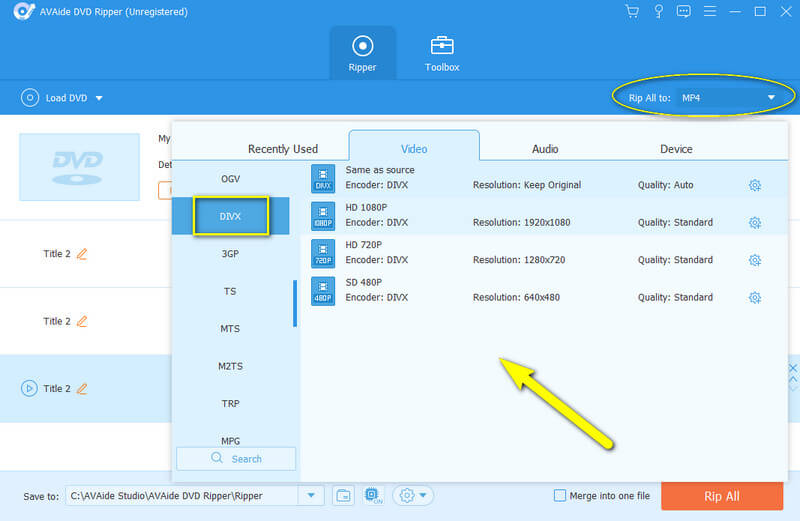 Step 3This time, the files are ready to be ripped. Hit the Rip All red button to start ripping. After that, get your USB and be prepared to transfer the ripped files from the destination folder shown on the interface.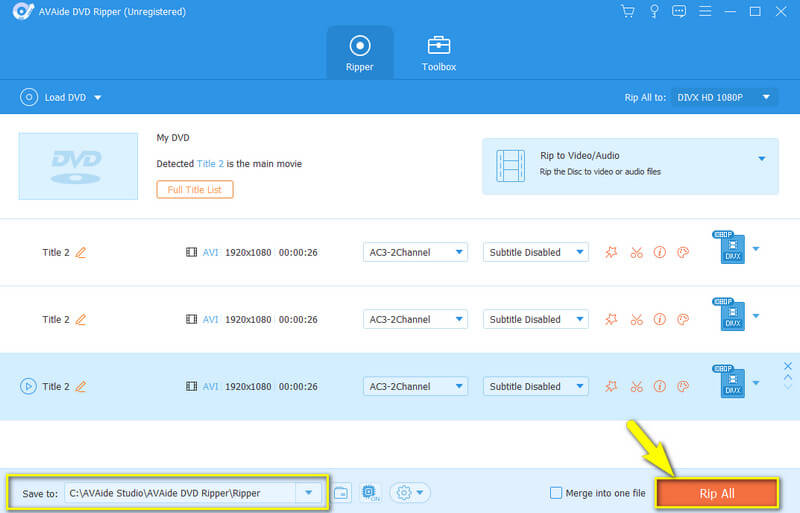 Part 3. The Most Exceptional Way to Play Blu-ray Movies
If you don't like the idea of ripping, we give you a much more convenient way to relish your Blu-ray movies on discs. Consider using the most outstanding Blu-ray player known worldwide, the AVAide Blu-ray Player. This way, you won't need to rip and transfer the movies through a flash drive, for it can play Blu-rays without a DVD player. Good thing, this great player will only require your computer for it to work, and when it works, it doesn't only give users a good experience, for it always gives the best. In that case, we can even say that you can now disregard your DVD player because this AVAide Blu-ray Player supports any kind of disc in all formats. Imagine, it can also make your poor-quality movie into a better quality by using the tool's presets and effects!
Let's now set aside the DVD player and play the Blu-ray. Can you download and install this best software to your computer now? Great! Then follow the detailed steps below.
Step 1Launch the ultimate Blu-ray player, and get your disc on your computer. On the tool's main interface, click the Open Disc button. Then, hit the disc you loaded and hit OK on the popped-up window.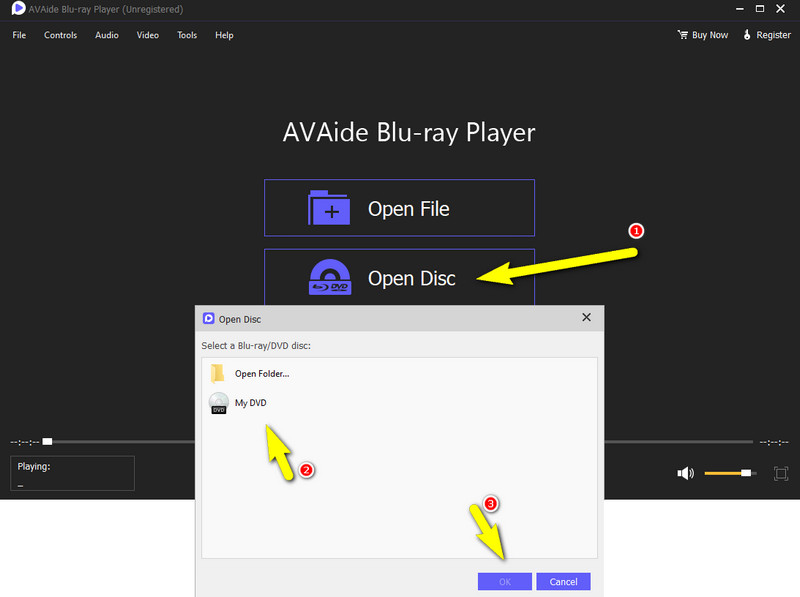 Step 2Subsequently, your video will play once you click the OK tab. Now, click the Full-Screen icon at the right-corner bottom part of the playback window to enjoy a wider screen and re-click to get back to its original size.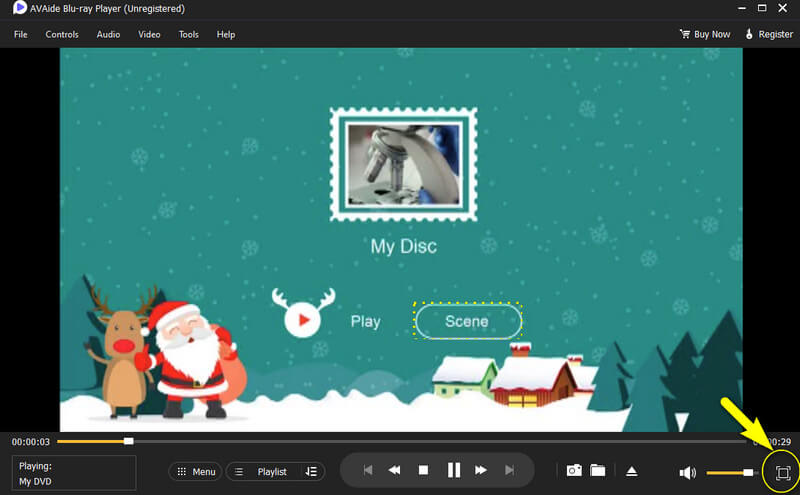 Step 3Just like what a DVD player can give you in playing Blu-ray, this best player also gives. If you want to pause, stop, or switch the movie, navigate on the controls at the lower center part. Also, take time to steer the other great tools on the left-upper part. Otherwise, hit the Eject icon as presented below to take out the Blu-ray disc.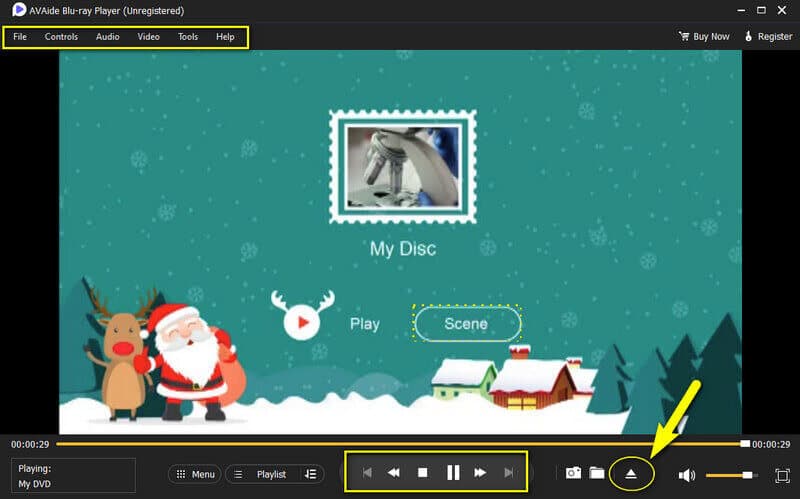 Part 4. FAQs About DVD and Blu-ray
Do DVDs and Blu-ray have the same quality?
When it comes to quality blu-rays, they are higher and better than DVDs.
Does Blu-ray work on PS4?
Yes. However, the Blu-ray disc only works on the PS4 Pro.
What is the standard resolution of a DVD?
DVDs have a standard video resolution of 480P.
Conclusion
There you have it, friend, you discover the truth if DVD Players can play Blu-rays. We would also want to congratulate you for grasping the significant methods and tactics to relish the movies on Blu-ray discs. So, whether you rip the movie or play it directly on a stand-alone player, as long as you use the AVAide for this task, you will never get lost on great qualities!
Full-featured multimedia player to play Blu-rays, DVDs, 4K UHDs, and other video/audio files.