We can't deny the fact that people prefer to use their personal computers for movie entertainment. Online movies, as well as the movies acquired from downloading, are easy to play on those devices. However, movies for Blu-rays seem to be burdensome for some reasons. We have created this article to give you the three proven yet tagged best methods on how to play blu ray on PC. Therefore, to cater to you on this matter immediately, we bring you the content to read below.
Part 1. 3 Best Methods to Play Blu-rays on Windows and Mac
Playing Blu-rays on a PC without any proven methods to use is like eating soup without a spoon. Yes, it's possible, but it won't be as convenient when you have some. Most desktops meet errors when directly playing Blu-rays on discs, even on folders or ISO. Therefore, we come up to gather efficiently proven methods that will best answer how to play Blu-ray movies on PC, and here they are.
Method 1. Via Blu-ray Player Software
This must be the most intelligent method a user can have. However, not all Blu-ray players are efficient in doing the job, but not with AVAide Blu-ray Player. This software deserves to be recognized due to its unique features and attributes in playing Blu-rays. It supports all types of Blu-rays while providing a wide range of support on various formats on DVD, HD videos, audio, and Blu-rays. Furthermore, it gives users even a gracious experience of watching their Blu-rays movies in 4K resolution while getting a cinematic listening on the movie's audio since it plays on DTS or Dolby Digital sound.
Moreover, users of this player won't dare to ask how to play blu ray on Mac because it gives the same measure and solutions as Windows. Due to its flexible playback controls, everyone at any level tends to enjoy navigating it, for it won't require them to be professional. Thus, it should be on your top list when you wish to play Blu-rays on your PC.
Tutorial on Using AVAide Blu-ray Player
Step 1Launch the tool after installing it via free download. At the same time, load your disc on your computer. Then, on the main interface of the player, hit the Open Disc selection to access the Blu-ray.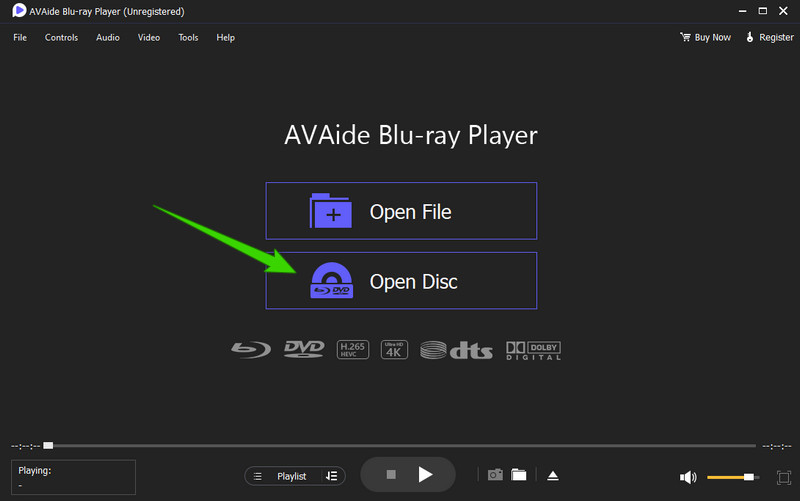 Step 2On the next window, select the disc you loaded. After that, click the OK button to proceed to play.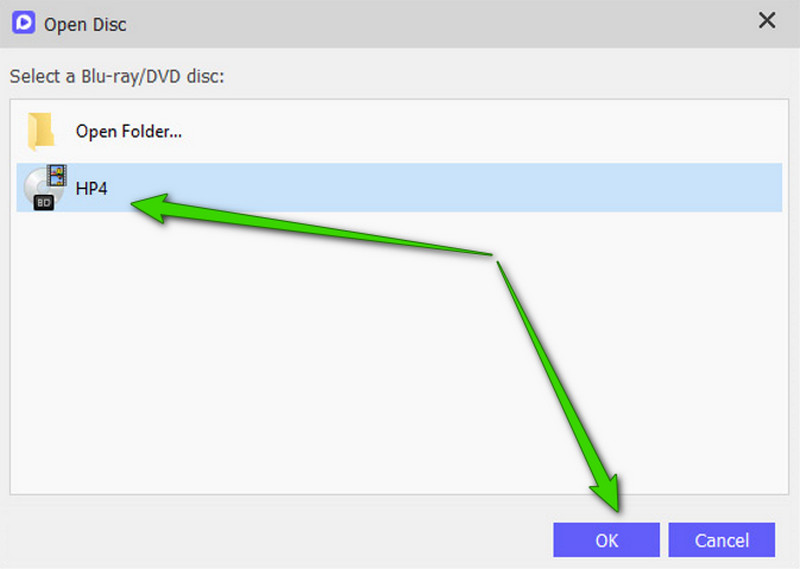 Step 3You can already enjoy the Blu-ray movie when you reach the playback window. Also, you are free to explore the other navigation of the tool within the interface. These are also the simple steps to follow if you wish to know how to play Blu-ray on Macbook Air.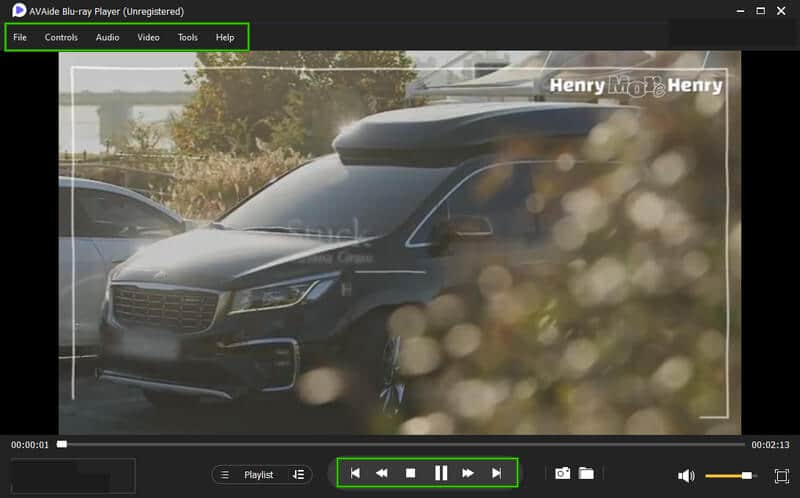 Method 2. Via VLC Media Player
Another excellent method you can use is by using the most popular media player, VLC. You might want to ask can VLC paly Blu-ray? This media player is also reliable for playing DVDs and Blu-rays as long as they are not encrypted. For some reasons that include legality and due to AACS, VLC cannot play the encrypted Blu-ray discs. Nevertheless, the VLC's new version will still let you use it as a means of playing Blu-rays if you follow the tutorials below.
Tutorial on Using VLC
Step 1Double-check if you are using the latest version of VLC. If not, you will need to upgrade it. Then, download the libaacs.dll and KEYDB.cfg from http://vlc-bluray.whoknowsmy.name/.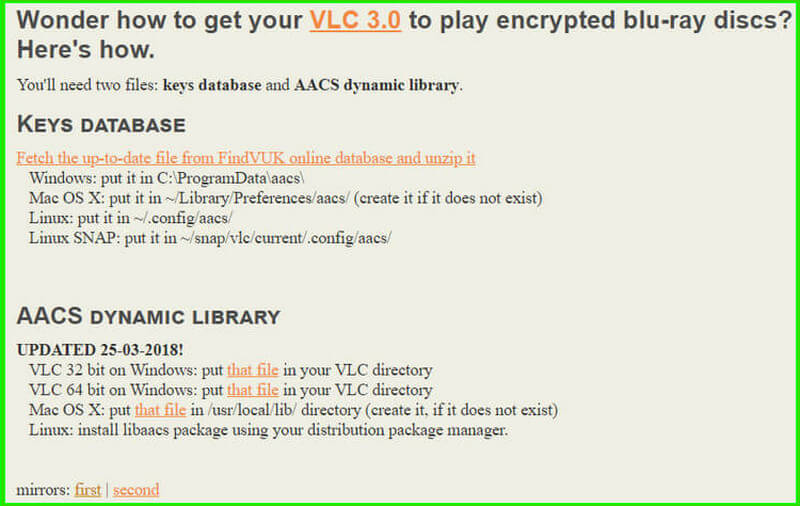 Step 2Once you have downloaded the decryption libraries, you must rename the folder to AACS and move the KEYDB.cfg to the same folder. Afterward, go to your local disc (C:), and move the libaacs.dll there.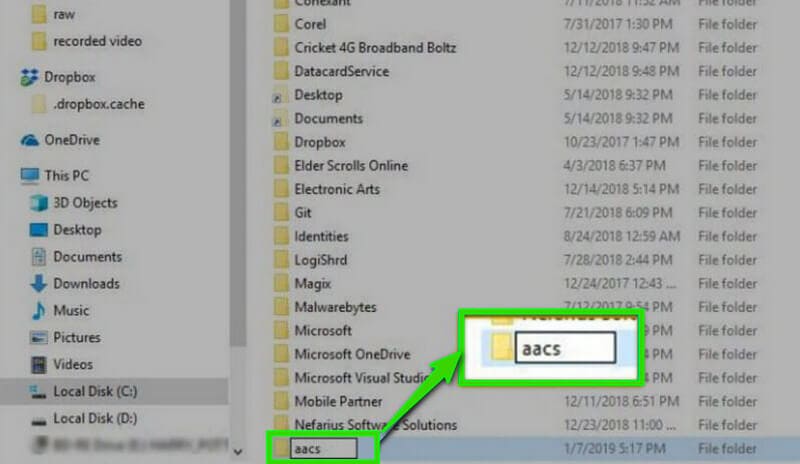 Step 3After that, you can load your Blu-ray disc on your computer and open VLC. This is how to play the Blu-ray folder on your PC. From the media player's interface, go to the Media menu, and select Open Disc. Then, on the popped-up Open Media window, click the Disc selection, browse your Blu-ray disc, then hit the Play button.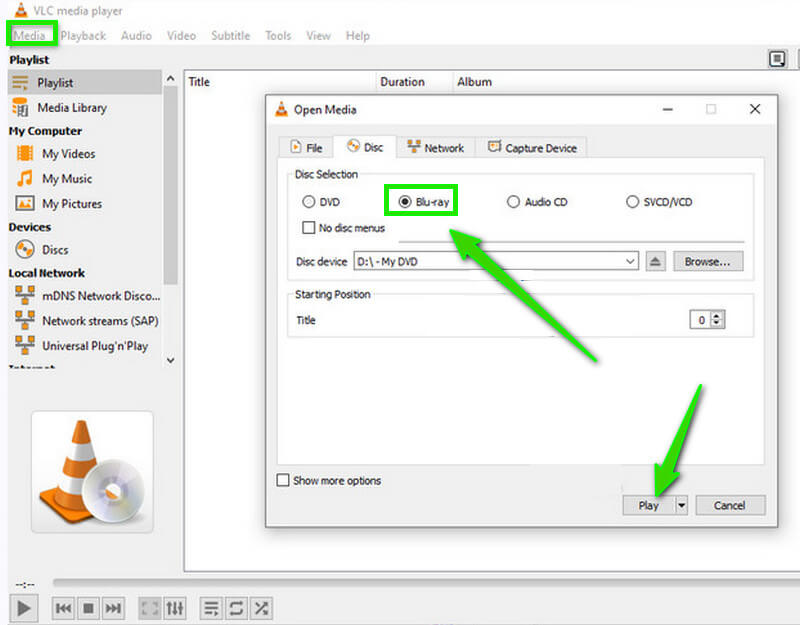 Method 3. Via Ripping the Blu-ray
The last method we recommend is via ripping your Blu-ray disc. And if this method seems to be music to your ears, you have to take heed to a proven Blu-ray ripper like MakeMKV. This software is also available for both Windows and Mac. Furthermore, it lets you rip and convert your Blu-ray movies to MKV, as its name suggests. You will turn your Blu-rays into a suitable format for your computer desktop by just performing the basic steps of ripping discs. Indeed, this is one of the most proven ways to help you how to play blu ray on MacBook and other computer devices.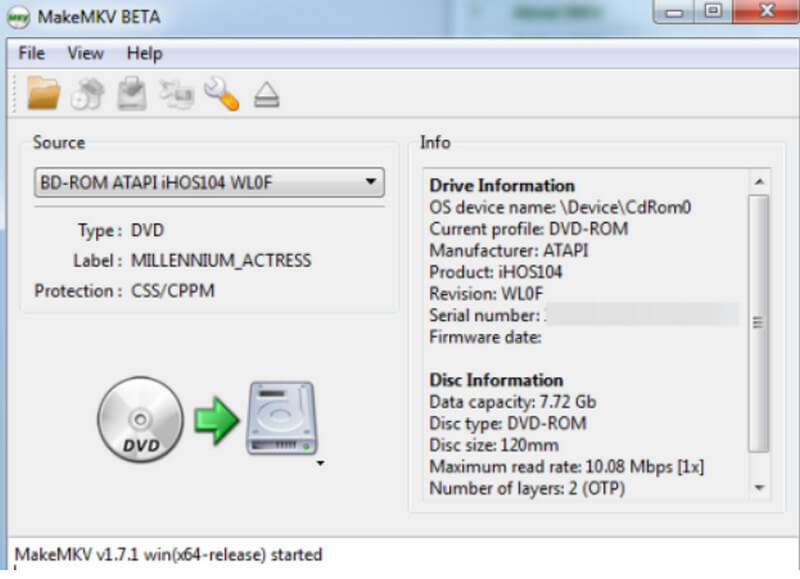 Part 2. Why Blu-rays Don't Work on Windows and Mac
There are plenty of reasons why Blu-rays don't work on Windows and Mac. But here, we have come up with some of the main reasons why.
1. The Blu-rays are encrypted
One of the main reasons why many fail to play their Blu-rays on their computers is because they are securely protected, especially the UHD ones.
2. Outdated Device
Most of the time, old computer devices can't cope with the system requirements in playing blu-rays. Try to constantly update your computer, or better yet, use the modern device if you wish to play Blu-ray videos with it.
3. Damaged Disc
One possible reason to look up to is that the Blu-ray disc might be damaged. Therefore, check it as well as the disc drive of your device before inserting the Blu-ray.
Part 3. FAQs on How to Play Blu-rays on PC
Do I need to get a Blu-ray drive for my computer?
If spending money on a Blu-ray drive for your computer is not a problem for you, then getting it is an excellent idea. Otherwise, you will still be able to play Blu-rays on your PC without a Blu-ray drive.
Shall I play Blu-ray movies with Windows Media Player?
Unfortunately, Windows Media Player doesn't support Blu-ray disc format.
Does VLC support 4K Blu-rays?
Yes. VLC can support 4K Blu-rays. You can follow the tutorial provided previously to do it. Or you can try decent 4K Blu-ray players to watch your 4K Blu-ray movies.
Full-featured multimedia player to play Blu-rays, DVDs, 4K UHDs, and other video/audio files.