4K Blu-rays are not just the typical videos you see on TV. 4K videos depict 4000 pixels wide, 4X higher than a standard high-definition video. With this being said, this average level has shown to be more in demand nowadays since people choose to view the best picture quality with the most detailed and sharper image. This is also the main reason why the question if PS5 does play 4k Blu-ray was raised because those people who are usually attached to 4K videos are usually gamers. Therefore, if you are one of those people, we can say that you are fortunate to have read this article because, by the end of this write-up, you will be able to know every information you should know regarding the usage of PS5 with 4K Blu-rays.
Part 1. Can You Use the PS5 with Blu-rays
Once and for all, to give you our feedback on the question, can the PS5 play 4K Blu-ray? It depends on the PS5 you are using. Yes, you read it right. There are two kinds of PS5, the digital and the standard types. The digital edition of the PS5 is the one without a disc drive, and the standard edition is the one with the Ultra-HD Blu-ray drive. With this being said, as it is self-evident if you want to use a PS5 to play Blu-ray discs, go for the standard edition. In addition, having this kind of edition will also allow you to playback standard Blu-rays and DVDs with a lower quality.
On the other hand, the digital edition of the PS5 can play Blu-rays of 4K Movies and games differently. It's just that, since it has no disc function, it only plays 4K videos online or videos on a USB. Hence, if you want your gaming console to be more purposive, go for the standard edition.
Part 2. How to Play 4K Blu-rays on PS5 Directly
As mentioned above, the PS5 standard edition is what you need to watch your movie directly to it. Hence, if you have this edition, follow the guidelines below to playback the 4K movie on your game console.
Step 1witch the PS5 Blu-ray player on, and insert the Blu-ray containing the 4K movie. Wait for the disc to show, then proceed to the next step.
Step 2Now, head to the Cogwheel icon to access the settings. Go to the Screen and Video settings to select the resolution. Now, please don't settle for the automatic resolution because it won't give you the quality of the 4K resolution. You need to select the 2160P instead.
Step 3After selecting the resolution, click the X button to start the video.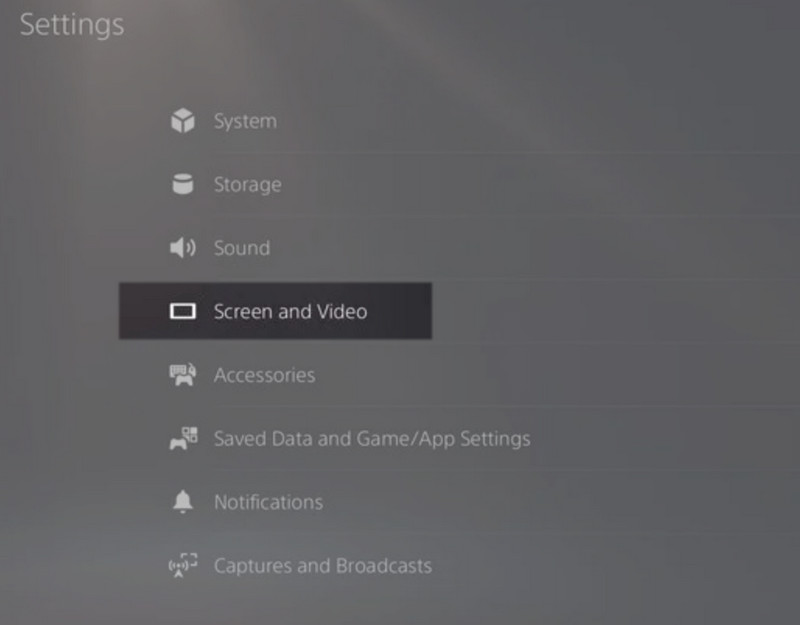 Part 3. Region Locks: Does PS5 Have it?
If you wonder if the PS5, like the other PlayStation consoles, has a region lock, yes, it has. This game console is not a region-free device. However, PS5 can play Blu-rays with region lock and gives users the chance to change the region code with a maximum of four tries. Otherwise, it will be locked. Detecting a region-locked disc is easy, for it will instantly prompt on your screen once you insert the disc. For this instance, you can go to the region code setting and select a region code that suits yours.
Part 4. The Ultimate Way to Play 4K Movies Rather than PS5
If, in any case, you can't play the 4K movies on your PS5, better to use the best stand-alone AVAide Blu-ray Player. Furthermore, if you are looking for an affordable, reliable, and flexible movie player as much as the PS5 can play Blu-ray, this fantastic software should be your number one choice. It's affordable for it won't cost you that much for its best service of not just being a media player but also with more features. Yes, it's reliable, for you can rely upon every kind of Blu-rays, DVDs, and ISO format you have there. And, yes, it's flexible because, as mentioned previously, it is infused with many features, controls, and tools that will help you create even a playlist of your own!
What else? This ultimate AVAide Blu-ray Player holds various languages besides English and multiple effects for video enhancements. Imagine, unlike your PS5 Blu-ray player, you won't just watch the 4K movie with AVAide, because you will also be able to adjust the brightness, saturation, contrast, hue, and gamma base of your preference!
How to Play the 4K Blu-ray with AVAide Blu-ray Player
Step 1Open the Software
After downloading and installing it swiftly on your computer, launch it. Shortly, you will see how neat its interface is, just like your PS5 Blu-ray player. Now, insert the Blu-ray on your computer, then going back to the tool's interface, click the Open Disc button.
Step 2Choose Your Blu-ray Disc
Now, choose the Blu-ray you inserted on the computer. Then, you will see that the 4K movie will automatically play.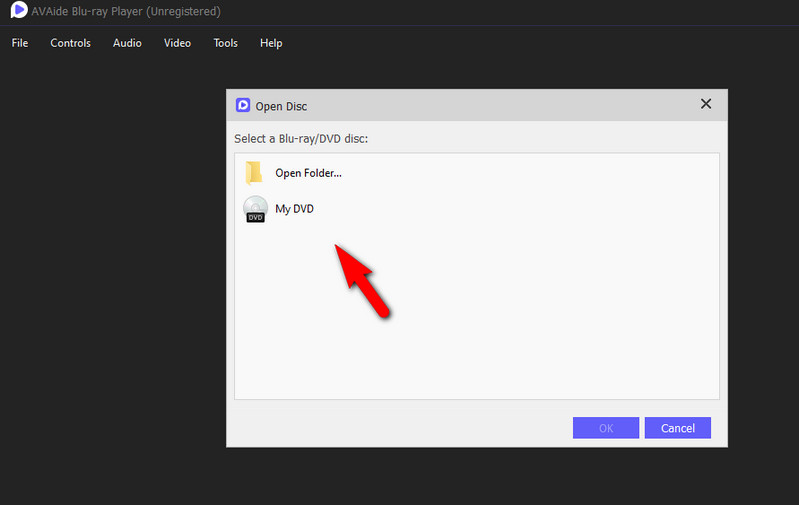 Step 3Control the Playback
On the new window, your movie will be shown. Plus, it is where you will see various controls, presets, and tools. So, if you want to capture the best scenes of the movie, you may hit the Camera icon for the snapshot feature. Note that you can charge unlimitedly, unlike the PS5 Blu-ray player.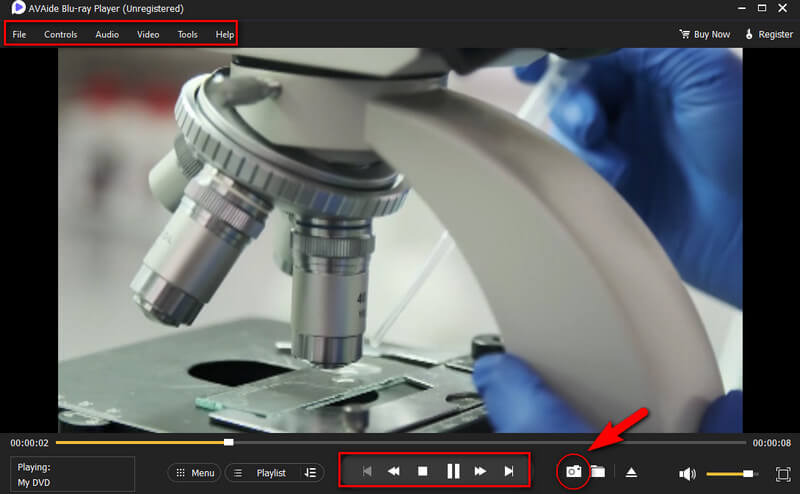 Step 3Stop and Eject the Disc
Finally, you may click the Stop button among the playback controls when you're done watching. Then, hit the Eject icon beside the volume icon to eject the disc quickly. After that, your disc will quickly emit.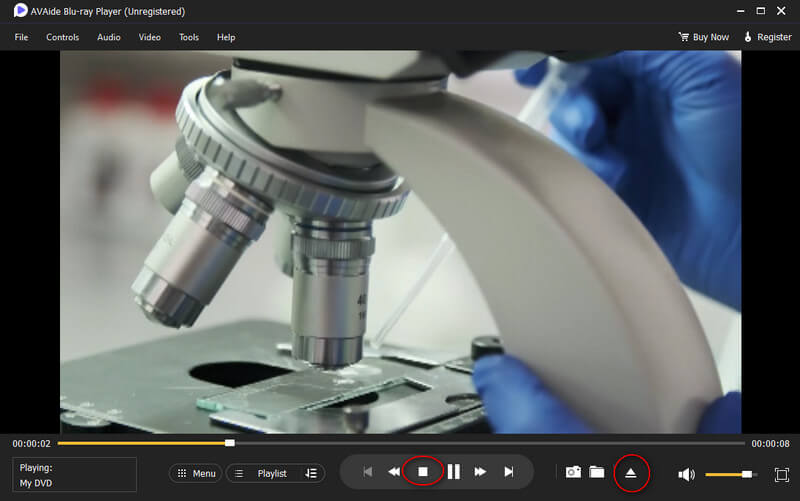 Part 5. FAQs About Playing 4K Blu-rays and PS5
Can computers directly play 4K Blu-rays?
No. You could not play a 4K Blu-ray disc on your computer unless you use an intended 4K Blu-ray player software.
What resolution does a 4K video have?
4K videos have a 3840x2160 resolution which is 4X much higher than a regular video.
Will PS5 play 3D Blu-ray?
No. Unfortunately, playing 3D videos of Blu-rays is not permittable on PS5 for some reason.
Full-featured multimedia player to play Blu-rays, DVDs, 4K UHDs, and other video/audio files.