PowerPoint is indeed the most popular presentation program worldwide. It is being utilized in presenting reports, agendas, and plans by almost everybody with different levels. Furthermore, since PowerPoint comes with many different options, you can also use it for various tasks related to its identification. In line with this, if you are one of the million people who look for solutions in how to make a PowerPoint into a video, then having yourself in this article is a lucky day for you. It is because you will learn the finest approach to doing the task efficiently.
Part 1. The Reason Why Turn the PowerPoint into a Video
There are plenty of reasons we need to convert the PowerPoint presentation into videos. As mentioned a while ago, Microsoft PowerPoint is one of the most amazing tools, containing tons of beautiful themes and options to create beautiful presentations to show to the world. However, while the technology is advancing, the urge on this matter arises to meet the following purposes below.
1. We turn PowerPoint into a video to view the presentation using different devices, even portable ones. This way, we will not need the Microsoft PowerPoint program anymore to play the presentation.
2. Next is for sharing purposes. Sharing a video file is much easier than a PowerPoint kind of file. So, if you plan to share your presentation to your vlog and your other social media sites, have it on a video file.
3. Lastly, we convert PowerPoint to video for backup purposes. One of the best backups you can have for your files is producing a hard copy by burning or authoring a DVD or CD.
Part 2. The Best Way to Turn a PowerPoint into a Video
Upon learning the main reasons you need to turn the PowerPoint into a video, we will let you know the best way to do the job. We gladly present to you the power of the AVAide Screen Recorder. Yes, you are thinking it right. This software provides you with great features and tools to produce high-quality video via recording. You might think about how to make a PowerPoint into a video using this AVAide Screen Recording. Well, that's through the recording tools it possesses. Besides the video recorder, imagine it also has the best audio, game, and Webcam recorder. You can also use it to produce the famous picture-in-picture video feature that will let you discuss the presentation. At the same time, viewers see you in the video.
And guess what? This excellent program also contains a SnapShot feature where you can take unlimited screenshots of your presentation while recording it. In addition to this, the most exciting part you can do is to customize the video by tweaking the effects, watermark and presets of the video while maintaining its HD quality. To see more about this program, take a look at the steps on how to turn a PowerPoint into a video below.
AVAide Screen Recorder–Turns PowerPoint into Video Amazingly
Record your PowerPoint with various powerful recorders.
Come with multiple options, features, and presets to record your PPT efficiently.
Produce a lossless and high-quality video with audio narration.
It allows to custom no watermark into ones with images and text.
Produce video in almost all popular formats such as MP4, WMV, MOV, etc.
Let users draw various types of figures on the recorded video to level up the narration.
How to Use AVAide Screen Recorder to Make PowerPoint Video
Step 1Get the software via free download, and install it conveniently. Launch it, and promptly click the Vide Recorder selection from its main interface.

Step 2In the next window, choose the Full tab from the display selection to capture the entire screen when you play the presentation. Otherwise, you can click the Custom tab and choose the Select Region/Window option to capture only the presentation page. This way, you can have complete control over choosing what page you want to capture. Now, open the PowerPoint you want to convert to video.

Step 3You can now hit the REC button to start recording when your presentation is ready. Consequently, you will see the other recording tabs in the floating bar while capturing. You can also find there the Stop button that you can click anytime.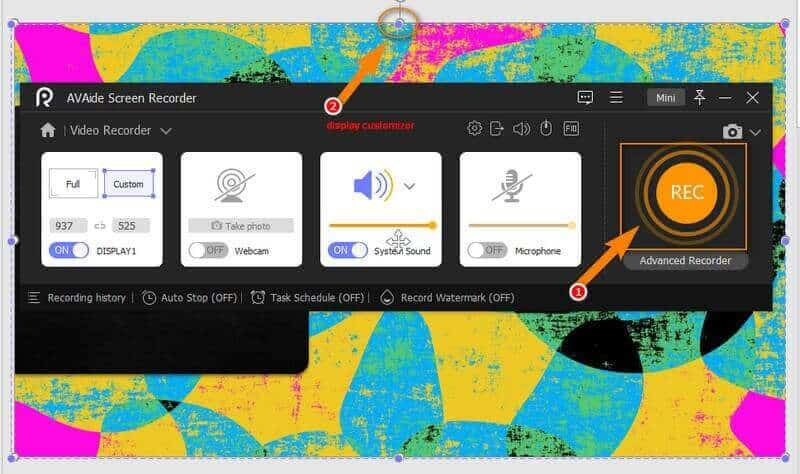 Step 4Once you stop the recording, the tool will bring you to the export window. Here, you can watch and check on the video before saving it. Also, feel free to helm the options shown like Trim, Volume, and Screenshot. Elsewise, hit the Export button to proceed with saving.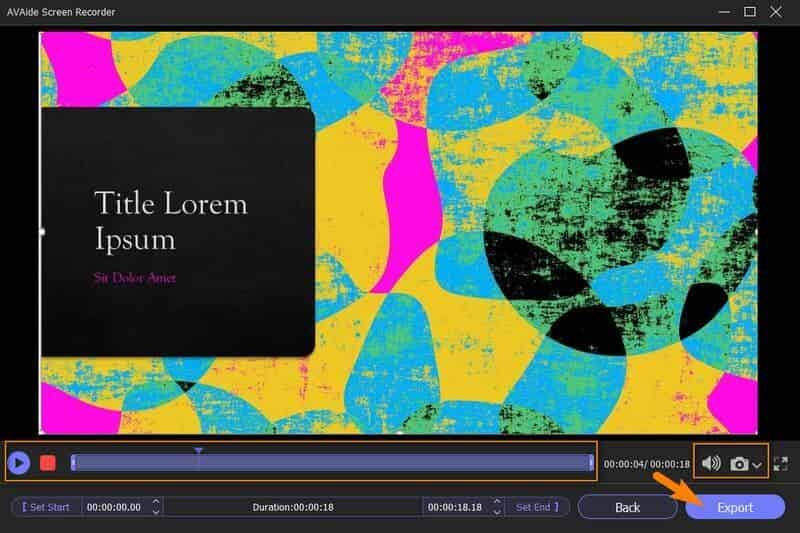 Step 5To complete the task of exporting PowerPoint to video, refine your video file by labeling its name and other information shown in the next window. Subsequently, hit the Complete button to finish.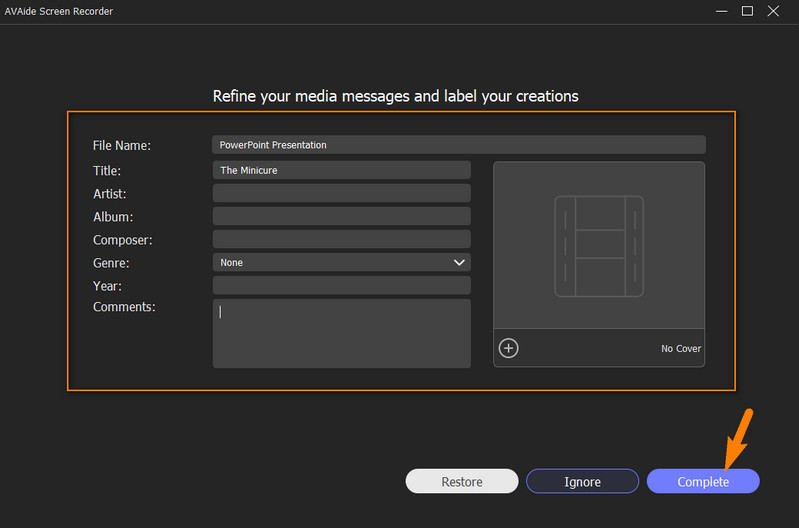 That's all for making your PPT into a video. You can also use this screen recorder to record voice on Mac, capture podcasts, grab audio from iPhone, and more.
Part 3. How to Convert PowerPoint into a Video Directly
Suppose you are wondering if you can directly save or convert your presentation to video using Microsoft PowerPoint. Yes. However, expect it to have a minimal video format selection. You will only be given two format options, the MP4 and WMV. To help you with this task, see the comprehensive steps below.
Step 1First stop, open your existing PowerPoint presentation file. Once launched, click the File and choose to hit the Export tab from the options on the next page to convert PowerPoint to video.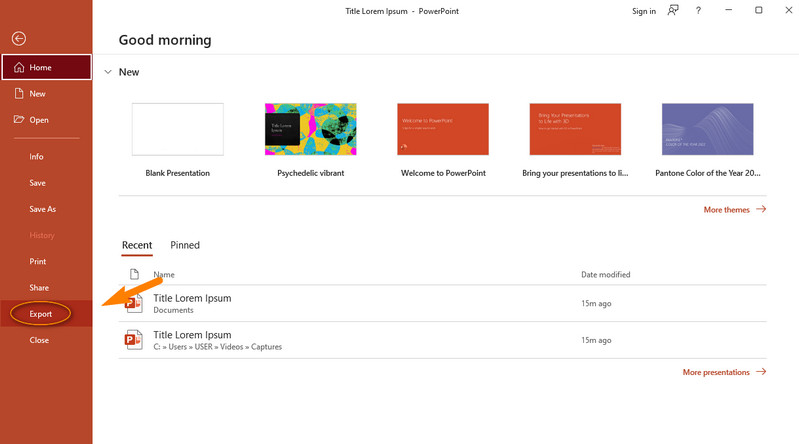 Step 2Next, click the Create a Video option. Then, choose to adjust the quality setting and hit the Create Video option.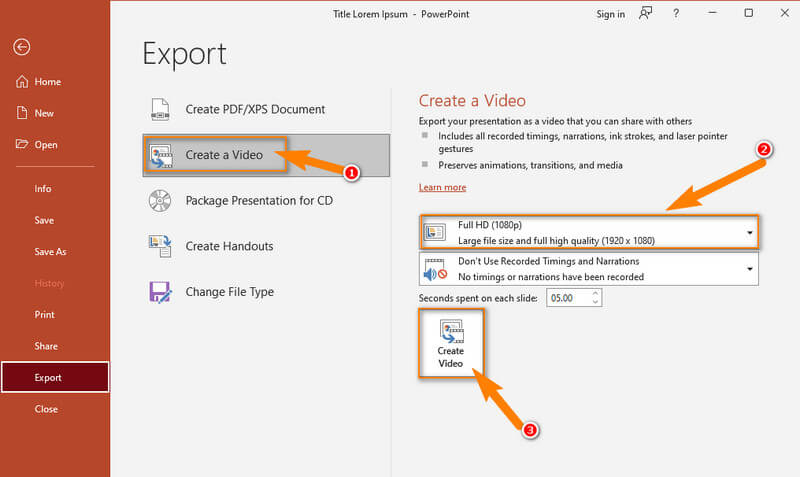 Step 3At this point, you can browse for a folder where you want to keep your video. Then, go to the Save As selection and choose between the two video formats you want to use. Irrevocably, hit the Save button to complete the task.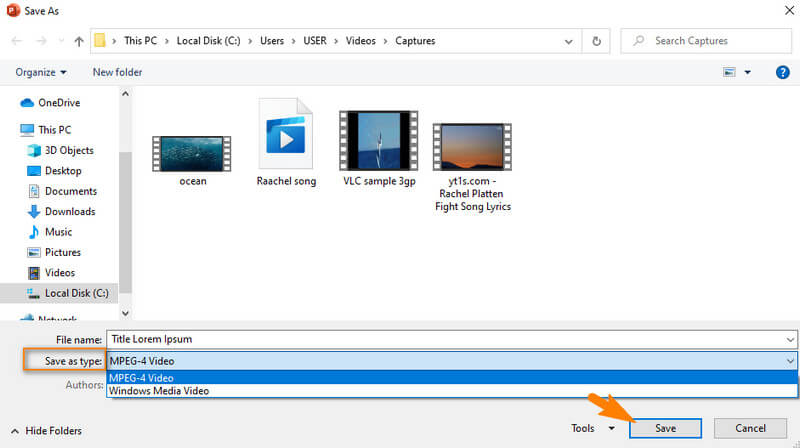 Tips:
If you need to produce different formats other than MP4 and WMV, better to follow the guidelines on recording the PowerPoint with the screen recorder.

AVAide Screen Recorder
Record screen, audio, webcam, gameplay, online meetings, as well as iPhone/Android screen on your computer.
Part 4. FAQs about Turning PowerPoint into a Video
How to save PowerPoint as a video directly?
To save the newly made presentation as a video, go to the File > Save As > Browse. Then, look for the MPEG-4 video or Windows Media Video format from the Save as type selection.
How can I add a voice-over to my PPT video?
To add a voice-over to your existing PPT, you can use a screen recorder software with a microphone recording tool like the AVAide Screen Recorder.
Can I share the PPT video online using PowerPoint?
No. Although PowerPoint has a share option, once you have converted your PPT to the video already, there's no way for you to share it online using PowerPoint.
Conclusion
You just saw the best way how to make a PowerPoint into a video. Trying out other things like this way of video recording is your chance to explore and attain an excellent experience. Although you can directly save the PPT file into a video using PowerPoint yet, nothing compares to the technique that will bring you more effective options as AVAide Screen Recorder gives.
Capture the best moment with AVAide Screen Recorder. Screencast, customize, and share in seconds.