Being here on this post means you really want to learn how to make tutorial videos. Therefore, we want you to know that having a great screen recorder is all it takes to produce an effective and influential tutorial video. Plus, you must make preparations prior to recording, which we will also discuss in this post because you can't just record any tutorial without preparing for it. So, whether you need to make a tutorial video for your class discussion or a blog, you must know how to do it properly. Therefore, to cut your excitement in learning this exciting task, read the helpful information below, and let's get it on.
Part 1. Things to Prepare Before Making a Tutorial Video
Making a tutorial cannot be done instantly, even if it's an easy process. Still, there are things you need to consider before learning how to make a video guide. These are the following guidelines below.
1. Decide on Your Video Content
Plan and decide on the specific topic that will interest the viewers. If you are having difficulty deciding on your topic, take the time to search on your browser. On the other hand, asking the people around you will also help determine the problems that they are facing. This way, you will take various insights and develop your main topic tag along with your target audiences.
2. Create the Steps
Once you have decided what content you will tackle, it's time to make your steps. Note that the steps are the most crucial part of your content, so you must make it properly. Also, remember that your goal is for your target audiences to learn new things while considering their capacity to understand. For this reason, it will always be safe to use simple words as much as possible and make the steps coherent.
3. Create a Thumbnail
A thumbnail is a photo that will show your viewers a preview shot of your video content. Having this on your video will give viewers a hint of what they will gain from it. Some thumbnails have the before and after pictures if you will create a how-to video for training, the title of the video, and sometimes just a picture of the finished product.
4. Prepare your Script
Not to underestimate your capability, but preparing for a script is an essential matter. Well, it's up to you if you want to make the recording with an impromptu speech, but having your words prepared, will let you avoid ten takes in the recording. Kidding aside, this really will save your time. So, make a script as natural as possible, add a short intro, including the steps, and don't be afraid to add some fun and interactive topics. After preparing all this, you can finally go for the video tutorial recording.
Part 2. How to Record a Tutorial Video with the Best Screen Recorder
Now that you have seen the most important things you need to be ready for, you can now move on to the execution. As we mentioned earlier, having a powerful screen recorder is very important. For this reason, we bring you nothing but the best with the AVAide Screen Recorder. You will never go wrong with this fantastic software, for it provides everything you need for your video tutorial recording. Imagine that creating a thumbnail is one of its assets, allowing users to catch the best scene of their video with its screenshot feature. In addition, it will give you a high-quality voiceover, for it comes with a noise-canceling microphone, aside from its multiple choices of system sound recording.
Thus, let us see by the guidelines below the steps on how to use the software to make tutorial videos.
Step 1Install the software to your computer, and take a glimpse of its features when you launch it.
Step 2Choose which recorder you want to use. Note that you can also have a picture-in-picture recording when you choose the Webcam recorder. Otherwise, if you want to proceed with the pure screen recording, hit the Video recorder.

Step 3Next is to navigate on the screen capture by clicking either the Full or Custom. After that, navigate to the Microphone option and on the System Sound if you want. Click the arrow drop-down button on the Microphone option, and tick the mic enhancement and noise-canceling selections.

Step 4You can now open the video that you need to record. Then, hit the REC button on the screen recorder interface and start reading your script.

Step 5After the recording, click the Stop icon on the recording bar. After that, it will bring you to a new window, where you can also find another screenshot button for your thumbnail. You can also cut the recording by adjusting the trimming bar here. Otherwise, hit the Export button.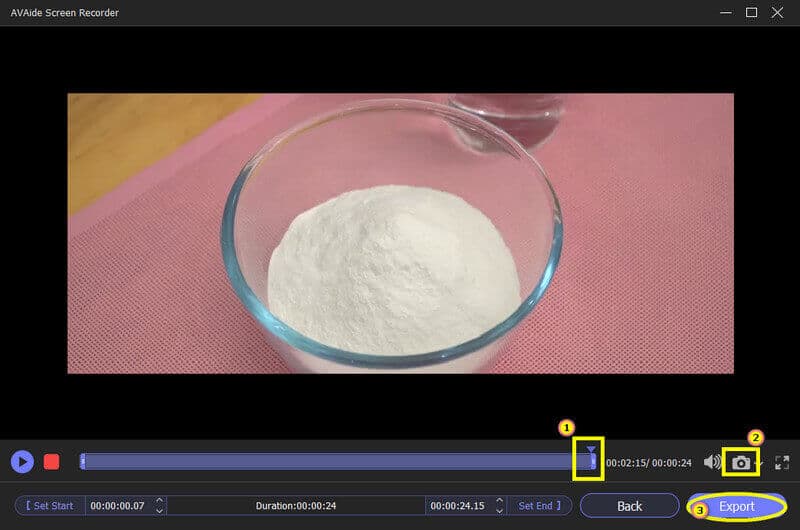 Step 6Finally, you can now complete the exporting process by labeling the file details. And on the right side, click Add icon to add a cover that will display as your thumbnail. Then, hit the Complete button to finalize.
And that is the smoothest and most efficient way how to make a tutorial video by recording your screen.
Part 3. FAQs about Making Tutorial Videos
How long does a tutorial video last?
It depends on your video content. However, research says that a video should only last up to 6 minutes as it is the longest engagement people can give as their interest.
Can I use my phone camera to record a tutorial video?
Yes. If your camera has enough resolution for your tutorial, go ahead. Afterward, you can use the AVAide Screen Recorder to screen record on iPhone.
Is it practical to use an online screen recorder for my video tutorial?
No. Screen recording with an online tool will not ensure an efficient video. In addition, having an online tool for screen recording might be interrupted since the online tool work with the help of the internet.
Record screen, audio, webcam, gameplay, online meetings, as well as iPhone/Android screen on your computer.