MP3 is the most famous file format for compressing audio contents. It compresses repeated data of an audio file. This also gained support for the audiobooks we like to listen to. However, audios with this type of format are made without patents. It can also facilitate and urge piracy. Plus, any downloaded MP3 can result in low quality of files. And whenever you burn an MP3 file, it can lead to missing metadata of the original audio. Therefore, it is a wise choice to search for the best MP3 to M4A converters on Windows, Linux, or Mac.MPEG-4 Audio is an audio container that can store different types of audio content, including podcasts, songs, and audiobooks. It's versatile and has an excellent sound quality.
Part 1. The Differences Between MP3 and M4A Audio Format
These two formats share a lot in common. For example, files with this type of format were developed with a compressing mechanism to compact the file size. However, these two have several differences that are far enough with each other. Below are a few things to compare from the two audio formats.
Compatibility
The differentiating key factor of the two is that, natively, M4A is not an unlimited audio format. Additionally, it is not supported in the few devices we choose to use. It doesn't support transferring on to other devices. On the other hand, MP3 is an audio container that is compatible with a wide range of devices.
Quality
Quality is the prime reason why we are enjoying different audio files such as music, podcasts, and audiobooks. One of the downsides of MP3 is its sound quality, especially in terms of downloading and transferring. As compared to other audio formats, M4A maintained its quality at any transaction made by its users.
Storage Consumption
MP3 is relatively large in size as compared to MPEG-4 Audio or M4A.
Differences

Compatibility

Quality

File Size
| | |
| --- | --- |
| MP3 | M4A |
| Wide devices | Not supported by many |
| Good Quality | High Quality |
| Large-sized | Small in size |
Despite their native advantages, concerning the compatibility, quality, and size, consider opting M4A to a higher quality sound standard. Given these, we eagerly recommend to convert MP3 to M4A audio files using these given solutions below.
Part 2. How to Easily Convert MP3 to M4A With AVAide Video Converter
If you're searching for a top-ranked reliable software to change your MP3 to M4A, AVAide Video Converter is your go-to solution to easily diminish your old files. This audio converter exceeds how we perceived the old tools we were familiar with. But this one exemplifies almost its unique and advanced features. Needless to say, the speed is 50X faster due to its upgraded acceleration technology. It can also work well in converting audio files in a group happening at once. Batch conversion doesn't affect the outputs, still in high sound quality and the preferences can be adjusted. Changing MP3 to M4A is made easy using these following instructions.
Step 1Download and install the software
Firstly, you can download the software from the web-browser of your device. Just go to the official webpage of AVAide Video Converter. Once landed, simply click the Download button and install it.
Step 2Drop the MP3 audio files
Drag your MP3 audio files on the interface. Or you can also click the Add Files button. Add your files in groups to lessen your time consumption.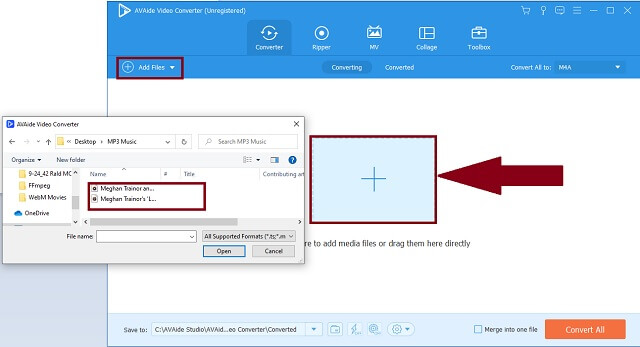 Step 3Change the output container
From the roster of formats panel, click the Audio button and. Look for the M4A audio format and proceed to clicking it. Change all your files at once by clicking the appropriate Convert All button.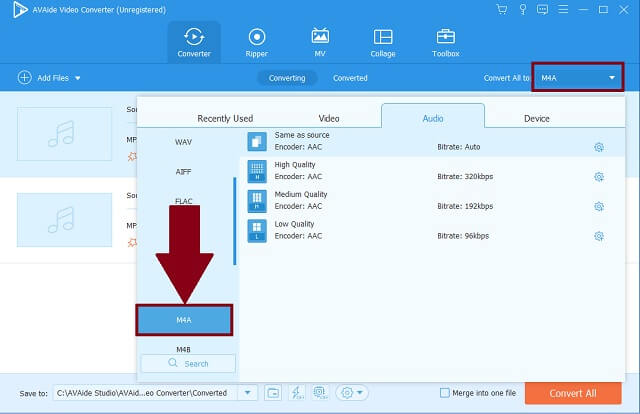 Step 4Begin the simple process
Then, the next step is to start the process by the Convert All button. You can freely discontinue the process by stopping it. This can possibly happen when you forget something in setting revision.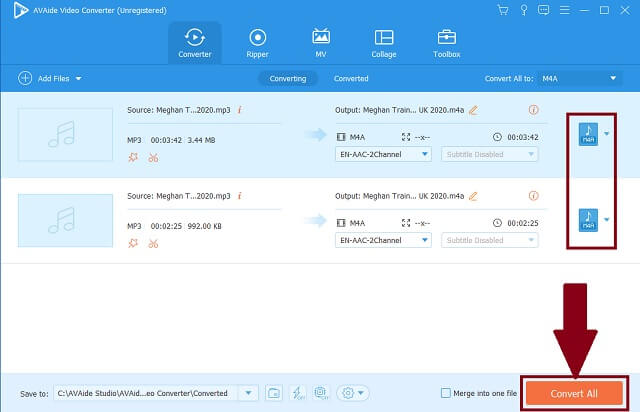 Step 5Check the file destination
Lastly, to check your converted files, locate them on the file destination you've set them to be saved.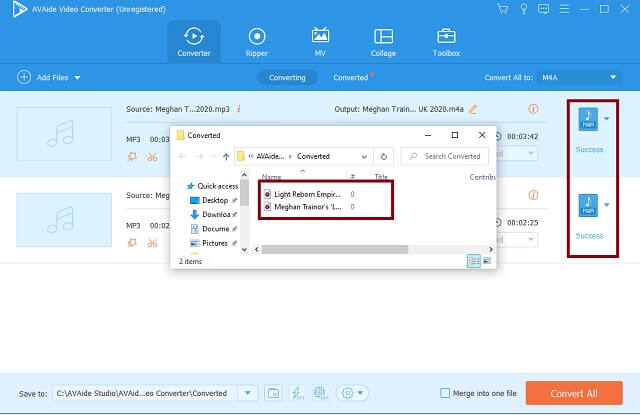 PROS:
What makes this tool distinctly exceptional is its key features.
There are tons of video and audio formats compatible with most devices.
Adjustable audio settings are readily available to use.
Convert in group without speed and quality loss.
Toolbox was created to enhance your media content.
CONS:
Trail version is limited for a certain period of time and usage.
Part 3. How to Convert MP3 to M4A Using iTunes
Apple gained a lot of impressions all over the world. The reliability of the company and the products' high-quality standards. One of the popular audio software is iTunes. It doesn't just play your favorite songs and videos. It can also be a MP3 to M4A converter on mac for free. You can download it as well on Windows if you like to. Get connected on how this player works for your converting needs. Below are easy steps to consider in using the converting capacity of the tool.
Step 1Install and get access to the freeware
On the file tab on the upper panel, look for the Convert button and simply click it.
Step 2Change the audio output format
Choose a format among the list and click the Create in AAC version button since M4A has this type of encoder.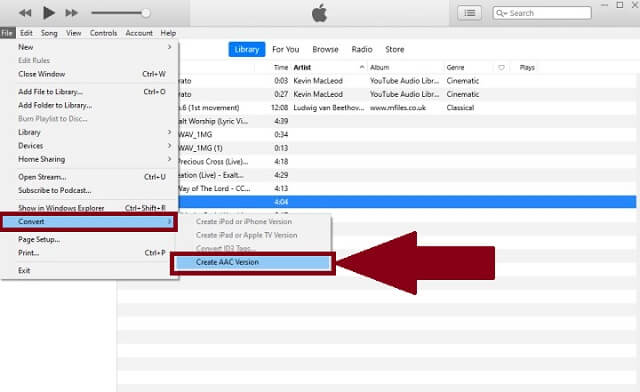 PROS:
It's a well-known audio player especially for our music.
It can convert into other audio formats with guided codecs.
CONS:
Importing audio files is vigorous. It causes users unwanted confusion.
It offers only a short list of audio file formats. Just 4 to 6 formats only.
It is not comprehensive, especially for those who'll try it the first time.
Part 4. Web-Based Method on How to Convert MP3 to M4A Using AVAide Free Video Converter
There is a way to use your web and incorporate a free MP3 to M4A converter online. This is with the assistance of AVAide Free Video Converter. This tool is free of charge and will cost you something. Not even your skills as if you are a multimedia expert. In this solution, there is no need for prior experience because this tool can absolutely aid you all the way. The speed is exceptional that the process only takes a few minutes. The quality is incomparable. Outputs can keep the original quality through its adjustable audio settings and can even enhance. Experience all of these by simply undertaking the guidelines given below.
Step 1Search the app on your browser
From your device, visit the webpage of AVAide Free Video Converter. You have to ensure that your device is connected to any internet source for you to work seamlessly.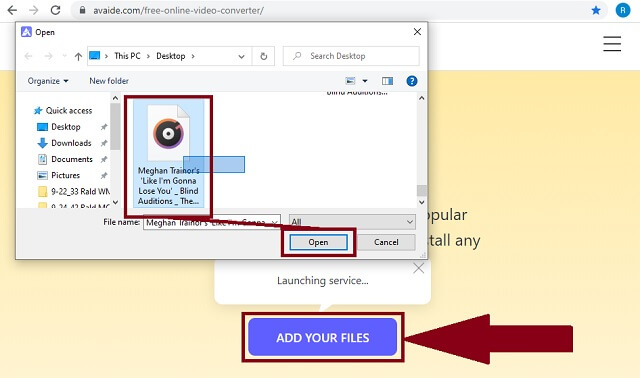 Step 2Add files from the local storage
After that visit, start adding your local MP3 files by clicking the ADD YOUR FILES button. Be reminded that this tool serves its users working in batch features.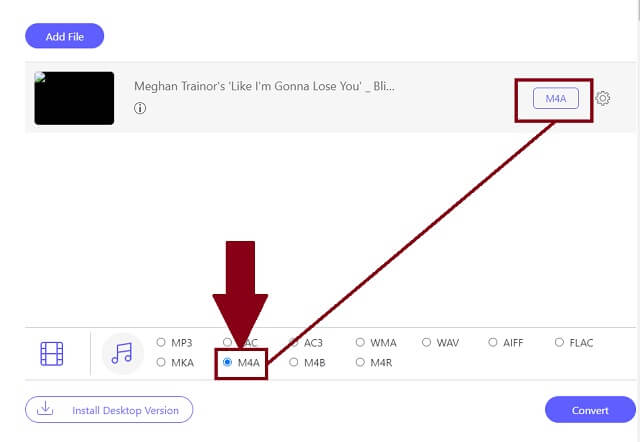 Step 3Choose the new audio format
Proceed to clicking the music icon to generate all the hidden audio formats from the panel. Find the M4A button and click it immediately.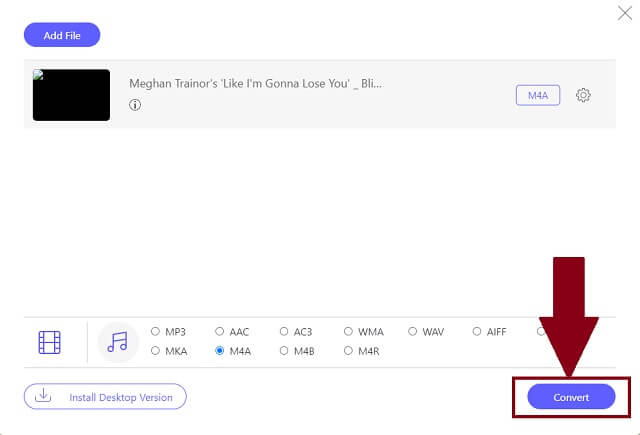 Step 4Start the quick process
To change all the finalized files on the interface, click the Convert button on the bottom part of the interface.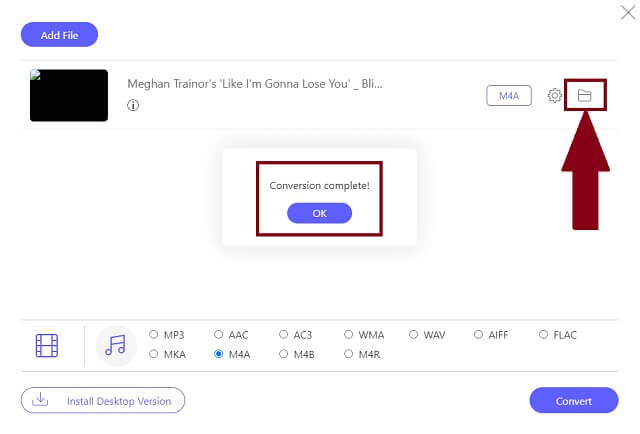 Step 5Locate the newly saved videos
If you want to locate your audio files automatically, click the folder icon. Now, you can enjoy and maximize their capacities.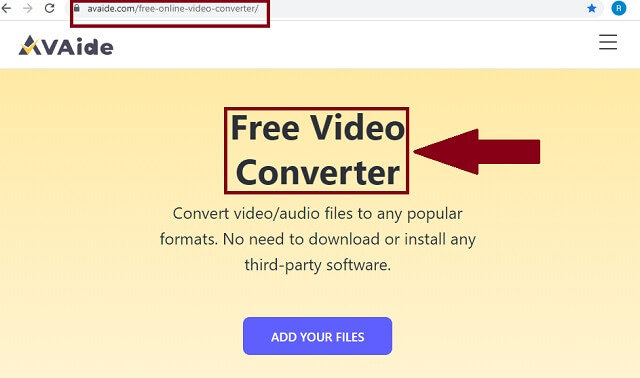 PROS:
It's a free MP3 to M4A converter.
Long list of audio file formats is provided.
Speed acceleration is advanced.
Compatibility to most devices is supported.
Simultaneous conversion is suited.
CONS:
The toolbox is only available to its software version.
Part 5. FAQs of MP3 and M4A
Is MP3 a good audio format?
MP3 is totally a good format, especially in terms of compatibility. It's also quite small in size because it's compressed and lossy. Despite these benefits, this format has poor metadata support and is not high in resolution or sound quality.
Is M4A better than MP3?
M4A or the MPEG-4 Audio format has better sound quality than the MP3. With this format, it can retain its stored quality from downloading and transferring. Therefore, change your MP3 to M4A format with the use of AVAide Video Converter.
What does M4A format mean?
This audio format simply stands for MPEG-4 Audio. This is best for music, podcasts, and audiobooks.
Conclusion
As a summary, there are a wide range of converters to change MP3 to M4A. Whether through online or downloadable software. AVAide Video Converter, iTunes, and AVAide Free Video Converter will absolutely give you a surprising experience. But among the three, many people shared their trust in the AVAide Video Converter. This audio-video converter is an all-in-one media partner.
Your complete video toolbox that supports 350+ formats for conversion in lossless quality.