How to rip DVDs for Plex?
Plex is a popular media server and streaming platform. It lets you organize and stream your media collection to various devices, including movies, TV shows, music, and photos. With Plex, you can create your private media library and access it from your computer, smartphone, tablet, smart TV, or other supported devices. Moreover, it offers additional features like remote access, content syncing, and sharing. This post tells how to convert DVDs to digital videos and add them to Plex.
Part 1. Can Plex Play DVDs
Plex is a famous media server allowing you to stream digital content to various devices. However, Plex itself cannot play DVDs directly. To enjoy your DVD collection on Plex, you must rip your DVDs and convert them into a digital format.
If you have a DVD drive attached to your computer, you can use Plex to store the contents of your DVD collection and then stream them to your devices. There are also third-party plugins available that can enable DVD playback within Plex.
Part 2. Best DVD Ripper for Plex
Many good DVD rippers offered on the market are available for Plex. Each has its strengths and features. You can select the best choice depending on your specific requirements and preferences. This part introduces you to three reliable Plex DVD rippers.
AVAide DVD Ripper
AVAide DVD Ripper is a powerful DVD-ripping tool for Plex. It can make digital copies of your DVDs and convert them into Plex-supported video formats. It has an inbuilt DVD editor to optimize your DVD content. Moreover, it enables you to enhance the output video quality for better viewing.
HandBrake
HandBrake is a widely used open-source DVD ripper that supports a variety of platforms, including Windows, macOS, and Linux. It can convert DVDs to various formats compatible with Plex.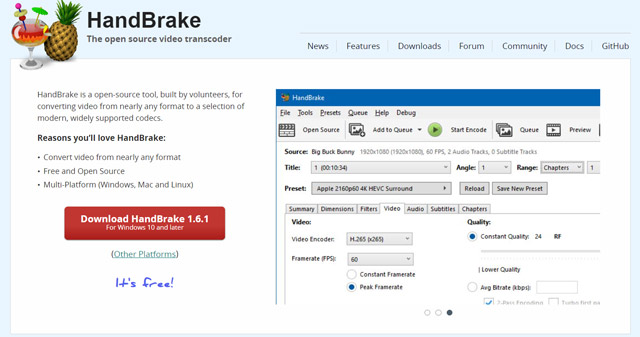 MakeMKV
MakeMKV is a reliable DVD ripping software for converting DVDs to Plex. It can convert DVDs into MKV format while preserving the original video and audio quality. This free Plex DVD ripper is compatible with macOS, Windows, and Linux. Besides DVDs, it also lets you rip Blu-rays to Plex.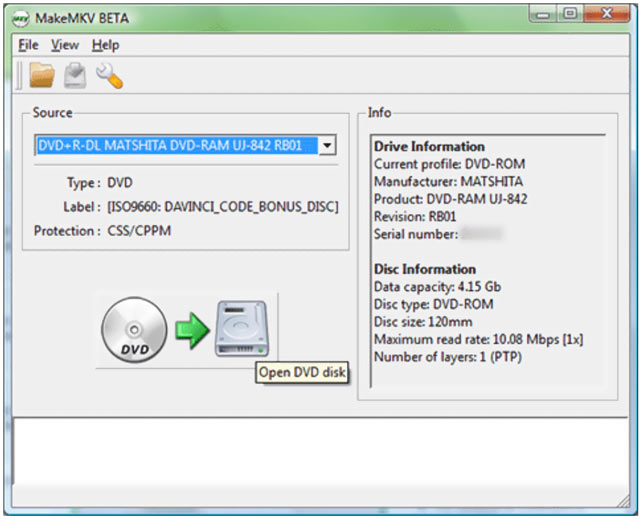 Part 3. How to Rip and Add DVDs to Plex
You can select your preferred DVD ripping software to rip your DVDs for Plex. This part takes the easy-to-use AVAide DVD Ripper as an example to show you how to turn your DVD into a digital file and then add it to Plex.
Step 2Select the main DVD title you like to rip and choose the output format for your converted video file. Plex supports a wide range of video formats, but MP4 is generally a safe choice. Select the desired format from the Convert All to dropdown. If you want to customize the video settings, such as resolution, bitrate, or aspect ratio, you can do so in this step. Keep in mind that higher video quality will result in larger file sizes.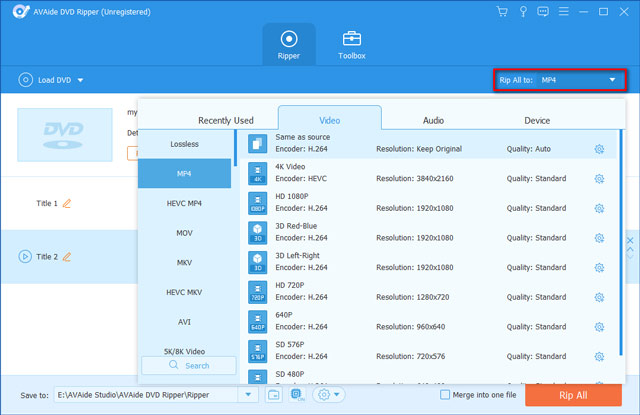 Step 3Click Rip All to begin the DVD ripping process. The software will start converting your DVD into the selected digital format. Once the ripping process is finished, you can locate the ripped DVD file in the output directory.
Step 4Launch the Plex media server on your computer and log in to your Plex account. Click the Add Library button to create a new library or select an existing library to add the DVD. Specify the folder where the ripped DVD files are stored and choose the appropriate media type you like.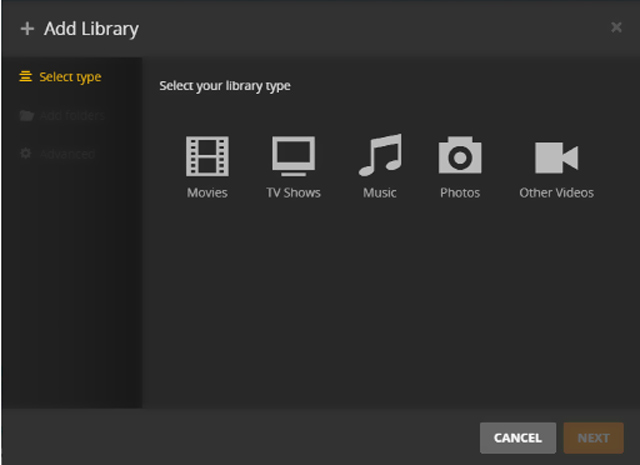 You can configure the library settings once you have added the DVD folder to your Plex library. This includes specifying the metadata agent, enabling automatic metadata retrieval, and organizing the content into folders or playlists.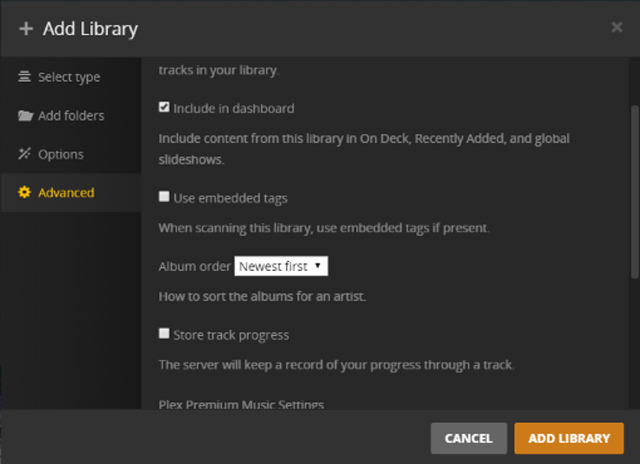 Step 5After adding your DVD to Plex, you can access it from any Plex-supported device, whether a smart TV, smartphone, tablet, or computer. You can open the Plex app and navigate to the library where you added the DVD. You can stream and enjoy your DVD collection anytime, anywhere.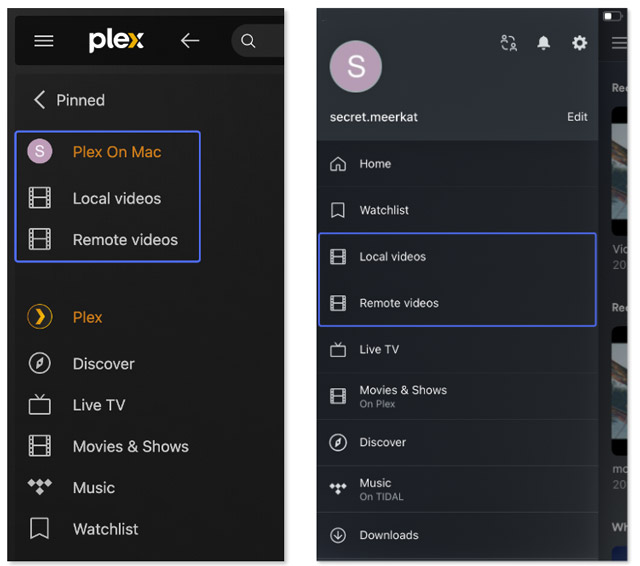 You can also navigate to the official Plex website, click Your Media on the left panel, then get Plex Media Server to access your added DVDs.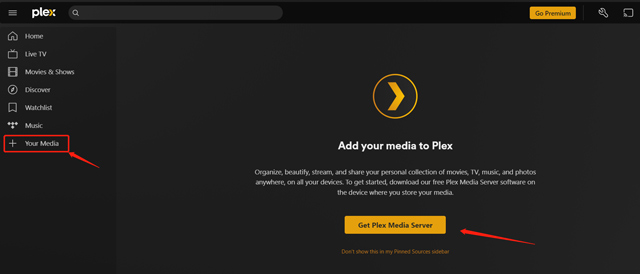 It's important to note that while ripping and digitizing DVDs for personal use is generally legal, sharing copyrighted content or distributing it without permission is against the law. Ensure you own the DVD and only use the ripping method for personal archiving and streaming.
Part 4. FAQs of How to Rip DVDs for Plex
How do you enable automatic library updates on Plex?
Go to the Plex website and enter your Plex media server interface. Click the Settings button in the top-right corner. Click Settings on the left and choose Library. Now you can locate the Scan my library automatically feature and enable it.
Where can you store DVDs on Plex?
You can store DVDs or other media files on your computer or NAS. Besides, Plex lets you store DVDs on a remote device, game console, or streaming service.
What is the best format to rip DVDs for Plex?
As mentioned, Plex supports many commonly-used video and audio formats, including MP4, MKV, MOV, WMV, AVI, ASF, MEPG, TS, MP3, AAC, WMA, ALAC, FLAC, and more. When you want to add your DVDs to Plex, you'd better convert them into MP4.
Conclusion
Following the guide above, you can easily rip a DVD for Plex and enjoy your DVD collection on any device connected to your Plex media server. Remember to only rip DVDs you own legally, and always respect copyright laws. If you have any further questions, feel free to ask.
Best tool for ripping and converting DVD Disc/Folder/ISO image file into over various formats.