Converting a DVD to a 1080p HD video can be a great way to enjoy your favorite movies and TV shows with higher quality and clarity. You can create digital copies of your DVD collections for watching on a bigger screen like your smart TV. However, the DVD-to-HD converting process can be a bit tricky. It's important to follow certain steps and use the right tools to get the best possible quality. This post will review the basics of DVD-to-HD video conversion and provide some tips to get started.
Part 1. What's the Resolution of the DVD
DVD or Digital Versatile Disc is a type of disc that stores digital data, such as movies, music, and computer software. It was first introduced in 1995 and became popular because of its high capacity and image quality.
DVD resolution is the detail seen on a screen while playing a DVD. It is usually measured in pixels, the tiny dots that make up an image. The resolution of a DVD varies depending on the type of disc and the video encoding used.
The most common DVD resolution is 720 x 480 pixels for NTSC format or 720 x 576 pixels for PAL format. It is also known as the standard definition. This DVD resolution balances image quality and file size, making it easy to store and play DVDs on most devices.
However, with the advent of High Definition (HD) video, DVD resolution has become outdated. Blu-ray discs, which support 1080p resolution, have largely replaced DVDs as the preferred format for high-quality video content. Nonetheless, DVDs continue to be popular for their low cost and portability, especially in regions where internet speeds are slow or unreliable. Overall, DVD resolution is important for those who want to watch movies or other video content on a DVD.
Part 2. Easy Way to Convert DVDs to 1080p HD Videos
Many different DVD-to-HD converters on the market can help you rip DVDs and upscale their qualities. Some of the most popular ones include AVAide Video Converter, AnyMP4 DVD Ripper, Handbrake, and more.
Before you start the conversion process, you should select a user-friendly, reliable program that supports the output format and resolution you want. This part takes the easy-to-use AVAide Video Converter as an example to show you how to convert your DVD to a 1080p HD video.
Step 1Download AVAide Video Converter on your computer and launch it. Insert your DVD into the computer's DVD drive. This DVD-to-HD converter lets you rip both encrypted and unencrypted DVDs. Moreover, it can convert DVDs to 1080p HD, 4K, 5K, and even 8K videos based on your need. Click Add Files or + to load your DVD.
Step 2When your DVD is loaded, tap the Edit button to edit and optimize your DVD. For instance, you can freely cut, crop, or rotate the DVD, customize the image and sound effects, apply filters, add a watermark, change subtitles, and more.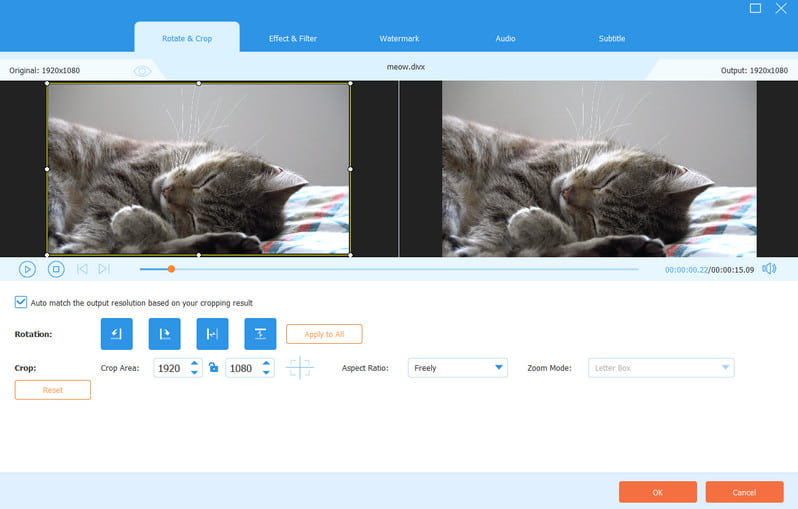 Step 3Select a 1080p HD video format from the drop-down list of Convert All to. In most cases, you should choose a format like MP4 or AVI that's widely compatible with various devices and media players. You can control the output video quality, resolution, frame rate, bitrate, and more during this step. After that, click the Convert All button to convert your DVD to a 1080p HD video.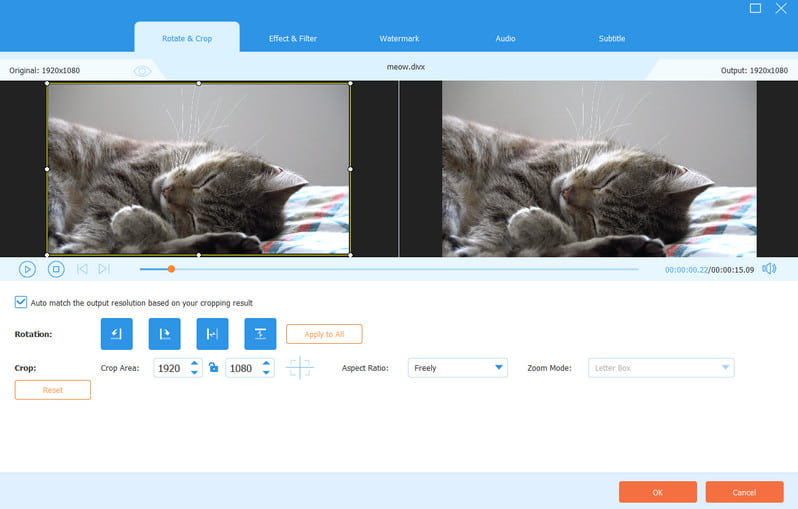 Part 3. How to Convert a DVD to 1080p HD Video Free Using HandBrake
When you want to convert your DVD to HD quality for free, you can also rely on the open-source DVD ripper, HandBrake. This free DVD-to-HD video converter is compatible with Windows, macOS, and Linux devices. It gives you a convenient way to convert DVDs to 1080p HD videos. It also can help you flip videos. You can download HandBrake from its official website and follow the steps below to turn low-resolution DVDs into high-quality.
Step 1Insert your DVD into the computer's drive and open HandBrake. Load your DVD under the Source Selection tab. Note that HandBrake can't convert commercially copy-protected DVDs.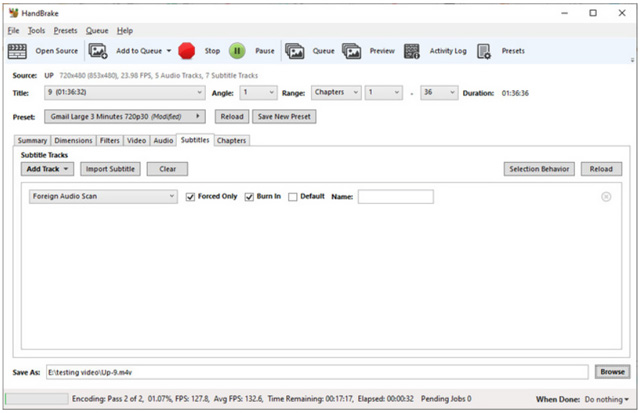 Step 21080p is the standard for modern HD video. However, if your DVD is in a lower resolution, like 480p or 720p, you may not be able to achieve true 1080p quality using HandBrake, no matter how much you upscale the video. Choose the DVD titles and chapters you want to convert, then click Start Encode to turn your DVD into higher quality.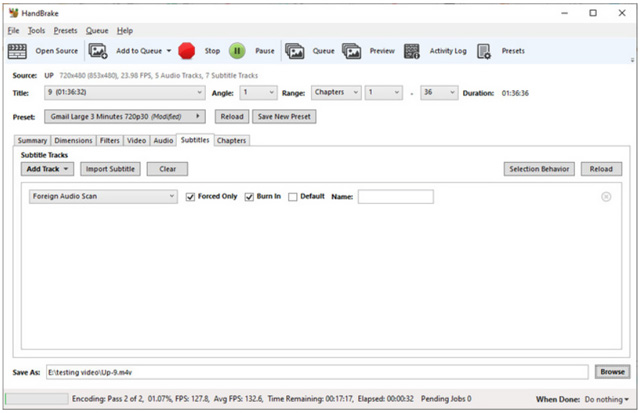 Part 4. FAQs of How to Convert DVD to HD Video
Can VLC convert a DVD to a 1080p HD video?
Yes. Load your DVD into the computer's drive and launch VLC. Click the Media menu and choose Convert/Save. In the Open Media dialog, click Browse to add your DVD under the Disc tab. Then choose a 1080p HD format from Profile. After that, you can click the Start button to convert your DVD to an HD video in VLC.
What is the best format for converting DVDs?
When you convert DVDs, you should select a popular video format that most media players, platforms, and devices can support, such as MP4, AVI, MKV, or MOV.
How do you upscale a DVD to 4K?
You can use the recommended AVAide Video Converter above to easily convert a low-quality DVD to a 4K, 5K, or 8K video. It can upscale its resolution, add more details, sharpen the image, and do other optimizations to enhance the output quality.
Conclusion
This post has mainly talked about how to convert a DVD to a 1080p HD video. Following the two methods above, you can achieve high-quality results and enjoy your favorite movies and TV shows with a better visual experience.
Best tool for ripping and converting DVD Disc/Folder/ISO image file into over various formats.