There are many reasons why you need to convert your DVD collection to digital files. Apparently, optical discs are fragile. After 5 to 10 years, they will become brittle. Plus, they easily affected by the environment, like overheating or humid. DVDs take up lots of room space too compared to digital files. More importantly, they are becoming obsolete. Most lightweight PCs and laptops do not come with a disk drive. Therefore, this article shares a how-to.
Part 1: Find DVD to Digital Service near Me
The easiest way to transfer DVDs to digital files is finding a service. You can mail your DVDs to the service, and download the digital files from the website or get them via a USB drive after converting. Convenience is the main benefit of DVD to digital services. Of course, they are not free and the price is from several to hundreds of dollars. This way is not a good choice if you have a limited budget or a large collection.
Moreover, there are only a few companies still offer this service now, such as DVDWalmart, Leave a Legacy, and DiJiFi.
Another concern is privacy leak. You'd better think over before sending your private DVDs to these DVD digitization services.
Part 2: The Best Way to Convert DVD to Digital Videos
When converting DVDs to digital videos, the ease of use is a big concern. It makes sense that a part of DVD converting software are complex. Fortunately, AVAide DVD Ripper can help you do the job on your desktop without technical skills.
Pros

Convert DVDs to digital files easily.
Support video resolution up to 4K.
Digitize DVDs in a wide range of multimedia formats.
Improve the performance with hardware acceleration.
Come with lots of bonus features.
Cons

It may take a while if your DVD movie is very long.
How to Convert a DVD to Digital Videos without Quality Loss
Step 1Load a DVD
Launch the best DVD converting software after you install it on your PC. There is another version for Mac. Put your DVD into your DVD drive. Go to the Load DVD menu, select Load DVD Disc, and choose the disc. To convert specific chapters, click the Full Title List button After the DVD loads, and select them.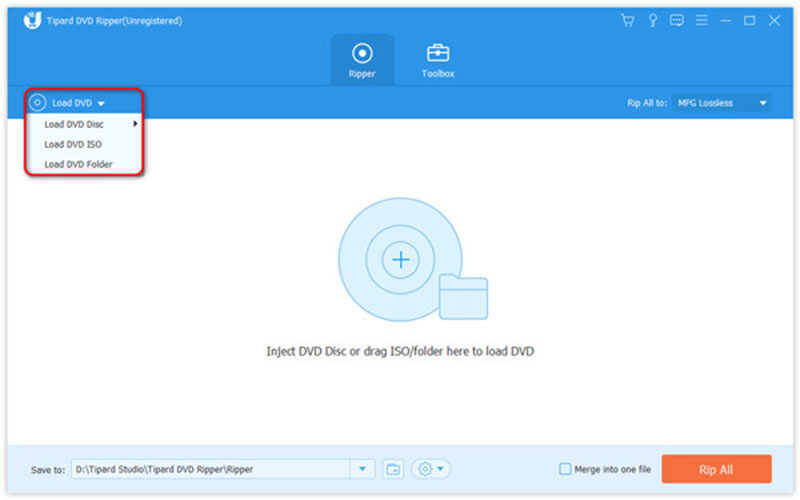 Step 2Set the output format
Click the Rip All to menu at the right side to open the profile dialog. Go to the Video tab, select an appropriate format on the left side, and pick a preset. To change the resolution and other parameters, click the Gear icon. If you intend to view the video on your phone, go to the Device tab and select the phone model.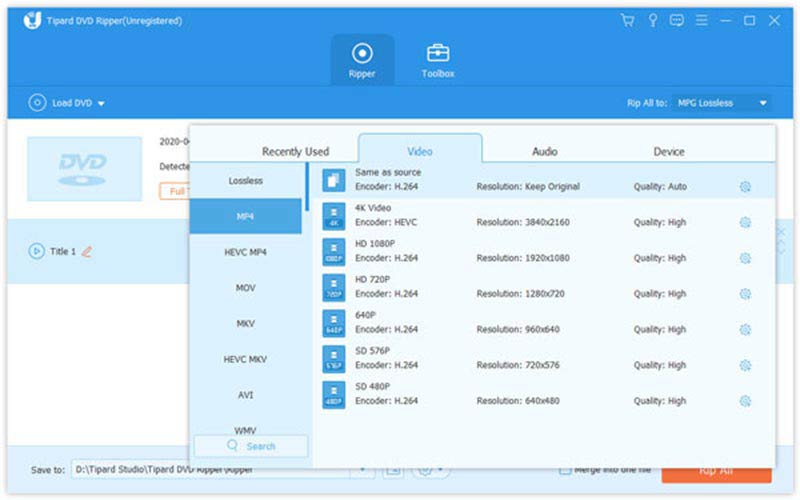 Step 3Convert the DVD to digital videos
Finally, click the Folder at the bottom and select a specific directory to save the results. Click on the Rip All button to begin converting the DVD to digital videos.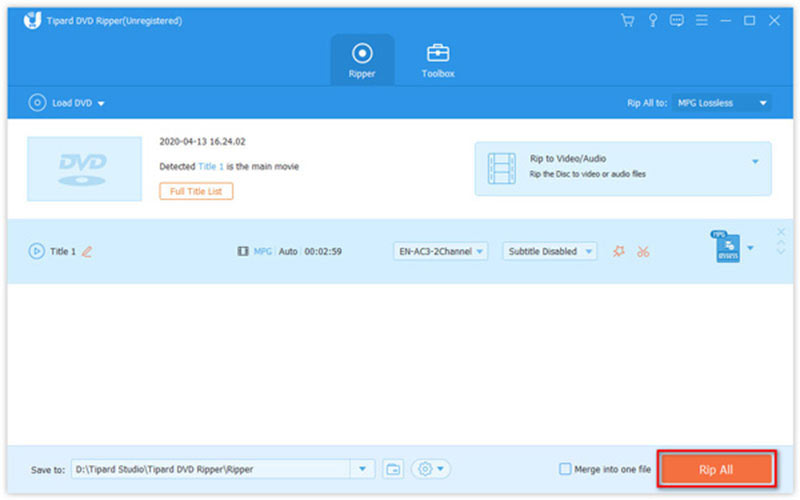 Part 3: How to Digitize a DVD Using Vudu
Vudu is a multimedia platform and there are lots of 4K UHD titles. Some of them are even free to watch. Besides, it comes with a Disc to Digital feature. Therefore, you can convert a DVD to digital movies on Vudu directly. The price is $2 per DVD to SD and $5 per DVD to HDX.
Pros

Digitize DVDs on your mobile phone.
Produce videos up to 4K.
Include so many 4K UHD titles.
Stream videos to compatible devices.
Cons

The price is a bit high.
Not all DVD movies are available.
Here are the steps to convert a DVD to digital videos with Vudu: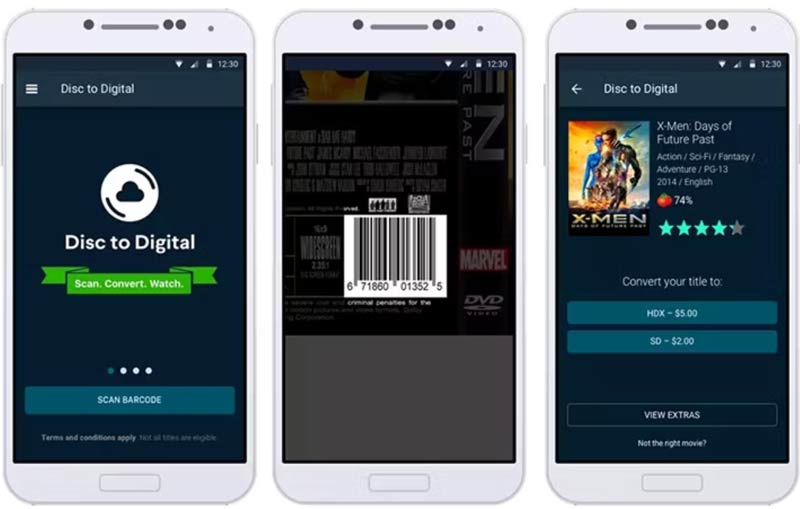 Step 1Install Vudu app on your phone, and sign up or log in your account. On an iPhone, you need to create an account on the website in a browser, and then turn to the app.
Tip: Make sure to permit the app to access your location data. Moreover, your billing address must match your GPS location when scanning a DVD.
Step 2Tap the Menu button with a three-line icon and choose Disc to Digital.
Step 3Scan the barcode on your DVD box to search for the digital title. Then follow the on-screen instructions and select your movie quality preference.
Step 4Checkout and the movie will be available in your account.
Part 4: How to Convert a DVD to Digital File with VLC
Can you transfer DVDs to digital videos without paying a penny? The answer is yes and VLC is what you need. This open-source media player comes with bonus features including digitizing DVD movies on PCs, Mac, and Linux.
Pros

Digitize commercial and homemade DVDs.
Completely free to use.
Available on PCs, Mac, and Linux.
Support popular video output formats.
Cons

The process is a bit complex.
You may encounter a variety of errors.
The output quality is not very good.
Follow the steps below to convert a DVD to digital video with VLC:
Step 1Run the free DVD converter on your desktop, go to the Media menu on the top ribbon, and choose Convert / Save. Insert your DVD into your computer.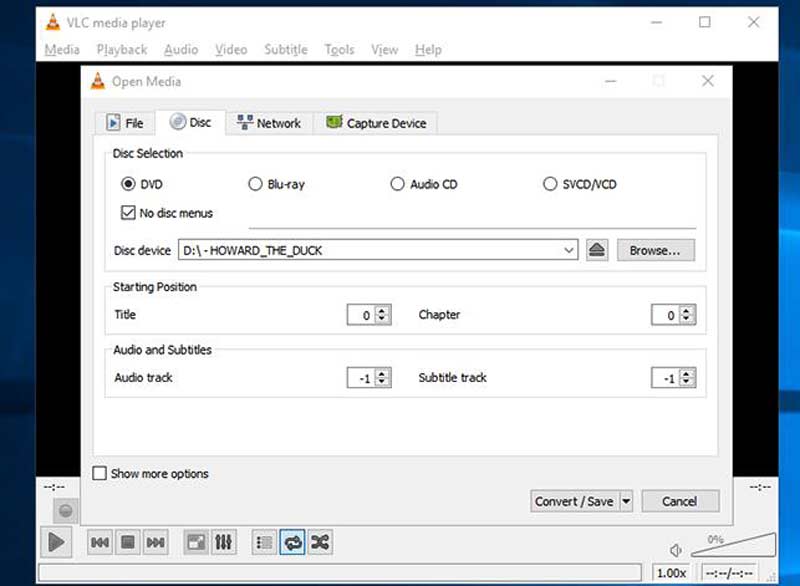 Step 2Switch to the Disc tab on the Open-Media dialog, select DVD, click Browse button and select the disc. Make sure to check the box next to No disc menus; otherwise, VLC may convert a looping video menu.
Step 3Click the Convert / Save button at the bottom to go to the next window.
Step 4Pull down the Profile menu and select a proper output format, such as MP4.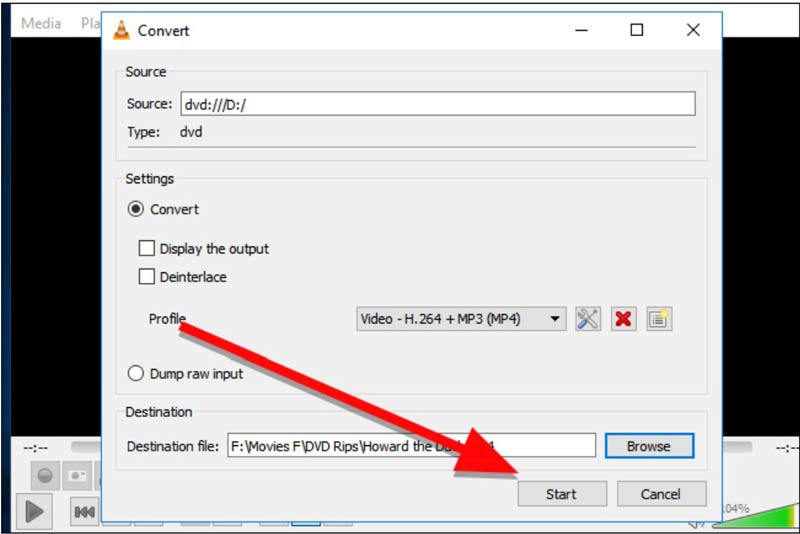 Step 5Hit the Browse button and set a location folder for the output video. At last, click on the Start button to initiate transferring the DVD to digital video.
Note: If you get an error during the process or nothing in the output video, it means that VLC cannot digitize this DVD. You have to try other methods.
Part 5: FAQs about Converting DVD to Digital
Does Walmart still convert DVD to digital?
Yes, Walmart announced an exclusive in-store DVD to digital conversion service in more than 3,500 stores. You can hop over to a local store to get your DVD converted or do it in the online libraries.
How long does Walgreens transfer a VHS to DVD?
The process of having VHS tapes converted at Walgreens is a long one. Some stores have photo and video kiosks, but they are not in every store. Most often, it takes between three and five weeks.
How long does it take to convert DVD to digital?
It depends on how you convert your DVD to digital videos. If you do it with DVD converting software, you can get the videos immediately. The online services usually spend several days to weeks to complete the process.
Conclusion
This guide has told you four ways to convert your DVDs to digital video files. The conversion services are a good choice for average people if you just have one or two DVDs to convert. AVAide DVD Ripper is the best choice to do the job on your desktop. VLC is a good option to have a try. More questions? Please write them down below this post.
Best tool for ripping and converting DVD Disc/Folder/ISO image file into over various formats.