When watching or creating a DVD, it is important to choose the appropriate aspect ratio based on the source material and the intended use of the disc. Do you want to change DVD aspect ratio between 4:3 and 16:9 for full-screen playback on your DVD player or smart TV?
This post explains what DVD aspect ratio is and tells three effective methods to change the aspect ratio on your DVD player, DVD ripper, and through your TV settings.
Part 1. What Is DVD Aspect Ratio
DVD aspect ratio refers to the proportional relationship between the width and height of the video image. It is expressed as two numbers, separated by a colon, such as 1.85:1 or 2.35:1. The first number in the DVD aspect ratio represents the width, while the second number represents the height.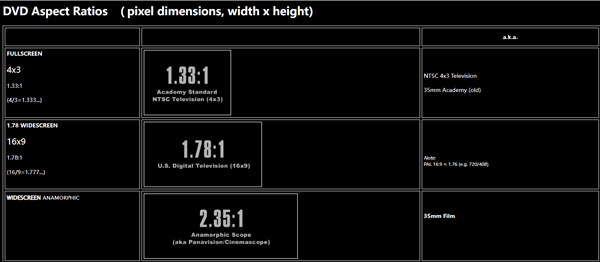 The aspect ratio of a DVD depends on a number of factors, including the format of the source material, the intended use of the DVD, and the display device that will be used to view the video. One of the most common aspect ratios for DVD movies is 16:9, also known as the widescreen format. This DVD aspect ratio is well-suited for films that require a wider field of view, such as action movies or panoramic landscapes.
Another popular aspect ratio for DVDs is 4:3, known as the standard or full-screen format. The DVD aspect ratio is commonly used for television shows and older movies filmed in a standard format. It is also the default aspect ratio for many DVD players and television sets.
In addition to these two common DVD aspect ratios, other specialized formats are used in certain contexts. For instance, the IMAX format uses a 1.43:1 aspect ratio, while some film festivals require submissions in a 2.39:1 aspect ratio.
Part 2. How to Change DVD Aspect Ratio
When you want to change the DVD aspect ratio, you can crop or resize it to fit the desired aspect ratio or leave it in its original format and let the player or display device handle the ratio. This part shares three different solutions to change the aspect ratio of your DVD.
Change DVD aspect ratio with AVAide DVD Ripper
AVAide DVD Ripper is an easy-to-use DVD editing and copying tool that lets you change the DVD aspect ratio to 4.3 or 16.9 based on your need. It enables you to create a digital copy of your DVD. You can rip your DVDs to videos in any format you want. You can freely download it and follow the steps below to easily change the DVD aspect ratio.
Step 1Free download AVAide DVD Ripper on your Windows PC or Mac and launch it. Insert the DVD into your computer's drive.
Step 2Click Load DVD and select the Load DVD Disc option to import your DVD. Besides DVD discs, it lets you change the aspect ratio of DVD folders and IOS files.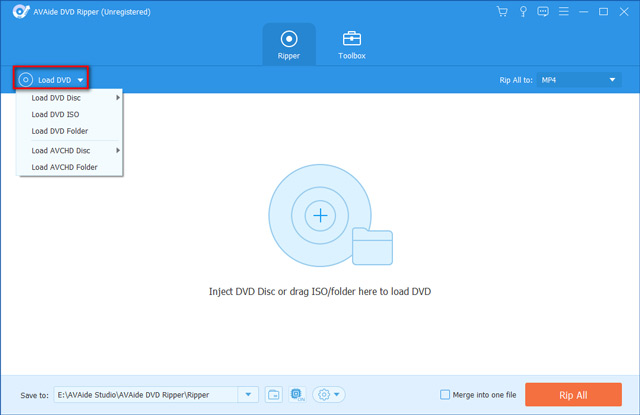 Step 3Click the Edit button to access its inbuilt DVD editor. You can use it to crop and resize your DVD and change its aspect ratio. Ensure you are under the Rotate & Crop tab and go to the Aspect Ratio to change it.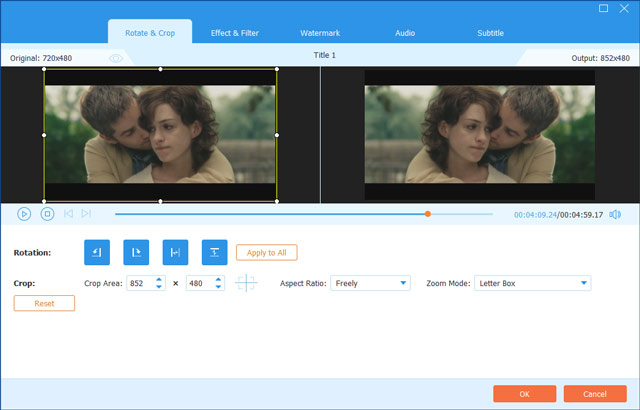 Step 4After changing the DVD aspect ratio, you can use other editing options to customize your DVD and optimize its quality. Then choose the target format from the drop-down list of Rip All to. Click the Rip All button in the bottom right to confirm your operation.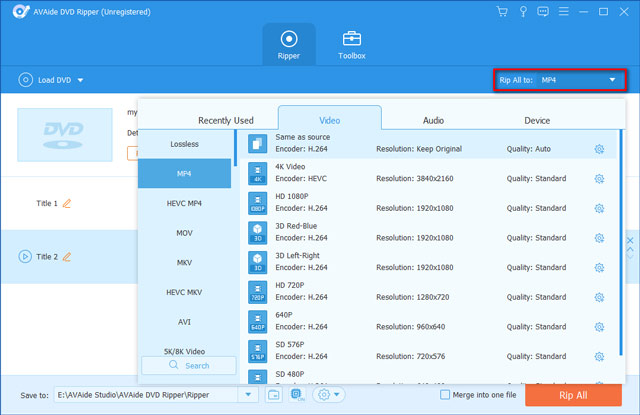 How to change the aspect ratio on a DVD player
To change the DVD aspect ratio while watching it with your DVD player, you can press the Setup button on your remote control to access the DVD player's settings. Scroll down to find the option that displays Aspect Ratio or Picture Size and choose it. Now you can freely change the DVD aspect ratio that you prefer. You can switch the current DVD aspect ratio to 4:3 or 16:9, which can better fit your TV. After that, you can save your changes and exit the menu. The DVD should now display in the aspect ratio you selected.
Change DVD aspect ratio through your smart TV settings
Turn on your smart TV and ensure it is set to the input/source where your DVD player is connected. Now you can press the Menu button of your TV remote to open the TV's settings.
Look for an option that says Aspect Ratio and select it. Then select your preferred DVD aspect ratio. When your DVD is played in the aspect ratio you selected, you can exit the menu.
You should know that not all DVDs are available in every aspect ratio, and some may not look as good in certain aspect ratios. Additionally, your TV's native aspect ratio may limit your options for changing the DVD's aspect ratio. If you're still having trouble after trying these methods, consult your DVD player or TV manufacturer's user manual for additional troubleshooting steps.
Part 3. FAQs of DVD Aspect Ratio
Can VLC change the DVD aspect ratio?
Yes, VLC Media Player supports DVD playback and lets you change the aspect ratio according to your need. While watching your DVD in VLC, you can go to the Video menu and click Aspect Ratio to choose the suitable ratio that suits you best. You can also use VLC to burn DVD.
What is the standard aspect ratio of widescreen?
The standard widescreen aspect ratio is 16:9. You can simply take it as 16 units wide and 9 units high.
How do you set a DVD player to fit your TV screen?
After connecting your DVD player to the TV, you can go to the view mode to select it as the source, then go to settings to turn on AutoFit. Also, you can select the specific aspect ratio option to set your DVD player to fit your TV screen.
Conclusion
Understanding the DVD aspect ratio helps create high-quality video content. Also, you can get a better viewing experience by changing the DVD to a suitable aspect ratio. Different aspect ratios can provide unique visual experiences and can be used to create different moods and atmospheres.
Best tool for ripping and converting DVD Disc/Folder/ISO image file into over various formats.