Although most movies and TV shows can now be found and played online, some old classics or collector's edition videos are still kept in DVD form. Do you also have a treasure trove of treasured DVDs but don't know how to play DVD on TV? Don't worry, we have the perfect solutions and tool for you whether you have a DVD player or not! Try our methods, and your treasure will no longer be gathering dust in a corner somewhere. Watch great movies and TV shows on your TV with your family!
Part 1. How to Play DVD on TV With DVD Player
The most straightforward way of playing a DVD on a smart TV is to connect an external DVD player to your TV. This way is the safest and most stable. Before you start you need to prepare the equipment and tools you need.
1. Set Up Your DVD Player
Connect your DVD player to the power supply, and press the Power button until the indicator light comes on.
3. Choose the Suitable Connection
On the back of DVD Player, several interfaces correspond to different connection methods. You need to determine which type of connection you should apply.
HDMI
HDMI connector offers the best video and audio quality, and it only need one record to transmit both video and audio.
Component Cable
Component cables include five color-coded connectors. The red, green and blue connectors are used for video while the red and white connectors are used for audio. You need to connect the cables properly to the color matched ports.
Composite Cable
Composite cables contain connectors in three colors. The yellow one is applied for video while the white and the red are applied for audio. Connect them to the color matched ports.
Now everything is ready. Turn on your TV and make sure they work well. Find Input menu and select the cable connection you use.
3. Play the DVD
Insert a DVD in to your DVD player, and check if it can be played on your TV without picture and sound issues.
Part 2. How to Play DVD on TV Without DVD Player
If you don't have a DVD player or don't want to spend money on one specifically for DVDs, we recommend two ways to watch DVDs without a DVD player. You can choose the one you need according to different scenarios.
Way 1. Rip Your DVD to USB Disk
DVDs may risk being lost or damaged, and the video files inside may also be affected. You can promptly rip it to other devices where the files are saved, such as USB disk or removable hard drives. For example, you can copy DVD to USB disk to play on TV. All you need to do is insert your USB disk into your TV's USB port. Here we recommend the best DVD ripper for you. You can try and move your DVD treasure to a safer place.
AVAide DVD Ripper
AVAide DVD Ripper is the best DVD ripping software to help you convert any DVD to other formats like MP4, MOV, AVI, etc. as well as popular device without quality loss. It supports videos in different resolutions include 4K, HD 1080p, HD 720p, and 480p. The video parameters of your videos will be tweaked flexibly for trouble-free playback or uploading. This tool has everything you need. If you want to enhance your videos, AVAide DVD Ripper can also help you trim, crop, merge and compress them freely.
Here are the detailed steps.
Step 1Load DVD
You need to insert your DVD to the computer and then click Load DVD to import.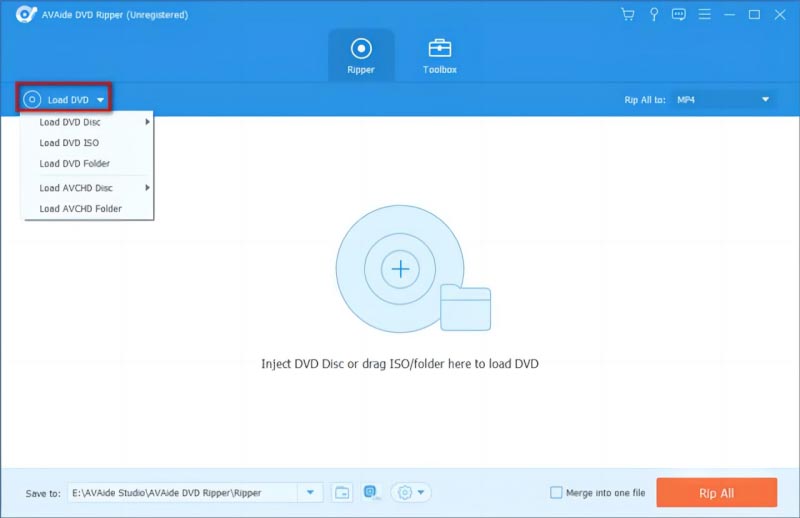 Step 2Select your target format
Click Rip All to choose the output format you need.
Step 3Insert your USB disk into your computer. Press Save to, and choose your USB disk as the output folder.
Step 4Press Rip All to rip your DVD.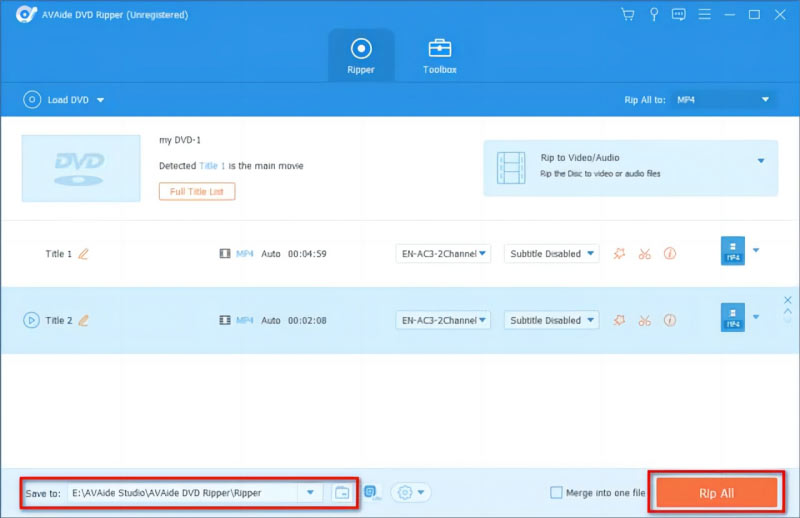 Thus, your DVD is copied to your USB disk. Just insert it into your TV, and you will be able to play the files loaded in DVD on TV.
Way 2. Use Screen Mirroring on TV
You can also choose to play your DVD videos directly on your TV using screen mirroring. This method allows you to view the content from your computer or mobile device on your TV. You can rip the DVDs and use DVD players to play them on your computer first, then screen mirror them on your TV. Here take Samsung TV as an example.
After applying the steps in Part 2 and finish ripping your DVDs with AVAide DVD Ripper, save your files on your computer. Then follow these steps.
Step 1Select Action Center from the taskbar of your computer.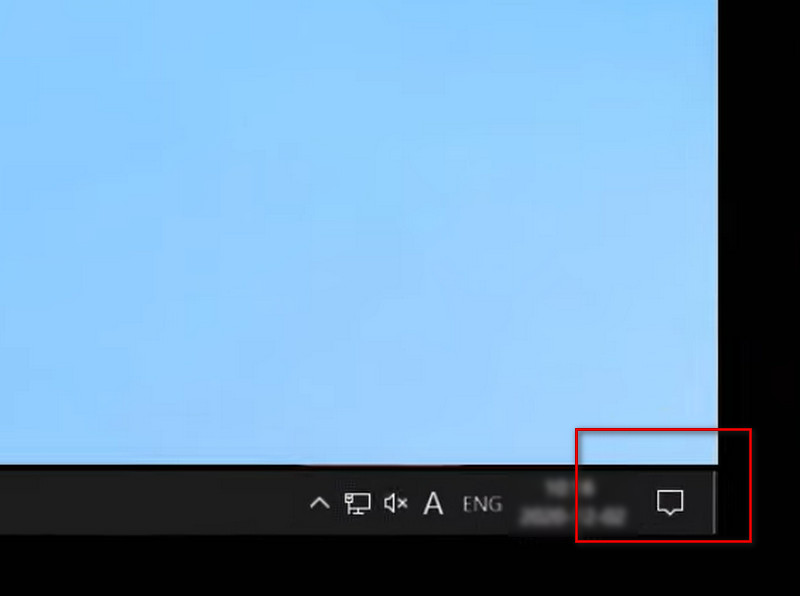 Step 2Choose Connect.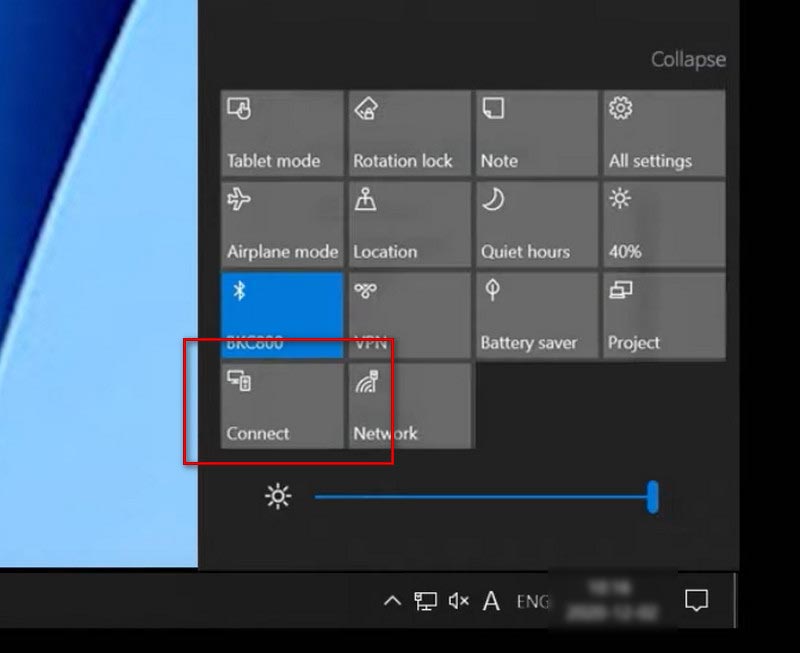 Step 3Select the TV you want to connect.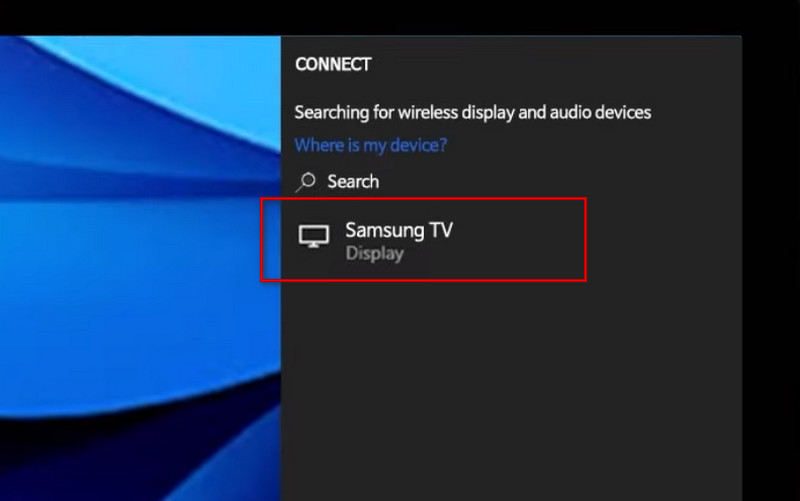 In this way, you can share your computer screen on your TV. Now you just need to play DVDs on your Samsung smart TV through your computer.
Part 3. FAQs of Playing DVD on TV
Can I connect my Android phone to my DVD player via USB?
Some smart DVD players allow you to transfer camera information using the USB port and use your phone as an external drive to play DVD files on your Android phone. You can also rip DVDs to digital format and transfer the ripped movies to your phone for playback.
Why can't I get DVD player to work on TV?
Check that your cable between the DVD player and TV is securely plugged in both devices and connected to the correct corresponding port. You may have confused the HDMI, Component or Composite cable.
How to fix no sound from DVD player on TV?
Try to adjust the volume settings on your DVD player and TV. If it still doesn't work, check the cables are plugged in the right port. Ensure your TV or stereo receiver is not set to a MUTE or SPEAKER OFF setting. Or you can play a different DVD in the player to confirm whether the problem is with the player or the DVD.
Conclusion
With the change of times, DVDs may not be as popular as they once were. But there are still a number of classic films that have been preserved in this format. Some people have also taken to store important moments in traditional ways like recording tapes or DVD. But the highly fragile nature of DVDs can sometimes be annoying. If not kept properly, you may need to export and restore old videos in them to play. So it's best to back up the files inside in time. Ripping it to another device is a good way to keep it. You can try the method we recommend whenever you want to play your DVDs on TV. We hope that the videos and memories that are precious to you will be preserved forever!
Best tool for ripping and converting DVD Disc/Folder/ISO image file into over various formats.