Even if you are not quite familiar with this field, you should know that Blu-rays are the thing that came after DVDs and excels most DVDs in the aspect of image quality. But how about the HD DVDs and 4K UHD? You may need clarification about Blu-ray, DVD, and 4K UHD.
This post will compare DVD, Blu-ray, and 4K UHD from different aspects, such as resolution, file size, quality, content availability, price, and compatibility. For the differences, you can check the DVD vs. Blu-ray vs. 4K below.
Part 1. DVD vs. Blu-ray - Learn the Main Differences Between DVD and Blu-ray
What is DVD
DVD (Digital Video Disc), replaced VHS and LaserDisc, is an optical disc that utilizes Red Laser technology. A DVD can carry more data than a standard compact disc. It has a larger storage capacity than CD. One single-sided single-layer DVD can hold 4.7GB, and the single-sided double-layer disc can hold 8.5GB - 8.7 GB. The max resolution of the DVD is 480p, also known as SD (720 x 480). A standard DVD is designed with MPEG-2 compression and can store over 2 hours of video in 480p resolution.
HD DVD is an old high-density optical disc format for storing high-definition video. It supports DVD-Video and HDTV formats like 720p, 1080i, and 1080p. HD DVD can store about 3.2 times as much data per layer as DVD. The max capacity of HD DVDs is 15 GB per layer.
What is Blu-ray
Blu-ray is a new optical disc format developed by Blu-ray Disc Association. It can hold hours of video in full HD (1920 x 1080) and Ultra HD (3840 x 2160). Blu-ray is designed with Blue Laser technology and sophisticated compression to store large data and high-definition video and to enable recording and rewriting. Blu-ray can hold 25GB on a single-layer disc and 50GB on a dual-layer disc. Blu-ray is built to replace DVDs with better quality and more storage capacity.
Differences between DVD and Blu-ray
Comparison
DVD
Blu-ray
Resolution
Video Quality
720 x 480
1920 x 1080
3840 x 2160
File Size
Storage Capacity
Single-layer DVD discs can hold 4.7GB of data
Dual-layer DVD discs can store 8.7GB
Single-layer Blu-ray discs can hold about 25GB of data
Dual-layer Blu-ray discs can store 50GB
Compatibility
DVD players can't play Blu-ray discs
Blu-ray players can play Blu-ray and standard DVD discs
Content Availability
Almost all old movies are available in DVD format
Blu-ray is widely used to store new movies and video games
Price
Cheap
More expensive than DVD
3D
Doesn't support 3D
Support
Laser Technology
Red Laser (650 nm)
Blue Laser (405 nm)
Best DVD and Blu-ray Player you may like to know
AVAide Blu-ray Player – Plays Your Blu-rays Effortlessly
Play DVD and Blu-ray discs, folders, and ISO files with high visual quality.
Customize brightness, contrast, hue, gamma, and saturation while playing.
Offer playlists, video effects, aspect ratio, chapter, and deinterlace selections.
Support 4K UHD, 1080p/720p HD, SD videos, and lossless/lossy audio files.
Part 2. DVD vs. Blu-ray vs. 4K UHD
From the first part, you can know the main difference between DVD and Blu-ray. How about the 4K UHD? This part will compare DVD/Blu-ray with 4K UHD.
DVD/Blu-ray and 4K are actually two different aspects. DVD and Blu-ray are a type of physical media. 4K is a type of video resolution.
4K UHD can offer 4K ultra-high definition HDR quality with better, brighter, bolder colors. Blu-ray comes with SDR specifications. Compared with commercial DVD and Blu-ray discs, 4K UHD is region-free. You can easily access 4K content on streaming services like Netflix, Disney Plus, HBO, and YouTube. One main benefit of 4K streaming movies is convenience and flexibility. You can watch them on smart TVs, computers, and mobile devices. Also, you don't need a DVD/Blu-ray player to play them. Another advantage of 4K UHD videos is that you can pay less than Blu-ray and DVDs.
Part 3. How to Rip Blu-ray and DVD Discs to 4K UHD Videos
Tipard Blu-ray Converter is a powerful Blu-ray and DVD ripper that can help you convert your Blu-ray and DVD discs to high-definition videos. You can free download it from the official Tipard website and follow the steps below to create a digital backup of Blu-ray or DVD content.
Step 1Launch Tipard Blu-ray Converter and click Load Blu-ray to import your Blu-ray disc, Blu-ray folder, or ISO file. You can also click Load DVD to import your DVD. You may need to connect an external drive to read your Blu-ray or DVD.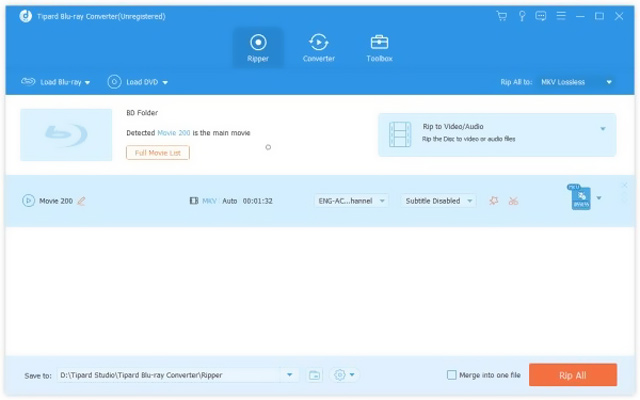 Step 2Select the DVD or Blu-ray content you want to convert and choose a preferred output format. Then click Rip All to start ripping Blu-ray or DVD.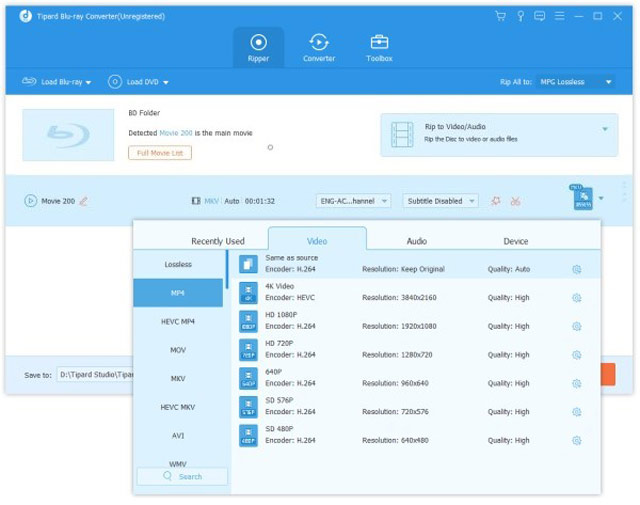 Part 4. FAQs of DVD vs. Blu-ray vs. 4K
Do Blu-ray and DVD require a network connection?
No. You don't need an internet connection to play your Blu-ray or DVD discs. You may need to connect to a network if you need to download some Blu-ray extras, watch movie trailers, or use some value-added features.
Can VLC play Blu-ray?
Yes. VLC Media Player supports Blu-ray and DVD movies. You can launch VLC, click the top Media menu, and use its Open Disc option to load your Blu-ray or DVD for playing.
What are Blu-ray region codes?
Blu-ray region codes are classified into three categories, A, B, and C. Blu-ray region code A refers to the Americas, East, and Southeast Asia. Region code B refers to Europe, Africa, the Middle East, French territories, Oceania, and Greenland. Blu-ray region code C is for Central and South Asia, Mongolia, China, and Russia.
Conclusion
We have mainly talked about DVD vs. Blu-ray vs. 4K in this post. You can learn the main differences between them. Moreover, we recommended a powerful Blu-ray ripper to help you copy Blu-ray and DVD discs to 4K UHD videos.
Full-featured multimedia player to play Blu-rays, DVDs, 4K UHDs, and other video/audio files.