Get an error message saying that Playing Of This Disc Prohibited By Area Limits?
You will see the playback error when you play a region-coded DVD disc on a player that is coded to play discs from a different region. What are DVD region codes?
This post covers the DVD region specifications and practical solutions to bypass DVD region codes. You can learn to change the region code on your DVD player and remove the DVD area limits.
Part 1. What Are DVD Region Codes
Before showing you how to bypass or remove DVD region codes, we like to explain the DVD region specifications. You should know that most commercially-produced DVD movies are region-coded to prevent playback in specific areas.
DVD region codes were initially used to control when and how DVD titles are exported to other regions. Coding is also an effective way to protect copyright and film distribution rights. DVD discs released in one region may only be supported by players manufactured for the same area. You will receive the playing error when you attempt to play a disc on a DVD player coded from a different country or region. DVD discs are not region coded can be played on any DVD player. Also, you may see some region-free DVD players on the market.
DVD region codes vary in different regions. Region 1 refers to USA, Canada, and Bermuda. Region 2 refers to Japan, South Africa, Egypt, Europe, and the Middle East. Region 3 means Southeast and East Asia, including Hong Kong. The corresponding DVD region code of China is Region 6. Region 4 refers to Australia, New Zealand, Central America, South America, Pacific Islands, and the Caribbean. The DVD region codes of Russia, Eastern Europe, North Korea, Africa, Central and South Asia, and the Indian subcontinent are Region 5.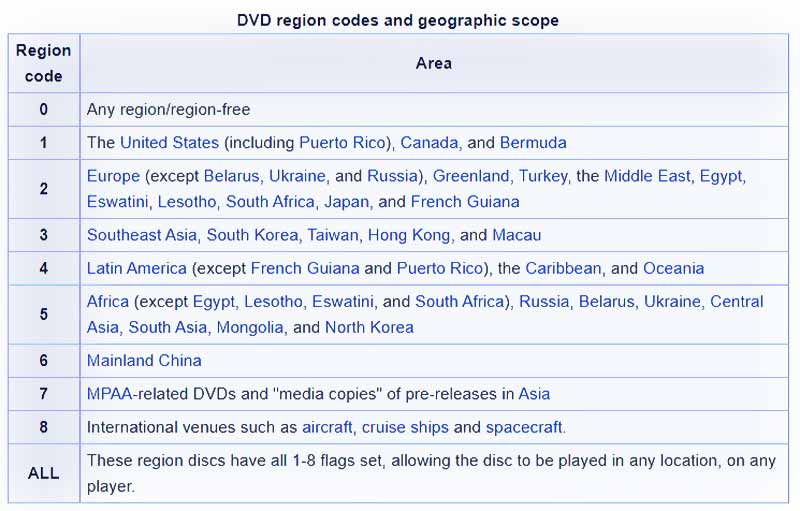 Part 2. How to Bypass DVD Region Codes
Because of the DVD region codes, you play a Region-2 DVD movie on a Sony DVD player meant to play Region-1 discs in the United States. You can rely on the all-featured AVAide DVD Ripper to remove DVD region codes and get DVD played on any player. It is specially designed to copy DVD movies to digital videos in MP4, MOV, AVI, MKV, or another format you need. It can bypass all DVD region codes and export content with high quality. You can free download AVAide DVD Ripper on your Windows 11/10/8/7 PC or Mac to extract videos from DVD discs.
AVAide DVD Ripper – Bypass DVD Region Codes
Rip region-coded DVDs to MP4, MKV, or MOV videos without losing quality.
Extract movies from DVDs for better playback on players and devices.
Offer DVD editing, enhancement, and compression functions.
Back up DVD discs as DVD folders or ISO image files in 1:1 quality.
Step 1Connect an external DVD drive to your computer and insert your DVD disc. Launch AVAide DVD Ripper and click Load DVD to add your DVD.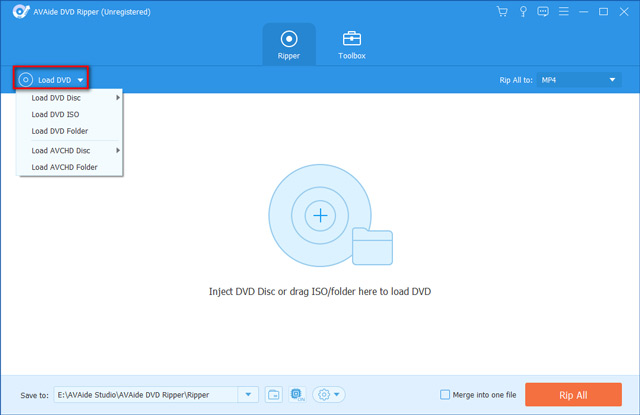 Step 2When the DVD disc is loaded, you can check its related information, such as the full title list, title, subtitle, duration, and others. Choose the DVD movie you like to copy and select the correct output format from Rip All to. It enables you to rip protected and unprotected DVDs to videos in MKV, MP4, MOV, FLV, AVI, MPEG, VOB, and more.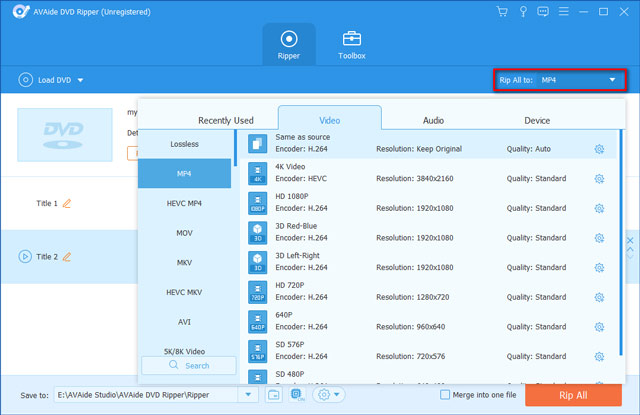 Step 3Choose a destination folder for the DVD video and click the Rip All button to start making your DVD region free. You can create a high-quality digital copy file of your DVD disc. Then you are allowed to play it on any player without limits.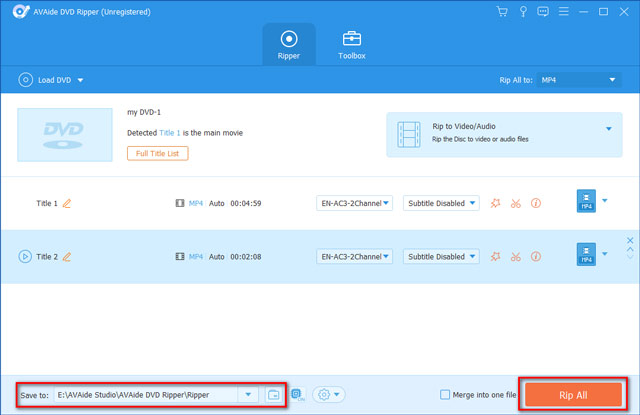 Part 3. How to Change Region Codes on Your DVD Player
As mentioned above, many region-free DVD players are offered on the market that can support all DVD region codes. You can purchase one to play DVD discs from any region freely. Some DVD players allow you to change region code. You can take the following guide to change the region code of a DVD player.
Step 1Power on your DVD player and remove the disc. You can't change the region code on a DVD player when there is a disc inside. Use the remote to find a settings option like Info, Setup, or Preferences, and choose it.
Step 2Scroll down to locate the Region option and pick your preferred region code from the list. It would help if you read the directions for your DVD player or check some online tips to change its region code.
Part 4. Using Multi-regional DVD Player Software to Play Region-coded DVDs
For some region-codes DVDs, you can rely on multi-regional DVD players to play them. Here we strongly recommend the AVAide Blu-ray Player to play all DVDs and Blu-rays without limits. It supports Dolby Digital and DTS to offer you superior sound quality. Moreover, it utilizes hardware decoding and advanced technology to ensure you can enjoy high-resolution movies smoothly.

AVAide Blu-ray Player
Play Blu-ray & DVD discs/ISO files/folders as well as all media formats, like MP4, VOB, WMV, MP3, etc.
Step 1Download this multi-regional Blu-ray and DVD player on your Mac or Windows PC. Open it and connect a DVD drive to read your DVD content. Click the Open Disc button to load your DVD movie.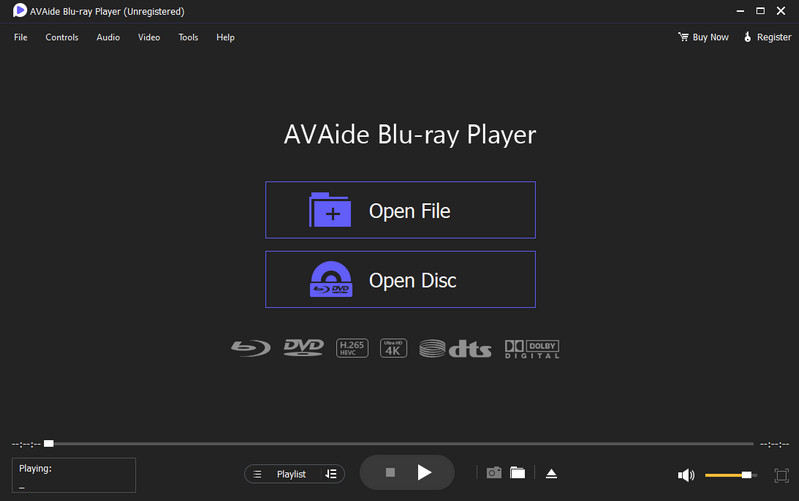 Step 2Your DVD will be automatically played once it is loaded. You can freely adjust the screen size to your preference. Also, you can click the Tools menu and go to Effects to customize the DVD brightness, contrast, saturation, hue, and more as you like.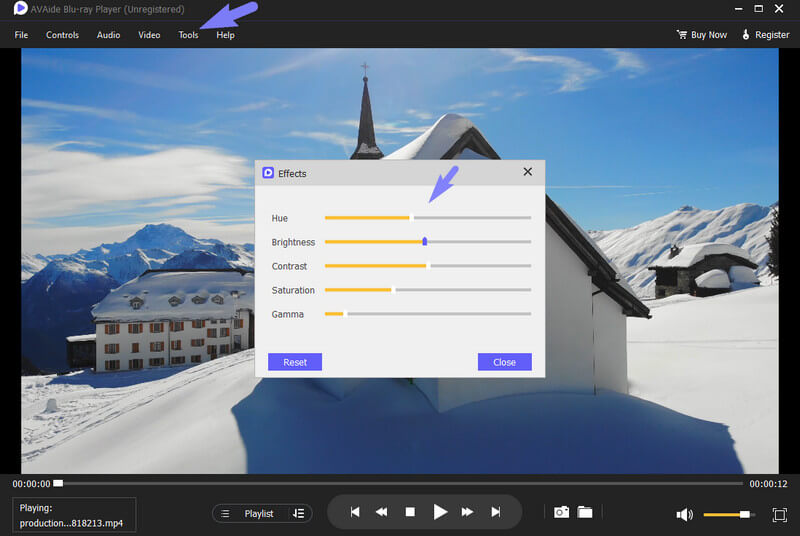 Besides Blu-ray/DVD discs, folders, and ISO image files, this region-free DVD player lets you play nearly all video and audio files. It supports MP4, MOV, FLV, AVI, MKV, AAC, M4A, MP4, FLAC, and many others.
Part 5. FAQs of DVD Region Codes
Where is the Region Code on the DVD?
You can check the DVD disc or your DVD player for a region number. It has a small globe icon with the region number superimposed on it. It can be played for all regions if you don't see any regional coding.
What are the region codes for Blu-ray discs?
Blu-ray discs have four standard region codes written in letters to indicate a zone or region. Region A refers to North/South America, Japan, South Korea, Taiwan, and some Southeast Asia areas. Region B refers to Europe, Africa, the Middle East, New Zealand, and Australia. Region C refers to other Asia regions. Region ABC is region-free.
Does Windows 10 have a DVD player?
No. Windows 10 doesn't come with a built-in player for DVD playback. You need to find a third-party media player like VLC to play DVDs on your Windows computer.
Conclusion
This post explains DVD region codes and how to play region-coded DVDs. You can message us if you still have questions about the DVD region specifications or playing.
Full-featured multimedia player to play Blu-rays, DVDs, 4K UHDs, and other video/audio files.