Many people seek ways to convert their physical media collections into digital formats in today's digital age. One popular option is to convert DVDs to MOV files for Apple users; if you have a collection of DVDs that you would like to convert to a digital format. MOV format can be easily shared and played on Apple products. This article will explore some of the reasons you might want to convert DVD to MOV and some steps on how to do it.
Part 1: Why Convert DVD to MOV
It would be best if you converted the DVD to MOV for many reasons, and this part will illustrate many aspects to tell you why.
Compatibility: MOV is a widely used video format, and it can be played on various devices such as iPhones, iPads, and Mac computers. Converting a DVD to MOV ensures you can watch the video on your preferred device without compatibility issues.
Quality: DVDs use a relatively low-quality video format, which can result in pixelated or blurry videos. Converting a DVD to MOV can help improve the video quality by compressing it more efficiently.
Editing: MOV files are editable in various video editing software, making it easier to trim, cut, and add effects to the video. Converting a DVD to MOV allows you to edit the video and create a customized version that suits your needs.
Storage: DVDs can take up much physical space and can be easily damaged or lost. Converting a DVD to MOV can help reduce clutter and make storing the video on your computer or in the cloud easier. DVDs can degrade over time, particularly if they are not stored properly. Converting a DVD to MOV can help preserve the video in a digital format that is less prone to degradation.
Portability: MOV files are typically smaller than DVD files, which makes them easier to transfer and share. This can be particularly useful if you want to share the video with someone who needs access to a DVD player.
Accessibility: DVD players are becoming less common as people switch to streaming services like Netflix and Hulu. Converting a DVD to MOV allows you to access the video on various devices. So, if you have the MOV digital format, you can play the video without a DVD player.
Customization: When you convert a DVD to MOV, you can customize the video file in several ways. For example, you can include or exclude specific chapters or menus or adjust the audio and video settings to your liking. After ripping a DVD chapter to the MOV file, you do not have to watch the disc video.
Overall, converting a DVD to MOV can help to make the video more accessible, editable, and easier to store while improving the video quality. And if you do not know how to convert DVDs to MOV, you can read the next part.
Part 2: Convert DVD to MOV with AVAide DVD Ripper
AVAide DVD Ripper is a powerful software to rip DVDs quickly with high-quality output. And the digital formats you rip for your DVD are various. So, you can easily convert DVDs to MOV with the help of AVAide. And this software has GPU acceleration, so you can convert DVD to MOV at high speed to watch it on other players.
AVAide DVD Ripper
Convert DVD to MOV or other various digital video formats.
Output MOV without distorting the DVD's original quality.
Work with all kinds of DVDs, including folders and ISO.
Rip DVD with lightning speed with GPU acceleration.
Step 1You should insert the DVD into the drive first. Then launch AVAide DVD Ripper and click the Load DVD button to load the disc or choose the DVD format.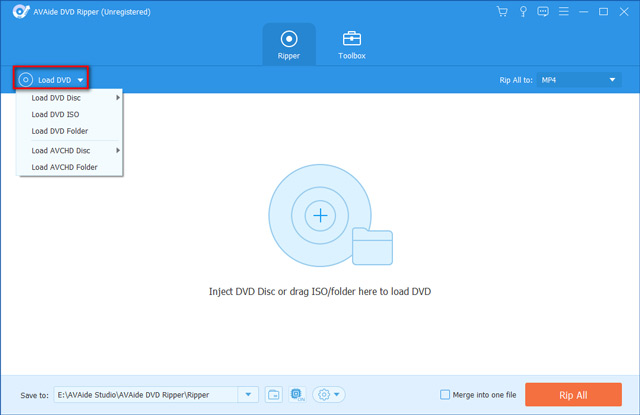 Step 2Then, you can click the Format button on the right of the screen. There are many digital formats for you to choose from. Then you can choose the MOV format for your DVD.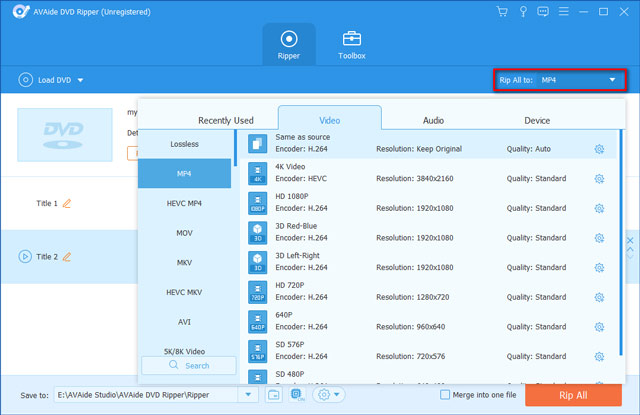 Step 3You can also change the configuration for your video. After setting the format, you can set the destination of your file. And click the Rip All button to convert the DVD to MOV.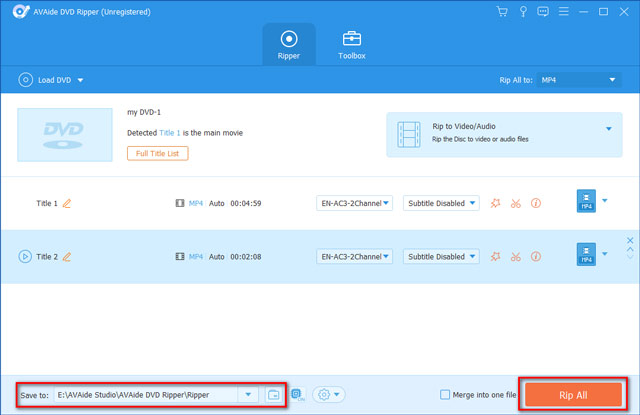 Part 3: FAQs about Converting DVDs to MOV
What devices can play MOV files?
MOV files can be played on various devices, including Mac computers, iPhones, iPads, and Android. They can also be played back on media players like VLC and QuickTime. And if you can't play MOV, you can convert MOV to MKV or other popular formats.
Can I convert a copy-protected DVD to MOV?
Yes. Converting a copy-protected DVD to MOV can be challenging, as many DVD-ripping software programs cannot bypass the copy protection. Sometimes, it may be necessary to use specialized software or hardware to bypass the copy protection to create a digital DVD copy.
Can I convert multiple DVDs to MOV at once?
Yes, some DVD-ripping software programs like AVAide DVD Ripper allow you to convert multiple DVDs to MOV simultaneously. This can be a time-saving option if you have a large number of DVDs that you want to convert to digital format.
Conclusion
In conclusion, converting a DVD to MOV can be a great way to make your DVD collection more accessible and easier to share with others. You can even convert the MOV to iPhone for watching the DVD on mobile. Using the AVAide DVD Ripper and following the steps outlined in this article, you can easily convert your DVDs to MOV files and enjoy them on various devices. Whether you are looking to back up your DVD collection, create digital copies of your favorite movies, or make it easier to access your media on the go, converting DVD to MOV with AVAide DVD Ripper can be helpful in your digital toolkit.
Best tool for ripping and converting DVD Disc/Folder/ISO image file into over various formats.