M4A is a compressed audio file within a MPEG-4 file container. M4A files compressed in digital audio using ALAC or AAC are lossless in quality. This means they already have an explicit quality. However, there will come a time when you need to edit this kind of audio file for some reason. Perhaps, you may need to cut, trim, and modify the bitrate, channel, sampling rate volume, etc.
For this reason, you will need the best M4A editor for this task. Yes, you will need not only an ordinary one but the best one because you will not indeed want to forsake the quality of your audio or music quality in the M4A format. Therefore, to help you on this matter, here are the gathered online and offline audio editing programs that fit your needs.
View all programs
Part 1. Top 5 M4A Editing Programs Online and Offline
Top 1. AVAide Video Converter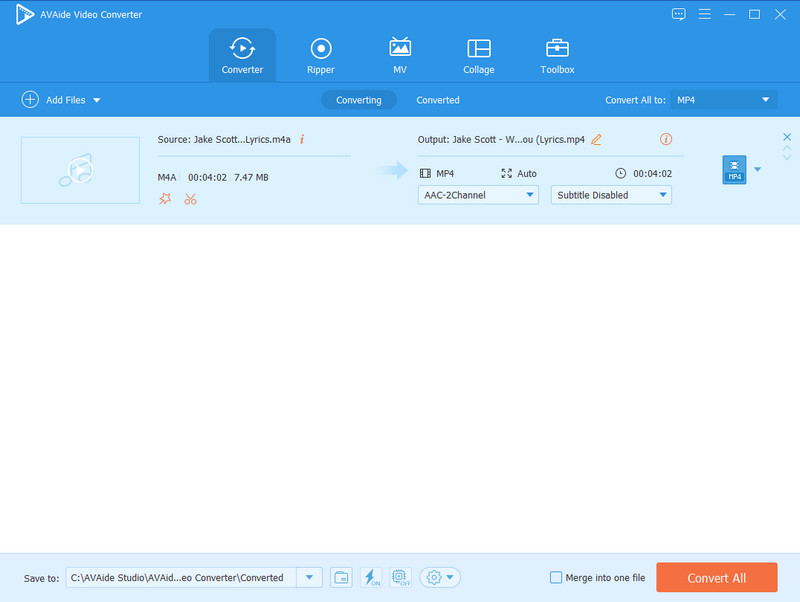 AVAide Video Converter is a dedicated music editor for editing and customizing audio files. From being the best multimedia transformer, you cannot doubt that it is a perfect M4A sound editor. Why? Because AVAide Video Converter comes with essential audio editing tools that can trim, add a segment, crop, trim, and merge the M4A files. Moreover, it also allows users to personalize their M4A files with the help of its metadata editor.
Pros
It has many functions.
It has an intuitive and smooth interface.
Infuse with advanced technologies and features.
With a wide range of support on various formats.
Cons
It is not entirely free software.
Its features are more on video editing.
Top 2. AVS Audio Editor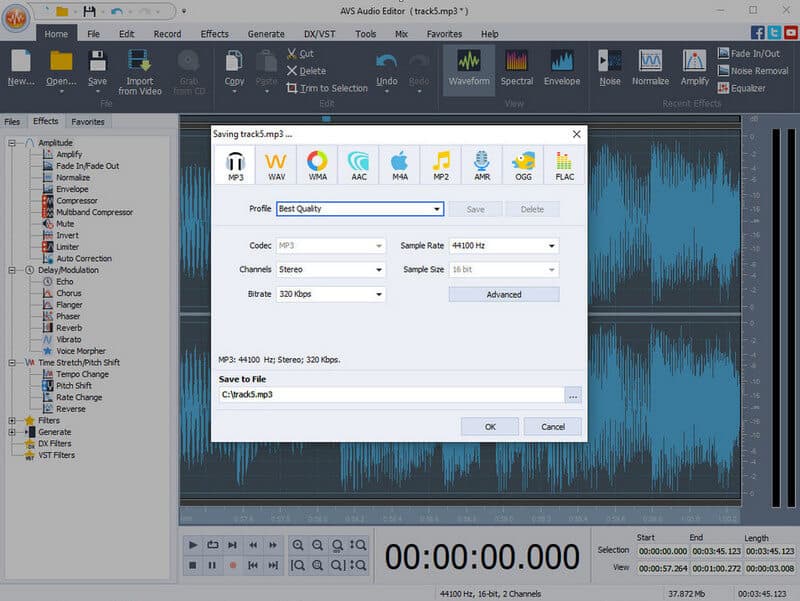 AVS Audio Editor is another reliable M4A editor free for Windows. As a matter of fact, it extends its editing capabilities to other popular formats such as MP3, AMR, OGG, AAC, WMA, and MP2. In addition, it allows even audio recording using various inputs like a vinyl record, microphone, and others. Moreover, as an extension of its features, it allows you to create ringtones for your iPhone and turn your text into voice with its text-to-speech feature.
Pros
It can save audio files in M4A format.
Come with twenty filters and effects.
You can record audio files that are in M4A format.
It allows you to remove noise, change bitrate, and adjust the volume.
Cons
It is for Windows only.
The free version has a voice logo that pops up every 10 seconds.
Top 3. TwistedWave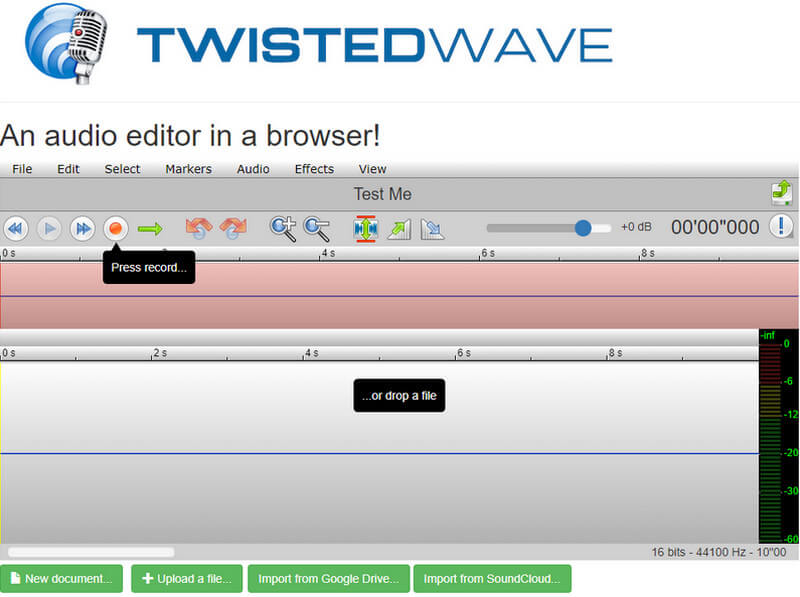 If you are looking for an online M4A editor for mac with a professional yet easy-to-understand interface, then try accessing TwistedWave. It is an online program that primarily works with MP3 but also gives value to other formats, including M4A. Amazingly, this audio editing tool allows you to import M4A files from various drives, including Google Drive and SoundCloud. Despite that, TwistedWave provides ideal selections that enable you to add audio, trim, add effects, and adjust volume along with the other features.
Pros
It allows you to record your voice from microphone.
Provide adjustments for bitrate, pitch, noise, and more.
The interface looks professional.
It offers downloadable versions.
Cons
It can't process two or more files simultaneously.
It comes with a free trial but with limited features and presets.
The interface may look overwhelming to beginners.
Top 4. Program4PC Audio Editor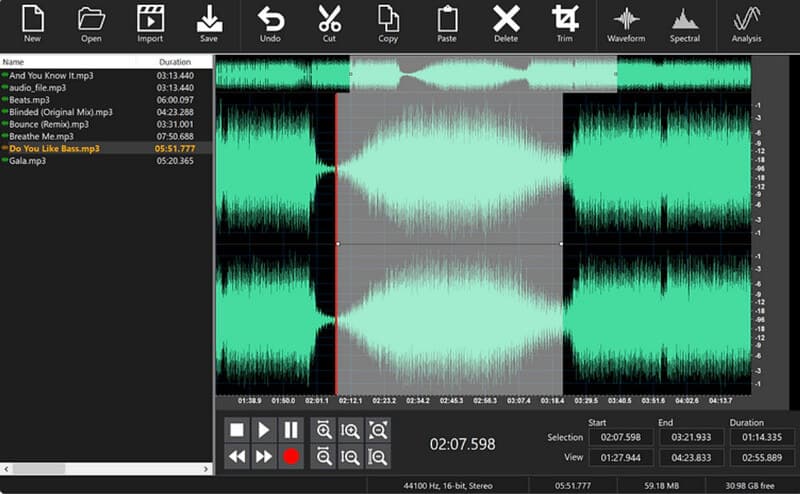 Another professional-like M4A metadata editor, stabilizer, extractor, and audio recording software is the Program4PC Audio Editor. It supports almost all popular audio formats, including M4A, MP3, OGG, FLAC, WMA, WAV, RAW, AAC, and more. However, it lacks support on the MP4 for audio. Meanwhile, it provides users with many beautiful options of filters and effects to beautify their M4A. Not to mention its ability to equalize, amplify, normalize, remove vocal, chorus, reverb, echo, flanger, and so much more.
Pros
It offers a freemium version.
It supports conversion in batch.
It promotes lossless audio quality.
It can be a tool for sound recording.
Cons
It doesn't support Mac.
It has a gloomy interface.
It is not entirely free.
Top 5. AudioTrimmer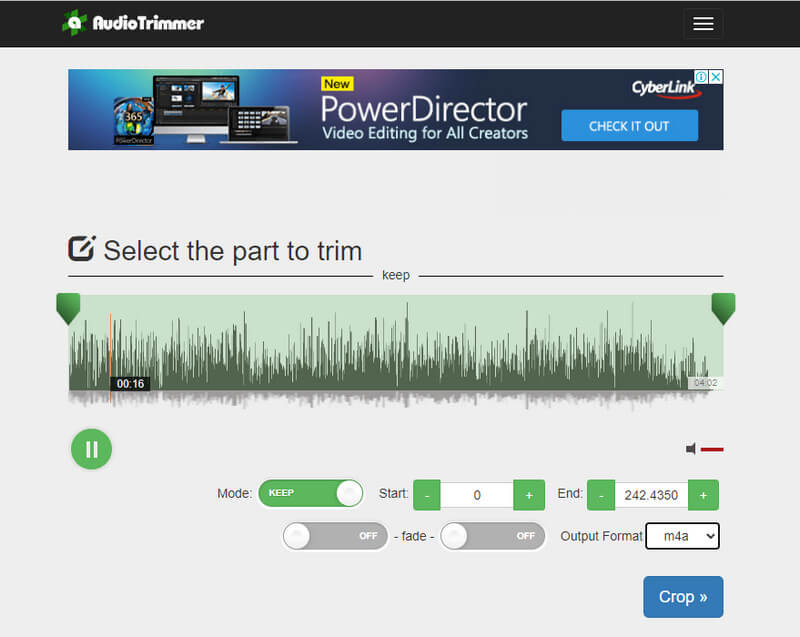 Finally, we end this list with the popularly known M4A sound editor, AudioTrimmer. It is an online program where you can edit to reverse, cut, add fade, and make the audio file a ringtone. Furthermore, its accessibility is extended to mobile devices, which means you can edit your M4A audio files using any handy phone you use as long as it has a browser. Moreover, it processes not only M4a and MP3 formats but also the WAV, M4R, 3GPP, APE, AMR, FLAC, AIFF, OGG, WMA, and more.
Pros
It has a flexible adjusting option on the bitrate.
It is accessible on smartphones and tablets.
Provide essential effects for audio files.
Cons
It can only edit a file of less than 100MB in size.
It offers minimal format selection when exporting.
Part 2. How to Edit M4A with AVAide Video Converter
This additional part will allow you to see the proper procedure for editing an audio file. In line with this, we have decided to utilize the best M4A editor, the AVAide Video Converter.
Step 1Open the software and hit the Add Files tab or the Plus sign at the center of the interface. Then, upload your M4A files simultaneously.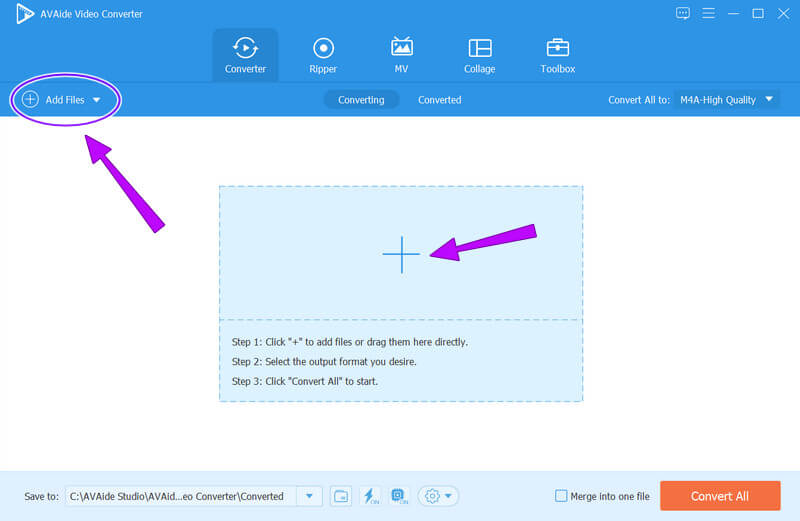 Step 2Explore the audio editing tools by clicking the Scissors or Star icon under the audio file. Suppose you want to add a segment, fade effect, cut the audio file, and then click the Scissors.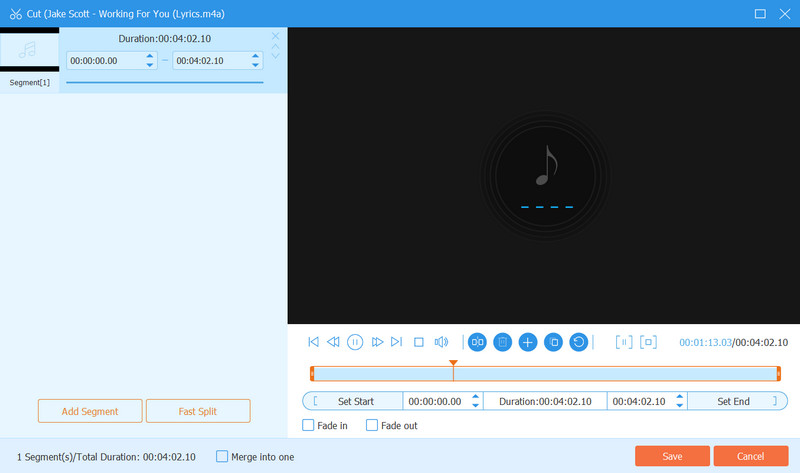 Step 3Another way to edit the M4A files is by customizing their profile. To do so, go to the Convert All to the selection, choose your preferred output format, then hit the Coggle icon.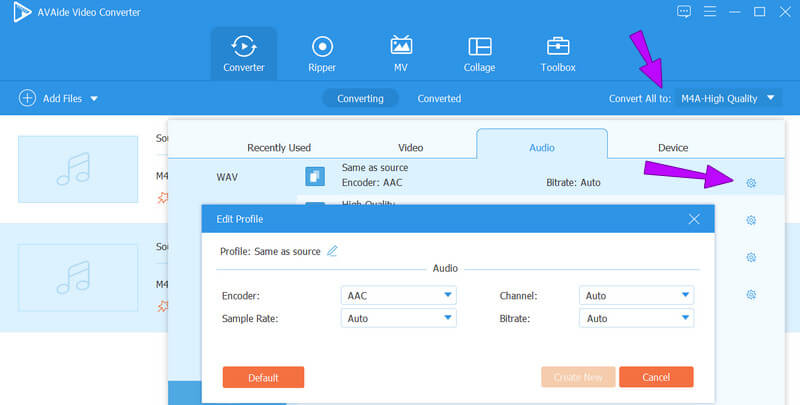 Step 4After that, you can now apply all the adjustments you made by clicking the Convert All button.

AVAide Video Converter
The most comprehensive media converter to convert video & audio & DVD without quality loss.
Part 3. FAQs regarding M4A Audio Editing
What is the best M4A editor for Android?
As mentioned, the other online programs in the list are accessible on Android and iPhone. However, if you want to install a solution app, you can try Voice Pro.
Why can't I open the other M4A files?
It is because some M4A files are protected due to copyright issues.
Which is worth having, MP3 or M4A?
If you are after sound quality, then M4A is a better choice. But accessibility-wise, and if you want a smaller size, MP3 is the better option. To convert MP3 to M4A, click here to learn more details.
Conclusion
This article contains the best editing options for M4A files. We have gathered five of the most outstanding online and offline solutions that we thought to be great for you. Hence, we highly recommend the AVAide Video Converter for more powerful and advanced editing features.
The most comprehensive media converter to convert video & audio & DVD without quality loss.