AIFF audio files do have a seemingly high quality of audio. It is a kind of audio format that requires a significant space from your device since it contains uncompressed land lossless audio content. With this being said, editing by cutting or splitting AIFF files is indispensable for you to keep them longer. However, having excellent audio quality will also mean modifying them carefully because many have tried to change files with this format and failed to maintain their quality. Luckily, we have the best AIFF editors you can depend on here. These editors are reliable in editing AIFF files and maintain their quality efficiently. So, to cut your waiting, let's proceed to the list below.
AAC Editor
Platform
License
Intuitive Interface
Other Supported Audio Formats
AVAide Video Converter
Windows and Mac

Free;
1 month – $18;
Lifetime – $36.
Yes.
MP3, AC3, ALAC, AMR, MP2, APE, DTS, AIFF, FLAC, OGG, M4A, WAV, WMA, and more.
WavePad
Windows and Mac.

Free trial,
$49.99 and $29.99.
Yes.
OGG, FLAC, WAV, MP3.
Oceanaudio
Windows, Mac, and Linux.
Price on request.
Yes.
FLAC, MP3, WAV, OGG.
Audio Editor – Music Mixer
Android and iOS.
Free
Yes.
M4A, MP3, CARF, M4R, WMA, AAC, FLAC.
GarageBand
iOS
Free version, $199.99 for the premium.
Not Really.
CAF, WAV, AAC, MP3.
View all programs
Part 1. Top 5 Lossless Editors of AIFF Files [Computer and Mobile Platforms]
Top 1. AVAide Video Converter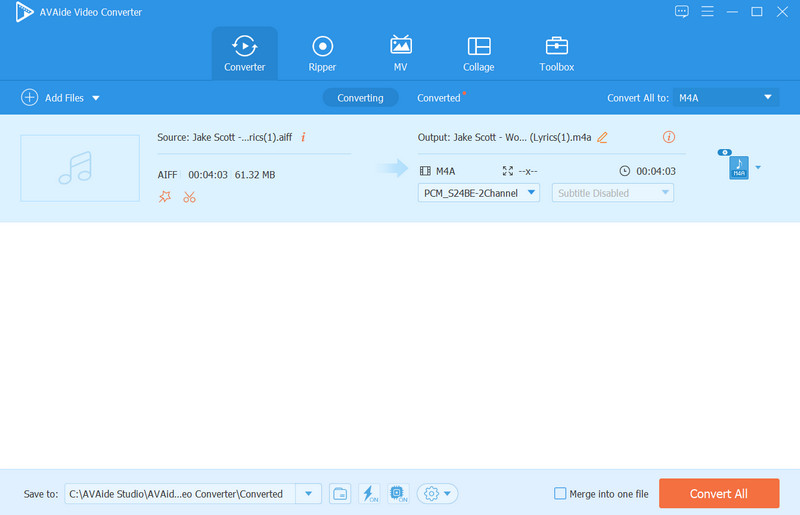 AVAide Video Converter is one of the leading file converters today. Looking at its name won't bother you because this software is not only for converting audio and video files but also an expert in modifying audio files. As a matter of fact, many users are getting fonded by its robust and excellent features, for they consistently exceed the users' standards and expectations. Furthermore, you can level up your editing skills since it's the best AIFF metadata editor of the year. In the same way, AVAide Video Converter enables users to cut, split, enhance, trim, and merge AIFF files. Moreover, it saves your time in editing and converting multiple files at once since it can work on batch files.
Pros
It functions well in so many ways.
A powerful tool to transform files in different ways.
It comes with various options of editing tools.
It has an intuitive interface with a light aura.
It comes with a hardware acceleration feature.
It lets users use it for free.
With less than 400 various formats to edit.
It's a flexible AIFF editor for Mac and Windows platforms.
Cons
It has more video editing features than audio editing.
For a much better experience, you will need to purchase a license.
Top 2. WavePad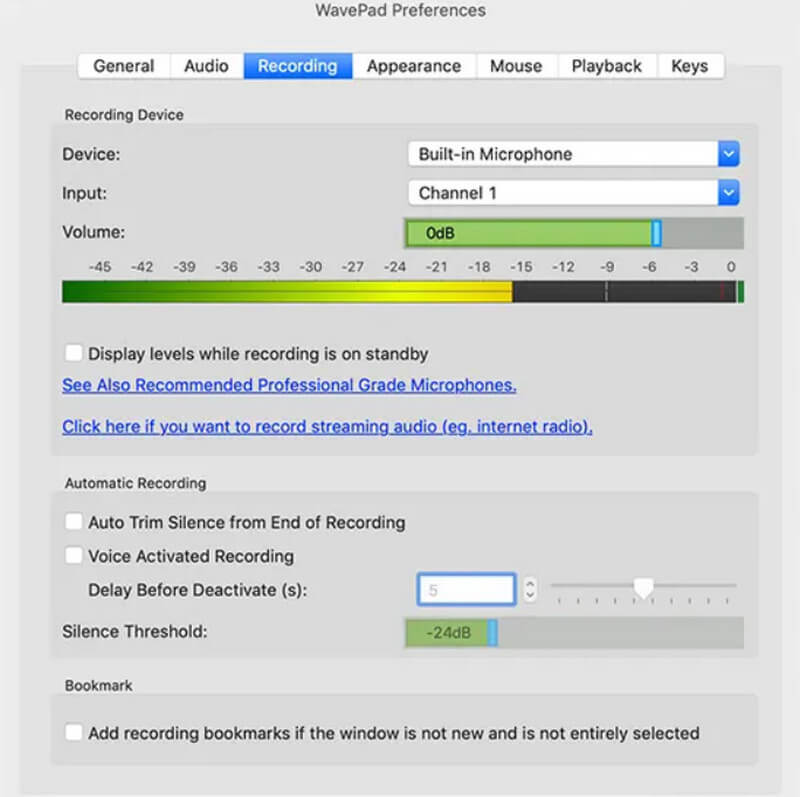 Next on our list is another software you can trust on your Windows and Mac devices, the WavePad. This Wavepad allows users to edit AIFF audio files and record audio to create new files. In addition, it comes with an intuitive interface, where you can all do the magic in modifying AIFF files. Aside from that, Wavepad also enables users to reduce noise, convert, amplify, normalize, equalize and reverse their audio files.
Pros
You can use this AIFF editor on Mac for free.
This software is infused with advanced editing tools.
It works to record audio from your computer.
It lets you add effects to your AIFF files
It allows you to load batch AIIF files.
Cons
The recording will require you to install extensions.
It may look outdated when you use it for the first time.
Top 3. Ocenaudio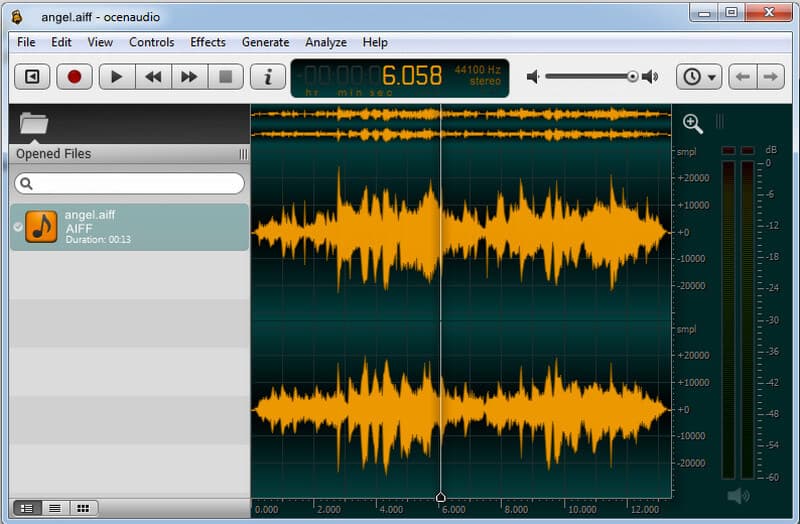 Ocenaudio is probably one of the most fantastic audio editing tools today. It is once accessible on almost all computer platforms such as Linux, Windows, and Mac. Furthermore, intuitively wise, Ocenaudio has a versatile and easy-to-understand interface in which all of its features lay. Users can alter their batch AIFF files, remove their sound echoes, merge, trim, equalize, and add fade-in-fade-out effects on the same page.
Pros
It is a free AIFF editor on Windows, Mac, and Linux.
It has a very intuitive interface.
It enables recording and downloading recordings.
It can merge and compress several tracks.
Cons
It is best only for mono or simple stereo tracks.
It alters the direct files from your computer.
It occasionally crashes, primarily when used for many files.
Top 4. Audio Editor - Music Mixer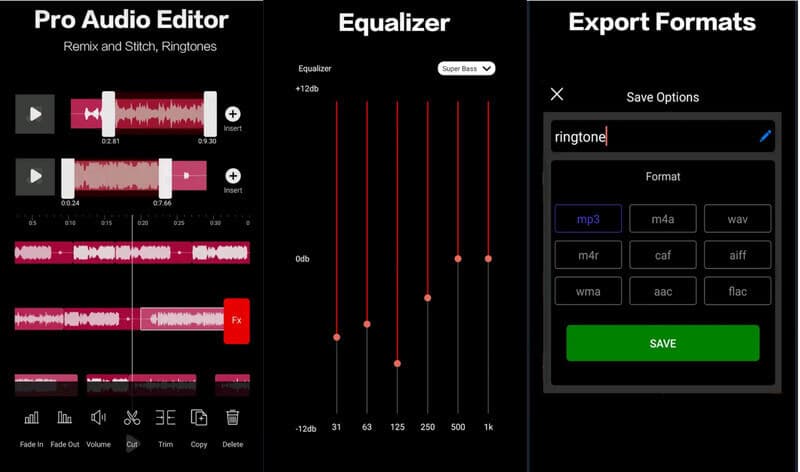 As its name suggests, this Audio Editor - Music Mixer is an music editor and mixer in one. An audio mixer that will let you select and create your music jam. An editor will let you equalize, cut, merge, and trim your audio files, including the AIFF..
Pros
It is a free AIFF editor for Android.
Easy to use.
Flexible.
Multifunctional.
Cons
It limits to join of three music files.
Ads are all over the app.
The mixing feature is paid.
Top 5. GarageBand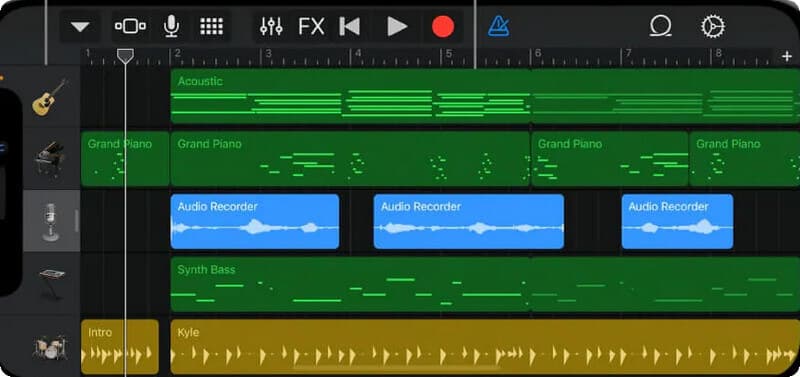 Next on the list is this app for iOS called GarageBand. It is an audio editing app that works well with AIFF files. Furthermore, it lets you create or record sample audio with the basic musical instruments it offers. Aside from that, it allows you to trim and edit your music in AIFF files and merge it.
Pros
It allows you to drag multiple tracks to sync edit.
It has a free version.
It lets you create your own music.
It comes with built-in guitar and piano lessons.
Cons
It is recommended for experienced users.
It produces large file outputs.
It lacks pre-sets and effects.
It is only available on iOS.
Part 2. Quick Steps on How to Edit AIFF Files Smoothly
AVAide Video Converter – Convert and Edit AIFF Files Professionally
Edit your AIFF files like a pro very smoothly and efficiently.
Convert your AIFF to more than 300 formats you prefer.
Merge and add segments to your AIFF kinds of music efficiently.
Personalize the tag of your AIFF files freely.
Have accelerated AIFF editor for your macOS and Windows!
Step 1Open the powerful editor on your computer, and get ready to import your AIFF files via the drag and drop method. Alternatively, you can click the Plus icon at the center of the interface for a single import or the Add Files for multiple importations of files.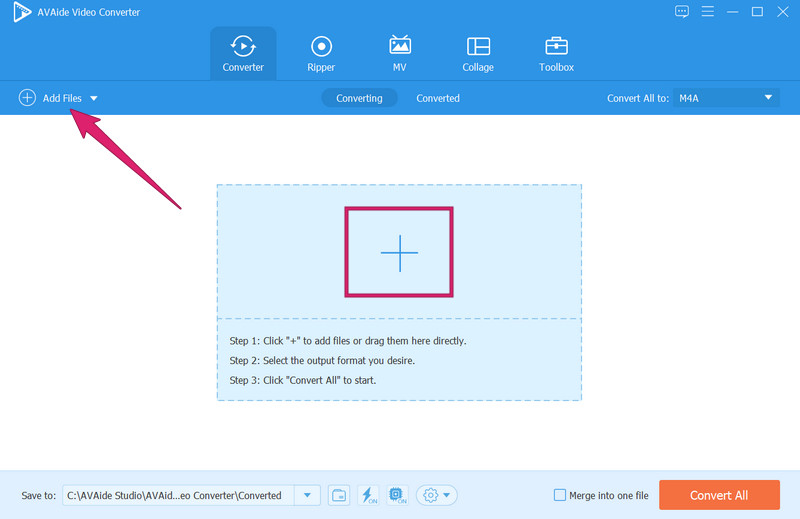 Step 2Once you have the AIFF files in the interface, you will see various icons where you can edit the files. But first, ensure that you have the same output format and that you can check at the Convert All To selection. Now, if you want to edit the files' content, click the Scissors icon and the Star icon for the volume and track modification.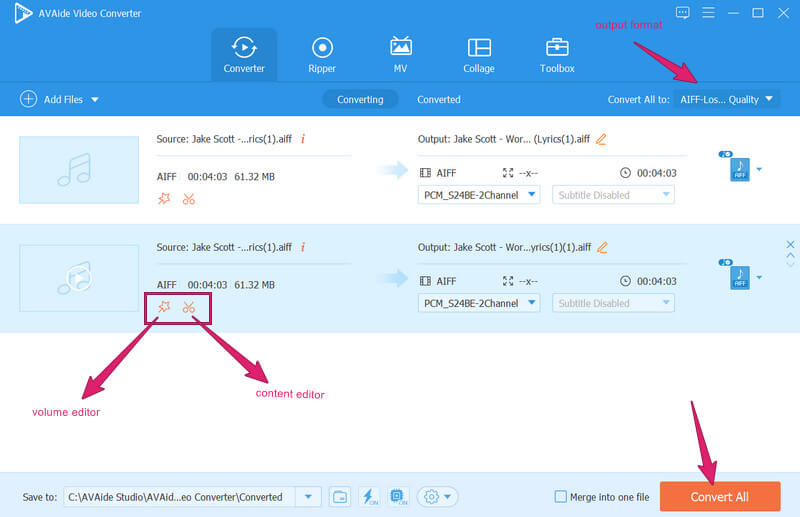 Step 3After that, you can already hit the Convert All button to apply the changes.

AVAide Video Converter
The most comprehensive media converter to convert video & audio & DVD without quality loss.
Part 3. FAQs about the AIFF Files and Editors
Is AIF the same as AIFF?
Yes. They only differ on how they are saved on devices as extensions.
What programs support AIFF files?
Programs or tools such as the VLC, iTunes, and Quicktime support AIFF playbacks.
Can I convert AIFF files to MP3?
Yes. Converting AIFF to MP3 files is possible. However, this conversion process will only be efficient if you will use an excellent file converter such as AVAide Video Converter.
Conclusion
There you have it, our best picks of AIFF editors for your computer and mobile devices. You can now edit while maintaining the quality of your AIFF files.
The most comprehensive media converter to convert video & audio & DVD without quality loss.