Are you the type of person who enjoys listening to and customizing music? You don't need to be a professional to succeed in this because all you just need is a creative mind and the best music editor. Perhaps you already know this, and therefore here searching for the best editing tool to use. Good thing you made it in this article because here, we will only present nothing but the best. As a matter of fact, we gathered the most dominant programs for all the platforms that you probably use. This way, you will have the best based on your preferred device. So, what are we waiting for? Let's now get into our business, where all you will need to do is to read, scrutinize, and choose.
| Editor | Platform | License | Best for | With Metadata Editor |
| --- | --- | --- | --- | --- |
| AVAide Video Converter | Windows and Mac. | Free; 1 month – $18; Lifetime – $36 | Video and audio conversion, enhancement, and creation. | |
| Audacity | Windows, Linux, Mac. | Free | Audio editing and conversion. | |
| WavePad | Mac and Windows. | $49.99 and $29.99 | Audio enhancement and restoration. | Not Supported. |
| Voice Pro – HQ Audio Editor | Android and iOS. | $9.99. | Audio recording, restoration and editing. | Not Supported. |
| Audio Evolution Mobile Studio | Android and iOS. | $5.99. | Music recording and editing. | Not Supported. |
| TwistedWave | Online. | Free; $5 to $200 for the premium. | MP3 enhancement and audio recording. | Not Supported. |
| 123APPS MP3 Cutter | Online. | Free; $169 for the premium. | Creating ringtones, extracting, and cutting songs. | Not Supported. |
View all programs
Part 1. 3 Preeminent Music Editors for Windows and Mac
1. AVAide Video Converter
It may sound cliche, but indeed a video converter like the AVAide Video Converter is also the best music editor app for PC. This software that is available on Windows and Mac has something to brag about. Besides being the best and most generous for video files, it also gives credits for enhancing music by means of trimming, cutting, adding segments, and merging them efficiently. Furthermore, it can smoothly convert your music files into your preferred audio file since it supports more than 300 various formats, including the ones for audio. You can convert audio from AAC to MP3, MP3 to M4A, FLAC to MP3, etc. On top of that, it enables you to customize your music file's metadata, encoder, channel, sample rate, and bitrate.
In addition, AVAide Video Converter also allows users to share their fresh outputs to the most popular social media sites today. So, who would lose the chance to use this incredible music editor for Mac and Windows?
Pros
Flexible and multifunctional.
It comes with different variants of editing tools.
Fast and smooth interface to navigate.
Infused with hardware acceleration technology.
It offers a free version.
Cons
Most of the features are for video files.
It is not accessible on mobile.
2. Audacity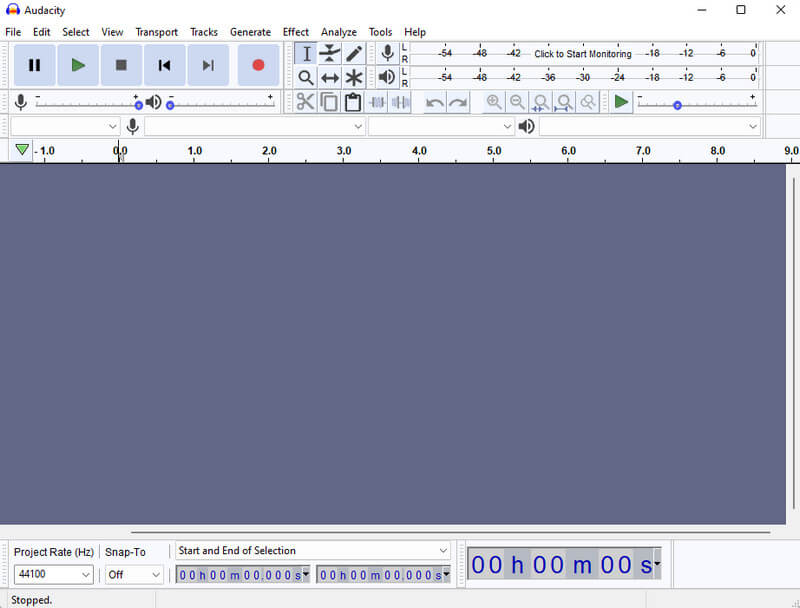 Next, we have the most popular audio editing software in history, Audacity. This renowned software is open-source and won't require you to purchase anything just to use it. In addition, it also caters to converting audio files within various platforms such as Mac, Linux, and Windows. However, its capabilities are only limited to audio files, unlike the previous software, which has multiple functions on both video and audio.
Pros
It's free software for music editing and mixing.
It can edit batch audio files.
Infuse with numerous effects and audio editing tools.
Cons
It sometimes hangs up.
It may look challenging to navigate for beginners.
3. WavePad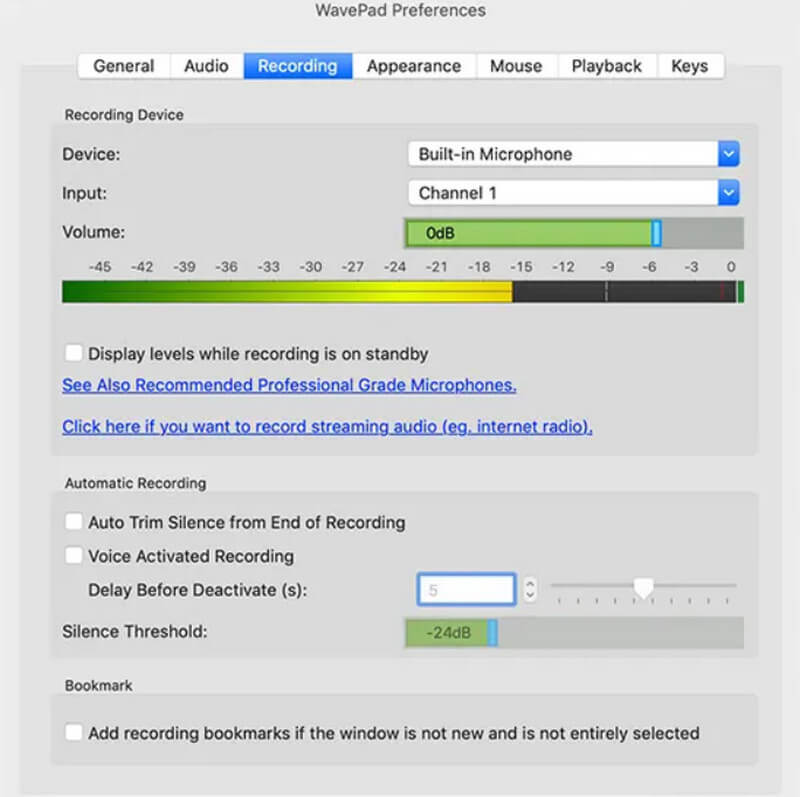 The other editing software that you can't miss is the WavePad. WavePad is a Mac software that is also available on Windows. Furthermore, it enables you to record audio and, at the same time, edit it on its easy-to-use interface. Aside from that, it also allows you to convert, reduce noise, normalize, amplify, reverse, and equalize your audio files freely.
Pros
It offers a free trial.
It comes with advanced editing tools.
It can restore audio.
Process batch files.
Provide music and audio effects.
Cons
It requires a software extension for its multitrack recording.
You will need technical assistance for the personal use version.
Part 2. Best Music Editing Apps for Android and iPhone
1. Voice Pro - HQ Audio Editor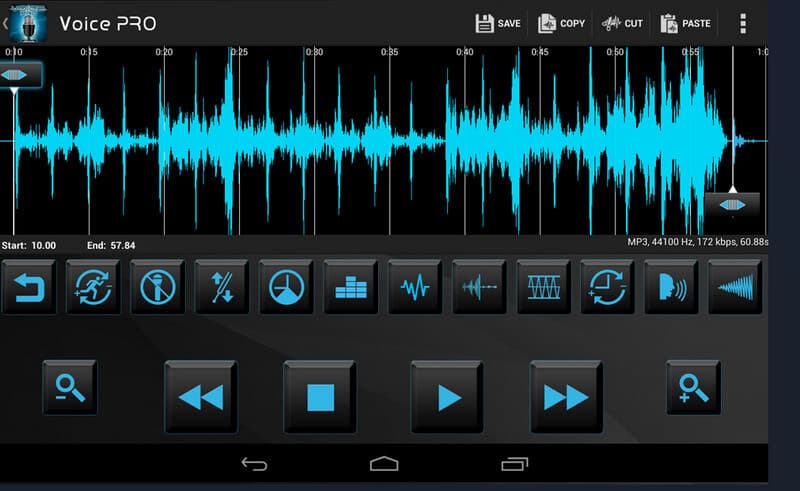 If you are looking for an all-out music editor app for your phone, Voice Pro is something to consider of. This app can be a means to edit and record audio files. It also allows you to easily share your recorded and edited files to your favorite social media sites. Plus, it enables you to convert a video from a particular video broadcasting site into MP3.
Pros
With vast support of more than 200 formats.
It is a multifunctional app.
It works with more than 40 language selections.
Cons
It takes time to use the other features.
It occasionally hangs up.
2. Audio Evolution Mobile Studio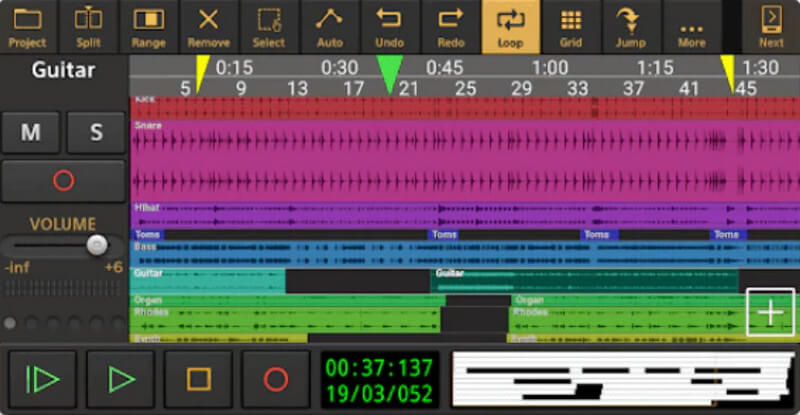 Another Audacity-like music editor for Android and iPhone is this Audio Evolution Mobile Studio. It provides a high-quality performance in operating and creating musical-based audio tracks. In addition, this app enables you to apply different VX effects to the files you will be working on. Besides that, it lets you record audio types using various musical instruments like piano, guitar, and even your voice.
Pros
It comes with a tone booster.
USB and MIDI audio support on Android version.
It allows you to create synth tracks.
Cons
The virtual instruments are not for free.
The synthesizers, sound fonts, and vocal effects are sometimes missing.
Part 3. Online Music Editing Program to Edit Music
1. TwistedWave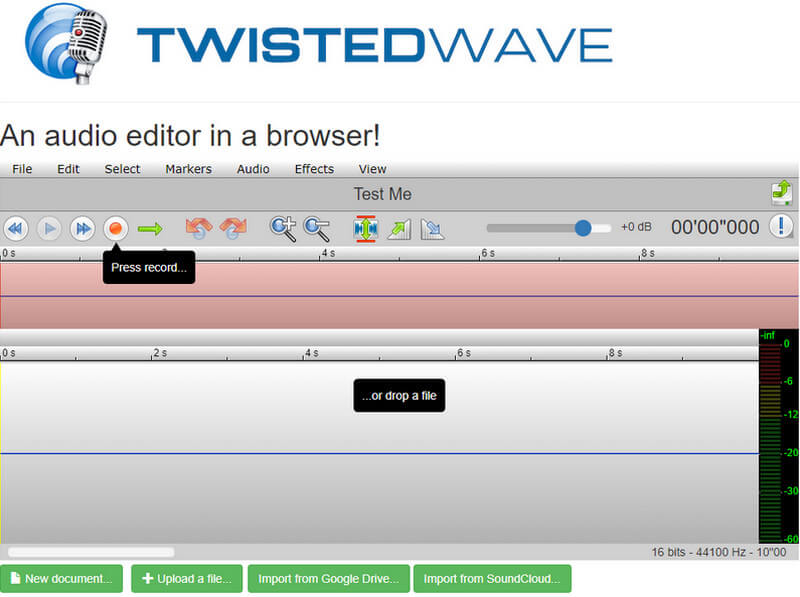 TwistedWave is an online music editor with a friendly and professional interface. Despite this, you will be amazed at how easy it is to navigate. Furthermore, it enables users to work with MP3 music files from various folders such as the local drive, Google Drive, and SoundCloud site. Moreover, this online tool contains powerful selections that let you trim, add audio effects, adjust volume, etc.
Pros
It helps you remove unnecessary sound content.
It can be used as a recorder.
Allow you to adjust the bitrate of the music files.
Cons
It can't process files in batch.
It is not an entirely free program.
The free version works in mono only.
2. 123APPS MP3 Cutter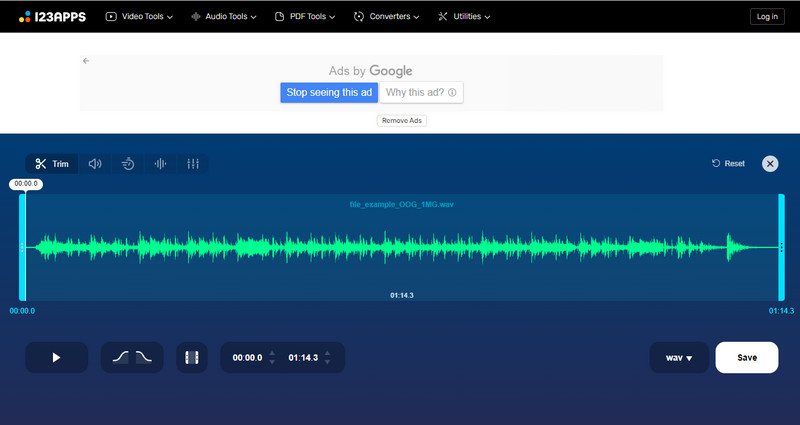 Next on the list is this MP3 Cutter of 123APPS. This MP3 song name editor online is a flexible program where you can cut online music, create iPhone ringtones, extract music from a video, and apply fade-in fade-out effects on your music files. Despite that, as a user, you won't need to be a veteran to navigate all its good features because they were designed for beginners.
Pros
Easy to use.
It comes with essential audio effects.
It offers a free version, although limited.
Cons
It is not free from ads.
Uploading large files take time.
Part 4. Bonus: How to Edit Music with AVAide Video Converter
AVAide Video Converter – The Most Versatile Music Editor Worth Try!
Music editor plus the best video converter and editor at the same time.
With acceleration hardware that works in batch files smoothly.
Extremely high-quality outputs to expect.
Numerous powerful video and audio editing tools to choose from.
Support all popular music formats.
Step 1Launch the software on your Mac or desktop. Click the Plus icon at the center or the Add Files tab to load your music file(s) on its interface.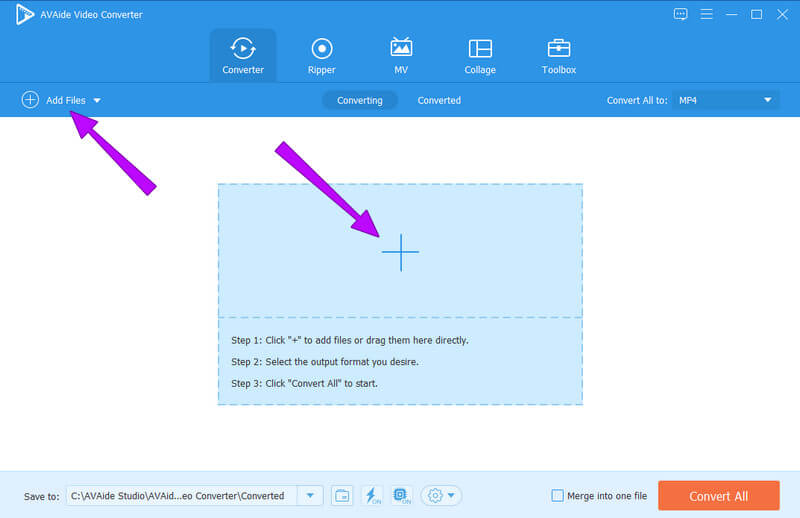 Step 2To adjust the volume and add a soundtrack, click the Star icon under the loaded file. Meanwhile, if you want to trim, split, add a segment, merge, add fade in and fade out effect, click the Scissors icon instead.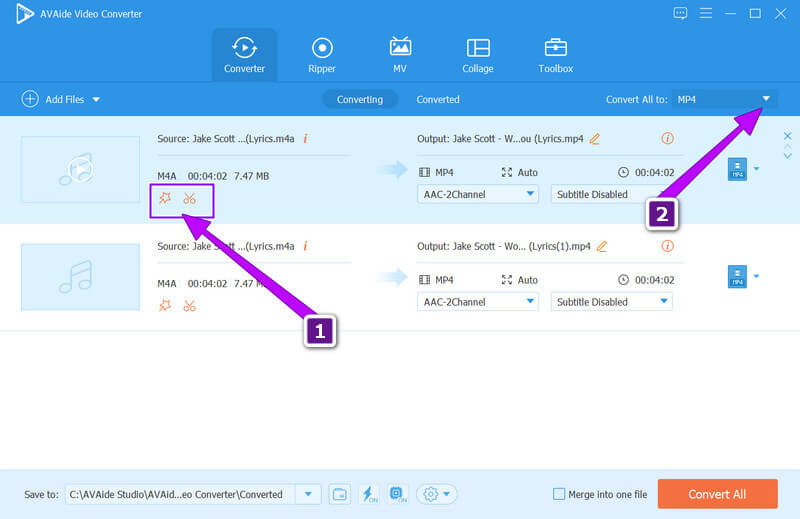 Step 3Now, if you want to adjust the files' encoder, bitrate, channel, and sample rate, go to the Convert All to portion. Click the same or different format from the numerous options, then hit the Coggle icon indicating settings. After clicking, a new window will appear where you can adjust the said settings.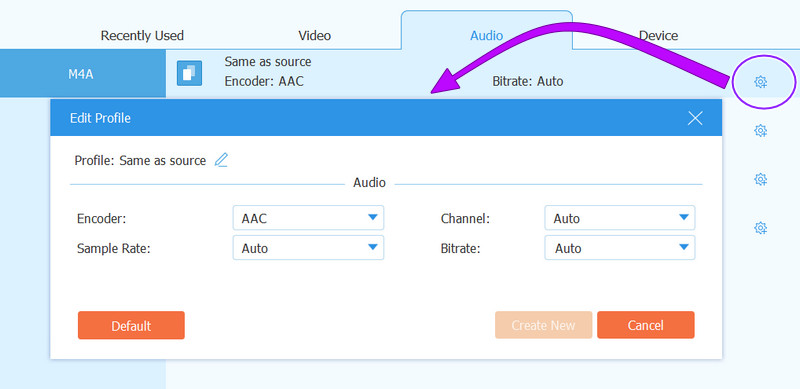 Step 4Then, click the Convert All red button to apply your adjustments.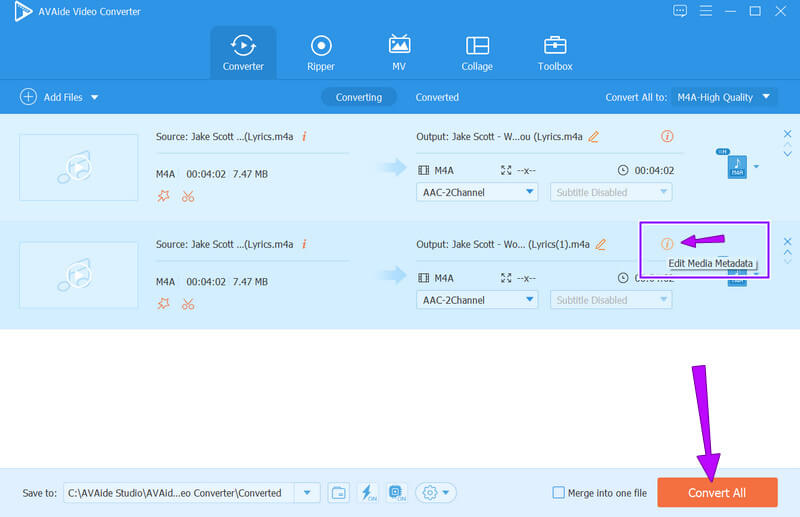 Note: if you want to edit the media metadata of your file, hit the (i) icon located at the tail part of the files.

AVAide Video Converter
The most comprehensive media converter to convert video & audio & DVD without quality loss.
Part 5. FAQs about the Music Editing Apps
Is the Windows Media Player a free music editing software for Windows XP?
WMP is indeed free and can be used in editing music. However, it has minimal editing tools, so we can't say it is the best.
Can I install Audacity on my Android phone?
You cannot install Audacity as a whole on Android. However, you can acquire the program's tutorial, guide, and shortcut apps.
Can I use the AVAide Video Converter online?
Yes. You can access the AVAide Free Video Converter Online with the same functionality. However, most of the powerful tools are in the desktop version.
Conclusion
You can now customize your music files on different platforms. Rest assured that all the music editors are the best ones to utilize. However, you must choose the right one based on the kind of editing you need. Rely on the tool's advantages and disadvantages when selecting.
The most comprehensive media converter to convert video & audio & DVD without quality loss.