ISO files are commonly seen in our computing experience. An ISO file or ISO image is like a digital copy of a CD, DVD, or Blu-ray. It holds everything from the original disc. They can be used to install an operating system, run software, access stored data, etc. But how to mount an ISO on Windows 10 and macOS to access the content inside?
This guide will provide straightforward instructions for mounting ISO files on both platforms. Whether you're a Windows or Mac user, you'll learn how to make ISO files work for you, simplifying your computing tasks. Plus, we'll recommend a top DVD creator tool for crafting your DVDs.
Part 1. How to mount an ISO on Windows 10 Directly
Windows 8 and later versions have a built-in tool to mount ISO files. This allows you to access the contents of the ISO without the need for third-party software. You have two methods to mount an ISO on Windows.
Method 1. Mount ISO Image with File Explorer
On Windows 11, 10, or 8.1, there's a handy built-in tool called Windows File Explorer that you can use to easily open and mount ISO files.
Step 1Find the ISO file you want to mount.
Step 2Right-click on the ISO file.
Step 3From the context menu, select Mount. You can also double-click on it to open it. Windows will create a virtual drive and automatically open the ISO's contents, making it accessible as if it were a physical CD or DVD.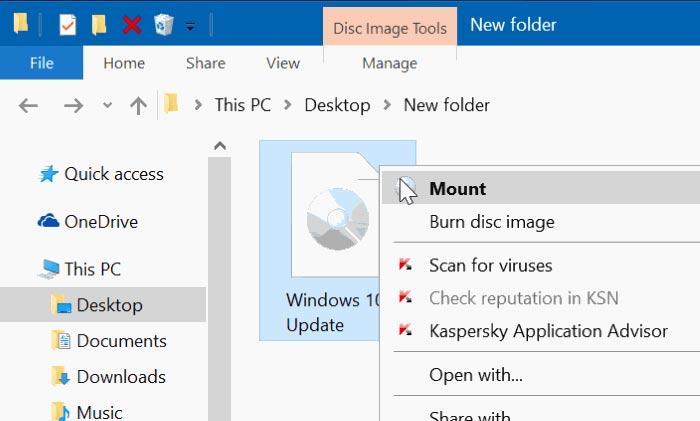 Method 2. Mount an ISO Using Windows PowerShell
PowerShell is a tool made by Microsoft and provides a wide range of commands and utilities, allowing users to perform various tasks, including opening an ISO file. It's already on your Windows, so you can access the ISO content and play Blu-ray or DVD movies on your laptop easily.
Step 1Open Windows PowerShell (search for it in the Start menu).
Step 2Choose the Run as administrator option.
Step 3Enter Mount-DiskImage -ImagePath "pathilename.iso" (replace with the actual path and filename of your ISO file)
Step 4Press Enter to mount the ISO file.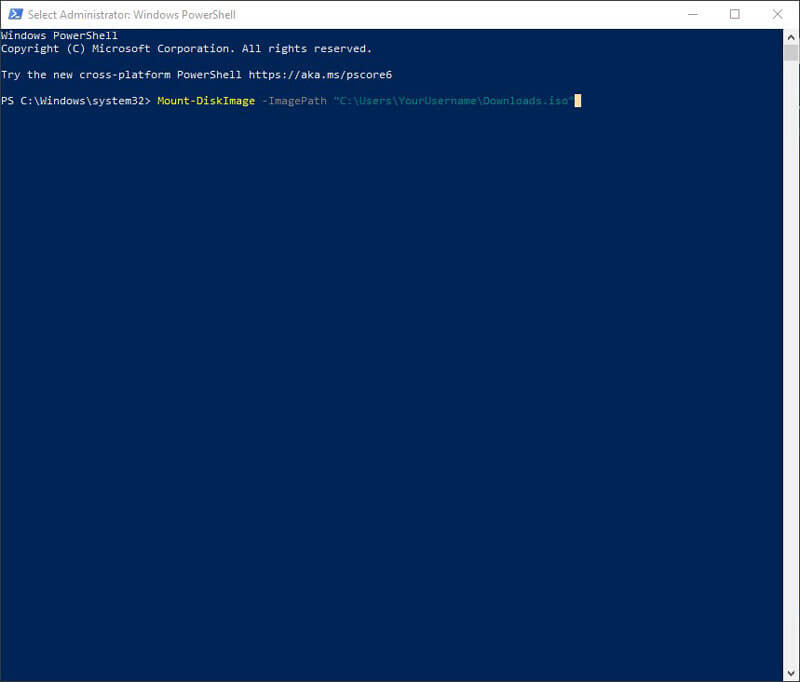 Part 2. How to Mount ISO on Mac
Method 1. Mount ISO files with DiskImageMounter
DiskImageMounter is a handy tool for opening disk image files like ISO or DMG files. It lets you view the stuff inside these files, treating them as if they were actual disks. This tool comes built-in with your MacOS, so there is no need for extra downloads.
Step 1Locate the ISO file.
Step 2Double-click the ISO file.
Step 3MacOS will automatically use DiskImageMounter to mount it as a virtual drive and open the contents.
Step 4Access the Mounted ISO.
Method 2. Mount an ISO with Disk Utility
You can also use the Disk Utility. It is a pre-installed software in macOS and provides an easy way to open and manage ISO files. Disk Utility is a powerful tool for managing your storage devices. It can format, divide, fix, and clear disks and even create or change disk images. Unlike DiskImageMounter, which mainly opens disc images, Disk Utility has a user-friendly visual interface for handling your disks effectively.
Step 1Open Disk Utility
Find Disk Utility in the "Utility" folder within the "Applications" folder. If you cannot find it, use Spotlight Search (Command + Spacebar, then type "Disk Utility" and hit Enter) to quickly locate and open it.
Step 2Choose ISO File
In the Disk Utility window, click on the File menu. Select Open Disk Image... from the dropdown menu and choose your ISO file.
Step 3Mount the ISO
Disk Utility will now mount the ISO file, and it will appear in the left-hand sidebar of the Disk Utility window.
Step 4Access the Mounted ISO
After the ISO is successfully mounted, you can access its contents. And when you're done using the ISO file, you can simply right-click to eject and unmount it.
Part 3. Bonus Tip: A Top DVD creator
Once you know how to open ISO files on Windows 10 and Mac, you can do something even cooler. Try Tipard DVD Creator. It's the best DVD burner software that helps you make your DVDs or Blu-rays easily. You can turn your digital stuff into physical discs. By combining ISO mounting and DVD creation, you'll have an easier and more creative digital experience.
Using Tipard DVD Creator, you can create your DVDs in just a few simple steps.
Step 1Download and Install
You can get a free download of Tipard DVD Creator on its official site. Then, install and launch it.
Step 2Select a Disc Type
Choose which type of disc you want to burn, DVD or Blu-ray.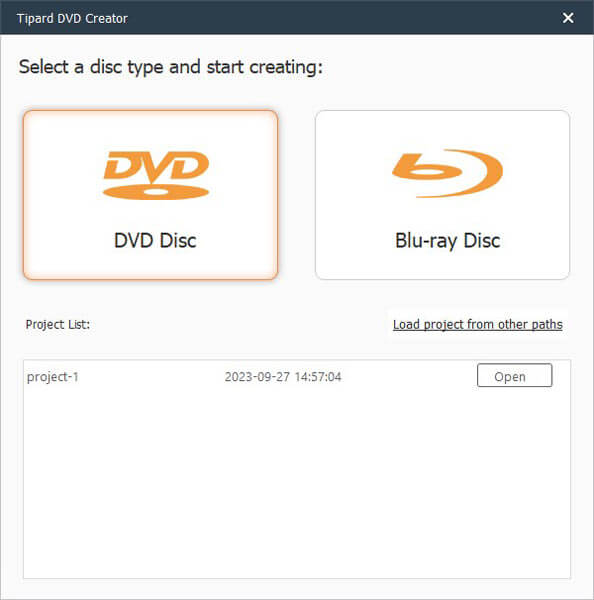 Step 3Add Media File(s)
Click the Add Media File(s) button to import your ISO file. You also have the option to add or edit audio and subtitles as needed.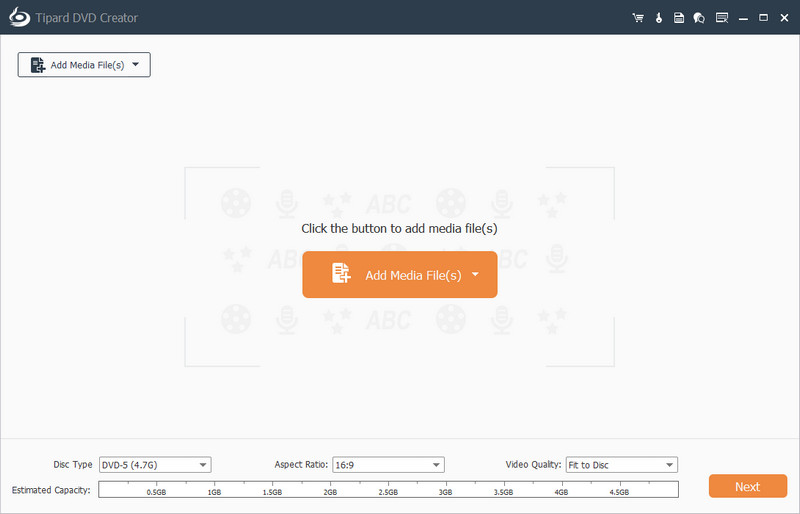 Step 4Burn to Disc
Click Next, and you can choose a template, add background music, and preview it. Then click Burn, select Burn to disc, and click Start. You will have your DVD in a moment.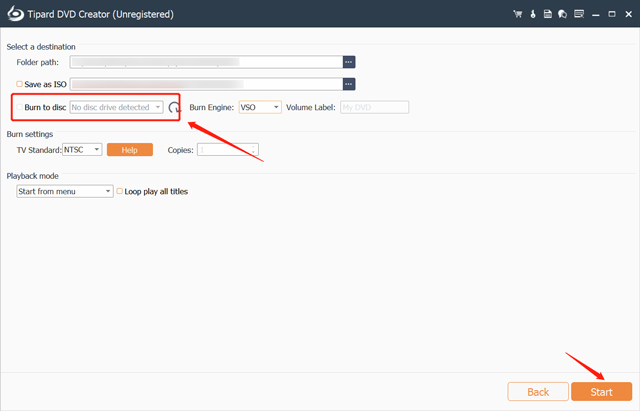 Part 4. FAQs of ISO Mounting
How do I mount and unmount an ISO in Windows 10?
To mount an ISO in Windows 10, double-click on the ISO file or right-click and choose Mount.
To unmount, open File Explorer, find the virtual drive representing the mounted ISO, right-click it, and choose Eject.
Why can't I mount my ISO file?
You might fail to mount the IOS file if it is corrupted or incomplete.
Make sure the ISO file is associated with the correct program. Right-click the ISO, choose Open with, and select Choose another app to ensure it's set correctly.
Ensure your Windows operating system is up to date.
If you've tried these solutions and still can't mount your ISO file, you can seek assistance from a technical expert.
Can I burn ISO to a hard drive?
No, you can't burn an ISO file to a hard drive because burning typically refers to the process of writing data onto an optical disc like a CD, DVD, or Blu-ray. However, you can copy or extract the contents of an ISO file to a hard drive or storage device.
Conclusion
To wrap things up, we've shown you how to easily mount ISO files on both Windows 10 and Mac, making it simpler to access your digital stuff. Whether it's software, games, or other content, knowing how to do this is handy. Plus, we suggest trying out a DVD creator tool. It lets you make your own DVDs with special memories or creative projects.
If you found this article helpful, do not hesitate to share it with your friends, families, and colleagues.
Full-featured multimedia player to play Blu-rays, DVDs, 4K UHDs, and other video/audio files.