Can a laptop play Blu-ray?
Blu-ray discs are the ideal choice for high-definition movie viewing. Compared to traditional DVDs, they can offer superior audio and visual quality. Blu-ray players are commonly used to play these discs on televisions. You may wonder if playing them on a laptop is also possible. This post will walk you through the step-by-step process of playing Blu-ray movies on your laptop.
Part 1. Can a Laptop Play Blu-ray
Laptops are capable of playing Blu-ray discs with the help of appropriate hardware and software. You should know that not all laptops come with a built-in Blu-ray drive. Some old ones typically come equipped with a CD/DVD drive but not necessarily a Blu-ray drive.
When you want to play a Blu-ray on your laptop, you will also need a Blu-ray player capable of playing Blu-ray discs. The default media player on Windows, Windows Media Player, does not support Blu-ray playback natively.
Part 2. What Do You Need to Play Blu-ray on Laptop
To play Blu-ray discs on a laptop, you need a few things, a Blu-ray drive, Blu-ray player software, and a compatible display.
Firstly, only a few laptops are available on the market, including Blu-ray drives. If your HP, Dell, or MacBook laptop doesn't have a Blu-ray drive, you should purchase an external one.
Secondly, you need a Blu-ray player to recognize and play your Blu-ray movies. As mentioned above, Windows Media Player does not support Blu-ray. Similarly, the default media player on Mac laptops, QuickTime, also doesn't support Blu-ray playback. But many third-party software options are offered on the market, such as the popular AVAide Blu-ray Player, PowerDVD, Aurora Mac Blu-ray Player, and AnyMP4 Blu-ray Player.

AVAide Blu-ray Player
Play Blu-rays, DVDs, and all popular video and audio files with high quality.
It's important to note that some Blu-ray software might require additional licensing or may be purchased separately, so be sure to check if the software you choose includes Blu-ray playback capabilities. Additionally, regularly update both your operating system and the specific Blu-ray software for enhanced compatibility and performance.
Lastly, your laptop's display needs to be capable of rendering high-definition content. Older laptop models may have lower resolution displays, such as 1366 x 768 pixels, which may not fully utilize the benefits of Blu-ray's high-definition video. However, many modern laptops are equipped with full HD (1920 x 1080 pixels) or even higher-resolution displays like 4K or 5K, making them ideal for enjoying the superior clarity and detail of Blu-ray content.
Part 3. How to Play Blu-ray on Your Laptop
You need specialized software to decode the encrypted content to play Blu-ray discs on a laptop. You can select a Blu-ray player software that suits your needs, download it from the official website, insert the disc, then start the Blu-ray playback on your laptop. This part takes the easy-to-use AVAide Blu-ray Player as an example to show you how to play Blu-ray movies on a Windows or macOS laptop.
Step 1Download and launch AVAide Blu-ray Player on your laptop. You must connect an external drive if your laptop does not have an inbuilt Blu-ray drive. Ensure the Blu-ray drive is compatible and properly connected to your laptop before proceeding.
Step 2Insert a Blu-ray disc into the drive. The Blu-ray player can automatically detect the disc. You can click Open Disc to play your Blu-ray movie.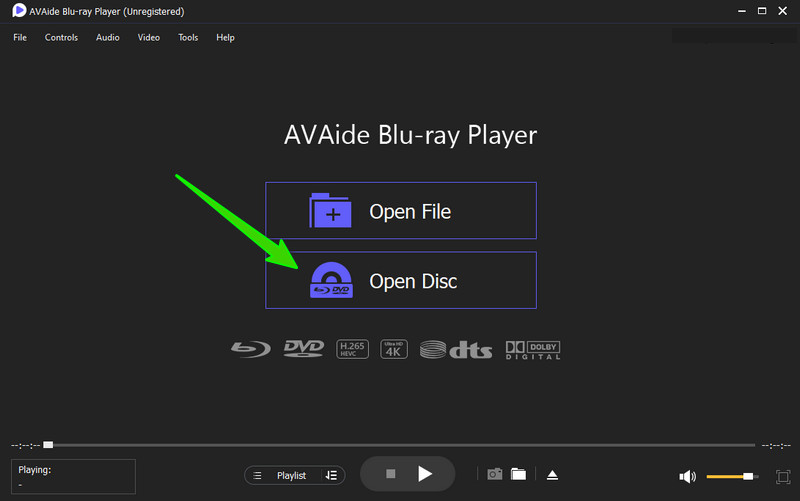 To optimize your Blu-ray viewing experience, you may need to adjust the display settings of your laptop. Right-click on the desktop and select Display Settings or Graphics Properties. Select the suitable resolution to match the native resolution of your Blu-ray disc.
Step 3This player software gives you all the controls of the Blu-ray playback. You can freely pause, stop, resume, or eject the Blu-ray.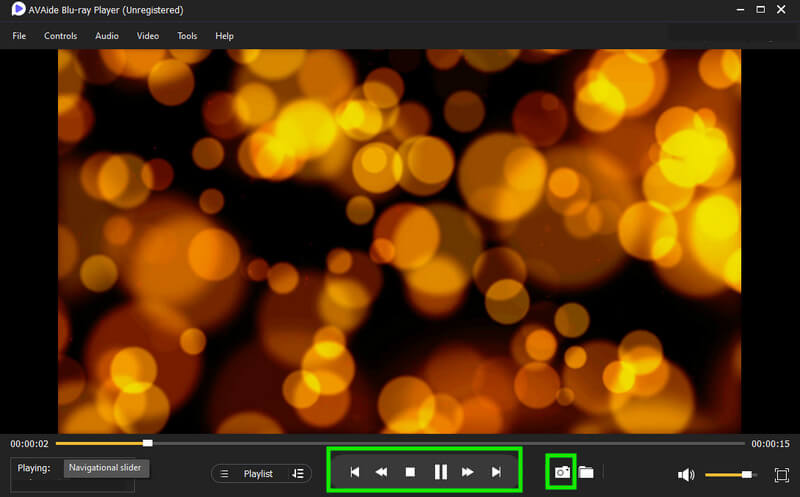 If you encounter any issues while playing Blu-ray discs on your laptop, you can check if the Blu-ray disc is clean and free from scratches or damage. Also, you can update the Blu-ray software to the latest version and check for any firmware updates for your external Blu-ray drive.
Remember that playing Blu-ray discs on a laptop may require many system resources. Ensure that your laptop meets the necessary hardware requirements for smooth playback. This includes having sufficient RAM, a capable graphics card, and a fast processor to handle the Blu-ray decoding and playback processes.
Part 4. FAQs of Laptop Play Blu-ray
Can an HP laptop play Blu-rays?
To play Blu-ray movies on an HP laptop, you should ensure it has a Blu-ray drive. You can connect an external Blu-ray drive if your HP laptop doesn't have one. Also, you must have a Blu-ray player to read your Blu-ray disc.
Can VLC play Blu-ray movies?
VLC Media Player lets you play Blu-ray folders and ISO files on your laptop. But it does not natively support Blu-ray discs. Most new versions of VLC don't support Blu-ray media playing.
How do you rip Blu-ray discs to videos?
Many Blu-ray ripping software is available for converting Blu-ray discs into digital videos. For instance, you can use the famous Tipard Blu-ray Converter to create digital copies of your Blu-ray collection. It lets you easily rip Blu-rays without losing quality.
Conclusion
Although not all laptops can play Blu-ray discs out of the box, with the right hardware, software, and display, it is indeed possible to enjoy high-definition movies and content on your laptop. By following the guide, you can set up your laptop for Blu-ray playback and ensure an immersive viewing experience. Remember to keep your software and firmware up to date to avoid compatibility issues and enjoy your Blu-ray collection hassle-free.
Before purchasing or attempting to play Blu-ray discs on your laptop, please check the specifications and compatibility.
Full-featured multimedia player to play Blu-rays, DVDs, 4K UHDs, and other video/audio files.