In the past, people have enjoyed collecting Blu-ray DVDs for their collections and playing them back on their portable media devices. Change is the only consistent thing from outdated media players to built-in players on desktop computers, Mac, and mobile devices in the advanced world we live in. To prevent your DVDs from becoming waste, we developed a method of ripping them and converting them into something useful. If you've ripped a Blu-ray movie, the M2TS file will appear on your computer's hard drive. Due to FLV's efficiency in streaming sites and its impressive PC compatibility, you may need to convert it into FLV, a more standard video format. Furthermore, you can also modify the metadata of FLV after ripping the Blu-ray movie. Meanwhile, look at the various converter tools around the web that are filled with distinctive features.
Part 1. Brief Summary on M2TS and FLV
Overview of M2TS
M2TS is a Blu-ray and Advanced Video Coding High-Definition container file format (AVCHD). It is a unique digital video and movie file format that typically includes Blu-ray disks for commercial use. It also offers content streaming via the Internet.
Overview of FLV
FLV is a video container compatible with Flash and is used by several online video and music streaming websites. While it is viewed in an internet browser with Adobe Flash Player, FLV files are also supported by many other players. It has a heading at the top. It provides a format similar to the flash extension used to hold audio and video data.
Part 2. Best Method to Use in Converting M2TS to FLV on Windows and Mac
AVAide Video Converter
The AVAide Video Converter is the best option to convert your M2TS to an FLV file. It is no ordinary converter; it converts 30 times faster than the conventional converter we use. It includes over 300 high-quality video and audio outputs. It's no surprise that it has a million users. It also offers a straightforward user interface. You shouldn't be concerned if you are a first-time user because the program provides an easy-to-use interface. Change the video's bitrate, framerate, resolution, and audio quality before converting it. So, what are you waiting for? See the steps mentioned below to try out this tool right away to convert M2TS to FLV.
Step 1Download the converter tool
But first, pull a browser and visit the AVAide Video Converter page on the Internet. The program must be installed, configured, and run on your computer. To obtain a fast download, click on the button above.
Step 2Import an M2TS file
Next, click the Plus (+) icon in the middle of the screen to begin uploading your document.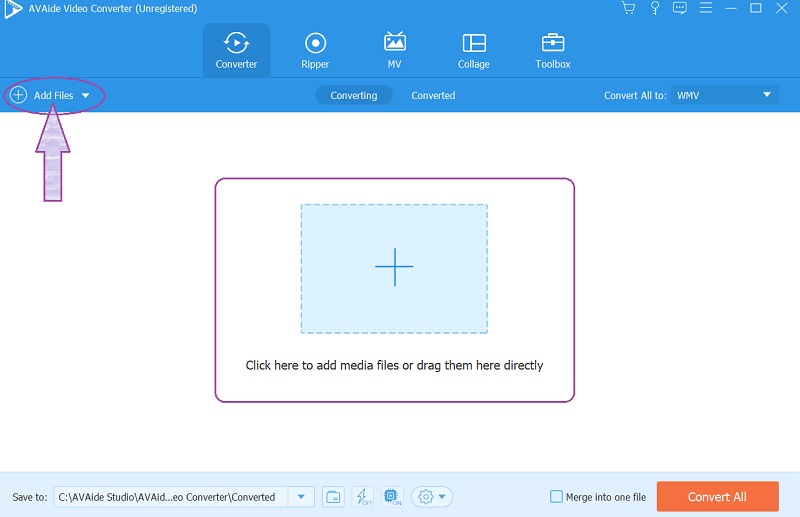 Note: By hitting on the option Add Folder, you may import the entire folder into the program.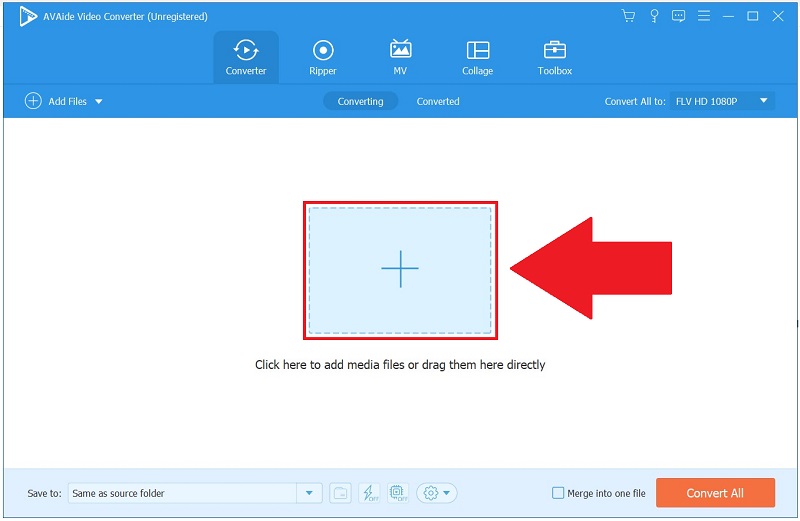 Step 3Choose FLV as the preferred format
Choose the video output format by selecting Convert All to > Video> FLV as your video format.
Tips:
To change the output settings, select

Custom Profile

from the drop-down menu. Modify the frame rate, bitrate, resolution, video quality, and audio settings as needed.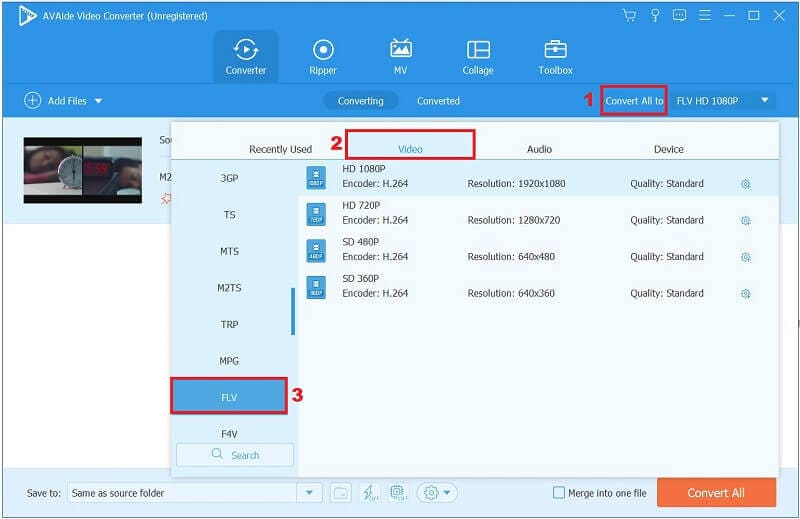 Step 4Add subtitle on the clip
After making changes to the video output options, you will be taken back to the main menu. With the drop-down buttons beneath the Output box, you may adjust the original audio and add subtitles to your video.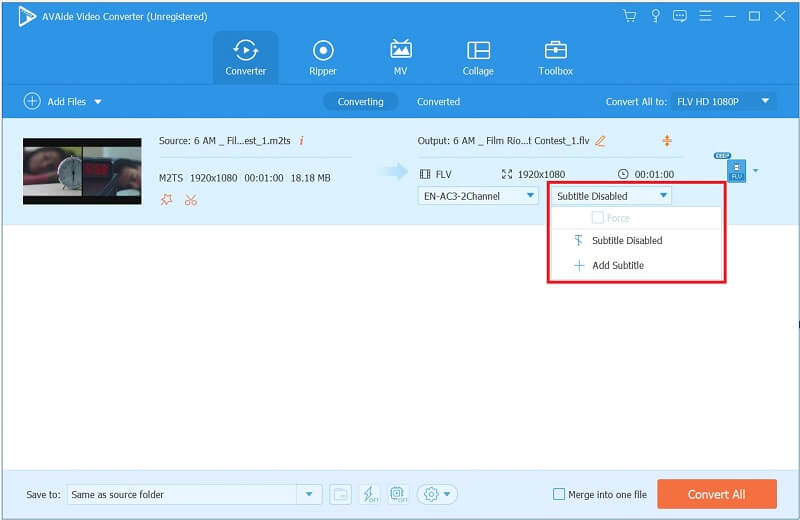 Step 5Instantly convert M2TS to FLV now
After everything is set, click on the Convert All button in the bottom right of the interface and complete the conversion successfully.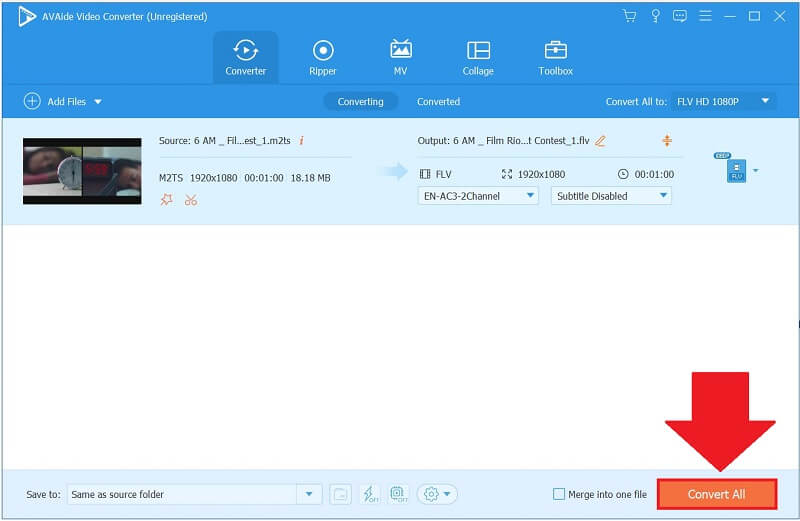 Step 6Take a look at the FLV clip
Lastly, to watch a recently converted FLV video, select the Converted tab and the Folder icon on your toolbar.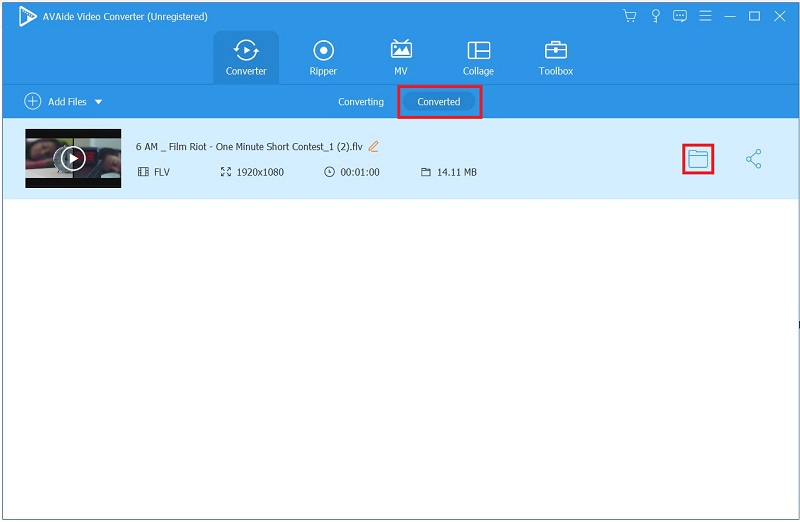 Part 3. Bonus Tip! Other Methods to Use in Converting M2TS to FLV Online
AVAide Free FLV Converter Online
Anything is possible in this day and age as long as you have a browser and consistent internet access. One of the numerous things you can do on the Internet is convert videos quickly. If installing a desktop utility appears time-consuming, AVAide Free FLV Converter Online may be helpful. It supports over 300 video/audio formats and transforms 30X faster without sacrificing quality. Furthermore, because it is an online tool, you do not need to install any software or create other accounts. Isn't it incredible? See the instructions below to convert M2TS to FLV with this program.
Step 1Adapt the Launcher
To begin downloading the launcher, click the ADD YOUR FILES option in the toolbar.
Step 2Import the M2TS file
After you've acquired the launcher, you'll need to upload your M2TS files. If you want to import more than one file, repeat the process by clicking the ADD YOUR FILES button a second time.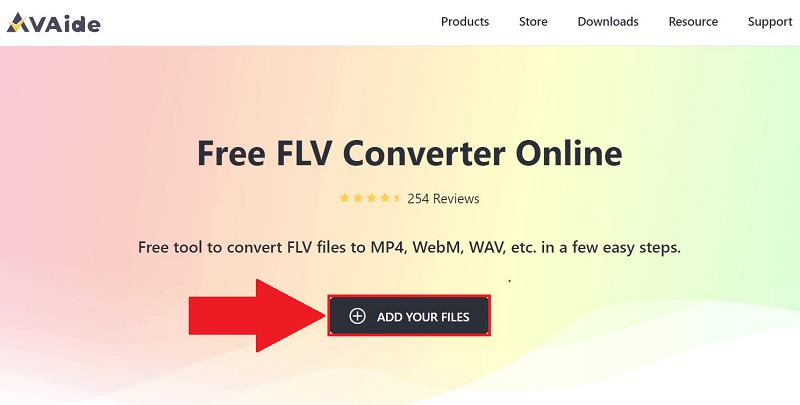 Step 3Preset the desired video format
Select the By pressing the Convert button. Make sure that the FLV video format is selected as your desired video output format from the list of video formats available.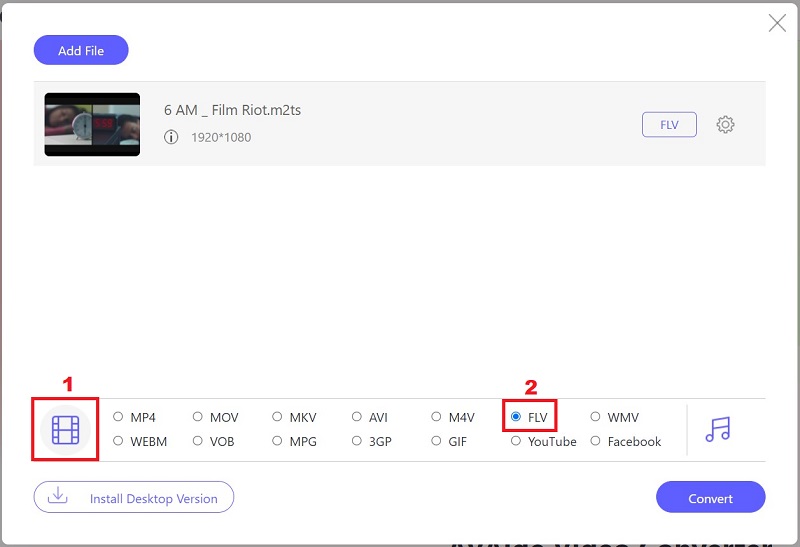 Step 4Initiate the conversion
By pressing the Convert button, you will begin the converting process.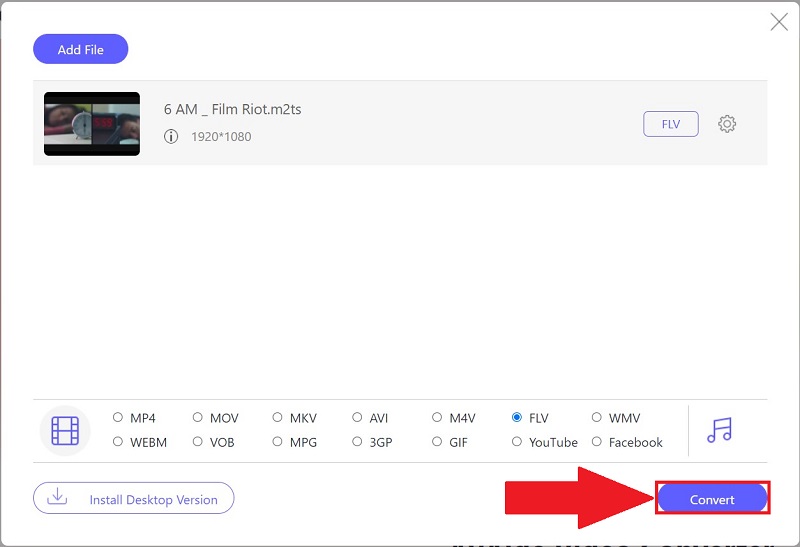 Step 5Allow the conversion to finish
Finally, it will take less than a single minute to complete the process. Play your FLV file by hitting the folder destination of the file.
Part 4. FAQs about M2TS and FLV
Which is better, M2TS or MP4?
Many people are interested in knowing whether the quality of an M2TS recording is comparable to that of an MP4 recording. Neither MP4 nor M2TS files have a difference in video quality. While there are some differences between M2TS and MP4 files, the most significant difference is that the former is flat, while the latter feature an index at the latter's beginning.
What exactly is the distinction between MTS and M2TS?
There isn't much of a functional difference between MTS and M2TS files. Both are high-definition video files connected with the AVCHD video compression standard. When renaming an M2TS file extension to an MTS file extension and vice versa, the file extension is not changed in any way.
Is it possible to play M2TS files on an iPhone?
For those of you who have an M2TS file that you wish to watch on your iPad or iPhone, the only option available to you is to convert your files into a format compatible with the iPad or iPhone. AVAide Video Converter is the most effective iPad/iPhone converter available. It can accept and output videos in more than 300 different formats.
Conclusion
Today's post has provided you with various online and offline solutions to convert M2TS to FLV properly. It is up to your preference which tool you choose, but I will use AVAide Video Converter, which I can use even when there is no online connection. Now is the time to download and test this tool now.
Your complete video toolbox that supports 350+ formats for conversion in lossless quality.