Including animated GIFs in your message to make a strong point has become increasingly popular in recent years. For the time being, advertising strategies use GIFs to approach their targeted customers. Regardless of this, some platforms do not allow posting GIFs on their websites. Even though this is a hassle, converting the GIF into a video format such as FLV and sharing it is as simple as pie. Don't know how to convert GIF to FLV online, on your PC, Mac, Android, or iOS device? Let's look at some of the tools available to you that will assist.
Part 1. The Leading Way on How to Convert Animated GIF to FLV
AVAide Video Converter
A large number of video converter tools are available, allowing you to convert video files into a variety of different formats. Regrettably, it is tough to discover a thorough but reasonably priced conversion service that will enable you to experience a free conversion experience while also achieving the service you deserve. It is for this reason that AVAide Video Converter comes in handy. It is a multi-functional converter accessible on all major operating systems, including Windows, Mac, and Linux. It is equipped with acceleration technology, allowing you to convert 30 times faster without experiencing interruptions. To convert using this software, videos in popular video formats such as FLV, MP4, SWF, MKV, WMV, MOV, AVI, and others. Consider this comprehensive guide to convert GIF to FLV in under a minute.
Step 1Launch the tool on your desktop
To begin, install AVAide Video Converter on your desktop. To do so, you can go to the AVAide website and install the software on your computer. Conversely, click the download buttons above and run the tool.
Step 2Import animated GIF on the interface
The next step after launching the tool is to import the GIF file into the interface. Click Converter in the menu bar. Then, click the Add Files button in the upper left corner of the screen to upload your file.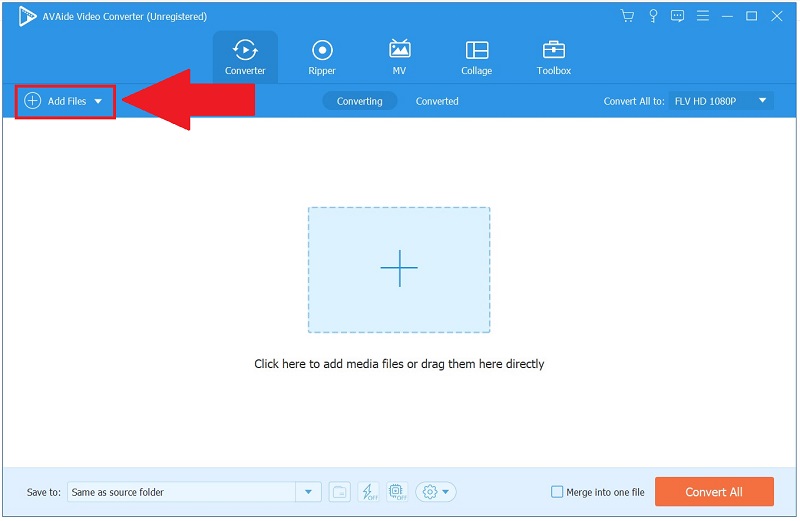 Step 3Choose FLV as the preferred format
Upon effectively uploading your file, click the Format icon on the right of the screen to select the suitable format. Then, as your output format, choose Video > FLV.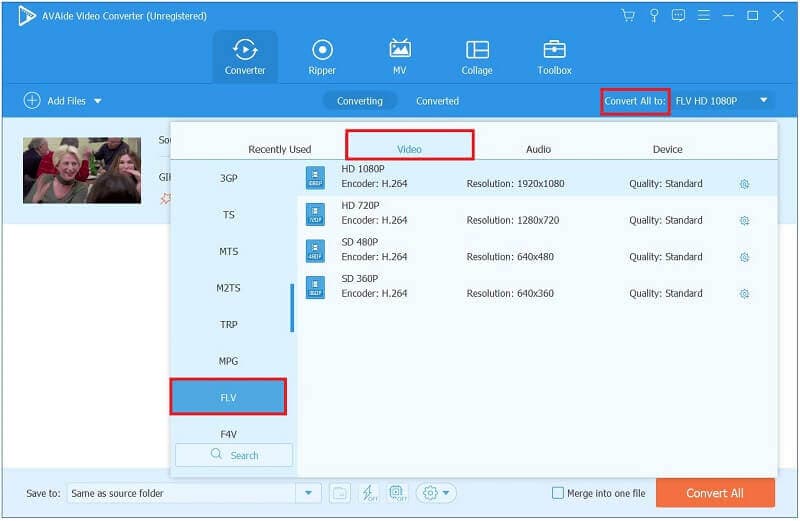 Step 4Initiate the conversion process now
Choose the Convert All button at the bottom of the interface to begin the GIF to FLV conversion process.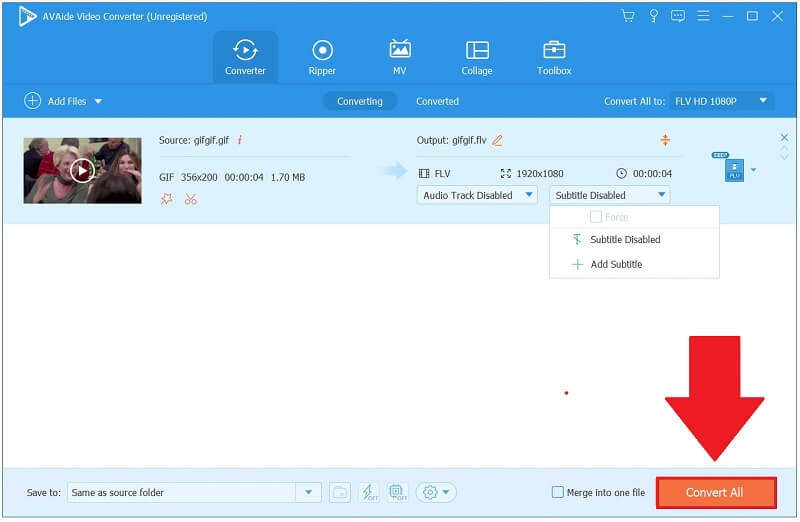 Step 5Preview the converted file
Finally, navigate to the Converted tab once the conversion is complete and click the Folder icon to perform the FLV file you just converted.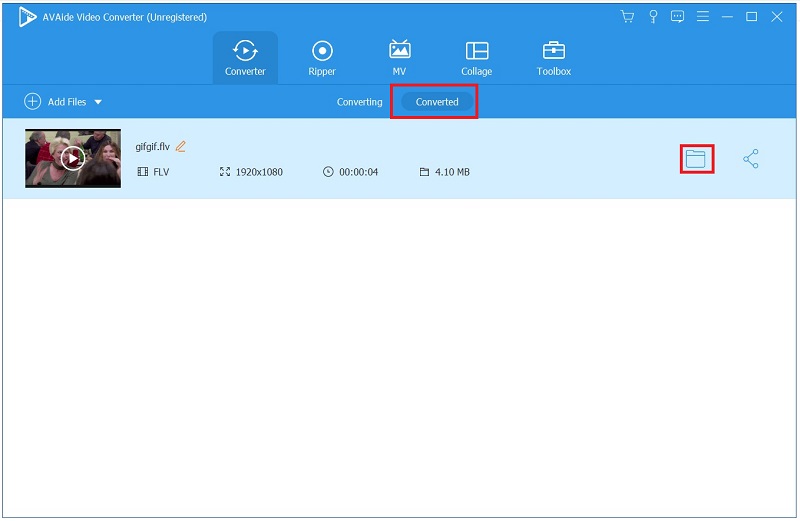 Part 2. The Best Free Way to Convert GIF to FLV Online
Ezgif
Ezgif is yet another excellent video file converter that can convert GIF to FLV video. It allows you to convert your posted videos or the Video URL in a far more handy and straightforward way. The instructions for using this Ezgif to convert animated GIF to FLV are below.
Step 1Visit the main website of the online converter tool. Install and launch the tool.
Step 2To begin the conversion process, you must first upload a GIF image or video from your computer to Ezgif. Then, start clicking Choose File to have the GIF image or video converted to the FLV format of your choice. When you use the video, you can accomplish the same thing.
Step 3Click the Convert to FLV button, and the software will convert your video to FLV format with high-quality h264 encoding. You can always convert your GIF to FLV format in this case.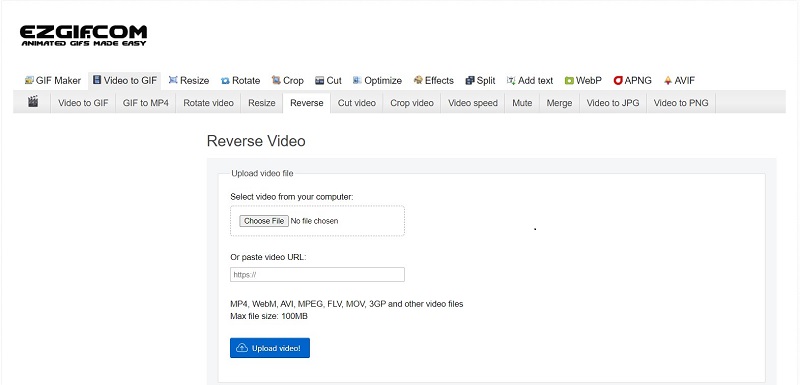 Part 3. 2 Methods on How to Convert GIF to FLV [iPhone and Android]
Annually, the devices in our pockets become more potent. Guess it depends on your requirements. You may need a PC to edit or convert in the first place. With the mobile applications listed above, you can do a lot on the go and get great results. Portable converters hit an acceptable compromise between the accessibility of online solutions and the quality of browser plugins.
1. ImgPlay
ImgPlay is an influential and user-friendly tool. It enables the creation of GIFs that meet the specific expectations of different platforms, ranging from Instagram to Twitter. You can change the screen resolution, add filters and stickers from a vast library, and even draw with a pen. There is a great deal of room for advancements. The only significant disadvantage of ImgPlay is a logo on GIFs created with the freemium model. Take a look at the steps to convert GIF to FLV:
Step 1Download and launch the tool. Choose Edit GIF from the drop-down menu and pick a GIF image from an instantly arranged gallery.
Step 2The editing display is divided into three main sections: the upper bar contains all of the video's frames, the middle includes a presently edited element, and the bottom includes accessible design options. When you're finished editing, click the Next button.
Step 3The Save or Share dialog box will appear. Select Save and then select Video. You can set the repetitions and choose between low and high quality.
2. GifVid
This app can be commended for its sophisticated design and numerous helpful functionalities. You can, for example, change the tempo, screen resolution, and orientation of the playback of the video. GifVid is a very user-friendly application that syncs your masterpieces rapidly and effortlessly. The following are steps on how to convert animated GIFs to FLV using this application.
Step 1Download and run GifVid. Click the Create button. Next, select the GIF to Video option.
Step 2You can import the GIF you wish to convert upon selecting. Choose a resolution and modify the length and speed of the clip.
Step 3Click the Right arrow button to convert GIF to FLV output format.
Part 4. What's the Difference between GIF and FLV?
Nowadays, you can use various content types for personal and professional purposes, depending on your preferences. Nevertheless, selecting the most appropriate file format is vital for creating an impression on your content and influencing viewers. The most widely used file formats for content distribution are GIF and FLV. Allow us to assist you in understanding how they operate and determining which is the most appropriate for the seamless flow of your content.
Brief Overview of GIF
GIF is an uncompressed image file format that stores both animated and static photos. Animated GIFs are a collection of images that have been grouped into a single file. Given how frequently we see and use GIFs, it is not difficult to grasp their basic concepts and usage patterns. This format contains a moving picture; however, the industry is not considered a video format even though the media files are animated. Despite many colors, that's still insufficient compared to the JPG and PNG files, which comprise more color schemes.
Brief Overview of FLV
A file with the extension.flv is known for Flash Video. The FLV file refers to a video or audio file transmitted over the network using the Adobe Flash Player. Flash Video has long since become the widely accepted video format for almost all integrated video on the internet, including video content on popular media streaming sites.
Part 5. FAQs about GIF and FLV
Why isn't my GIF functioning?
You must first open animated GIF files in the Preview/Properties window to perform them. To do so, choose the animated GIF file and afterward tap Preview/Properties from the View menu. If the animated GIF doesn't play, try re-saving it in the collection you wish to add.
How many GIFs exist?
There are over 500,000 animated GIFs, some of which are so peculiar that it's difficult to fathom why they have ever been made.
Why is it called a GIF?
The emergence of GIF can be traced back to the words it originally stood for: Graphics Interchange Format, which was coined by the originator, Steve Wilhite, who standardized the pronunciation.
Your complete video toolbox that supports 350+ formats for conversion in lossless quality.