F4V or Flash MP4 Video file, also known as a MPEG-4 Video file, is a file format focused on the Apple QuickTime compressed file. It's comparable to the MP4 format. It is a format similar to FLV, but because the FLV format has some limitations when it comes to H.264/AAC content, Adobe established F4V as an upgrade. The F4V codec library does not support some video and audio codecs used by the FLV format. For that reason, you may need to convert F4V to a more compatible video format such as FLV. In today's post, you will learn how to convert F4V to FLV along with the competent converter tools that you can use offline and online.
Part 1. The Matchless Way to Convert F4V to FLV Offline
AVAide Video Converter
AVAide Video Converter will make your F4V to FLV conversion a smooth and trouble-free experience. It supports nearly 300 video and audio formats, and its acceleration technology allows for 30X faster conversion. Are you concerned that you are a new user? There's no need to be concerned because the interface of this tool is straightforward. In addition, you can edit, trim, merge, crop, and compress your video even before it is converted to a different format. Meanwhile, take a glance at the simple steps to follow to convert F4V to FLV using AVAide Video Converter to see what you can accomplish.
The Leading Way to Convert F4V to FLV with AVAide Video Converter
built-in video collage maker and movie maker.
edit ID3 info, make GIFs, and create 3D movies.
30x faster conversion empowered with acceleration technology.
works without internet connection.
convert in bulk without interruption.
supports nearly 300+ audio and video input/output formats.
Step 1Run the converter tool
Visit AVAide Video Converter's main website. After that, install and launch it. Additionally, you can use the download buttons above to install the application quickly.
Step 2Unload your F4V files
Import files quickly by dragging them to the Plus (+) button. Alternatively, you can import your F4V files by tapping the Add Files button in the upper left corner of the interface.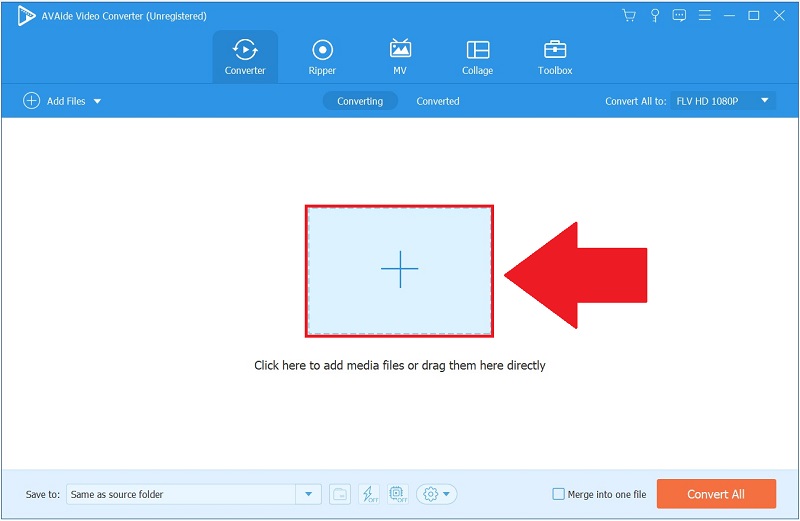 Step 3Choose the suitable format
By simply clicking the Convert All to button, you can convert your F4V to FLV. You'll be directed to a list of available audio formats. Then, from the list, select FLV.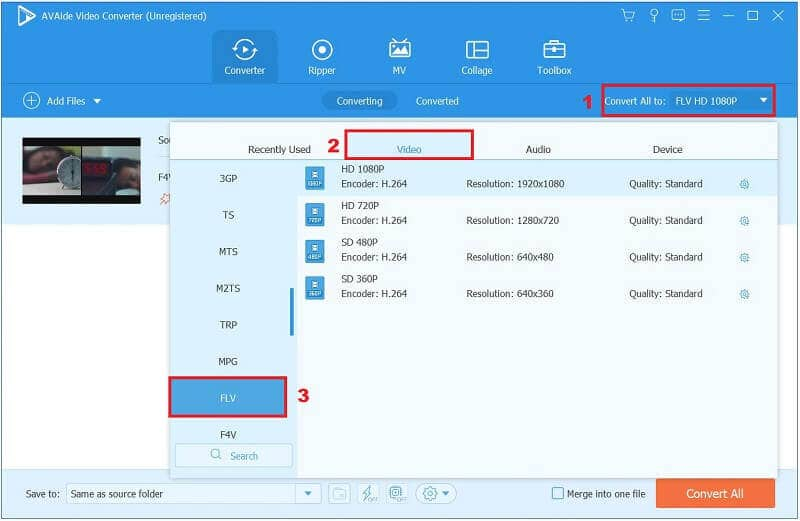 Step 4Initiate the ultra-fast conversion
Before finally converting F4V to FLV, enable the Ultrafast Conversion button at the lower part of the screen.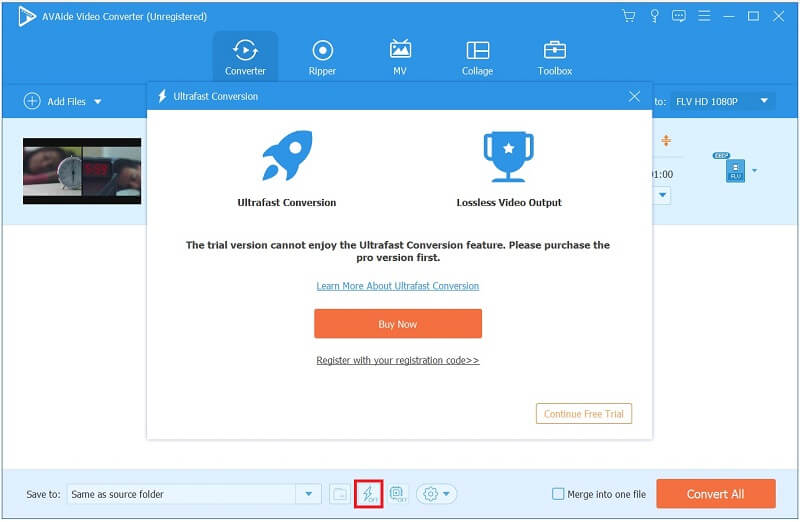 Step 5Start the conversion process
To start the conversion, click the Convert All button in the right bottom corner of the interface.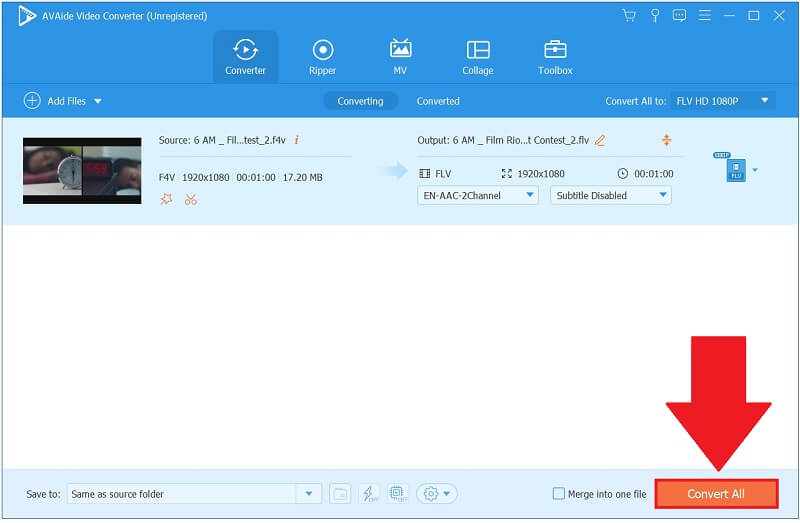 Part 2. The Convenient Way on How to Convert F4V to FLV Online
AVAide Free FLV Converter Online
If you want a convenient way to convert F4V to FLV, AVAide Free FLV Converter Online is your friendly tool. This tool works flawlessly regardless of which browser you are using. There are no issues with this tool at all. Not just that, since it is a free tool, it also produces high-quality output. Users are not required to pay a flat amount to convert their files. Users can spend as many files as they want for free. The output is excellent, and you will not be disappointed if you use it.
Additionally, it enables you to modify files in batches if you have many files to modify. Try this tool as it converts many different formats in no time. Change F4V to FLV now.
Step 1Download and install the tool
To get started, pull off a browser and go to the official website of the online converter tool.
Step 2Transfer your F4V file
To import your file, click ADD YOUR FILES.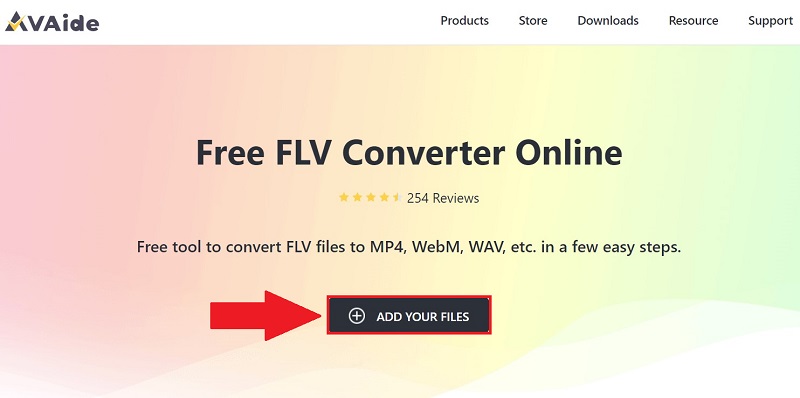 Step 3Preset your desired format
Before converting, locate the Video icon, then hit the FLV video format as your video output.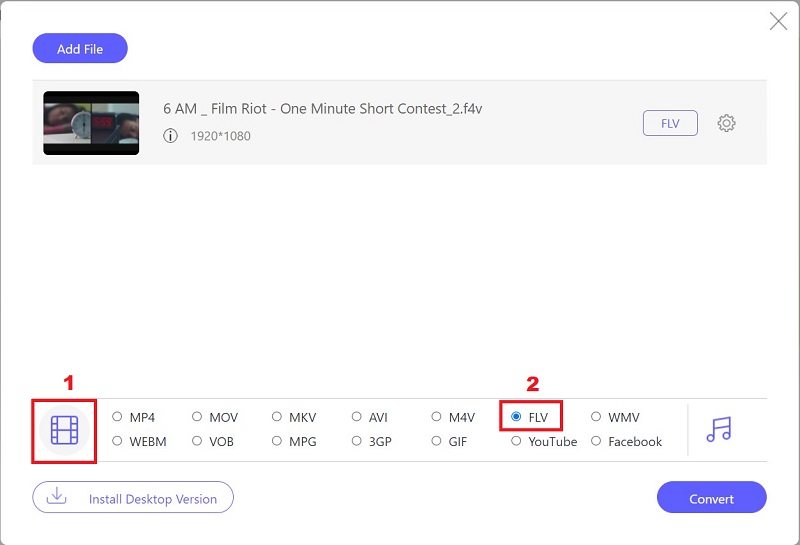 Step 4Start the conversion now
To convert the file, hit the Convert button at the lower part of the interface.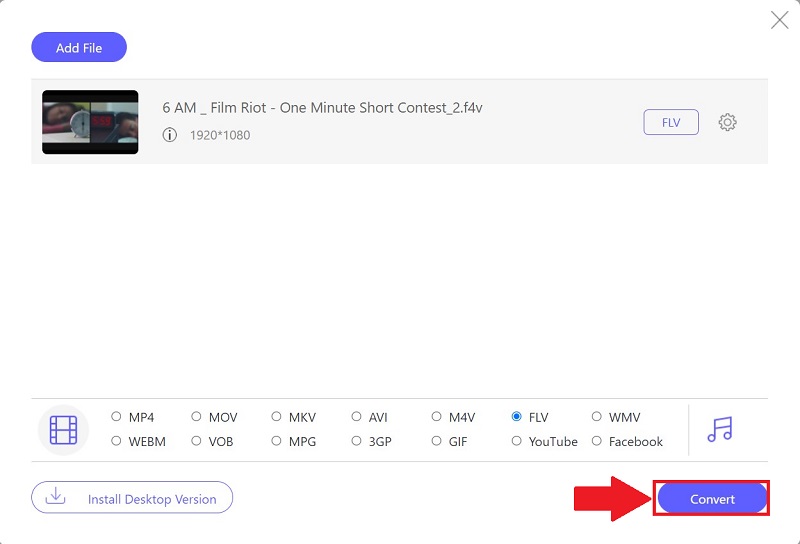 Step 5View your recently converted FLV file
After converting, you can now play your FLV file on the file destination folder.
Part 3. F4V vs. FLV: The Difference
What is F4V?
It is a relatively new type of FLV file. Its video codec is based on the ISO format file. Flash Player 9 is compatible with it. Under these conditions, the file type supports AAC and H.264 more effectively than FLV. F4V is not easily accessible in the majority of Adobe Flash Player Plugins. Sorenson Spark, screen video, and VP6 video compression are not supported. It is not sufficiently formed to insert and install video to sites, so it cannot convert any audio or video format to FLV video or generate an HTML website.
What is FLV?
On the other hand, FLV, or Adobe Systems Incorporated's Flash Video Format, is a video format designed to deliver high-quality video over the internet. It is among the most widely used video formats on today's numerous streaming services. One of the advantages of the FLV video format is that it can be comprehensively different operating systems and applications.
F4V and FLV are two file formats designed for storing, delivering, and streaming media content (both video and audio) for Internet playback. Even so, the two are distinct. The FLV file's video and audio data are encrypted similarly to the SWF file, whereas the F4v file relies on the ISO-based digital medium. Adobe Flash Player, on the other hand, claims to support both. Likewise, the two are different in their content structuring. FLV is an archival version of Adobe's Flash video standard, whereas F4V is a near-renaming of MP4.
Part 4. FAQs about F4V to FLV
Is FLV a suitable format for recording?
Adobe Flash Player supports the FLV file format. It is among the most helpful and widely available video formats, supported by virtually all streaming services and internet browsers. FLV is an excellent choice for online video streaming platforms. They have a lossless compression, which makes them extremely simple to install.
Is VLC capable of playing FLV files?
Yes, for watching FLV files, we recommend the VLC media player. It is free, supports the format after the program is installed, and is compatible with Windows, macOS X, and Linux.
What programs are capable of playing F4V files?
Some other programs that can open and play F4V files are Adobe Animate (multiplatform), VLC media player (multiplatform), and J2 Interactive MX Player (Android).
Conclusion
Now that you know how to convert F4V to FLV, you won't have any trouble converting your videos in the future. By reading the tools listed above, you can now convert without hassle. If you want to convert online, use AVAide Free FLV Converter Online, but if you are looking for a tool that works offline, use AVAide Video Converter.
Your complete video toolbox that supports 350+ formats for conversion in lossless quality.