There are many ways to enjoy our favorite soundtracks without even playing them through videos. What is the benefit of this? You will not consume your device's battery life, lessen the consumption of your storage, and you can also rapidly transfer them for their small-sized content. Like your old OGG videos that are not playable with many media players and operating systems. Learn how to convert OGG to M4A with these following solutions.
Part 1. OGG vs M4A
What is OGG?
This file format was developed to offer an efficient web streaming and manipulation of standard digital multimedia. This can store music with metadata, including the artist information and track data. However, this format is limitedly supported by many types of hardware. Even the different media players we know. Audios and videos having this format are not compatible with any Apple device.
What is M4A?
M4A or short term for MPEG-4 Audio is an audio format developed for Apple gadgets and operating systems. It is not protected by DRM. Audio files with this type of format are saved in an MPEG-4 container and encoded with Apple Lossless Audio Codec (ALAC) or Advanced Audio Coding (AAC). Apple Music for macOS and iOS, Apple iTunes, and Microsoft Windows Media Player can totally play this format type. It's the best audio for your soundtrack playlist, audiobooks, and even podcast. In short, it's compatible and has a greater sound quality.
We highly recommend to convert your OGG to M4A. Listen to different audio files within your comfort and accessibility. Below are attested converters to help you find ways to solve your concerns.
Part 2. 3 Top-Rated Solutions to Convert OGG to M4A on Windows and Mac
1. Best Solution to Convert OGG to M4A Using the AVAide Video Converter
The best solution to use is the AVAide Video Converter. All you need is to download the tool quickly and experience its full features on your desktop. This tool can absolutely convert your OGG to M4A format. This is suitable for everyone including the common and professional users. The attested speed exceeds the acceleration of the software converters we know. It offers multiple audio and video formats. You can easily download this tool on your Mac, Linux, and Windows Platforms. Batch conversion is made easy with this powerful tool. Plus, it has an amazing toolbox that is accessible for editing and enhancing services. Better try this one by following the quick procedures given below.
Step 1Download and install the application
Firstly, you need to visit the official website of AVAide Video Converter. Click the Download button and immediately install it on your device's desktop.
Step 2Transfer the old videos
Click the Add Files button to import all the finalized files ready for conversion. Add them one by one in bulk. This won't affect the speed and quality of your output.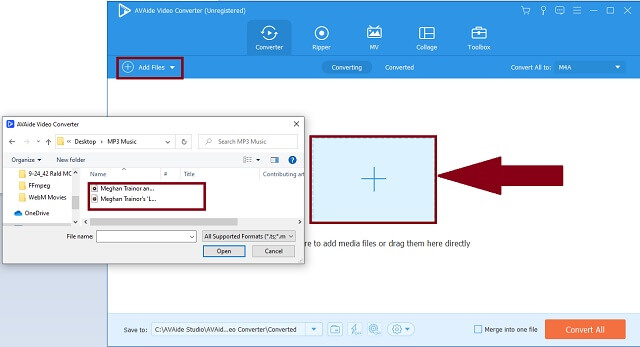 Step 3Select the new audio format
After that, click the audio icon to see all the available audio formats. Select the M4A format as your output. Click the Convert All button to simultaneously adjust the format preferences.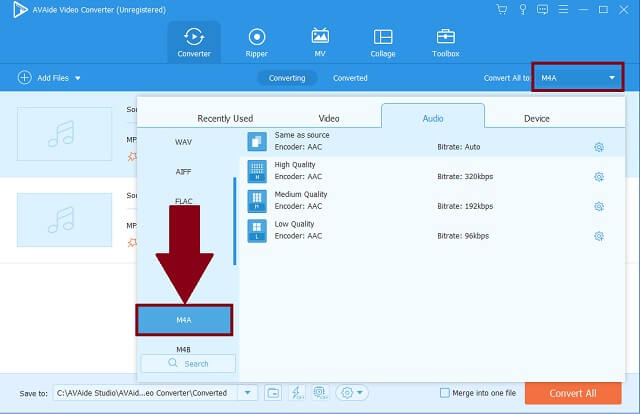 Step 4Start the quick process
Then, you can now click the Convert All button to start the procedure.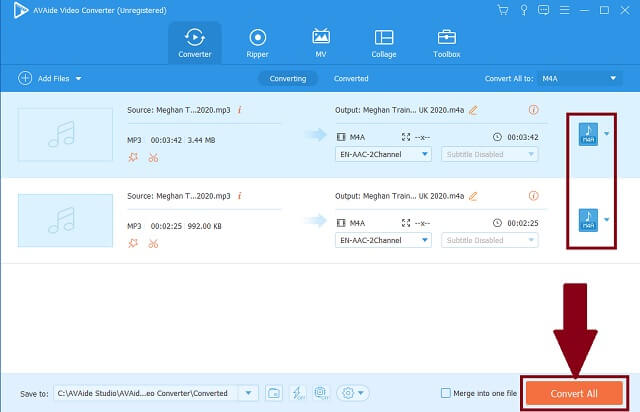 Step 5Check the completed files
Lastly, look for your files' local destination to see and check your saved files.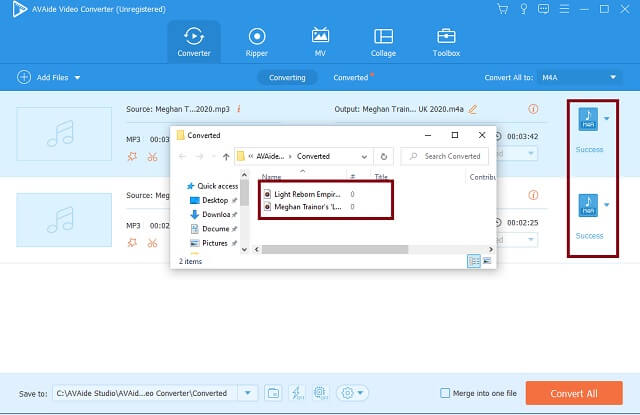 PROS:
Experience its full features on your desktop.
Various file formats are available and supported.
Speed capacity exceeds the usual standard.
The resolution can be adjusted up to 4K.
Enjoy the plenty of sub menus on the toolbox.
CONS:
Limited for the trial version.
2. Free Solution to Convert OGG to M4A Using the AVAide Free Video Converter
If you don't have time to download and opted to use an online tool instead, introducing the most excellent free solution, the AVAide Free Video Converter. This provides us a web-based service to convert OGG to M4A for free. This is far greater from the others. A rapid process that doesn't decrease any of the raw quality of your files. Adjust the audio settings whenever you want to. The resolution can be maximized up to 4K. Dig in to explore this program by undertaking these following comprehensive procedures.
Step 1Open your web browser
On your device, access the official page of the AVAide Free Video Converter. Make sure that your internet connection is stable and in good status.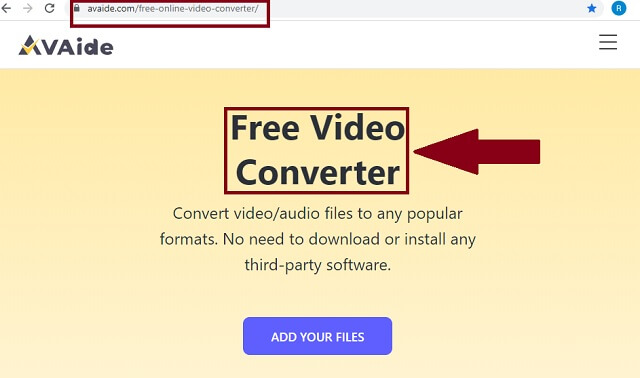 Step 2Add your local videos
Secondly, click the ADD YOUR FILES button. From your local file holder, import your OGG files.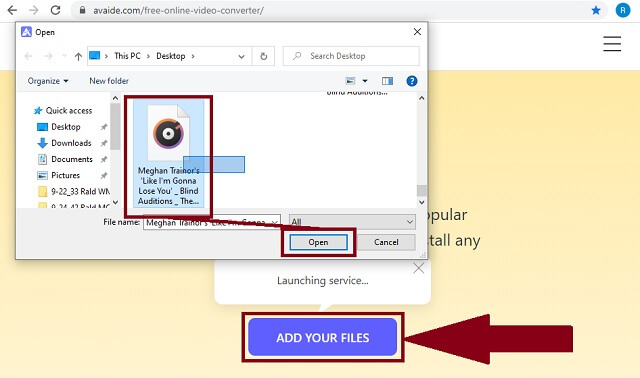 Step 3Choose your desired format
Afterwards, click the M4A from the audio formats presented on the container panel. You can expose these audio formats by clicking the audio icon.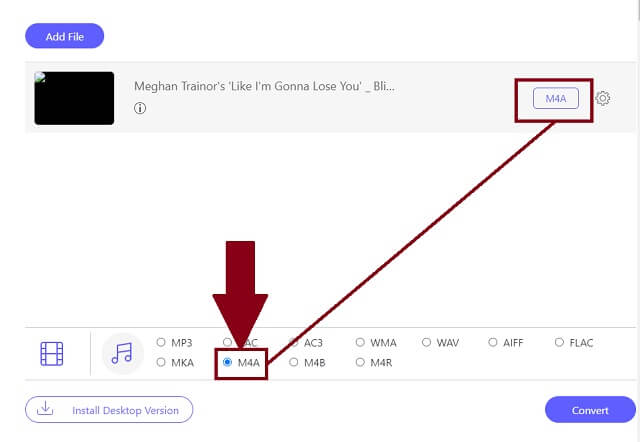 Step 4Start you work to convert
To start the process, click the Convert button to quickly finish.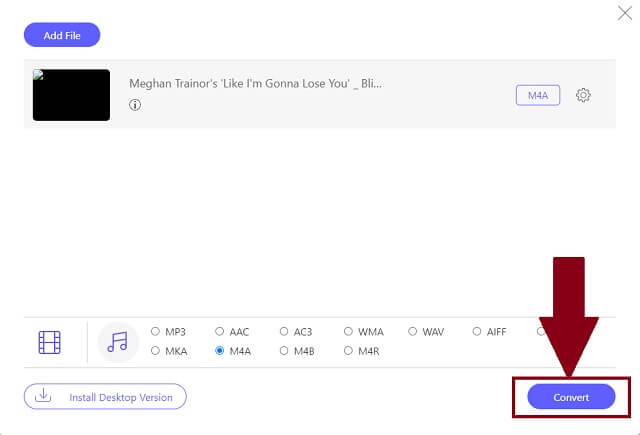 Step 5Visit your local file destination
If you're wondering where to easily locate your saved files, just click the folder icon to open them automatically.
PROS:
OGG to M4A free converter.
Advanced speed acceleration technology.
Simultaneous audio and video conversion.
Up to 4K resolution.
300+ audio and video formats.
Toolbox is provided.
CONS:
No intended button to adjust all the formats in group attachment.
The toolbox is not accessible and it's limited for the trial version.
3. Default Solution to Convert OGG to M4A (iTunes)
Another tool that can aid us to know how to convert OGG to M4A is iTunes. This tool is very much known and commended for its key feature to play different genres of songs and videos. More than that, this tool has a secret converting feature. Have you tried using that one? If not, then you exactly arrived here to try it. Below are simple steps to follow.
Step 1Open the iTunes music player
On the menu bar, click the file button. Find the Convert button and click it. Once accessed, upload your old videos.
Step 2Change into audio format
After that, click the Create in AAC version button to change your output format. AAC is the encoder type of M4A.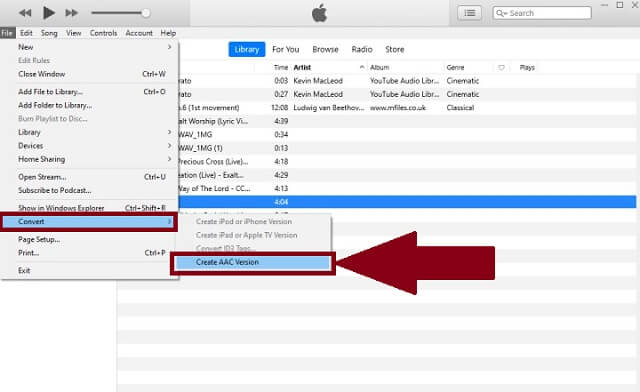 PROS:
Has codecs for audio formats.
Native music player.
CONS:
Limited capacity to convert different formats.
Not a user-friendly tool, especially the interface and procedure.
Part 3. The Best OGG to M4A Converter
Possible Tools

Avaide Video Converter

AVAide Free Video Converter

iTunes
| | | | | |
| --- | --- | --- | --- | --- |
| Web-based and software | Windows and Mac | Group Conversion | Extra Tool Box | Fast-Speed |
| | | | | |
| | | | | |
| | | | | |
Part 4. FAQs
What type of format is OGG?
Technically, OGG is an audio and video container format. Also, it can store text and metadata.
What media players support OGG?
There are tons to be honest. For instance, the VLC, MPlayer, Adobe Audition, and Media Windows Player. Given these, Apple doesn't support this type of format. Better to convert your OGG to M4A for compatibility purposes to devices. Seek help with AVAide Video Converter.
Can we still use OGG files?
Yes, absolutely can. But it is an old audio format unlike the popular MP3 and M4A.
Conclusion
To end this informative article, AVAide Video Converter, AVAide Free Video Converter, and iTunes are powerful tools to use on how to convert OGG to M4A. Undeniably, all of these are an amazing set of solutions. However, one possessed all the standard criteria for an excellent tool. That is the AVAide Video Converter.
Your complete video toolbox that supports 350+ formats for conversion in lossless quality.