MakeMKV has earned its reputation as a dependable tool for converting DVD and Blu-ray discs. But users have occasionally encountered issues such as being unable to detect their optical drives and can't open the disc. These problems can be frustrating, especially if you need your media. In this discussion, we'll examine the potential causes when MakeMKV can't find your optical drive. We have also provided helpful solutions to the issue "MakeMKV no disc inserted." And introduced the best MakeMKV alternative solution when you need one.
Part 1. Why MakeMKV Can't Find Optical Drive on Windows 10/11
It is frustrating when MakeMKV can't read or recognize the disc you inserted. And there could be several reasons why the software might not be able to detect your optical drive:
1. Disc Issues - If the inserted disc is scratched, dirty, or damaged, MakeMKV may not be able to recognize it.
2. Driver Problems - MakeMKV may be unable to find your optical drive because of the outdated or incompatible drivers you're using.
3. Outdated MakeMKV Version - When your MakeMKV version is outdated, it may not be able to read newer discs.
4. Permissions - MakeMKV might not have the required permissions to access your optical drive.
5. Connection Concerns - If your optical drive is not properly connected, it could lead to some connection error, and MakeMKV may be unable to detect it.
6. Operating System Compatibility - Outdated MakeMKV version will not be compatible with some operating systems.
7. Firmware Issues - When the firmware of your optical drive is not compatible with MakeMKV, it may lead to connectivity problems.
By now, you have learned that many possible reasons may result in MakeMKV not finding your optical drive.
Part 2. Solutions to Fix MakeMKV Failed to Open Disc Trouble
Some users also reported getting an error message from their MakeMKV software that says, "MakeMV failed to open the disc DVD" or "MakeMKV no disc inserted." If you don't know what to do after receiving a notification like this, we have provided a list of approaches you can try to fix it.
Fix 1. Clean the Disc
Ensure the disc you are trying to open is free of dust, scratches, and damage to avoid having problems when MakeMKV detects it. To clean the disc, get a soft microfiber or lint-free cloth, then gently wipe it while holding its edges. Remember to avoid touching the disc's surface. You can use a disc cleaning kit or solution designed especially for optical discs. Start the cleaning process from the center to the disc's outer edge. Finally, allow the disc to be completely dry.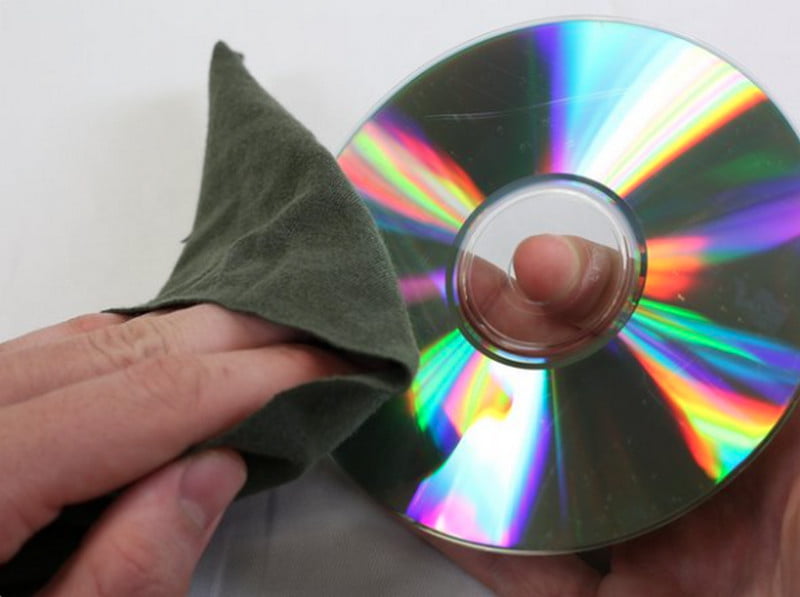 Fix 2. Check Drive Compatibility
Go to the official website of MakeMKV to check the list of supported drives. See if the software supports your optical drive. If it is incompatible, try changing a different disc drive or computer to check if the issue persists. Click here to learn how to copy DVDs to a hard drive.
Fix 3. Update MakeMKV
To avoid having issues using MakeMKV, ensure you're using its latest version. To download the latest version of MakeMKV, go to the official website: https://www.makemkv.com/download/. MakeMKV receives regular updates for bug fixes and improves its functions. Try updating the software, for it may resolve the MakeMKV won't open disc problem.

Fix 4. Try Another Disc
You can try changing the disc to check whether the issue is with the disc itself or MakeMKV. Even though the disc looks neat and clean, it doesn't mean that it's free of dust, scratches, or fingerprints. So, if your disc has a problem, MakeMKV cannot read it properly. As a result, you need to replace your disc.
Fix 5. Contact Support Team
When none of the above methods worked for you, try contacting the official support channels of MakeMKV so they can provide further personalized assistance.
Part 3. Ultimate Solution - MakeMKV Alternative
In some instances, MakeMKV might not be the right tool for your needs. You tried all the solutions above, but all were in vain. Having an alternative could be the ultimate solution to your problem. In fact, not only can the alternative help you fix the issue, but it also provides you with more fun. Now, consider AVAide DVD Ripper to convert your DVDs to digital videos. The tool will allow you to rip DVDs to audio and video formats and files that can be opened by popular devices. AVAide DVD Ripper also supports various video resolutions, such as 4K, HD 1080p, HD 720p, and 480p. It also offers editing features that let you trim, crop, and compress your DVD according to your requirements. Furthermore, you can extract audio from DVDs using this tool.
This DVD Ripper is the best MakeMKV alternative brought to you by AVAide. And if you want to learn how this tool works, follow the simple steps below.
Step 1First and foremost, download AVAide DVD Ripper on your PC. Install the tool and launch it.
Step 2Afterward, insert your chosen DVD into your computer's disc drive, and click the Load DVD or Plus button to import.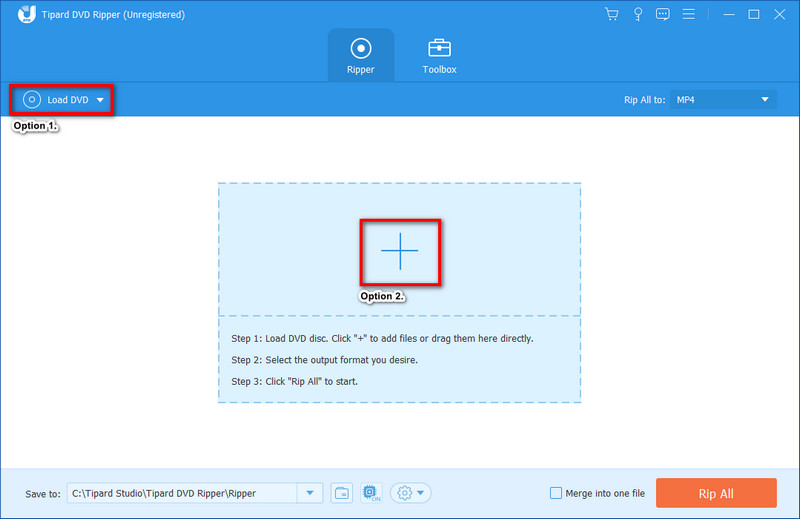 Step 3Subsequently, choose the output format you want for your files by clicking Rip All to.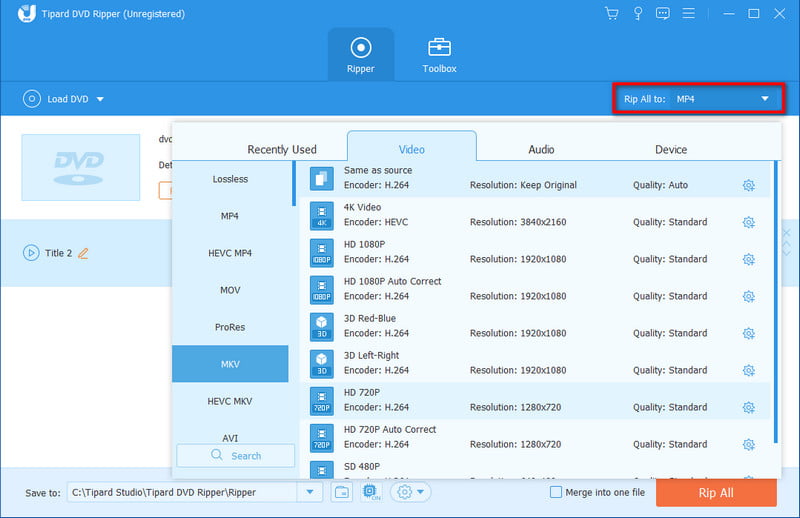 Step 4Once done, hit the Rip All button to start ripping DVDs. Wait for a few minutes until the file is ready.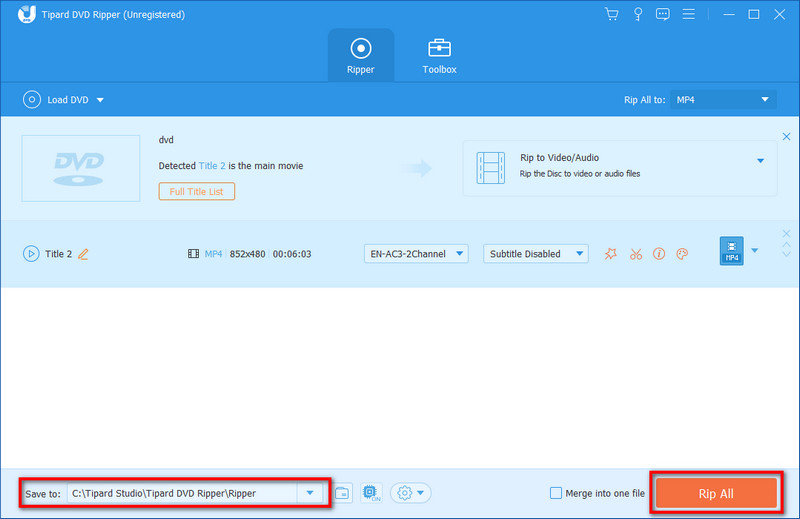 Part 4. FAQs About MakeMV Can't Find Optical Drive
Is an optical drive the same as a CD-ROM?
An optical drive and CD-ROM are related concepts, but they are different. Optical drive refers to hardware that reads or writes data from DVDs, CDs, and Blu-rays, while CD-ROM is a read-only disc type. Optical drives can write data, but CD-ROMs are read-only data.
Can I replace the optical drive with an SSD?
Definitely, yes. You can usually replace your optical drive with an SSD in your PC if an appropriate slot or adapter is available.
Do optical drives need SATA?
Yes. Frequently, optical drives use SATA or Serial ATA interfaces to connect to the computer's motherboard. SATA is a common interface for linking storage devices, including hard drives, SSDs, and optical drives.
Does MakeMKV reduce quality?
No. As a matter of fact, MakeMV will not change the original quality of your video. Due to that, the file size can be quite large because of the preservation of high-quality content.
Conclusion
As shown above, there are many possible reasons why MakeMKV is not finding disc drives and solutions for MakeMKV's failure to open the disc problems. All can be fixed with the right approaches. When MakeMKV problems persist, consider using an alternative to assist you with your needs. And we highly suggest AVAide DVD Ripper as a perfect MakeMKV alternative. This tool will always be ready to provide more reliable features and functions you can use. Resulting in a more seamless conversion process for your favorite DVD collection.
Rip DVD movies to various video & audio formats, as well as popular devices.