Improvements in technology have greatly provided the possibility of preserving high-quality video without loss. Blu-ray discs are increasingly appearing in people's lives as an important carrier of high-quality videos, chosen when people need to store and play videos. However, its shape determines that it is not convenient to carry and share. So in the absence of a player, people must rip the files stored in it and play them on other devices or platforms.
As a trusted video transcoder, HandBrake is also used by people to rip DVDs. In this article, we will answer whether you can use HandBrake to rip Blu-ray discs and how to do it. Apart from it, we will provide another ripping method. You can choose according to your needs.
Part 1. Can Handbrake Rip Blu-ray Disc
As an open-source tool for ripping DVDs on desktops, There is no doubt that HandBrake can be used to rip Blu-ray discs and convert the ripped files to popular video formats. It also allows you to customize the subtitles, audio, and other video files while copying the disc. This tool is available on Windows, Mac, and Linux and is safe from malware or virus threats. However, it can only copy Blu-ray discs that have no content encryption.
Part 2. Rip Homemade Blu-ray to MKV/MP4 with Handbrake (with The Best Settings)
Having established that HandBrake can be used to rip Blu-ray discs, the next step is to put it to use. You can download the latest version from its official website and install it on your computer. Before you start, ensure your computer is connected to a BD-ROM drive that can read your Blu-ray discs properly. It is important to note that a typical DVD drive may not meet your needs, so you must equip your computer with a specialized Blu-ray reader to help you rip your sics.
Next, we will introduce the detailed steps to rip Blue-ray with HandBrake.
Step 1After downloading and installing the latest HandBrake on your computer. Insert your Blu-ray disc into the Blu-ray reader of your computer.
Step 2Come to the Source Selection, and choose your Blu-ray drive as the source. Then HandBrake will begin to scan your Blu-ray disc.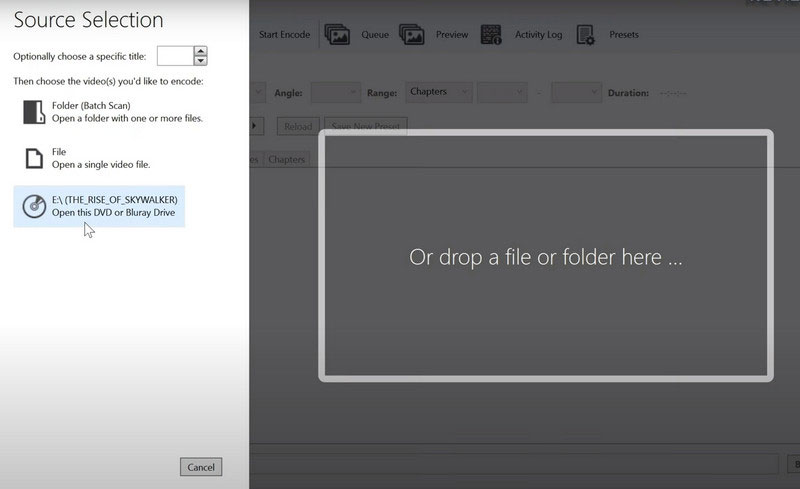 Step 3When the scanning process is complete, come to the Title section to choose the title that suits the files you want to rip.
Step 4Click Browse to select a target folder to save the ripped files. Then choose your desired format by dropping the menu next to Format under the Summary section. You can convert Blu-ray to MP4, WebM or MKV with HandBrake.
Step 5Choose your favored video quality in the drop-down list next to Preset.
Step 6After finishing the setting, click Start Encode to start the Blu-ray ripping process.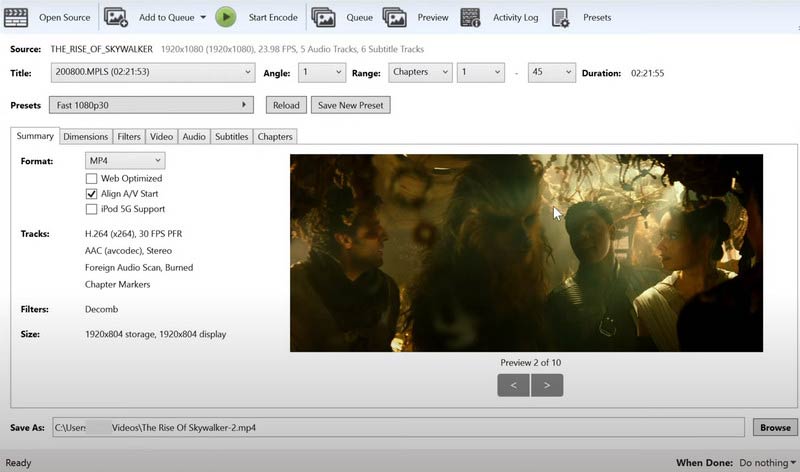 Tips: Best Handbrake Settings to Rip Blu-ray
◆ Video Codec: H.264 or H.265 (if your device support)
◆ RF: 20-23 (recommended for Blu-ray rips)
◆ Audio Codec: AAC or AC3
Part 3. Rip Blu-ray Disc with the Best Tool
Sometimes, HandBrake's functionality may no longer be sufficient to support ripping Blu-ray discs, and its features are relatively homogeneous. To provide you with a more comprehensive service, Here we recommend a professional DVD and Blu-ray disc-ripping tool to help you, unlike HandBrake, which helps you rip Blu-ray discs while providing multiple video file editing tools.
AVAide DVD Ripper is one of the best Blu-ray disc ripping tools that can help you convert any DVD and Blu-ray to popular video and audio formats, such as MP4, MKV, AVI, VOB, M4V, MOV, WMV, FLV, WebM, TS, MPG, etc., and guarantee that there won't be any quality loss. The ripping efficiency is also quite high. AVAide DVD Ripper can transcode Blu-ray disc movies to digital files and make a quality-lossless backup of the original Blu-ray disc within five minutes at full speed. It supports many resolutions, including 4K, HD 1080p, HD 720p, and 480p. Besides ripping and copying video, you can also use it to flawlessly extract audio tracks, sound, or background music from Blu-ray discs. After you get the ripped files, it also provides various editing functions, including Trim, Merge, Crop, Compress, Subtitle, Watermark, 3D Maker, etc., to help you process the video.
Note: You can't rip Blu-ray discs for commercial use. It's illegal. You can only use the resulting video for personal use.
Here are the detailed steps to guide you to apply AVAide DVD Ripper.
Step 1Download and install AVAide DVD Ripper on your computer. Then insert the desired Blu-ray disc into your computer's drive.
Step 2Choose Ripper on the interface, and click Load DVD to import.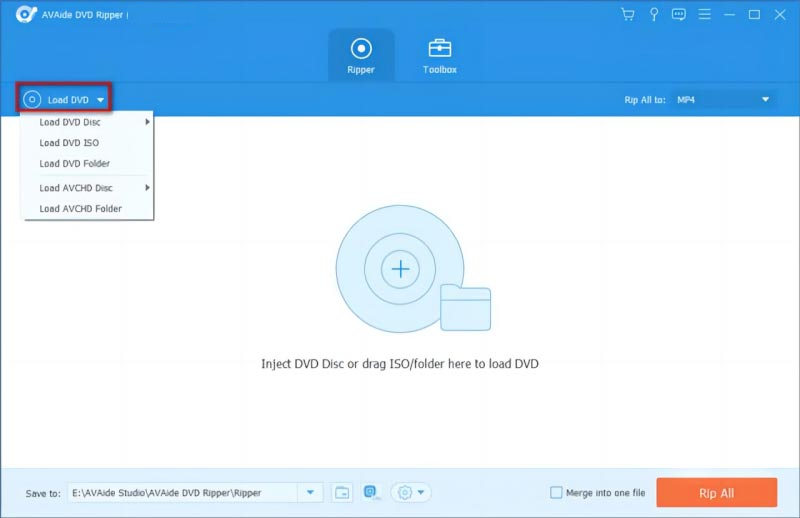 Step 3Pull down the Rip All to menu at the top right corner and choose your target format.
Step 4Drop down the menu next to Save to select a folder to store your ripped files, and hit the Rip All button to start. This tool will help you speed up Blu-ray ripping, and the process will be finished in minutes.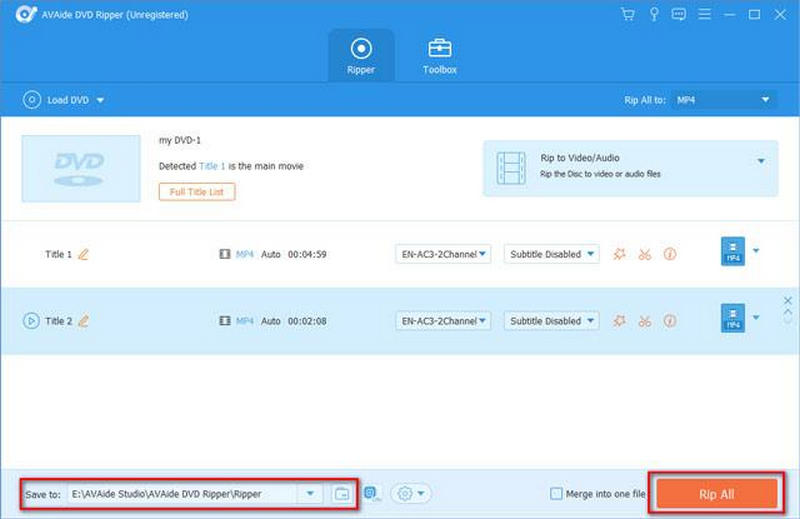 Part 4. FAQs about Handbrake Ripping Blu-ray Disc
Can VLC Player rip Blu-ray?
Yes, VLC Player can help you rip your Blu-ray discs. As a powerful tool, VLC Player can play multimedia files, convert file formats, and rip files from DVDs, Audio CDs, and video CDs like SVCDs or VCD. In addition to ripping discs, it can smoothly copy files from them. As a tool trusted by users, it avoids data loss while ensuring high conversion efficiency.
Is it illegal to rip or copy Blu-ray for personal use?
If you just use it for personal viewing or collecting, ripping or copying Blu-ray discs is perfectly legal and doesn't infringe on anyone's rights. But if you try to share it publicly or distribute it on other platforms, it's illegal and will violate the publisher's intellectual property rights. If you need this, please also seek permission from the publisher first.
Does ripping a Blu-ray damage it?
Ripping itself does not affect the data on the Blu-ray disc in any way, nor does it cause harm. However, if you are not careful enough during the ripping process, you may cause physical damage to the disc's surface. There is also the possibility of losing data on the disc due to viruses in the device used to rip the disc.
What is the archival life of Blu-ray discs?
Typically, Blu-ray disks can last up to 50+ years. Blu-ray technology makes it less susceptible to humidity, temperature, light, and other factors than regular tapes and hard disks. But you'd better stay careful in preserving it. Once external forces damage its surface, the data inside will be at risk of being lost.
How many hours can a Blu-ray hold?
A Blu-ray Disc with a memory size of 25GB can save 135 minutes of HD video in length using the MPEG-2 compression format and 10 hours of SD (standard definition) video. A disc with a memory size of 50GB can hold 3 hours of HD video and 9 hours of SD bonus material. Overall, the length of the video it contained is also closely related to the definition of the video.
Conclusion
In this article, we have dissected in detail the scenarios under which you are free to rip Blu-ray discs and what to do to rip your Blu-ray disc with HandBrake. In addition to HandBrake, we recommend a tool that can help you rip Blu-ray discs to meet your needs in different scenarios. We hope our content is helpful to you. If you have other ideas, please feel free to leave a comment to discuss with us.
Best tool for ripping and converting DVD Disc/Folder/ISO image file into over various formats.