Sometimes we need to make the image background transparent for various reasons, such as emphasizing the main component, simplifying the picture, and obtaining a logo or icon. There are several tools that can be applied to reach the goal. The one we want to introduce to you in this article is Adobe Illustrator. We provide step-by-step instructions in the following part, so continue to find out how to make an image background transparent in Illustrator.
Part 1. Introduction to Adobe Illustrator
Developed by Adobe Inc., Adobe Illustrator is a worldwide popular vector graphics editor and design program. It boasts an array of powerful tools and can be used to design nearly everything you can imagine, such as logos, icons, sketches, and complex illustrations. Beginners are able to obtain many tutorials to help them get accustomed to this software. Professionals find Adobe Illustrator a good helper in dealing with pictures and designs which improve their work efficiency.
Part 2. Using Adobe Illustrator to Make Background Transparent
As a powerful graphic editing program, Adobe Illustrator can make the background transparent if only the user takes a few simple steps. We are going to show you the five steps you need to take with details.
Step 1Download Adobe Illustrator and open the image whose background you want to erase.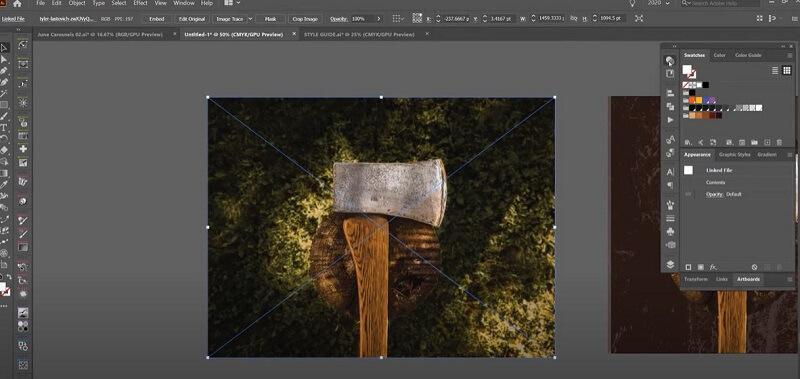 Step 2Make a mask. Click the Window button to go to the Transparency panel. Then you will see a box on the canvas. Left-click on the image and click Make Mask. This will help you make a new mask to proceed to the next step.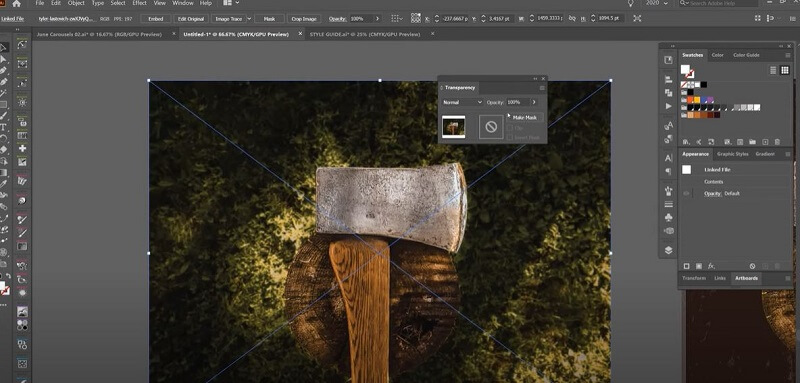 Step 3Modify the shape. Lock the mask and then use the Pen tool to trace over the shape you want. This step requires patience, especially when the edges of the shape are not very clear.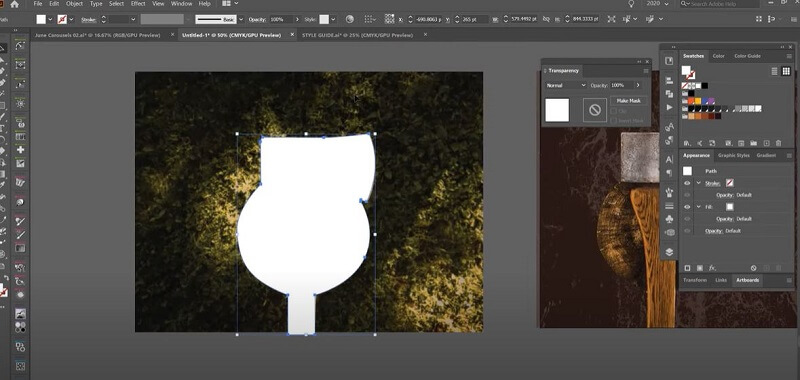 Step 4Unlock your background image. Select both and click Make Mask. Then you can get a shape without the background. In this case, we successfully used Adobe Illustrator to make the background transparent.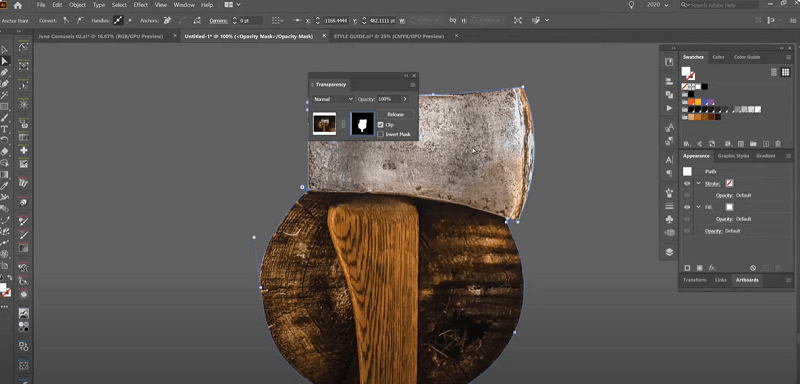 Step 5Click File to export your new image.
We can see from the above that only five steps in Adobe Illustrator will present you with an image without a background. This software can greatly improve your work efficiency. However, despite its many advantages, there are certain drawbacks to take into account.
Adobe Illustrator has a steep learning curve. If you are familiar with vector-based graphics, you will find this software is easy to use. But if you are a green hand, you may need to spend a lot of time learning all the functions before feeling at ease using this method.
Adobe Illustrator is a rather big software and it takes up a lot of space on your computer.
Adobe Illustrator is a paid software. It costs 20.99$ per month for individuals and 35.99$ per month for teams. If you only need to know how to create a transparent background in Illustrator, the cost-performance ratio seems to be low.
Based on this knowledge, we think perhaps sometimes we can use a more convenient tool to erase the image background. So in the next part, we will recommend an alternative online free tool that can make an image background transparent.
Part 3. Alternative Online Tool: AVAide Background Eraser
AVAide Background Eraser is an online tool that can remove background from your images (JPG, JPEG, PNG, GIF, etc.) for free. It applies AI technology to erase the background and make it transparent immediately. Besides, you can change the background to a new color or style. Compared with Adobe Illustrator, AVAide Background Eraser is more user-friendly. It requires no experience or training, and the change can be done with 1 click. Additionally, it is free to use on any browser. Let's take a look at how it works.
Step 1Click Choose a photo to upload your image. Then the tool will do the processing automatically.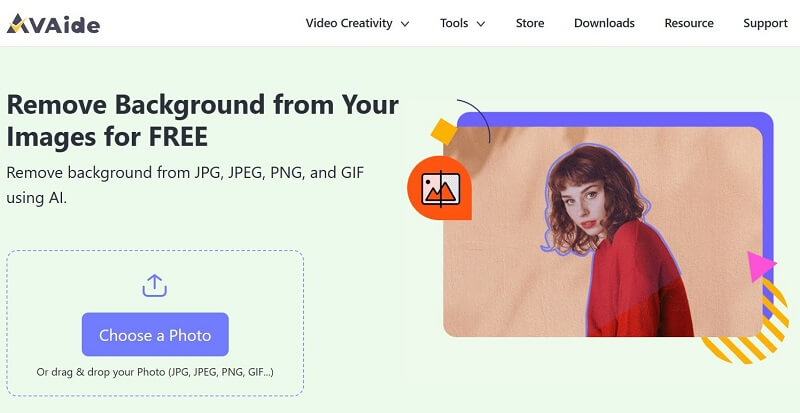 Step 2You can use the brush to refine the edge. After that, click Download to export your new image.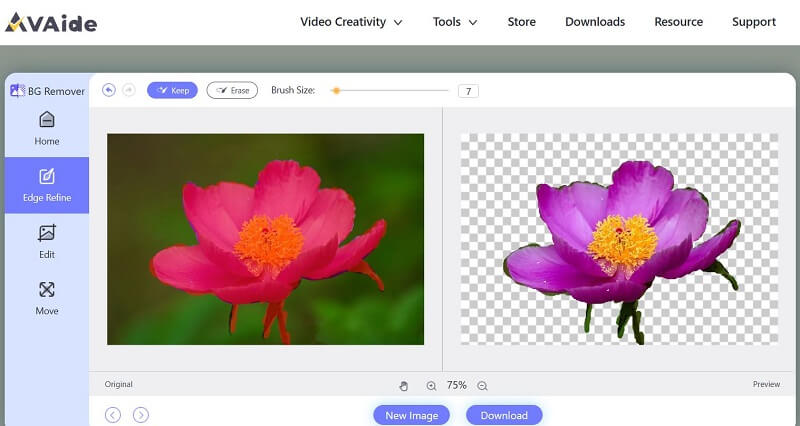 Part 4. FAQs About Making Background Transparent in Adobe Illustrator
What is the difference between Adobe Illustrator and Adobe Photoshop?
Adobe Illustrator is a vector graphic software while Adobe Photoshop is a raster graphics software. That's the most significant difference between the two. Vector files use mathematical equations, lines, and curves with fixed points on a grid to produce an image. Raster files are images built from pixels.
Where can I find the Adobe Illustrator tutorials?
As Adobe Illustrator offers a steep learning curve, a proper training course is important for new beginners. You can find tutorials in this software. If that can't meet your requirements, you can try to search the keyword on YouTube, where many coaches upload their free courses.
Which image formats allow for a transparent background?
We have several image formats that support transparency. The four common ones are GIF (Graphics Interchange Format), PNG (Portable Network Graphics), TIFF (Tagged Image File Format), and BMP (Bitmap). The first two are most commonly used.
What is the cheapest way to get Adobe Illustrator?
If you are a student, you can try Adobe Illustrator with a 7-day free trial. During the 7 days, you can try not only Illustrator but also other 20+ apps including Photoshop and Photoshop Lightroom. The student subscription price after the free trial is 19$ per month.
Conclusion
How to make a picture background transparent in Adobe Illustrator has always been a big challenge for many starters. But we're here to simplify the process for you, and I believe after reading this article, you can master this skill. Learning to use Adobe Illustrator is not easy. While it offers so many powerful capabilities, it may not always be the ideal choice for every task. Sometimes, it will be better for you to pick a more suitable tool according to your real needs.
Uses AI and automated background removal technology to capture complex backgrounds from JPG, JPEG, PNG, and GIF.
TRY NOW