PNG (Portable Network Graphics) is a file format used for image compression. Since it was developed in 1995, PNG has become a typical image format used by most people. In practical use, we often need to make PNG backgrounds transparent. This article will give an overview of PNGs and present 4 different ways to remove the PNG background for free, explaining how to use AVAide, PowerPoint, Paint 3D, and Adobe Illustrator to create transparent backgrounds.
Part 1. Uses of PNG Images
PNG is suitable for:
◆ Images of line art, such as sketches and illustrations.
◆ Graphs, logos, plans, and blueprints for buildings.
◆ Anything that contains text, like page layouts created in Photoshop or InDesign.
Part 2. Advantages of PNG Images
PNG format offers several benefits, including:
◆ Enables transparency support, allowing for the compression of digital images which include transparent areas.
◆ Maintains image quality through lossless compression, ensuring that no details are sacrificed during the compression process, and making it an excellent choice for storing digital images intended for post-editing.
◆ The wide spectrum of colors makes it suitable for various digital image types.
◆ Preserves sharp edges and solid colors, making it the best for images featuring text, line art, and graphics.
Part 3. Tools that Can be Used to Make a Transparent PNG
There are several valuable tools and methods available to create a PNG with a transparent background. Here's an explanation of these tools: AVAide, PowerPoint, Paint 3D, and Adobe Illustrator.
How to make a PNG background transparent in AVAide Background Eraser?
You can use the free online tool AVAide Background Eraser to remove the background from your PNG images. The AI technology and automated background removal technology it applies can immediately capture complicated backdrops. Additionally, after removing the background, you can continue to edit the image for free. You can view the outcomes instantly with the help of AVAide.
Step 1Select a PNG image you want to remove the background and click Choose a Photo to upload.
Step 2The image background will be automatically deleted after upload.
Step 3Click Download to save the transparent background version of your new PNG image.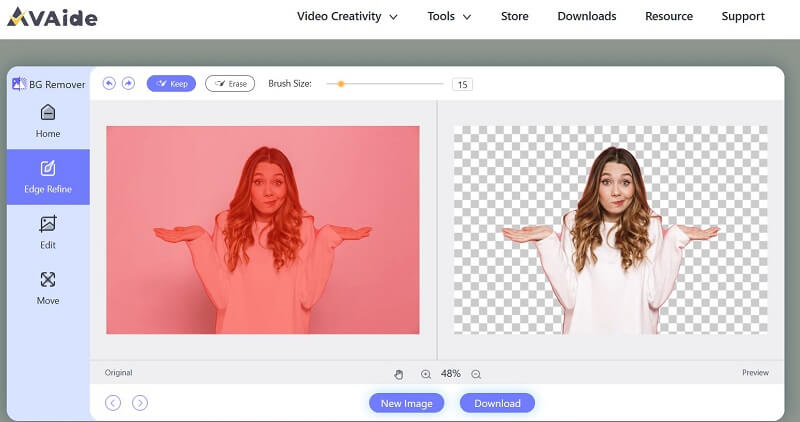 How to make a PNG background transparent in PowerPoint?
Microsoft PowerPoint is primarily a presentation software and does not have advanced image editing features. However, you can use PowerPoint to make a PNG background transparent in a simple way.
Step 1Open PowerPoint and create a new slide or use an existing one. Click on Pictures to insert the image you want to make transparent.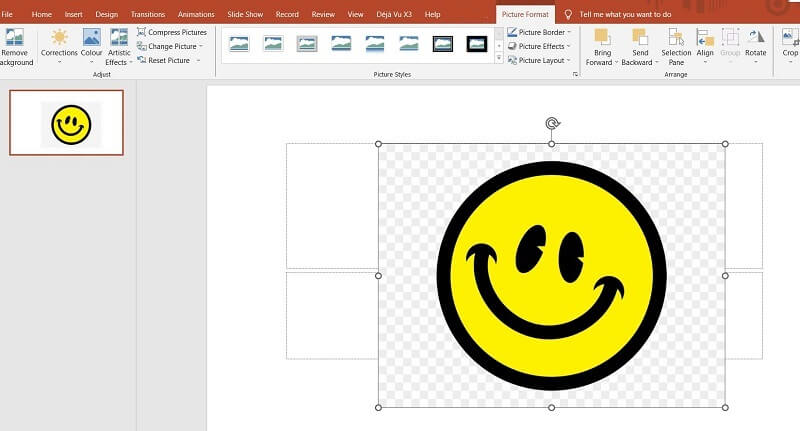 Step 2Select the PNG image. Go to the Format tab and click on Remove Background in the Adjust group. PowerPoint will automatically remove the background.
Step 3Click on the image and select Save as Picture. Choose the PNG file format (.png) and save the image to your preferred location.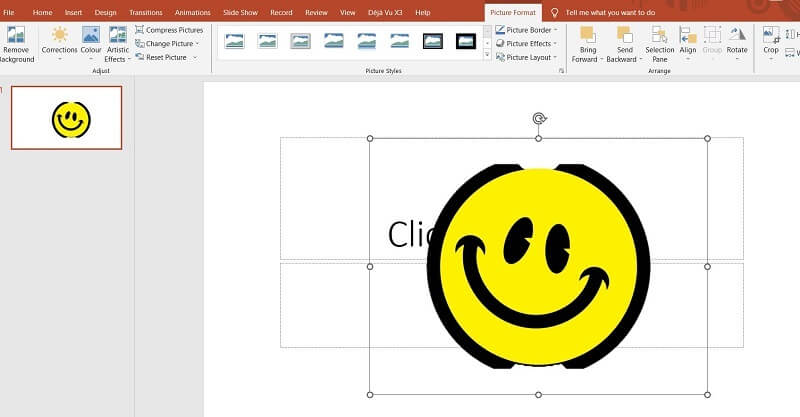 How to make a PNG background transparent in Paint 3D?
As a graphics application which is a refresh of Microsoft Paint, Paint 3D is rather basic and may not provide the same level of precision and flexibility as professional software. It can handle simple and basic tasks.
Step 1Open the PNG image you want to work on. Use the Canvas tool and click Transparent canvas.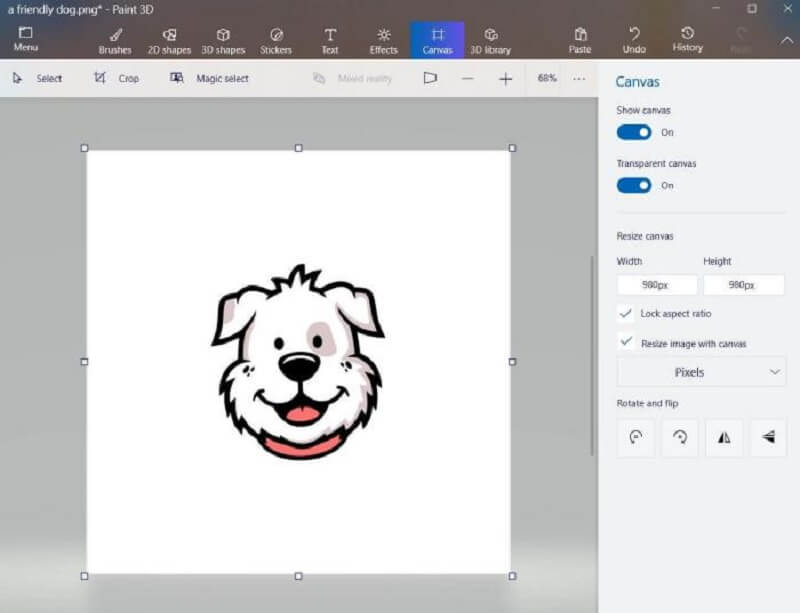 Step 2Use the Select tool (free-form selection) to select the area you want. Click Magic Select and untick Autofill Background. Choose Done and copy the area.
Step 3Open a new canvas and paste the logo. Make sure that you tick Transparent canvas. The background then has been removed. Go to File > Save As and choose the PNG file format (.png) from the list of available formats.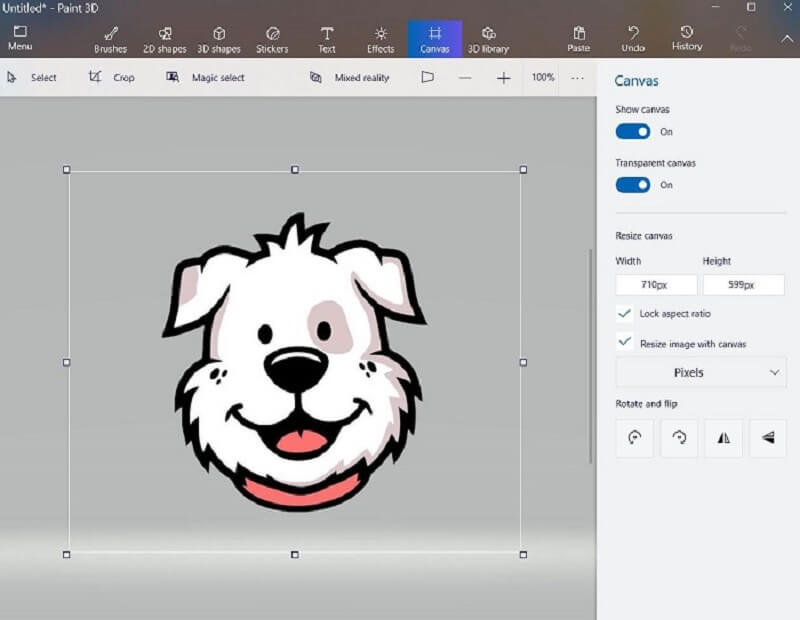 How to make a PNG image background transparent in Adobe Illustrator?
Adobe Illustrator is a software program for making artwork, illustrations, and drawings. It can help users to create PNG with transparent background.
Step 1Download Adobe Illustrator. Open the PNG image.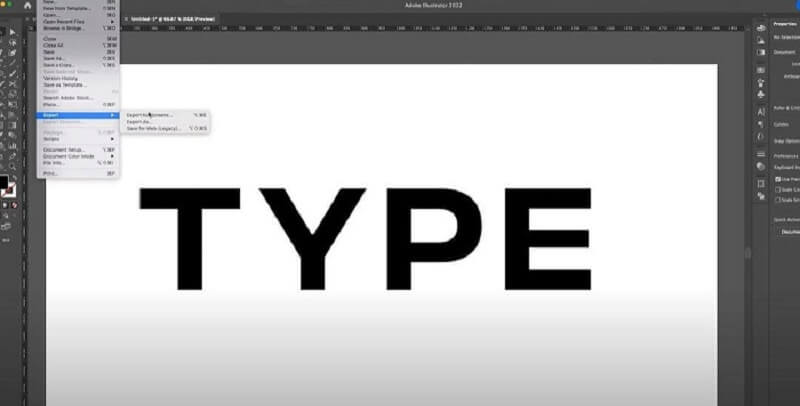 Step 2Click the View button and then choose Show Transparency Grid. Then the background of the PNG will change into a gray-and-white grid.
Step 3Click File to save and export the PNG.
Part 4. FAQs about Making a Transparent PNG
What is the purpose of a transparent background?
Using transparent backgrounds has several advantages. It enables users to stack alternative backgrounds or to add other design components.
What are the differences between PNG and JPEG?
PNGs are often bigger in size because they contain more data than JPEGs. Besides, PNGs support transparent backgrounds, so they are more suitable for graphic design.
Is PNG suitable for printing?
As PNG images contain more data and better color depth, they are a good option for printing. The printouts will be of high quality.
Conclusion
In order to create a PNG with a transparent background, the choice of tool or method depends on the complexity of the image and your familiarity with the software or service. For simple tasks, online background remover tools, such as AVAide, would be sufficient. It is users-friendly and very convenient. Among all these four tools, which one do you prefer?
Try the Best Image Background Remover Online
Uses AI and automated background removal technology to capture complex backgrounds from JPG, JPEG, PNG, and GIF.
TRY NOW