Transferring DVDs to iTunes lets you watch your favorite movies and TV shows on Mac and Windows computers. In this post, you will get a step-by-step guide on how to rip and import a DVD to iTunes.
Part 1. How to Rip DVDs to iTunes on Your Mac and Windows PC1
To rip a DVD to an iTunes-supported video, you first need to download DVD ripper software. There are plenty of options available. Here we strongly recommend the easy-to-use AVAide DVD Ripper to convert your DVDs to iTunes-supported videos with high quality. It can rip both encrypted and homemade DVDs. Moreover, it provides many commonly-used editing functions. It lets you edit the source DVD and optimize the output quality. You can install this software for free and follow the steps below to rip DVDs to iTunes.
Step 1Download this DVD to iTunes ripper on a Mac or Windows PC and open it. Load your DVD into the computer's DVD drive. The DVD-ripping software can detect your DVD automatically. You can click Load DVD to import your DVD with ease.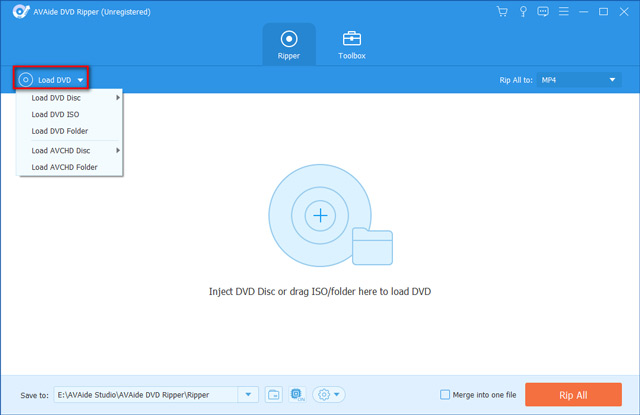 Step 2Choose an iTunes-supported format from the Convert All to dropdown. The best format to choose is MP4, which is the most compatible with iTunes and most devices and players. You can adjust various settings to ensure you get a high output quality. Then click the Convert All button to start ripping the DVD to iTunes.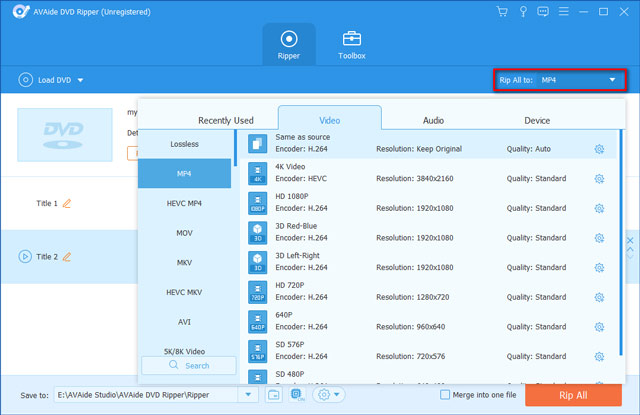 Before converting a DVD to iTunes, you can click the Edit button to access its inbuilt editor. You can use it to cut/rotate/crop the DVD, customize its image and sound effects, add filters, and enhance the output quality based on your need.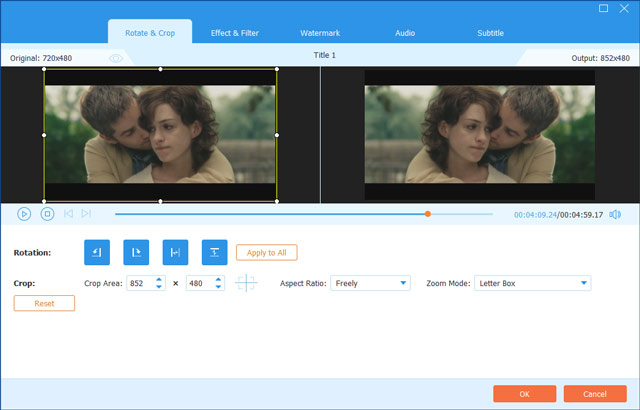 The time it takes to rip a DVD depends on the size of the DVD and the speed of your computer. After the DVD has been successfully ripped, you can handily import it to iTunes.
Part 2. How to Transfer, Add, or Import DVDs to iTunes
You can purchase and play music, movies, TV shows, podcasts, and more from iTunes Store and enjoy them using iTunes. However, iTunes does not natively support DVDs. You should use the method above to rip DVDs to iTunes-supported videos, then transfer them to iTunes. This part will guide you to import a DVD to iTunes on Mac and Windows PC.
iTunes offers a simple way to sync video and audio files. You can handily transfer ripped DVDs to your iTunes library. You can open the iTunes app, click the top File menu, then choose the Add to Library option.
You can select the DVD file from your computer. When you locate the file or folder, click the Open button to transfer your DVD to iTunes. Note that iTunes is only compatible with some popular video formats like MP4, MOV, and M4V. Once the import is complete, you can find the DVD in the iTunes library.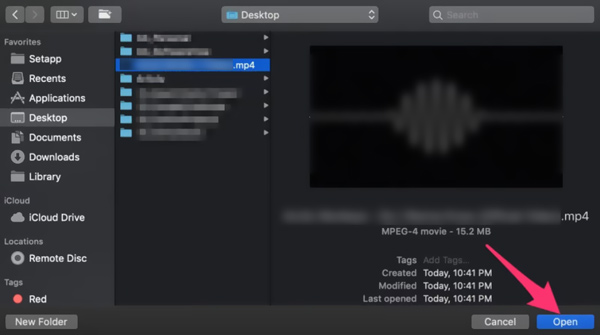 After transferring your DVD to iTunes, you can right-click on it and choose the Video Info option to add the associated metadata, such as title, director, year, genre, rating, and others. You can add these details to better manage your imported DVDs. Whether you want to import a DVD to iTunes on a Mac or Windows 11/10/8/7 PC, you can use similar steps.
Part 3. FAQs of Transferring DVDs to iTunes
Can VLC rip DVDs to iTunes on a Mac?
VLC Media Player is an all-featured playing tool with the basic converting function. It supports DVD playback and conversion. You can go to the Convert/Save option from the Media menu of VLC, add your DVD file, then rip it to an iTunes-supported video format like MP4. VLC lets you rip DVDs to iTunes on Mac, Windows, and Linux devices.
How do you import songs from CDs to iTunes?
iTunes supports audio CDs and allows you to import music from CDs to your iTunes library. To do this, you can open iTunes on your computer and insert your CD into the CD or DVD drive. Select the songs you want to transfer in the window that appears. Click the Yes button to confirm that. If you don't see your CD files, you can click the CD button on the desktop to check them. After the songs are imported from your CD to your iTunes library, you can freely play them or create a playlist.
Can I burn DVDs using iTunes?
Yes. iTunes can help you create DVDs and CDs with video and audio files from your iTunes library. But it can't burn DVDs with your purchased movies and TV shows purchased from the iTunes Store. Open iTunes and open a playlist that contains the items you want to burn. Click the View menu, choose View As then locate the video file. Ensure the target file is ticked, then insert a blank DVD. Click the File menu and select the Burn Playlist to Disc option. You can use it to burn a DVD on iTunes.
Conclusion
This article has mainly talked about how to rip and import a DVD to iTunes. Ripping a DVD to iTunes is a simple process that allows you to watch your favorite movies and TV shows on Apple devices. With the right DVD-ripping software and a few easy steps, you can enjoy your DVD collection on your device anytime, anywhere. Hope this guide is helpful in ripping and transferring your DVDs to iTunes. Let us know if you have any further questions or if there's anything else we can assist you with.
Best tool for ripping and converting DVD Disc/Folder/ISO image file into over various formats.