When editing photos, we often need to change the background color to satisfy different needs. Maybe you are clear about how to change the background color to black or white. But have you ever met a situation that requires a transparent background?
Sometimes we need to extract just one person or object from source photos and prepare the extracted part for later photograph design work. A transparent background enables us to add, edit, crop, and rotate over layers freely.
Now it gets us to the key question of making white backgrounds transparent. This post will introduce four useful tools to make white backgrounds transparent. The four are AVAide Background Eraser, Adobe Photoshop, PowerPoint, and Paint. Let's jump right into the four tools below!
Part 1. How to Make White Background Transparent Using AVAide Background Eraser
AVAide Background Eraser, a free online editing tool, helps you edit image backgrounds. It can be used for editing like changing background, removing image backgrounds, and creating new backgrounds. Its output formats include JPG, JPEG, PNG, etc. Most importantly, this powerful tool helps you make white backgrounds transparent with just one click! Very easy! Go on and check it out!
Step 1Choose the photo you want to make the white background transparent. Please click Keep on the top left of the window to catch your desired part. If you think the edge is not perfect, you can use Erase to refine it.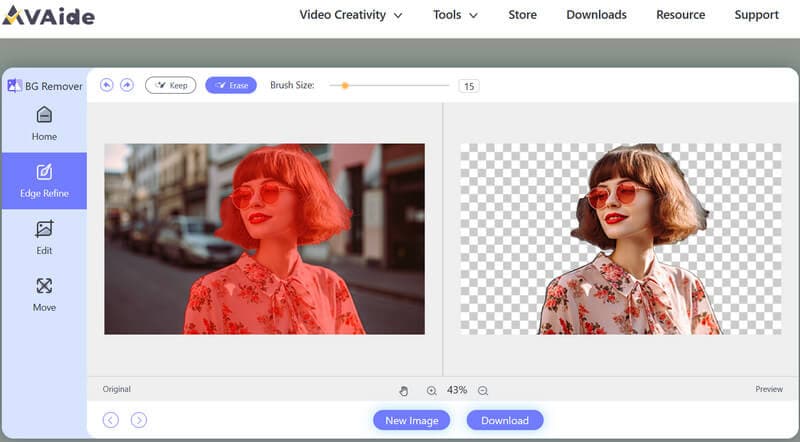 Step 2Click Edit in the left menu and select the transparent color for the background. (The gingham checks of white and grey represent transparent color.)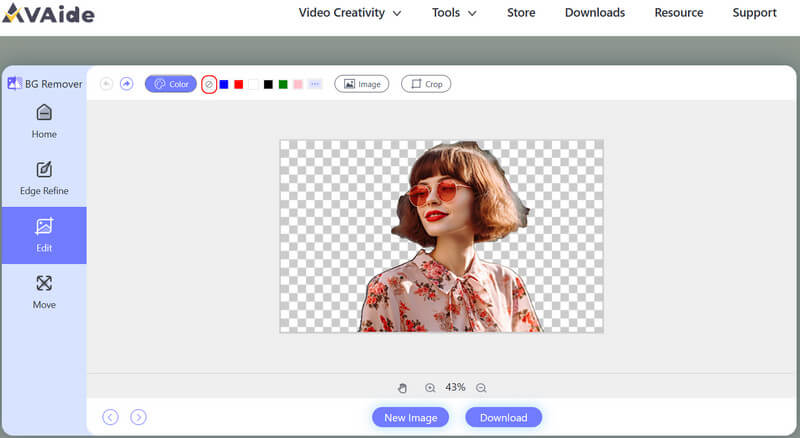 Step 3Download your edited photo to your local files.
This tool is powerful to turn your white background transparent, and also lets you change background into white.
AVAide Background Eraser surprises us with how user-friendly it is. Even if you are an editing beginner, you don't need to learn various but sometimes complicated functions and one click will bring you what you want. If you are seeking a tool especially aimed at background editing, AVAide Background is definitely the best solution.
Part 2. How to Make White Background Transparent in Photoshop
Adobe Photoshop is a highly recommended software for photo editing. This professional tool is also a popular option for background changing. Follow the steps below, and you will make the white background transparent.
Step 1Open the photo in Photoshop, click Select, and next click Color Range.
Step 2Click Sampled Colors, select the white background, and adjust Fuzziness.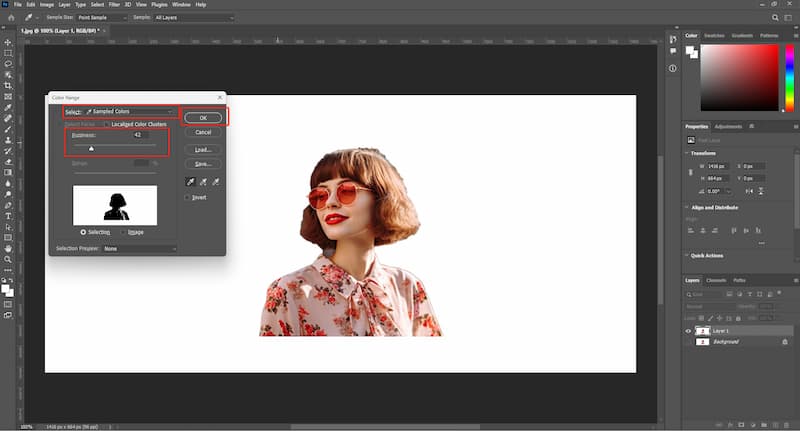 Step 3Delete the selected area and you will get the finished photo of transparent background.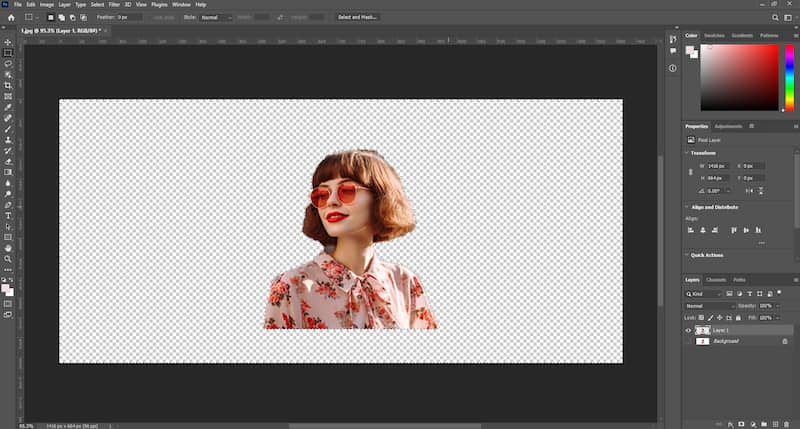 Adobe Photoshop wins the recognition of many editors and designers with its various and powerful functions. It exceeds in the delicate processing of photos. But for beginners, it takes much time and money to buy, download, and learn how to make use of it. Obviously, it's not a quick solution to this specific problem: make white backgrounds transparent.
Part 3. How to Make White Background Transparent in PowerPoint
We are all familiar with the presentation software Microsoft PowerPoint. Although it was not made for photo editing, PowerPoint can help you deal with basic editing in just one slide. It lets you make an image background transparent easily. This part will show you how to make a white background transparent in PowerPoint.
Step 1Create a slide in PowerPoint and insert your photo.
Step 2Click the photo, move to Remove Background > Keep all changes.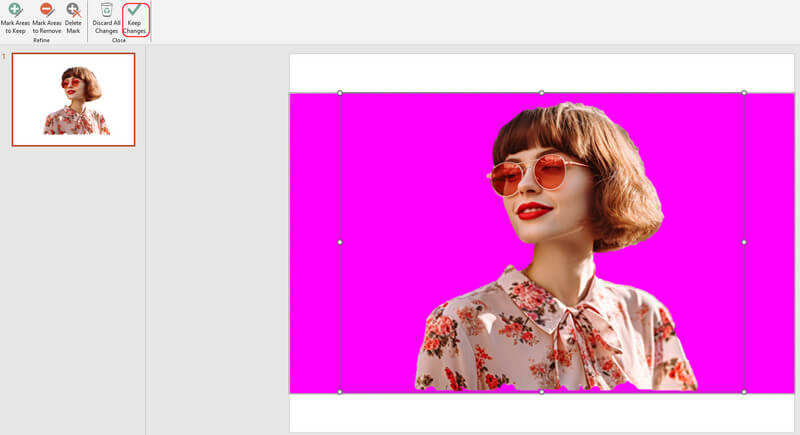 Step 3Go to the menu Format Picture > Fill & Line, and then select No fill.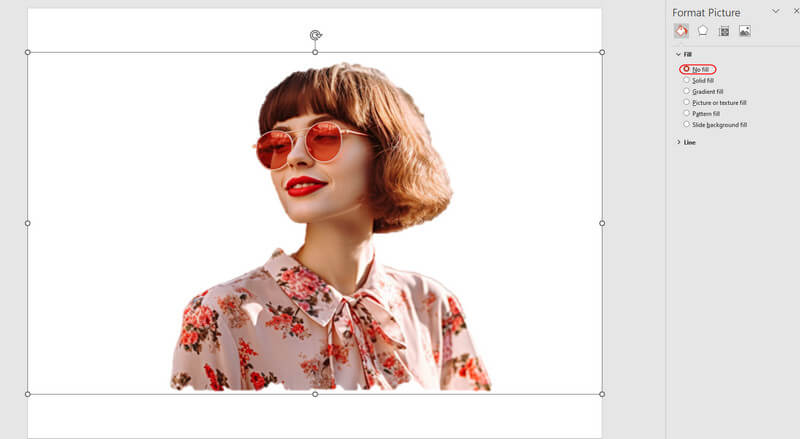 In daily study and work, there are always occasions for presentations and therefore we are no strangers to PowerPoint. It works well in making white backgrounds transparent but doesn't allow detailed processing of the edge. If you accept the edge that's a bit rough, then choose PowerPoint.
Part 4. How to Make White Background Transparent in Paint
Paint 3D, PowerPoint's Microsoft sibling, is a software designed for users to unleash creativity and imagination. This photo editor can make white backgrounds transparent as well. With Paint 3D, it's quite fast and easy to produce an image on transparent background.
Step 1Click Magic select, set the area you want to keep, and click Next.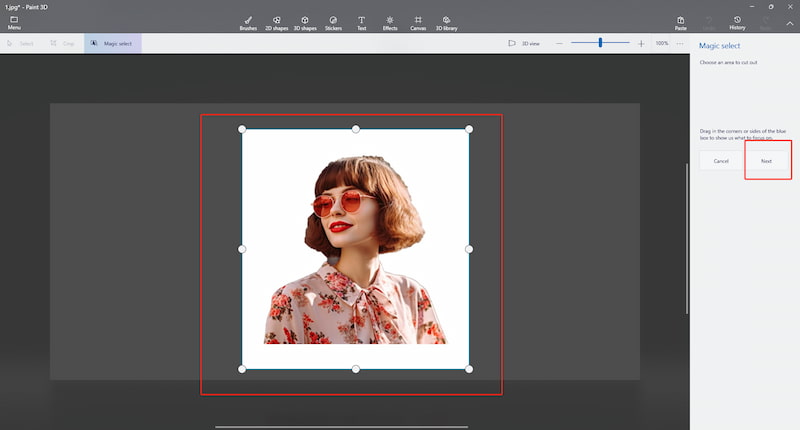 Step 2Use Autofill background or refine the cutout by yourself, and click Done when it's OK.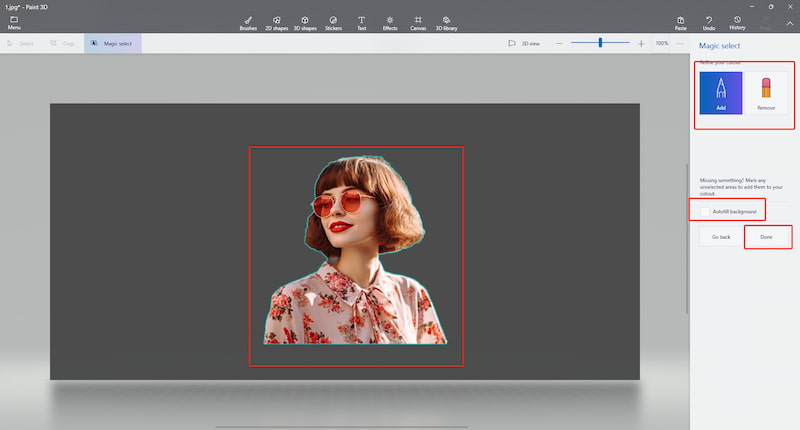 Step 3Copy your cutout and go back to Menu.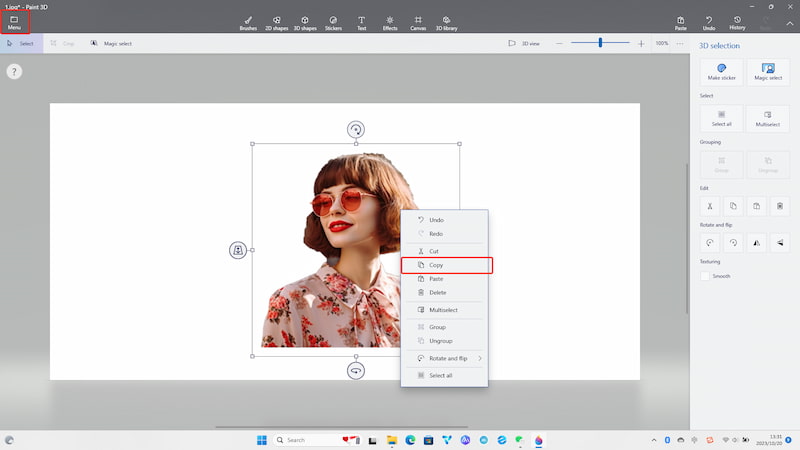 Step 4Create a new one, paste your cutout, choose Transparency and finally Save your photo.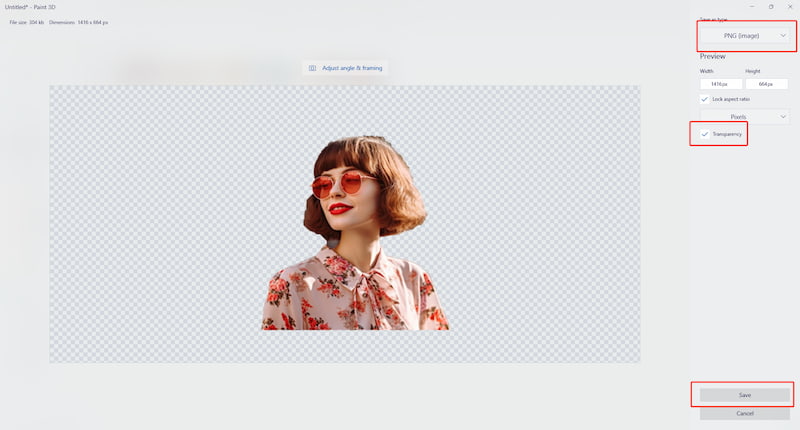 One disadvantage of Paint 3D is that it can't allow you to refine edges like AVAide Background Eraser and Adobe Photoshop. Since it is only officially available in the Microsoft Store, Mac users are unable to employ this tool to edit backgrounds. But Microsoft users are still free to have a try.
Part 5. FAQs About Making White Background Transparent
Can the photo background be changed into another color except transparent?
Yes, you can change it into any other color you like. AVAide Background Eraser provides you with a color palette to finetune indexes and create your favorite color. Other tools like Photoshop and PowerPoint can also satisfy your need.
Can I refine the edge if the auto-captured edge is a bit rough?
Yes. The four tools above all let you refine edges. If you pursue detailed and delicate processing of edges, AVAide Background Eraser and Adobe Photoshop are more suitable.
Can I use the tools for free or should I subscribe?
Yes. It's free of charge if you use AVAide Background Eraser, PowerPoint, and Paint except Adobe Photoshop. If you wish to lower editing costs, the three free tool are in your hands.
Can I add a new image as the photo background?
Yes. Apart from color change, you can insert a new image and replace the previous background with the assistance of editing tools. You can even crop, adjust ratios, and rotate to produce the exact effect you prefer.
Which tool is the best to make white backgrounds transparent?
It's very hard to decide which one is the best as the answer may vary from person to person and situation to situation. They are all excellent tools for fixing background editing. You can make a comprehensive contrast of their pros and cons and determine which one suits you most.
Conclusion
We hope the four solutions above can be helpful to edit background from white to transparent. It would be better if you take the specific requirements in your use case and the output effect in your mind into consideration when deciding which tool to use. Different from other editing tools, AVAide Background Eraser is specially made for removing, adjusting, and clearing backgrounds. It targets to solve just one specific problem and offers the greatest shortcut to background editing. Is there anything better than getting it done with just one click? So, don't hesitate and have a try now.
Uses AI and automated background removal technology to capture complex backgrounds from JPG, JPEG, PNG, and GIF.
TRY NOW