Canva is an amazing tool for graphic design. You can instantly remove the background from your photo with a click on its magic tool, Background Remover. It's exceptionally user-friendly, even for a beginner. However, one thing you should notice is that background removal is one of Canva's Pro features. It means you can't use it if you don't subscribe to Canva Pro (or you can try out its 30-day free trial). In this article, you will learn how to create a transparent background in Canva, and also a free wonderful alternative to Canva.
Part 1. How to Make Background Transparent in Canva for Images with Easy Steps
Canva is an excellent free online tool where you can design anything, like images, videos, logos, posters, websites, presentations, and more. It offers many free tools, but some are premium features of Canva Pro, like the Background Remover.
Powered by advanced AI, the Background Remover is an amazing tool that instantly makes an image background transparent. If you need to remove the background from a picture, Canva may be an optimal option for you. On Canva, all you need to do is find the right tool. Now, you'll find a step-by-step guide below.
Step 1Go to Canva's official website and make sure you've logged into your Canva account.
Step 2Click Create a Design on the right corner of the home page. Then, choose Import File to upload the picture you want to work on.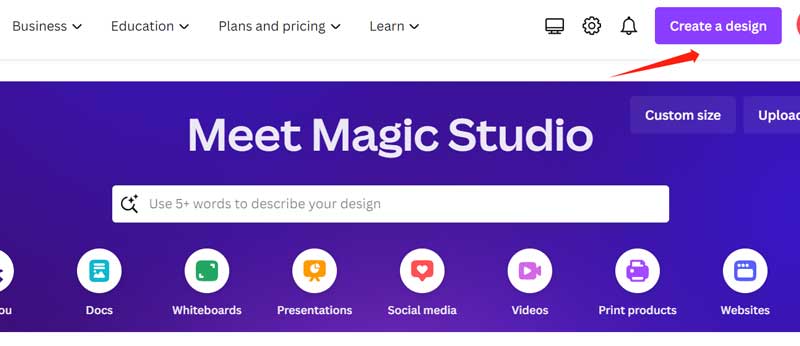 Step 3As you successfully upload the image, click the Edit Photo button and then select BG Remover from the Magic Studio toolbar. This will remove the background from the picture immediately.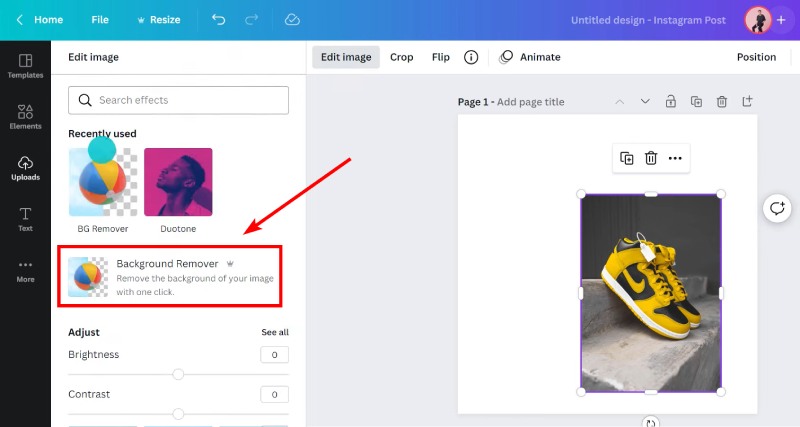 Step 4If you are unsatisfied with the automated processed output, you can adjust it yourself. Select the Erase Brush, adjust the size, and then remove all the unneeded parts. As you've done that, click the Done button.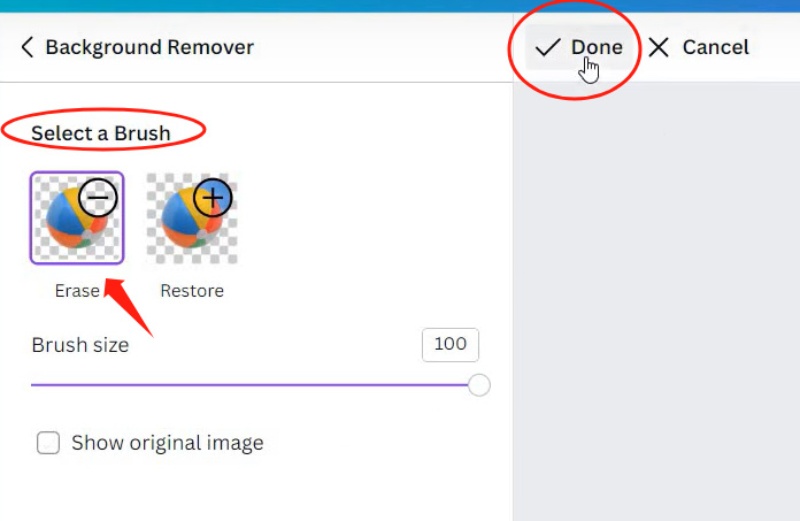 Part 2. Best Alternative to Canva to Remove Image Background for Free
As your Canva Pro free trial comes to an end, and you prefer not to pay for the premium content, you might look for a free alternative to Canva for creating transparent backgrounds. Luckily, AVAide Background Eraser is the exact tool you desire, which bears a strong resemblance to Canva's Background Remover. Also supported by advanced AI technology, the AVAide Background Eraser can automatically and quickly make a background transparent. You can use it in any online browser on both your desktop and smartphone, too. It's very convenient and easy to use. Now, you can get started by following the simple steps below.
Step 1Open your browser and go to AVAide's official website. You can find the Background Eraser tool from the Tools drop-down menu.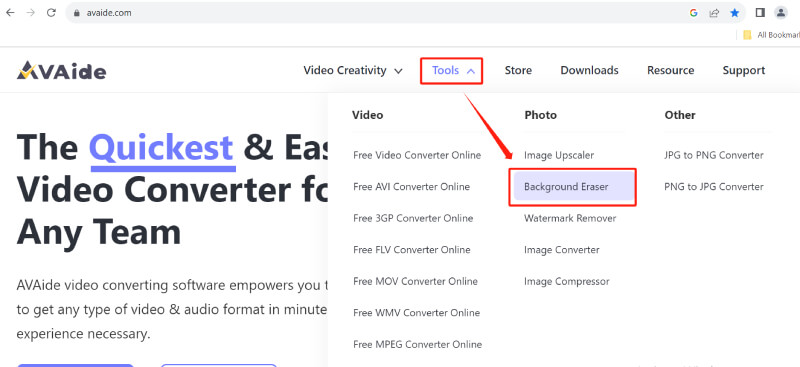 Step 2Click the Choose a Photo button or drop your pictures directly into that blue dashed box to upload the files you need.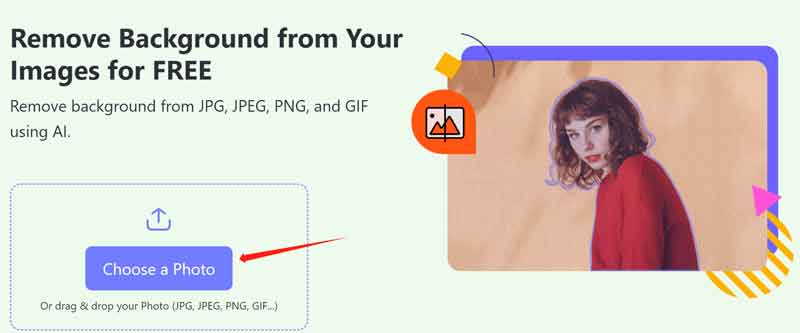 Step 3The Background Erase will start processing your image automatically. Wait for seconds and you will see the result soon.
Step 4You can adjust the result with the tool's additional feature if the output is not the one you want. Upon the toolbars of the original picture, click the Keep or Erase button to further adjust the output. If you've done your work, go for Download to save the final image.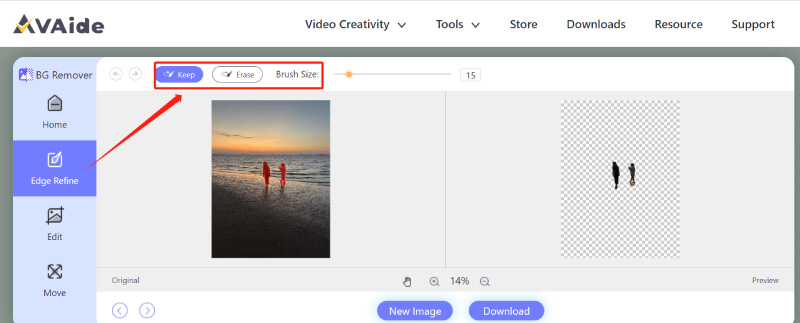 Tip: After you create a transparent background for your picture, you can also improve the image quality using the free Image Upscaler in AVAide.
Part 3. FAQs about Making a Transparent Background in Canva
What could I use a transparent background for?
A transparent background is really helpful for design. For example, you can use it for adding watermarks, emphasizing context, designing logos, and layering different elements to create artful pictures.
How can I remove the background for free?
AVAide Background Eraser is a free alternative to Canva. It can also work online on your desktop and phone, and automatically remove the background, making it transparent.
What is the color code for transparent in Canva?
The color hex code for transparent in Canva is #00FFFFFF.
Can I make a transparent background for videos in Canva?
Yes. You can remove the background from any video in Canva using the Video Background Remover. The steps are similar to removing the background from an image.
Does Canva support WebP images?
Yes, it does. Canva supports processing JPG, PNG, SVG, WebP, and HEIC/HEIF images. You can upload images in those formats for conversion, designing, editing, etc.
Conclusion
Now, you've learned how to create a transparent background for an image in Canva. Canva is indeed an excellent choice for design work. You can remove the background from a picture with just a click. If you frequently use Canva for design, it's a great deal to pay extra money for its powerful Pro features. However, if you only occasionally need a transparent background and don't want to subscribe to Canva Pro, you might want to consider AVAide Background Eraser. It's completely free and supports automated background removal for images in several formats (JPEG/PNG/GIF). The BG Eraser can precisely process image details, so you don't have to worry about the realism of the output. In short, each of these two options has its own pros and cons, so just pick the one that meets your needs.
Uses AI and automated background removal technology to capture complex backgrounds from JPG, JPEG, PNG, and GIF.
TRY NOW